USAID Covid Relief Project to Benefit 37,300 People in 10 Central Localities
USAID funds USD 1 million for an emergency relief project in 10 central provinces affected by Covid-19
An emergency relief project funded by the US Agency for International Development (USAID) was launched in Thua Thien-Hue province on Jan. 10, targeting people affected by the Covid-19 pandemic in central region, VNA reported Monday.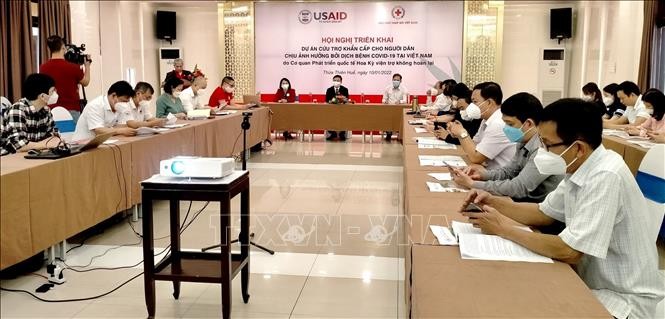 Representatives attend the ceremony to launch the USAID-funded emergency relief project. Photo: VNA
The USD-one-million project is carried out in 40 communes in 10 central localities including Da Nang city and Nghe An, Ha Tinh, Quang Binh, Quang Tri, Thua Thien-Hue, Quang Nam, Quang Ngai, Binh Dinh and Phu Yen provinces from now to April 2022.
Each locality selects four communes severely affected by the pandemic, as well as floods in late 2020 to implement the project. It is expected that over 12,000 poor and near-poor households with over 37,300 people will benefit from the project.
The project will provide food coupons for the needy people and boost communications about hygiene and clean water to raise public awareness of the issues, thus helping to prevent and slow down the disease transmission.
Speaking at the launching event, Tran Sy Pha, head of the Disaster Management Board of the Vietnam Red Cross Society's Central Committee, said that the project is of great significance to people in the central region amid the pandemic outbreaks with the appearance of new variants of SARS-CoV-2.
According to a recent survey by the Vietnam Red Cross Society, out of 509 interviewed households in 43 districts of the 10 central localities, 55% lost incomes from farming or fishing, 28% lost revenue related to small business, 26% lost their jobs, and 23% saw reductions in working hours.
As a result, 82% of the households need cash or vouchers to meet their main needs, and 49% need support to restore their livelihoods.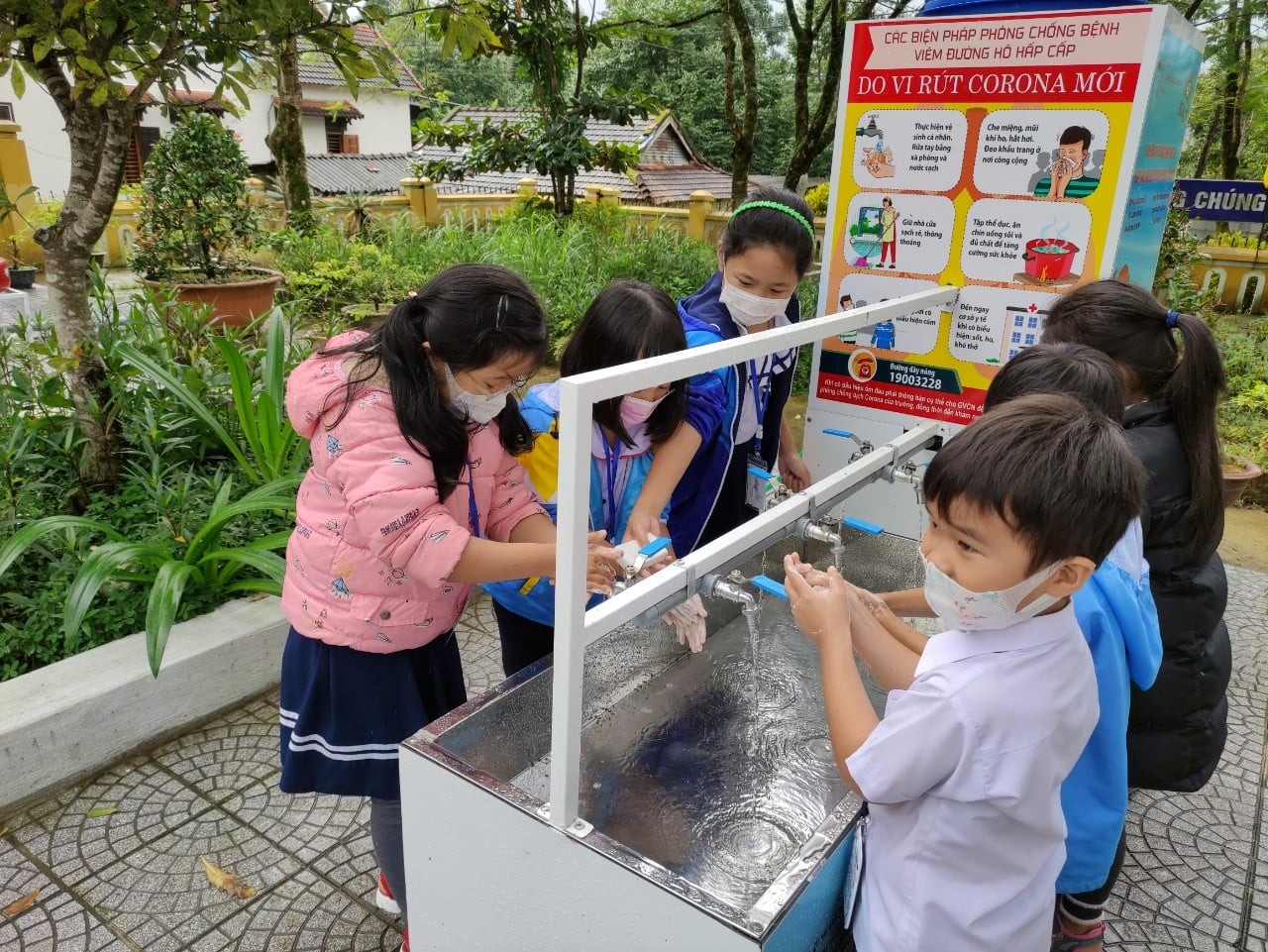 Washing basins installed at schools in Thua Thien Hue Province from German embassy's fund. Source: German Embassy in Hanoi
Maintaining hygiene is an important factor in the prevention of Covid-19. The German Embassy in Hanoi has supported 15 schools in rural areas of Thua Thien Hue province with a budget of over VND 400 million (USD 17.620) to install hand wash basins and purchase medical products such as masks and disinfectant water as well as hygiene promotion tools for students, teachers and parents knowledge.
This is also an important contribution in the prevention of infectious diseases.
Meanwhile, on Jan. 7, the local NGO Hearts for Hue in collaboration with Phu Vang Department of Education and Training organized a training session on personal hygienic practices for teachers of 10 primary schools in Phu Vang District.
The project is sponsored by PiCCA and The Phillips Foundation (Australia).
Participants in the training included the representative of Phu Vang Department of Education and Training, Hearts for Hue, and teachers of 10 primary schools. As planned, those teachers will deliver the same training to their students in primary schools.
People in the Mekong Delta shall bounce back stronger from Covid-19 and climate change. Source: ActionAid
ActionAid Vietnam (AAV) and Aid for Social Protection Program Foundation Vietnam (AFV), in partnership with the Ben Tre Union of Friendship Organizations, supported hundreds of people of Ben Tre province in the fight against the coronavirus, with 503 peripheral oxygen saturation monitors by pulse oximetry.
In the most recent project among the three sides, together with ADM Cares, 218 water tanks have been delivered to 218 poor farmer families - who are lacking access to clean water due to saline intrusion in Mo Cay Nam district, Ben Tre province.
The Ben Tre Union of Friendship Organizations is an important partner of AAV and AFV in the Mekong Delta, helping develop sustainable livelihoods for the people of Ben Tre province. In the near future, the three parties plan to continue to implement further insightful community-based programmes across the region, with the aim of building climate-resilient communities in Vietnam.
The delta, the country's largest rice, fruit and seafood producer, is forecast to face a higher level of saltwater intrusion in its rivers than average though less severe than during the 2019-20 dry season, VNA informed.
It had a late flooding season this year and is likely to have higher levels of rainfall in the next few months, according to the National Centre for Hydro-Meteorology Forecasting.
In recent years the delta has built many water supply projects but many areas still face a shortage for household use in the dry season.
In the 2020-21 dry season it undertook 35 groundwater projects to provide water to 330,000 people and 10 water supply works to provide to another 62,000 people living in coastal areas.
In the coastal provinces of Long An, Ben Tre, Tra Vinh, Soc Trang, Bac Lieu, Ca Mau, and Kien Giang, saltwater is expected to intrude 50 – 60 km into rivers in places that lack comprehensive prevention works in the first two months of 2022, according to the Southern Institute of Water Resources Research.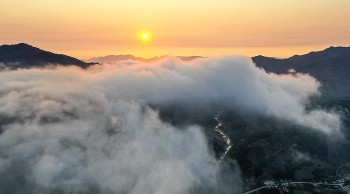 Multimedia
The gorgeous dawn behind a sea of fluffy white clouds creates a wonderful and beautiful picture of Truong Son Dong peak, Quang Ngai.