USD 421,200 raised for Vietnamese children with heart diseases
The 8th annual Scar of Life event has raised a fund of USD 421,200 for life-saving operations for disadvantaged children with congenital heart defects (CHD) in Vietnam.
The 8th annual Scar of Life event has raised a fund of USD 421,200 for life-saving operations for disadvantaged children with congenital heart defects (CHD) in Vietnam.
Actress Ngo Thanh Van (middle) announced the total money raised at the 8th Scar of Life event in HCM City on November 29. (Photo: VCF)
Ngo Thanh Van, Heartbeat Vietnam Ambassador and Scar of Life initiator, together with The VinaCapital Foundation (VCF) introduced "The Lucky Clover" as Scar of Life 8's main theme, in hope that more children with CHD will receive the "lucky fourth leaf", the live-saving surgery they need to have a healthy and bright future.
The entertainment and charity event, which was held on November 29 in Ho Chi Minh City by actress Ngo Thanh Van attracted the participation of many sponsors, artists, and business people.
The dinner event premiered actor Jun Pham's directorial debut which is the short movie "Four-Leaf Clover" produced exclusively to help Scar of Life spread the message of "Give Luck, Gain Love".
The guests bade for 47 silent auctions items or take part in the event's highlight when 10 most valuable items were live auctioned on stage, made possible by generous donations of Longines, Mia Resort Nha Trang, Six Senses Resort Ninh Van Bay, John Richards, Austin Home, Perfetto, Italian Point, Ben Thanh Art & Fame and art collector Lan Lưu. Besides, you can donate directly for the program.
This years, the signature item was the "Pure Lotus Heart" liuli crystal statue in the private collection of its creator who is the pioneering artist Loretta Hui-san Yang. Ngo Thanh Van was granted Yang's endorsement and blessing to feature the statue at Scar of Life 8. The item was auctioned for USD 100,000.
Introduced in 2010, Scar of Life is the idea of Heartbeat Vietnam Ambassador Ngo Thanh Van and the joint effort between her Vietnam Artist Agency and the VCF. The campaign's spirit is when children receive the heart surgeries, the scars on their chests mean transformations. A sick, suffering child transforms into an energetic bright child, curious, full of life and able to return to school and become a productive member of society.
Year by year, Scar of Life has inspired thousands of people, from business executives to community leaders and artists; all have taken parts in this magical journey to give the second chance in life for disadvantaged children with congenital heart defects.
USD 421,200 (VND 10 billion) was raised on the night, which will be enough to cover the costs of heart surgery for 351 more children, raising the total number of children receiving treatment to 1,871 over the past years.
Founded in 2006, VinaCapital Foundation (VCF) aims to empower the children and youth of Vietnam, by providing opportunities for growth and improvement through health and education programs. The work of VCF touches the lives of millions of Vietnamese in 63 provinces every year.
VCF's grassroots medical programs include Heartbeat Vietnam and Rural Outreach Clinics - designed to locate diseased at risk and disadvantaged children in even the remotest areas and provide access to quality healthcare.
Heartbeat Vietnam is a program sponsored by VCF that started in 2006 supporting heart operations to save poor Vietnamese children aged 18 or under./.
Translated by Minh Chau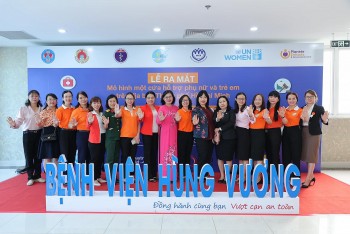 Viet's Home
What is the one-stop centre for women and children experiencing violence?