VCF Brings Clean Water to Dak Lak Students
Roche Vietnam and VCF cooperated to sponsor three clean water systems for schools in remote areas in Krong Nang, Ea Sup, and M'Drak districts, with support from the Children's Fund of Dak Lak.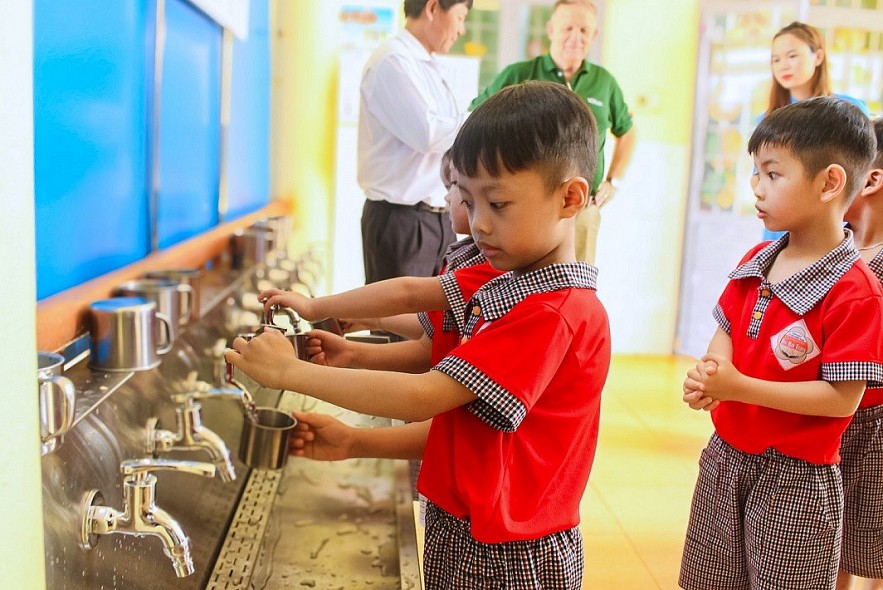 Young students use the new water system.
With the donation, VCF's Clean Water program continues to bring clean drinking water to disadvantaged children, improving sanitary conditions in schools. Thereby, it contributes to improving the health and well-being of people in rural communities in Vietnam.
Located 70km from the city center, Krong Nang, Ea Sup, and M'D rak have harsh weather and often suffer from drought in the dry season. The lack of clean drinking water creates many challenges for people here, especially for children who are vulnerable to water-borne diseases.
With a sponsorship value of VND 481 million from the Roche Children's Walk fund, three water filtration systems have been installed at Hoa Ban Trang Kindergarten, Ea Rok Kindergarten, and Le Quy Don Primary School, where 36% of the students come from ethnic minorities.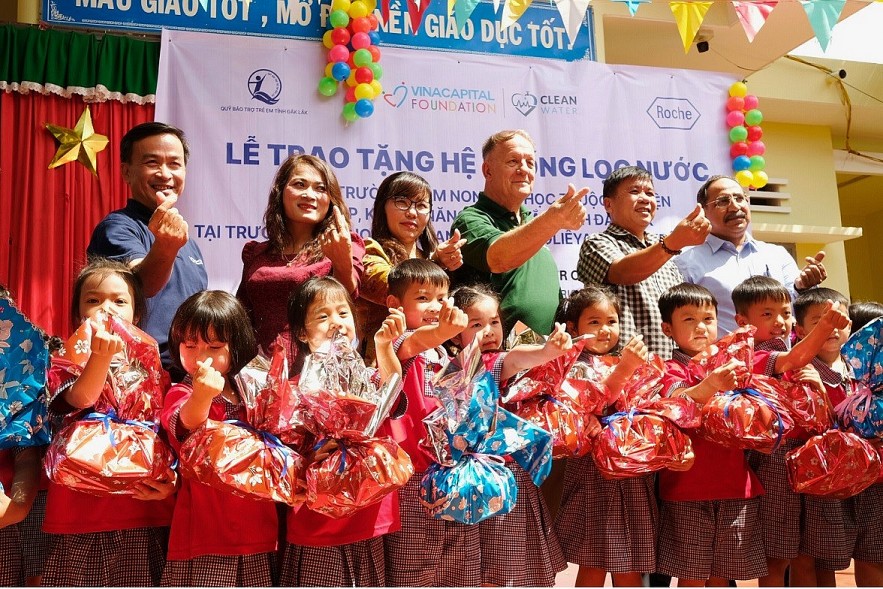 Delegates take photos with the students.
The water filtration systems will help 1,283 students and 95 teachers in these three schools have clean drinking water directly from the tap, thereby reducing the risk of water-borne diseases. The clean water system can also be used by children's families and the community around the school.
Besides installing water purifiers, the program also organizes lessons on the importance of clean water and proper personal hygiene for children. Maintenance costs for the water filtration system, including replacement of components, will be covered by the program for two years.
Since 2017, the Clean Water program has donated 104 clean drinking water filtration systems and one drilled well, bringing daily benefits to more than 28,922 people, the majority of whom are students and teachers at schools in Quang Nam, Dong Thap, Bac Kan, Ninh Thuan, Tra Vinh, Binh Thuan, Yen Bai, Ha Giang, Long An, Dak Lak, Quang Ngai and Ho Chi Minh City.