Vesak celebrations scaled down amid surging pandemic
Changes in celebrations of the annual Buddhist festival will help avoid gatherings as the country battles with its most dangerous outbreak of the coronavirus yet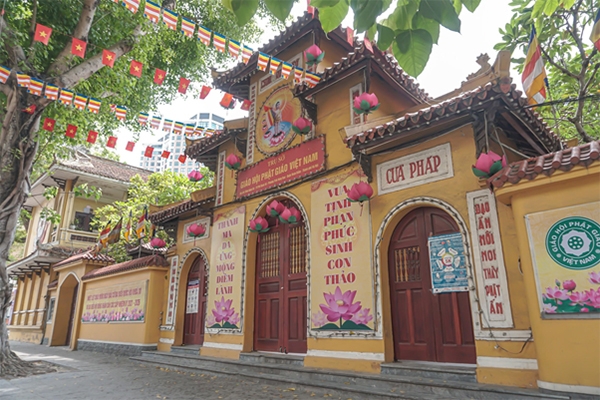 Quan Su pagoda left deserted ahead of the Vesak Day (Photo: CAND)
Vietnam's Vesak celebrations, which take place on May 26, will either moved online or scaled down in religious sites across Vietnam, with anti-pandemic measures strictly in place.
Most of the temples in Hanoi have closed their doors on this year's Vesak festival (Buddha's birthday). However, they are still adorned with iconic items such as flags, lanterns, lotus flowers and candles.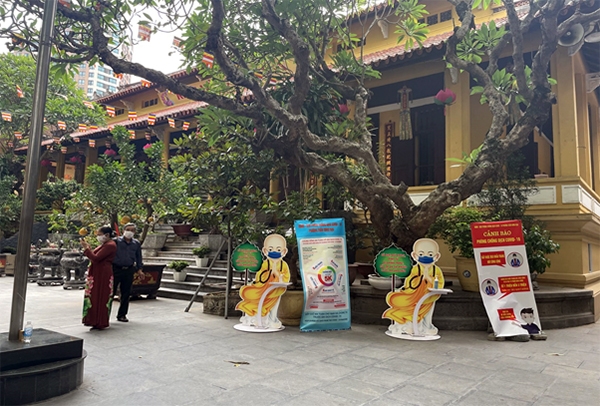 (Photo: CAND)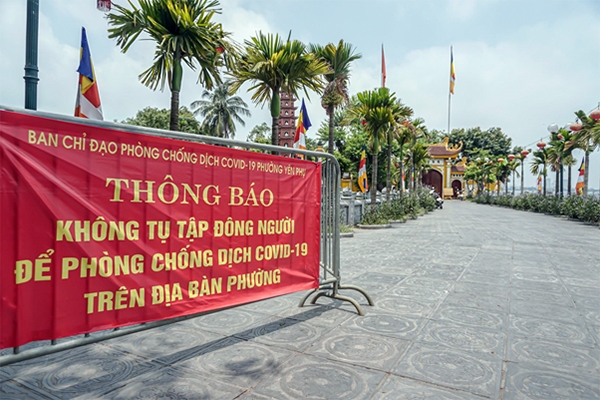 Banner saying 'no gathering,' at the entrance of Tran Quoc pagoda (Photo: CAND)
Usually, the occasion would see Buddhists flock to temples, engaging in a day of prayers and offerings. In light of social distancing measures, almost all religious establishments in the capital plan to live stream the celebration, including the sacred Bathing of the Buddha ritual.
"There's virtually no rituals or festive activities this year. People don't gather as they would normally do because they are all aware of the complicated Covid-19 situation. The whole Vesak festival has been switched to online celebration," a vendor at Quan Su pagoda, Hanoi said.
A vendor near Quan Su pagoda (Photo: CAND)
This is not the first time the Vesak festival has been broadcast online. Last year, the celebration was held and broadcast live from April 30 to May 7 on Facebook, Youtube, and TV channels to avoid mass crowding.
The Central Executive Council has advised local committees, pagodas and Buddhist institutions nationwide not to hold rituals, parades, or art shows that gather more than 20 people, in line with the Government's regulations on Covid prevention and control.
Meanwhile, in Ho Chi Minh City, devotees can still participate in Vesak rituals in person. However, places of worship must ensure a crowd of no more than 20 people inside at a time. All Covid-19 preventive measures must be strictly implemented, especially the mask mandate and social distancing order. Only devotees with negative test results taken a day earlier are eligible to join the rituals.
"The Bathing of Buddha ritual is of great importance in Vesak festival. Thus, we can't cancel it. To avoid gatherings, we only allow one group of 5 or 10 prayers to go bathing the Buddha at a time. They must remain distanced from others throughout the process," Venerable Thich Chi Giac Thong said.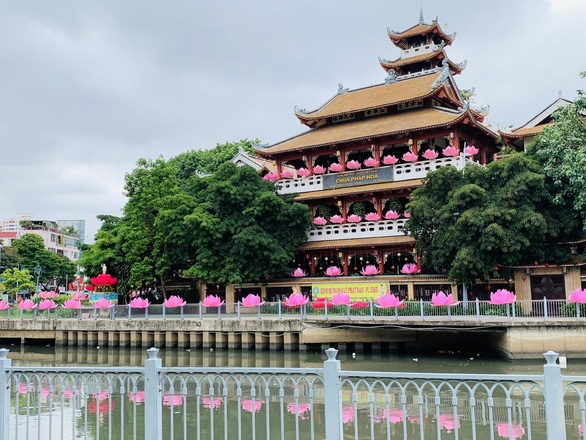 A temple in Ho Chi Minh City is adorned with dozens of lotus flowers (Photo: Tuoi Tre)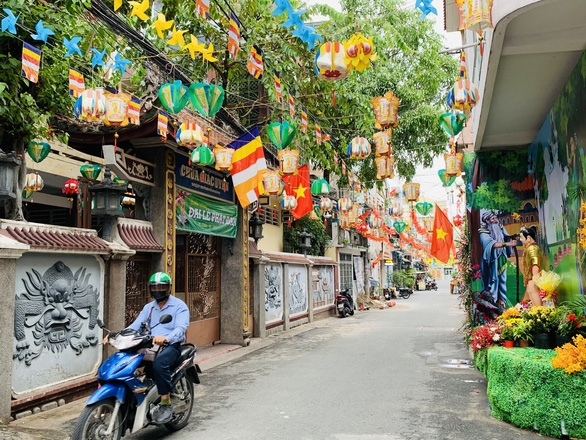 Streets are strung with flags to celebrate the occasion (Photo: Tuoi Tre)
The Vesak festival marks the birth, enlightenment and passing away of the Lord Buddha and includes devotion and alms giving with spectacular displays and entertainment. The week-long celebration gives visitors an opportunity to discover each country's religious and cultural traditions.
In Vietnam, many festivals are held around this day, such as Bathing of the Buddha ritual, requiems, lantern night and photo exhibitions on world heritage Buddhist temples. The celebration also features international workshops, and seminars on Vietnamese Buddhism, Hanoi Times stated.
On these days, Buddhists focus on taking part in charity activities such as giving to the poor, and setting free animals.