Vice President of Nigeria Visits Vietnam
The two countries have strived to raise their bilateral trade to over USD 500 million and become important trade partners of each other in respective regions.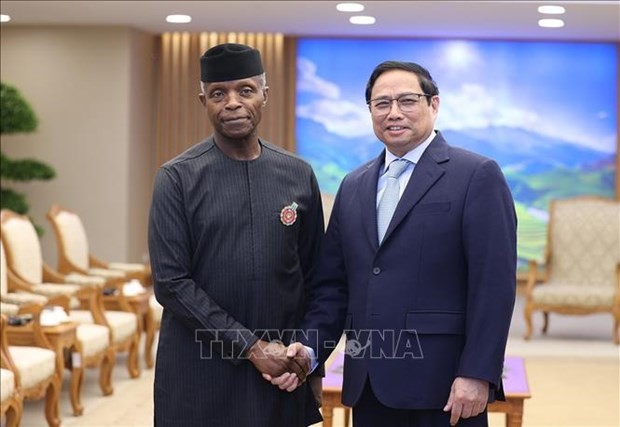 Prime Minister Pham Minh Chinh (R) and Vice President of Nigeria Yemi Osinbajo. Photo: VNA
Prime Minister Pham Minh Chinh hailed the development of bilateral ties while receiving Vice President of Nigeria Yemi Osinbajo in Hanoi on December 5, VNA reported.
The PM suggested deepening bilateral ties in a substantive and effective manner via facilitating visits to raise mutual understanding and trust, and enhance cooperation opportunities in fields that the two countries could supplement each other, especially in economy.
Hailing two-way trade of over USD 500 million as an encouraging result, Chinh said both sides should further improve economic ties to match their fine political relations.
He suggested that both sides have stronger determination to create balance in trade via creating favourable conditions for their exports and imports, including Vietnam's agro-fisheries, establish and launch trade cooperation mechanisms, contributing to ensuring food security, and diversifying markets and supply chains.
Vietnam is ready to serve as a bridge promoting cooperation between ASEAN and the Economic Community of West African States (ECOWAS), he said.
The host proposed making agriculture a key cooperation area between both sides; enhancing joint work in digital transformation, start-ups and innovation, green transition, renewable energy, circular economy, national defence-security, oil and gas, poverty reduction, health care, education-training, culture-sports-tourism, people-to-people exchange; and launching of a direct flight service.
Osinbajo, for his part, hailed Vietnam as a strategic important partner and wished to expand economic cooperation with the country.
Agreeing with the host's proposal, he said Nigeria also wants to share experience with Vietnam in digital economy, energy industry, electric vehicles and solar power.
He vowed to further reinforce all-around ties between both nations and connect coordination between ECOWAS and Vietnam.
On regional and global issues, host and guest underscored the importance of the peaceful settlement of disputes in line with international law.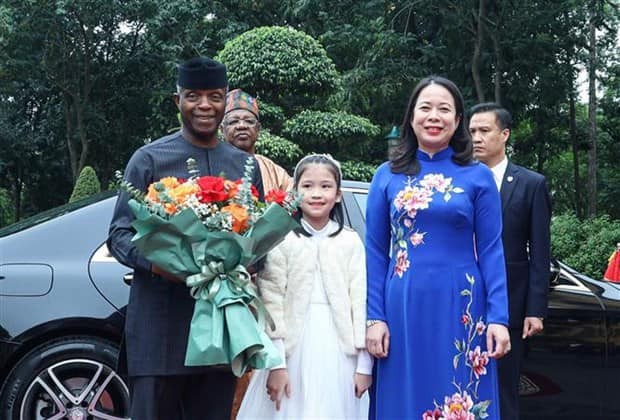 Vietnamese Vice President Vo Thi Anh Xuan welcomes the visiting Nigerian counterpart Yemi Osinbajo. Photo: VNA
The same day, Vice President Vo Thi Anh Xuan and her visiting Nigerian counterpart agreed on specific orientations to deepen cooperation between the two countries in an effective manner, during their talks in Hanoi.
Xuan noted that Osinbajo's official visit to Vietnam, from December 5-7 following their phone talks in September 2021, is of the highest level to the Southeast Asian nation by Nigerian leaders since 2005.
The Vietnamese Vice President expressed her belief that the trip will contribute to consolidating the fine relations between the two countries.
Xuan congratulated Nigeria on its achievements in political stability, socio-economic development and Covid-19 prevention and control, as well as its rising position in the region and the world, and expressed her belief that the African nation will reap more attainments in the time ahead to be included in the Group of 20 (G20).
Osinbajo highly valued Vietnam's comprehensive achievements in the cause of reform, integration and development, and its rising position at regional and multilateral forums.
Vietnam will effectively contribute to activities of the United Nations in peace building and development, he believed.
The two sides lauded active developments in the bilateral ties, even amid the Covid-19 pandemic, in politics-diplomacy, and trade and investment, stressing that the two countries have strived to raise their bilateral trade to over USD 500 million and become important trade partners of each other in respective regions.
They reiterated the importance of delegation exchanges and meetings via all channels of governments, legislatures, ministries, agencies and localities, as well as people-to-people exchanges to enhancing political trust and creating a new impulse for the economic links.
The two sides consented to maintain their close coordination and mutual support at multilateral forums, especially the United Nations, and displayed their readiness to work as bridges to help the other establish relations with regional organisations such as the ECOWAS and the ASEAN.
Both affirmed their resolve to enhance cooperation in economy and make the bilateral trade match the potential of the two countries.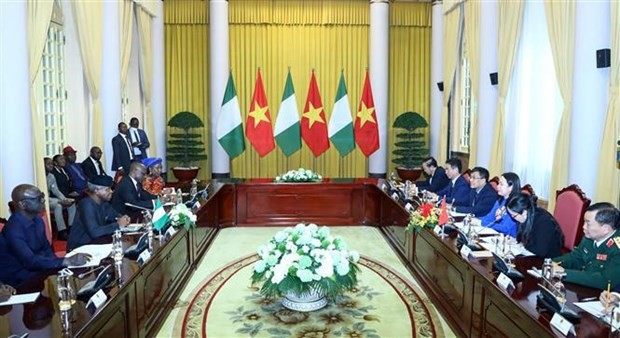 At the talks between the Vice Presidents of Vietnam and Nigeria. Photo: VNA
Xuan suggested Nigeria facilitate the market access of Vietnamese agricultural and aquatic products and consumer goods.
Host and guest shared the view on the significance of agricultural development to ensuring national and global food security, and that ample room remains for the two countries to boost cooperation in this field in either the bilateral or trilateral models.
Both expressed their hope for stronger collaboration in investment, digital economy, green transformation, energy, and national defence and security.
They welcomed the signing of a memorandum of understanding on defence cooperation within the framework of the visit, and concurred to coordinate to accelerate the ratification and implementation of the signed cooperation documents.
They will also work to push ahead with the negotiations and signing of agreements on investment encouragement and protection and double taxation avoidance, among others, in order to consolidate the legal framework for the bilateral economic ties.
The officials also compared notes on regional and international issues of shared concern, saying regional and global issues should be settled by peaceful measures in accordance with internal law.
Vice President Osinbajo used the occasion to invite his Vietnamese counterpart to pay an official visit to Nigeria, and Xuan suggested the two countries' foreign ministries to arrange the trip at an appropriate time.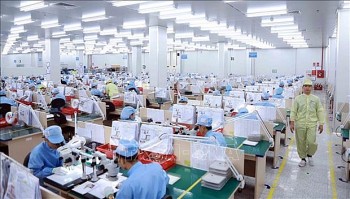 National
Vietnam News Today (Jan. 26): Vietnam - important partner of RoK; HCM City maintains growth momentum, reaps successes in 2022; Vietnam's tourism forecast to strongly rebound in five years; Many localities attract a large number of visitors during Tet.