Vietnam Called A Development Success Story
International organisations and foreign experts have hailed Vietnam as a success story about economic development, social welfare and human rights guarantee.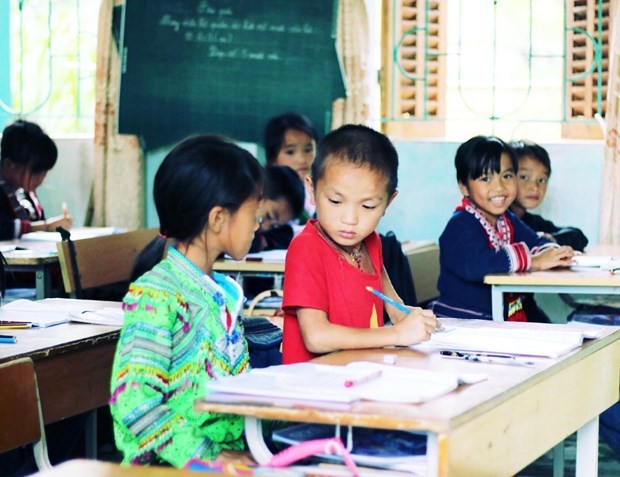 Pupils in a class at Nam Ty primary school, Hoang Su Phi district, the northern mountainous province of Ha Giang. Photo: VNA
According to VNA, Assistant Deputy Minister at Global Affairs of Canada Paul Thoppil expressed his admiration for Vietnam's socio-economic achievements over the past 77 years.
In the latest report in April 2022, the World Bank called Vietnam a development success story that transformed into a lower middle-income country in one generation from its humble beginning as one of the poorest nations globally.
Between 2002 and 2021, per capita GDP increased 3.6 times, reaching almost USD 3,700. Poverty rates (USD 1.9 per day) declined sharply from over 32% in 2011 to below 2%.
Thanks to its solid foundations, the economy has proven resilient through different crises, the latest being the Covid-19 pandemic. Vietnam fulfilled several economic targets in 2021, becoming one of the top 20 economies globally in terms of international trade.
Valeria Vershinina, an expert on Vietnam at the ASEAN Centre under the Moscow State Institute of International Relations, affirmed that Vietnam is seen as a "middle-level power" by international scholars.
Meanwhile, Canadian Ambassador to Vietnam Shawn Perry Steil regarded Vietnam as a bright example for countries worldwide to learn from experience in pandemic response while maintaining socio-economic development.
Analysts forecast that Vietnam's economic growth this year will be high, given a record growth of 7.72% in 11 years in the second quarter which surpassed the previous prediction of 5.9%.
Harvard University's research result showed that Vietnam is forecast to be among the fastest-growing economies in the world by 2030.
Sharing the same view, UK Secretary of State for International Trade Anne Marie Trevelyan said Vietnam will be among the world's biggest 30 economies in the end of this decade.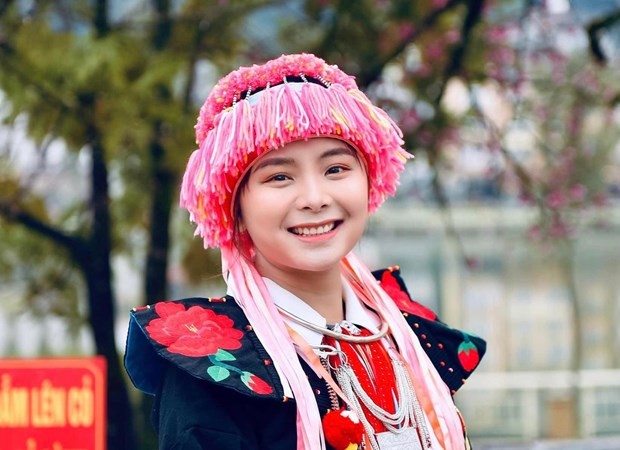 Chao Thi Yen - a young Dao Tuyen ethnic wins a full scholarship worth USD 50,000 from the Eramus Mundus programme two years after graduating from the Vietnam National University of Forestry, becoming the first girl from an impoverished ethnic hamlet where the cycle of poverty and early marriage has lingered on for generations to study abroad.. Photo courtesy of Yen
Vietnam has also been recognized as one of the top 10 countries to fulfill gender equality promotion and empowerment goals for women and girls under the United Nations Sustainable Development Goals.
With Vietnam becoming a world standard for fighting the pandemic, Acting UN Resident Coordinator and UNICEF Chief Representative in Vietnam Rana Flowers said such has proved the country's efforts to promote and protect human rights.
Expressing impression of Vietnam's determination to accomplish the dual goal of becoming a high-income country by 2045 and reducing greenhouse gas emissions to zero by 2050, UN Assistant Secretary General and UNDP Regional Director for Asia and the Pacific Kanni Wignaraja said Vietnam will show the world its own way to ensure progress for all people.
UN Secretary-General Antonio Guterres has described Vietnam as an important factor contributing to peace and stability in the region, which showed the country's increasingly high international role and position.
Vietnam has shown its strong commitment to striving to build trust and dialogues, serving as a bridge seeking peaceful solutions to conflicts worldwide, he said, adding that its fulfillment of tenure as a non-permanent member of the UN Security Council for 2020-2021 is solid evidence.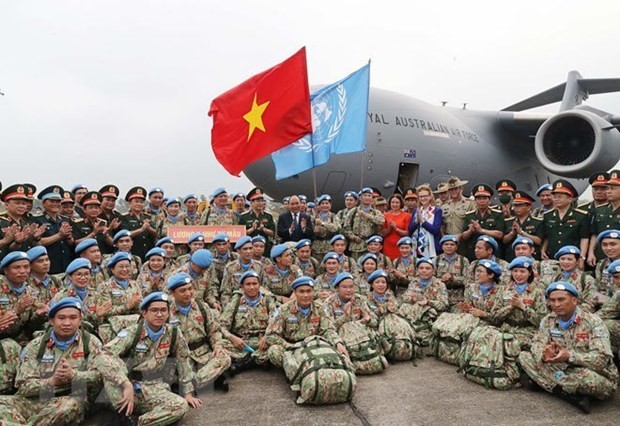 Vietnamese officers before departing for UN peacekeeping mission. Photo: VNA
Commenting on Vietnam's external relations achievements, Permanent Representative of Belgium to the UN Ambassador Philippe Kridelka affirmed that Vietnam has strong voices and trust of the world, especially in Asia, Africa, Europe, and America.
Vietnam has recorded remarkable achievements in many fields in the contemporary world in the recent period, said the head of the Eurasian Ideas Foundation (EIF) Grigory Trofimchuk during his recent visit to the Hanoi-Moscow multifunctional complex (Incentra) in the Russian capital city.
He praised Vietnam's contributions to ensuring a stable security environment in the world. Vietnam has twice held the role of a non-permanent member of the UN Security Council, thereby showing its prestige in Southeast Asia in particular and in Asia in general, he said.
The expert went on to note that Vietnam provides an increasing number of goods for Russia and countries participating in the free trade agreement between Vietnam and the Eurasian Economic Union (EAEU).
Vietnam is an absolutely reliable partner of Russia in Southeast Asia, Asia, and the world, he affirmed.
Trofimchuk said Vietnam is central to the political and economic development of Southeast Asia, adding the geopolitical position is opening up a historic door for Vietnam to develop and further enhance its international position.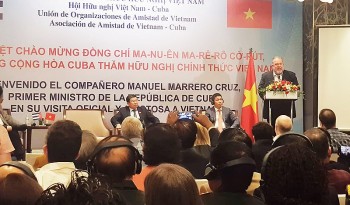 Friendship
Cuban Prime Minister Manuel Marrero Cruz met representatives from the Vietnam-Cuba Friendship Association in Hanoi on September 30, as part of his visit to Vietnam from September 28 to October 2.