Vietnam hands four smugglers over to China
They had reportedly dodged millions of Yuan in taxes from smuggling
Police in Vietnam have handed four Chinese nationals to China, where they are wanted on smuggling charges.
Vietnamese police escort four Chinese men wanted for smuggling in China, June 10, 2019. Photo by VnExpress/Ngoc Tung.
A special warrant for the arrest of the four men aged 30 to 52 had been issued by Chinese police. They were wanted over the illegal trade of goods and smuggling of solid waste, VN Express reported.
On June 10, officers under the Ministry of Public Security handed the four men over to Chinese authorities at the border gate in Bao Loc district in Lang Son province.
The Chinese anti-smuggling police pointed out that one of the four had set up the ring in 2017, with the three others smuggling 252 tons of edible bird's nests valued at 2 billion Yuan (US$290 million) from the Vietnam-China border regions to Indonesia and Malaysia. In their operations, they dodged 590 million Yuan (US$85.3 million) in taxes.
In April, the Chinese learned the group had moved to Vietnam and asked Vietnamese authorities to assist in tracking them down. On June 6, the four were arrested in Lang Son province.
VNF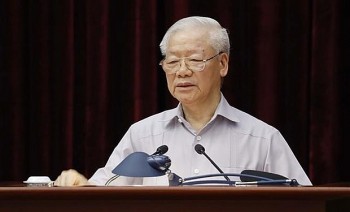 National
Party General Secretary Nguyen Phu Trong on June 30 stressed the task of addressing shortcomings and filling in "vaccums" and "loopholes" so as to prevent corruption and negative phenomena.