Vietnam holds first international aviation expo
The first International Aviation Expo (VIAE 2019) is taking place in Ho Chi Minh City from November 26-28, bringing together numerous domestic and international key players in the sector.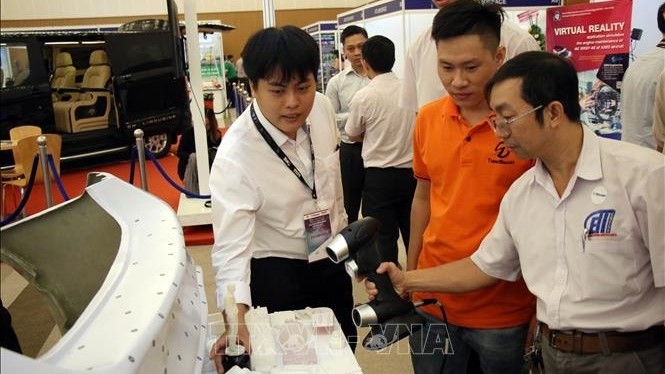 Introducing aviation & aerospace equipments at the event. Photo: VNA
VIAE is the one-stop market for Vietnam's Aviation & Aerospace community, showcasing the latest technology in the Aviation & Aerospace Industry. The expo aims to offer a holistic business experience by combining exhibition, conferences and seminars, and a host of networking sessions that connects quality buyers to aviation & aerospace supplies.
According to the People's News (Nhan Dan), VIAE featured over 100 pavilions, introducing a wide range of technologies and equipment in the field of aviation as well as auxiliary industrial products and interior and exterior equipmentof aircrafts.
The event is considered a valuable platform for domestic and international airlines and aviation manufacturers to meet and exchange information related to the technology trends as well as promote trade exchange, contributing to the sustainable development of Vietnam's aviation industry. According to the organizers, participating countries include Singapore, India, Malaysia, Korea, Australia, New Zealand, Japan, Philippines, Thailand, US, UK, France, Norway, Germany, among others.
During the three-day expo, participants are taking part in various seminars and conferences to discuss about investment in the construction of airports during the 2020-2030 decade; civil aviation management; general operation of airports; solutions for aviation personnel issues; and major measures that Vietnamese airlines prepare in response to the fourth industrial revolution. At the VIAE 2019, cooperation agreements will be signed between Vietnamese and international enterprises, opening new opportunity in various fields, including human resources training for the aviation industry.
The Asia – Pacific is now rated by the International Air Transport Association (IATA) as the most dynamic region with the highest growth in the world, with 6%-7% per year. Particularly, the growth of Vietnam's aviation has doubled the region's general market over the past decade, with an average rate of over 16% per year.
Friendship
On March 25, the 92nd anniversary of the founding of the Ho Chi Minh Communist Youth Union took place at the Russian Presidential Academy of National Economy and Public Administration (RANEPA) in Moscow.