Vietnam holds flag-raising ceremony for submarines
VNF/VNA
A flag-raising ceremony for two new submarines was solemnly conducted at Cam Ranh military port in the central coastal province of Khanh Hoa on August 1.
Addressing the ceremony, Rear Admiral Pham Hoai Nam, Commander of the Vietnam People's Navy, stressed these kilo-class submarines will mark a new development of the Vietnam People's Navy in particular and the Vietnam People's Army in general.
These submarines will contribute to safeguarding the country's sovereignty over sea and land, the Rear Admiral added.
The HQ - 184 Hai Phong and HQ - 185 Khanh Hoa are two out of the six 636 kilo-class submarines that Vietnam ordered from Russia.
Last year, Russia handed over to Vietnam HQ 182 - Hanoi and HQ 183 - Ho Chi Minh City submarines to Vietnam.
A flag-raising ceremony was held on August 1, 2015 for two new submarines. Photo: VNA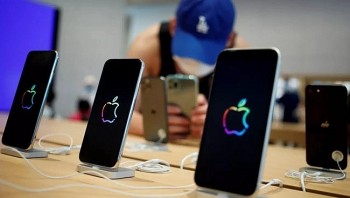 World
India exported iPhones worth $1 billion from May to September 2022, according to a Bloomberg report, but a closer look at the data shows the country is a long way from rivalling China's iPhone manufacturing chops