Vietnam hopes to lead region in digital revolution
Prime Minister Nguyen Xuan Phuc, Head of the Central Propaganda Department of the Communist Party of Vietnam Vo Van Thuong, and Minister of Information and Communications Nguyen Manh Hung visited an exhibition booth on ICT achievements in the meeting
Prime Minister Nguyen Xuan Phuc, Head of the Central Propaganda Department of the Communist Party of Vietnam Vo Van Thuong, and Minister of Information and Communications Nguyen Manh Hung visited an exhibition booth on ICT achievements in the meeting
Minister of Information and Communications Nguyen Manh Hung stated that the telecommunications infrastructure is not only the foundation for communications but also the basis for the digital economy and society in the era of Industry 4.0, in which everything is closely connected.
Smartphones and broadband connections should be more widely used.
It is, therefore, necessary for Vietnam not to repeat the tardiness in introducing 3G and 4G technologies to the public. Instead, the 5G technology should be encouraged among users, along with the improvement in network quality. This will help Vietnam increase its overall telecommunications position from 108 to the top-50.
The service 'Mobile Money', a digital payment method, will be piloting to allow customers to purchase merchandise online via a telecommunications account regardless of their location.
However, the Minister also insisted that telecommunications development should be sustainable, in that new markets should be better investigated and invested rather than focusing on current too-crowded ones, which normally lead to unhealthy competitions. Saying this, he promised to seriously address the issue of spam SIMs in Vietnam at the moment.
Right now, Vietnam seems to be the slowest in ASEAN regarding digital economy. Hence, to boost the growth of this field, the state budget should be heavily allocated to information technology (IT), both in local and national levels. Simultaneously, departments of Information and Communications of each province and city must adjust regulations related to IT projects and services.
One good suggestion is that giant IT businesses invest in basic IT projects, after which the government can hire and then buy these when finance allows.
As to cyber security, Minister Hung shared his view that becoming a cyber security power meant becoming safer and more prosperous since it shows the ability to protect our peace in a long term.
Understanding that fact, in 2019, Vietnam should begin creating a safe cyber environment via sufficient investment into information security and the foster of related businesses. Critical infrastructure of the nation as well as all governmental activities must be well protected from cyber criminals. Vietnam has to be the center of cyber security in the whole ASEAN.
Concerning Information – Communications Technology (ICT), including the software, hardware, electronics and telecommunications, digital content industries as well as IT services and cyber security, Minister Hung insisted that Vietnam has a great chance to be one of the largest manufacturers of telecommunications equipment in the world. Statistics show that Vietnam are now producing 70 percent of these devices and is aiming at taking the fourth position in the world. This should be fulfilled in the period from 2019 – 2020.
What is more, Vietnamese networks should prioritize made-in-Vietnam applications equipment when possible to encourage the productivity.
The Ministry of Information and Communications intends to comprise 20 – 30 percent of the total revenues of all network providers regarding digital content, yet the current rate is a mere 6 – 8 percent, which is too low compared to other nations. It should reach $3-4 billion, a 3-to-4-time increase. To fulfill this goal, proper policies should be introduce to boost the provision of digital content from foreign companies while domestic ones should not compete unhealthily or prevent their international counterparts from working in Vietnam.
Since many technologies in Industry 4.0 can be applied in various fields of a nation, ranging from economy, culture, to society, there should be more Vietnamese technological companies to popularize those new pieces of knowledge to the public.
Industry 4.0 requires a policy adjustment to welcome new business models thanks to new technologies. Therefore, the Prime Minister has asked the Ministry of Information and Communications to cooperate with the World Economic Forum to form a Center for Industry 4.0 in Vietnam, with the function to prepare suitable policies for Industry 4.0 in the nation.
In 2018, ICT contributed the largest part to the total revenues of the whole industry, at $98.9 billion (compared to $91.5 billion in 2017). Its export value was at $94 billion. The growth rate of the software field accounted for 13.8 percent, with a revenue of $4.3 billion and export value of $3.5 billion. There are now around 10,000 software companies in Vietnam, employing 120,000 people.
VNF ( SGGP )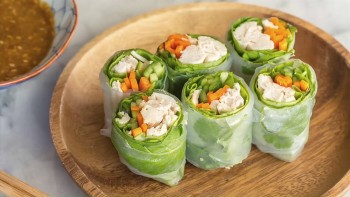 Travel
Rolls are a easy-to-make dish that is loved by many Vietnamese diners as well as Korean stars.