Vietnam News Today (Apr. 13): Vietnam, Germany Offer Mutual Support at International Forums
Vietnam News Today (Apr. 13): Vietnam, Germany offer mutual support at international forums; France-Vietnam medical federation a bright spot in cooperation: Official; Nine more Asian records for Vietnamese dishes, specialties recognised; Visa policy: still not easy to apply for e-visa.
Vietnam News Today (Apr. 13) notable headlines
Vietnam, Germany offer mutual support at international forums
France-Vietnam medical federation a bright spot in cooperation: Official
Nine more Asian records for Vietnamese dishes, specialties recognised
Visa policy: still not easy to apply for e-visa
Quang Nam named among Asia's most sustainable destinations
US, Vietnam celebrate improvements to trade and investment climate
50 years of Vietnam-France relations: Strategic Partnership thriving
Traditional handicrafts – resources for cultural tourism development
Vietnam ready to excel in new sports at SEA Games 32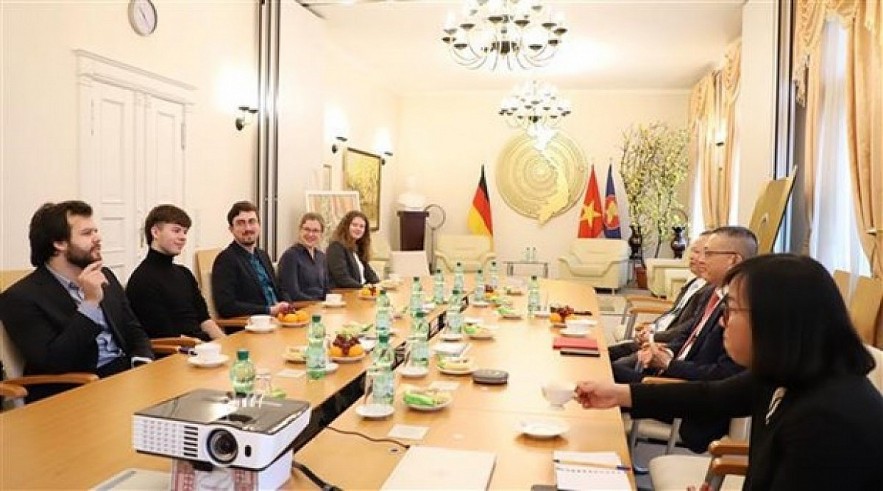 At the working session (Photo: VNA)
Vietnam, Germany offer mutual support at international forums
Vietnamese Ambassador to Germany Vu Quang Minh held a working session on April 11 with a delegation of interns from the German Foreign Ministry to compare notes on the nation's external policies.
This marked the first time that interns from various universities in Germany had participated in discussion on mutual relations, as well as several current international issues related to their fields of study at the Vietnamese Embassy.
They watched a video clip introducing Vietnamese foreign achievements and several diplomatic milestones recorded in 2022, the joint relationship, as well as Vietnamese foreign policies amid more unpredictable and complicated developments occurring in the world than previously forecasted.
The Vietnamese diplomat briefed them on the country's foreign policy, its stance on certain global and regional issues, as well as important missions of the diplomatic sector in terms of the national development process, especially its significant role in spurring post-pandemic economic growth.
Reviewing the tremendous achievements of economic diplomacy seen in 2022, Ambassador Minh said keeping abreast with the world's trend of reopening, Vietnam had actively stepped up direct diplomatic activities bilaterally and multilaterally, thereby deepening ties with countries and international organisations to demonstrate its policy of balancing and diversifying external relations, cited VOV.
The sector also quickly shifted its focus from "vaccine diplomacy" to "economic diplomacy" in service to the cause of national recovery and development. In accordance with a Directive of the Party Central Committee's Secretariat and directions of the Government, it advised on the timing of reopening, helping to promptly attract investment flows, revive tourism, restore production, and propel economic growth leading the region, he added.
Answering interns' questions regarding Vietnamese socio-economic development last year, Ambassador Minh highlighted the country's efforts to fast-track the implementation of free trade agreements, the Regional Comprehensive Economic Partnership (RCEP), and the Comprehensive and Progressive Agreement for Trans-Pacific Partnership (CPTPP). This is along with urging the EU to remove the yellow card warning, as well as to realise the EU-Vietnam Free Trade Agreement (EVFTA) and the EU-Vietnam Investment Protection Agreement (EVIPA).
He affirmed that the direction towards new markets, green economy, digital economy, and circular economy has helped Vietnamese goods secure a foothold in many places, with a record export-import value of more than US$730 billion.
Germany remains the nation's biggest trade partner within the EU, while Vietnam has become Germany's largest trade partner in Southeast Asia. After more than 10 years of a strategic partnership, two-way trade has doubled. As of November, 2022, bilateral trade soared 16.7% on-year to reach US$10.6 billion. According to Germany's statistics, this figure was even higher, hitting US$12.16 billion.
In terms of the global arena, Vietnam and Germany also offer mutual support at international forums.
As active and responsible members of the international community, both sides share many core values, strategic interests, and concerns in the region and the world. Indeed, the two nations are keen to continue collaborating for the sake of co-operation, stability, peace, and development based on the rule of law, Ambassador Minh said.
As part of the occasion he also shared his professional experience in the diplomatic sector over the past three decades.
France-Vietnam medical federation a bright spot in cooperation: Official
The France-Vietnam Medical Federation (Fédération Santé France Vietnam - FSFV) has become a bright spot in the movement of solidarity and friendship between the two nations, and a bridge connecting French, Vietnamese and French-Vietnamese doctors, said its President Dr. Dao Thu Ha.
Ha said the federation has consistently endeavored to promote cooperation between hospitals of Vietnam and France, organise exchange activities, support healthcare human resources training, and provide technical assistance and medical equipment for Vietnam, contributing to improving the quality of healthcare services at Vietnamese hospitals and medical facilities.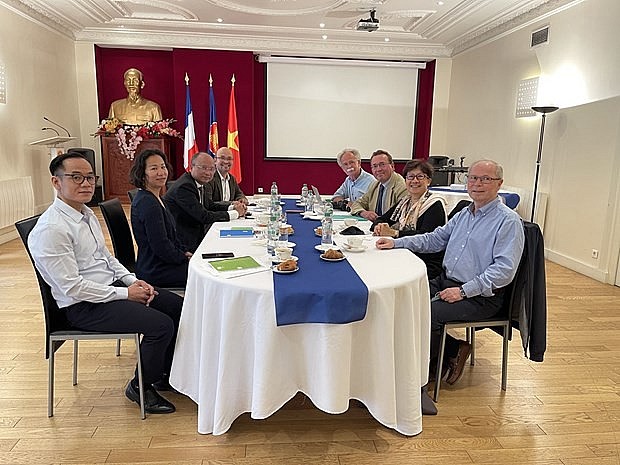 A working session between representatives of the Vietnamese Embassy in France and the FSFV. (Photo: VNA)
The initiative to set up the federation started in 2014 during the France – Vietnam Year, with the aim of gathering associations and individuals operating in the medical field who have cooperative relations with Vietnam.
The FSFV officially made its debut at a symposium held in Ho Chi Minh City in 2015, with the goal of creating a comprehensive strength in actions, sharing professional experience and information, as well as implementing cooperative projects between the two countries.
Ha, who is also President of the Imagerie, Médicale Sans Frontières (IMSF), said the FSFV has so far gathered around 25 associations, groups, investment funds, and medical equipment and pharmaceutical companies, as well as Vietnamese, French, and French-Vietnamese individuals working in the medical field in France, who have cooperation with hospitals and medical facilities in Vietnam.
According to Ha, the federation has maintained the organisation of conferences to evaluate the medical cooperation between the two countries in recent times and map out action programmes in the future, according to VNA.
It kept a close watch on the developments of the COVID-19 pandemic in Vietnam, and took all-out efforts to search for sources of aid regarding vaccines and medical equipment to join hands with Vietnam in the fight against the health crisis, she said, adding the FSFV shared its experience in preventing and controlling the pandemic with Vietnam as a multidisciplinary healthcare dialogue partner through online seminars.
Ha also revealed the federation's plans in the coming time, saying that it has planned to organise specialised conferences in November in Hanoi in celebration of the 50th anniversary of the diplomatic relations, and 10 years of the strategic partnership between the two nations.
Vietnamese Ambassador to France Dinh Toan Thang highly appreciated the contributions of French and French-Vietnamese doctors to promoting healthcare cooperation between the two countries, especially in human resources training and modernising the medical sector through providing technical assistance and donating medical equipment to hospitals and healthcare facilities in Vietnam.
He expressed his hope that the FSFV will continue to play its special role in training young generations who can continue and inherit the mission of promoting healthcare cooperation between the two nations.
Nine more Asian records for Vietnamese dishes, specialties recognised
The Asian Record Organisation has officially recognised an additional nine Asian records for famous Vietnamese dishes/food groups and specialties nominated by the Vietnam Records Organisation (VietKings), marking the milestone of 50 Asian culinary records in Vietnam in conformity with the "Asian Culinary Value" criteria.
The newly-recognised dishes and specialties include traditional cakes of Can Tho city; dishes made from pineapple in the southern province of Hau Giang; fried puffed sticky rice cake in the southern province of Dong Nai; Dinh Bang "Phu The" (husband and wife) cake in the northern province of Bac Ninh; dragon fruit in the south central province of Binh Thuan; Phan Thiet fish sauce from Binh Thuan province; Luc Ngan lychee in the northern province of Bac Giang; Lam Dong artichoke in the Central Highlands province of Lam Dong; Long Xuyen broken rice in the Mekong Delta province of An Giang.
As scheduled, the Asian records certificates will be awarded to the localities at a meeting in June in Ho Chi Minh City, VNA reported.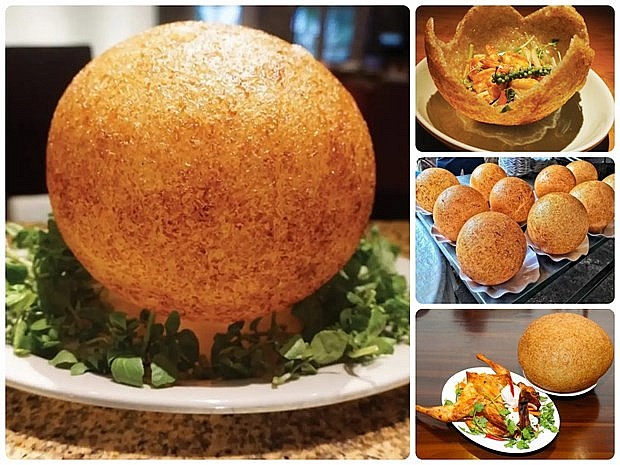 Fried puffed sticky rice cake in Dong Nai province. (Photo: petrotimes.vn)
According to a VietKings representative, VietKings has taken a journey to seek and promote the unique values of Vietnam, especially its culinary and specialty values, since 2012. With 63 cities and provinces, the Vietnamese cuisine and specialties in each region have their own distinctive flavors, ingredients, ways of using and combining spices, among others. Via media cooperation with international record organisations to which that VietKings is a member, such journey will continue in order to popularise these exquisite values.
Visa policy: still not easy to apply for e-visa
Vietnam has vowed to reform its visa policy as it believes this is the key to attract more foreign travelers to Vietnam. However, some problems still exist.
One of the major contents in a statement to the National Assembly for consideration of a resolution at the fifth session slated for May 2023 is the granting of e-visas to citizens of all countries and territories and the extension of e-visa validity from 30 days to 3 months.
Cao Tri Dung, chair of the Da Nang Tourism Association, said that these are the 'revolutionary changes'. Previously, many foreign travelers who applied for visas mostly booked tours at large travel firms and traveled in groups. After the list of countries to be granted e-visas is extended, the number of solo travelers to Vietnam will increase.
Nghiem Thuy Ha, the founder of Aadasia Group, thinks that if the application for visas online becomes easier and travelers can stay in Vietnam longer, the new tourism trends after Covid-19 will be satisfied. Many tourists tend to 'pack and go' immediately rather than draw up long-term plans, so they need to obtain visas quickly and conveniently.
However, while waiting for the new visa policy, travel firms have complained that they are still facing troubles related to e-visa and entry procedures.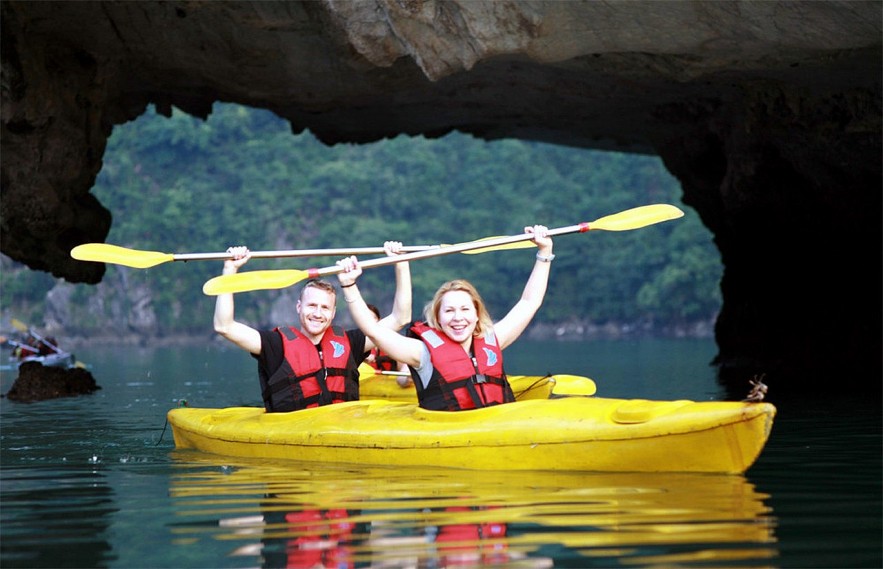 Photo: VNN
In some unexpected cases, the inflexible handling of cases by officials causes travel firms a lot of time and effort, cited VNN.
The CEO of a travel firm in Hanoi specializing in inbound travelers said in March the firm served a group of travelers from India. The travelers planned to land at Da Nang Airport and transit at Tan Son Nhat Airport. They got approval to enter Vietnam through the airport.
However, just days before departure, the airline decided that the travelers would transit at Noi Bai Airport instead of Tan Son Nhat. The travel firm then asked the immigration agency if the passengers could enter Vietnam through the airport in Hanoi.
After a lot of debate, the firm finally decided to apply for the visas again right from the beginning.
"It's all a matter of luck, depending on the officers at the border gates," he said.
If foreign travelers have e-visas, they should be allowed to enter Vietnamese territory through any border gate at their convenience, he said.
The CEO of another travel firm said his foreign clients complained that applying for e-visa in Vietnam is like an 'adventure'.
In some cases, travelers receive visas with the wrong date of birth, ID number or letters in their names. If any mistake is found, travelers' entry is refused.
Quang Nam named among Asia's most sustainable destinations
UK-based travel magazine Wanderlust has named the central province of Quang Nam among Asia's top four sustainable destinations.
The magazine stated that the list features places which are all well worth a visit if visitors are seeking an eco-friendly escape.
By putting local businesses at the heart of tourism, Wanderlust noted that Quang Nam is proving sustainability starts at home.
"Hoi An Kayak Tours takes visitors on a paddle through the Nipa mangroves, navigating fishing boats and stilt village," the magazine shared.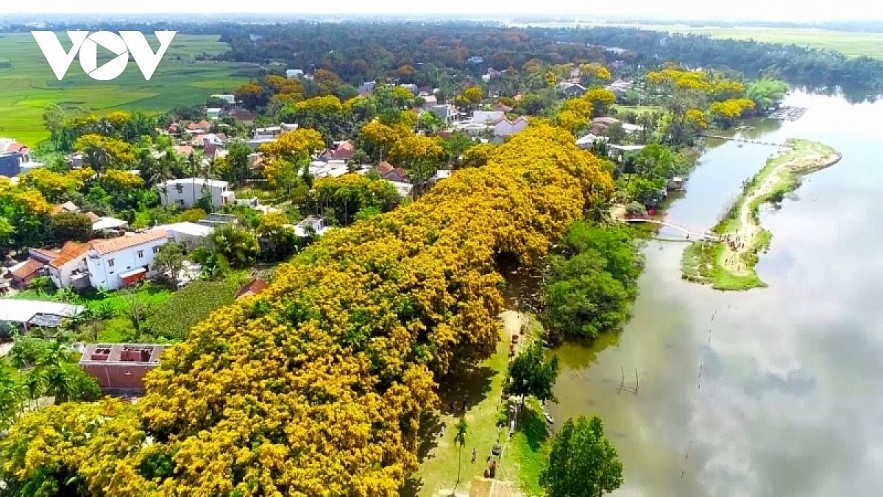 Quang Nam is listed among Asia's most sustainable destinations by Wanderlust.
"In town, Refillables sells eco-friendly travel necessities, from shampoo to toothbrushes, while nearby zero-waste restaurant The Field uses wild and organic local produce to create rustic dishes, such as its aubergine and tofu broth," it added
It also suggested that visitors should spend the night among the blossoming trees at An Villa, which provides filtered drinking water to guests, thereby reducing the need for plastic use.
Three other sustainable destinations on Wanderlust's list include Bhutan, Singapore, and Ataúro Island in Timor-Leste.