Vietnam News Today (Apr. 11): Vietnamese, Lao, Thai Localities Foster Trade Ties
Vietnam News Today (Apr. 11): President Vo Van Thuong begins official visit to Laos; Vietnamese, Lao, Thai localities foster trade ties; Tourists to Da Nang skyrocket in Q1; Vietnam seeks to further develop digital economy.
Vietnam News Today (Apr. 11) notable headlines
President Vo Van Thuong begins official visit to Laos
Vietnamese, Lao, Thai localities foster trade ties
Tourists to Da Nang skyrocket in Q1
Vietnam seeks to further develop digital economy
Multiple cultural, tourism activities to take place in Hue this summer
Hanoi to host 12th Vietnam-France decentralised cooperation conference
Vietnam attends 3rd China International Consumer Products Expo
Lao media spotlights Vietnamese President's official visit
Quang Ninh to launch 38 new tourism products in 2023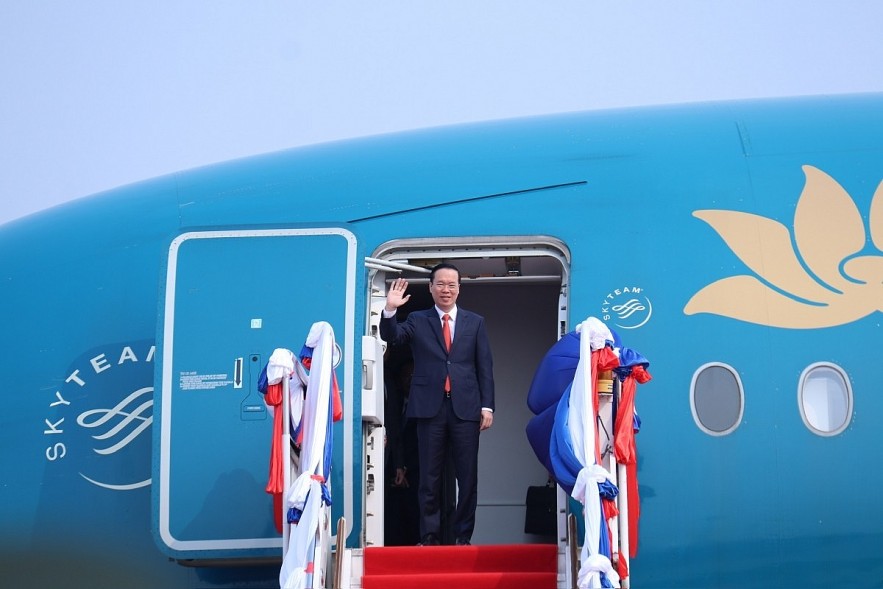 President Vo Van Thuong arrives at Wattay International Airport in Vientiane capital on April 10 morning, starting an official visit to Laos.
President Vo Van Thuong begins official visit to Laos
President Vo Van Thuong and a high-ranking Vietnamese delegation arrived at Wattay International Airport in Vientiane on April 10 morning, starting an official visit to Laos at the invitation of General Secretary of the Lao People's Revolutionary Party and President of Laos Thongloun Sisoulith.
Those welcoming the delegation at the airport included Chairman of the Presidential Office Khemmani Pholsena, Mayor of Vientiane Atsaphangthong Siphandone, Deputy Foreign Minister Thongphane Savanphet; Lao Ambassador to Vietnam Sengphet Houngboungnuang, Vietnamese Ambassador to Laos Nguyen Ba Hung and overseas Vietnamese community representatives and overseas students in Laos.
In the context the world and regional situation being very complicated, causing many difficulties and challenges, the Vietnamese President's visit to Laos shows Vietnam's strong and comprehensive support for the renewal, recovery and socio-economic development, and international integration of Laos.
During his visit to Laos, President Vo Van Thuong is set to attend an official welcome ceremony, hold talks with the General Secretary and President of Laos, and witness a signing ceremony of cooperation documents between the two countries.
The President will also have a host of meetings with the Prime Minister and the President of the National Assembly of Laos, the President of the Central Committee of the Lao Front for National Construction, and the President of the Central Committee of the Laos-Vietnam Friendship Association, cited VOV.
He will also attend a banquet hosted by the General Secretary, President of Laos, visit the Vietnamese Embassy in Laos and meet Vietnamese community representatives in Laos.
Vietnamese, Lao, Thai localities foster trade ties
Representatives from Vietnamese, Lao and Thai cities and provinces proposed cooperation measures at a forum in the Lao province of Champasak on April 10.
The event, co-organised by the Vietnamese Consulate General in Pakse, Champasak province, local authorities and the Vietnam E-commerce Association (VECOM), brought together officials from Ho Chi Minh City, Quang Tri, Da Nang, Quang Nam, Quang Ngai, Khanh Hoa, Kon Tum, Gia Lai, Binh Duong, Dong Nai and Dong Thap of Vietnam, Champasak, Sekong, Salavanh and Attapeu provinces of Laos and Thailand's Ubon Ratchathani province.
In his remarks, Vietnamese Consul General in Pakse Nguyen Van Trung said the forum is intended to roll out agreements reached at the 45th meeting of the Vietnam-Laos Inter-Governmental Committee earlier this year, and particularly to promote development cooperation in the East-West Economic Corridor.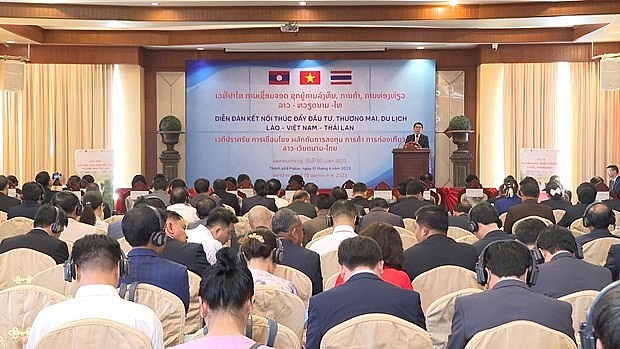 At the forum (Photo: Kon Tum Newspaper)
He stressed that the Vietnamese Party and State leaders always attach importance to the role of the economic corridor, as reflected through the issuance of various relevant resolutions and documents to facilitate regional connectivity.
Representatives from the participating localities presented their strength and investment incentives, and proposed cooperation possibilities among the three countries, according to VNA.
Delegates of Vietnamese localities where the corridor runs through said they have upgraded infrastructure to tap the potential and advantages of the corridor, and enhance cultural, trade, investment and tourism links with others along the corridor.
On this occasion, VECOM signed cooperation agreements with the Lao southern provinces of Champasak, Sekong and Salavanh, which are hoped to help boost trade ties between the Lao localities and Vietnamese central, Central Highlands and southern cities and provinces through personnel training, e-commerce solutions and the building of a digital platform connecting Vietnam, Laos and Thailand.
Tourists to Da Nang skyrocket in Q1
The total number of visitors to the central city of Da Nang during the first quarter of the year recorded a five-fold rise to more than 1.4 million compared to the same period from last year, according to data given by the Da Nang Department of Tourism.
In terms of the figure, foreign arrivals were estimated at nearly 400,000, while domestic tourists stood at more than one million arrivals, representing a 3.4-fold rise.
Total tourism revenue from accommodation, catering, and travel services reached an estimated VND5,897 billion, representing a 1.9-fold increase, VOV reported.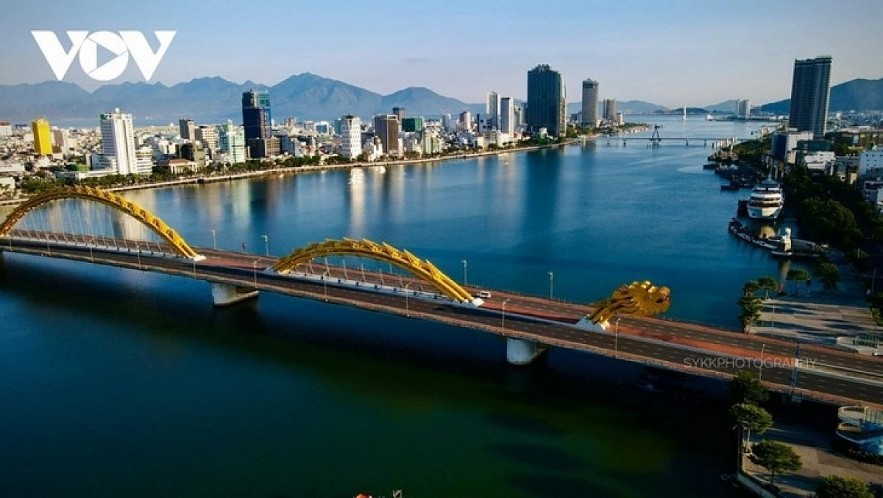 Photo: VOV
Since the beginning of the year the central city has implemented a flexible tourism plan, whilst also deploying solutions aimed restoring and developing the international tourism market.
Furthermore, the city has also organised a talk in a bid to remove hurdles faced by tourism enterprises, investors, and employees, while simultaneously deploying a stimulus programme as a means of attracting more tourists to Da Nang this year.
Most notably, the central city has welcomed 20 MICE delegations with nearly 5,000 visitors as part of a programme to support he domestic and international MICE tourists this year.
It has also participated in the international tourism fair named SATTE in India and hosted a number of tourism promotion schemes in Qatar, the UAE, and Osaka in Japan.
As part of efforts to prepare for the upcoming National Reunification Day on April 30 and May Day holidays, Da Nang plans to organise the "Danang Beach Tourism Season 2023" programme, which is scheduled for April 28 to May 3 at Bien Dong Park, Son Tra Peninsula, My An, My Khe, T18, and Nguyen Tat Thanh beaches with a number of interesting activities.
Vietnam seeks to further develop digital economy
The prerequisite for Vietnam's digital economy to go further is to optimise modern scientific and technological advancements in accordance with Vietnam's own approach, according to Nguyen Trung Chinh, Chairman of the Board of Directors and Executive President of CMC Corporation. According to experts from the Commonwealth Scientific and Industrial Research Organisation (CSIRO), digital transformation will bring about a 1.1% annual increase in GDP growth for Vietnam.
The experts held that the challenge for domestic technology businesses is how to learn, update and leverage the advantages of the global IT industry, and at the same time strive to produce made-in-Vietnam high-quality technology products and services led by Vietnamese people.
The Government's recent digital transformation efforts, including the establishment of the National Public Service Portal and the Government Reporting Information System, have proved effective, saving time and costs for citizens and businesses, while contributing to preventing corruption.
According to the draft National Digital Transformation Programme, Vietnam aims to enter the top 50 countries in e-government and ensure that the digital economy accounts for 30% of the country's GDP by 2030.
Chinh underlined that to this end, the Government, the Ministry of Information and Communications and IT companies should work closely together to build a strong national digital infrastructure system, including the hard system comprising 5G services, and data connectivity and storage, as well as the soft system of national database and open data.
The Government should promptly issue a set of common standards for the national population database and data for particular sectors, he said.
Chinh said that the Government can coordinate with IT firms to speed up the implementation and popularisation of shared platforms in order to optimise costs, diversify and maximise information sources and support businesses' operations.
The expert also underlined the need for an institution infrastructure with policies matching the digital society, cited VNA.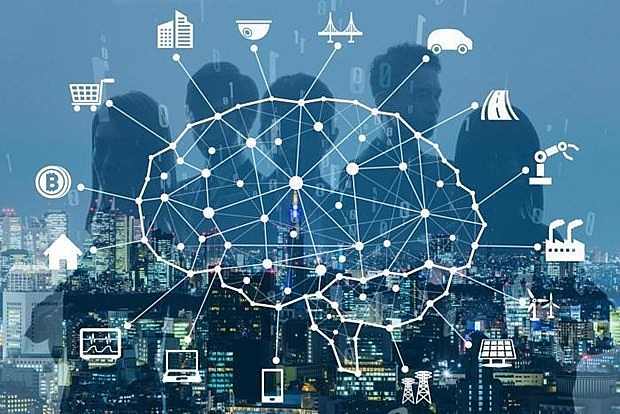 Illustrative image (Source: Vietnamnet.vn)
Consistent policies and regulations are also necessary to shape the digital economy, including those related to cross-border data flows, data security, cybersecurity, customer protection, e-commerce and taxation, he added.
Many experts asserted that initially, the Government should continue to complete the institutions, policies and legal corridors regarding information security, cybersecurity, cybercrime, and the protection of children on the cyberspace, as well as human resources in the field.
In the long run, the Government can collaborate with IT companies to establish a cybersecurity cooperation centre, aiming to coordinate cyberspace security, giving cyber-attack alerts, and participating in joint cyber defence exercises. The centre can also give training courses to enhance the capacity of officials in the field of cybersecurity and safety, they added.
According to Chinh, the Government should open the door wider for technology businesses to attract talents and resources. At the same time, it should delegate projects related to the country's digital infrastructure such as data centres, telecommunications infrastructure, and smart cities, to the private sector, he said, adding that Vietnam should turn itself into a Digital Hub for the Asia-Pacific region, serving as a central point for data transfer and telecommunications infrastructure connectivity in the region.
Multiple cultural, tourism activities to take place in Hue this summer
There will be a range of cultural and tourism activities in the UNESCO-recognised imperial citadel of Hue in central Thua Thien-Hue province in April and May.
Among them is the Hue Traditional Craft Festival from April 28 to May 5, a highlight of the summer festival which will last from April to June as part of the 2023 Hue Festival.
Sixty-one craft villages and facilities both in and outside the province have registered for the 8th craft festival.
Notably, for the first time, the craft festival will feature activities such as running, cycling, photo and painting exhibitions, and art performances capturing the iconic Huong (Perfume) River, and local residents.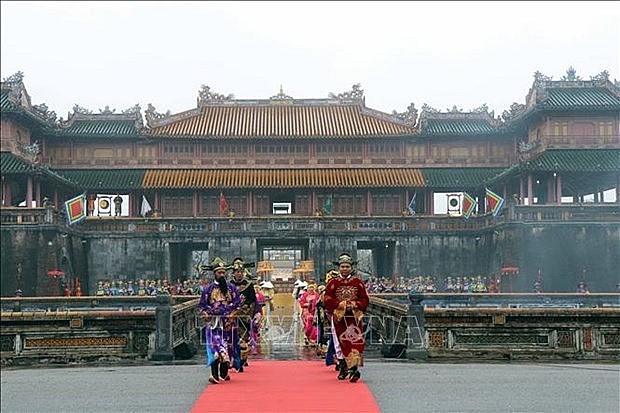 Photo: VNA
As part of the activities within the Hue Festival, an international hot balloon festival is taking place from April 10-18, and a lotus festival is slated for May 18-20.
Thua Thien-Hue served over 2 million visitors last year, up nearly 190% against 2021, and earned more than 4.5 trillion VND (190 million USD) from the sector, surpassing the set target by 12.5%.
It is striving to welcome from 3-3.5 million holidaymakers this year, of whom some 70-80% are domestic, and gross about 6-7 trillion VND in revenue, cited VNA.
To that end, the province has focused on agriculture-based tourism, eco-tourism, golf tourism and medical tourism, among other sustainable tourism products.
Hue, a former imperial capital of Vietnam for hundreds of years, is home to five heritages recognized by UNESCO, including the ancient citadel relic complex (a World Cultural Heritage site), Hue royal court music (an intangible cultural heritage item), Nguyen Dynasty's wood blocks (a documentary heritage item), Nguyen Dynasty's royal administrative documents (part of the Asia-Pacific Register of UNESCO's Memory of the World Programme), and literature on Hue royal architecture (another documentary heritage).