Vietnam News Today (Apr. 18): Vietnam, Australia Foster Economic Partnership
Vietnam News Today (Apr. 18): Vietnam, Australia foster economic partnership; Holiday airfares skyrocket as holidaymakers hesitate; Vietnam's GDP growth forecast to rank second in ASEAN; Air quality in northern region reaches unhealthy levels.
Vietnam News Today (Apr. 18) notable headlines
Vietnam, Australia foster economic partnership
Holiday airfares skyrocket as holidaymakers hesitate
Vietnam's GDP growth forecast to rank second in ASEAN
Air quality in northern region reaches unhealthy levels
Ninh Binh hailed as most affordable tourist destination in Vietnam
NA Chairman's visit to Cuba holds great significance: ambassador
Vietnamese fruits gain strong foothold in Australia
Tourist number in Da Nang recovers to pre-pandemic level
Railway infrastructure projects grab foreign investors' attention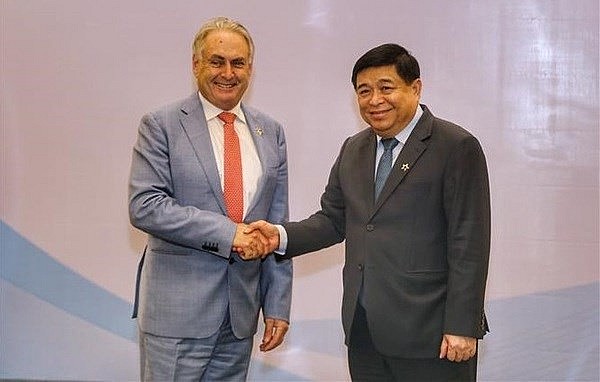 Minister of Planning and Investment Nguyen Chi Dung (R) and Australian Minister for Trade and Tourism Don Farrell (Photo: VNA)
Vietnam, Australia foster economic partnership
The third Vietnam-Australia Economic Partnership Meeting was held in Hanoi on April 17 under the co-chair of Minister of Planning and Investment Nguyen Chi Dung and Australian Minister for Trade and Tourism Don Farrell.
Addressing the event, Dung said that the Vietnam-Australia economic cooperation has seen strong growth over the years. Since the two sides lifted up their ties to a strategic partnership in 2018, they have become partners in many areas from trade, investment, development investment, agriculture, education and training.
Australia is one of the largest providers of non-refundable official development assistance (ODA) for Vietnam, he said, citing statistics announced by the Australian Embassy that in the 2022-2023 period, Australia has increase ODA to Vietnam by 18% from 78.9 million AUD (52.98 million USD) to 92.8 million AUD (62.32 million USD), focusing on areas of renovation, skilled worker training, women empowerment, COVID-19 response, and encouraging the private sector's engagement in socio-economic development.
As of March this year, Australia had 593 valid projects in Vietnam worth 1.99 billion USD, ranking 20th out of 143 countries and territories investing in Vietnam.
Last year, two-way trade rose 26.9% to 15.7 billion USD, including Vietnam's exports of 5.6 billion USD, making Australia the seventh biggest trade partner of Vietnam, cited VNA.
Vietnam currently ranks fifth among countries sending students to Australia with more than 22,000 students as of December 2022.
According to Dung, the meeting will consider working groups in various areas to discuss multilateral economic cooperation, contributing to promoting the sustainable development of bilateral partnership.
He called for more investment from Australia and suggested that the Australian side coordinate with Vietnam to develop the bilateral relations in a more balance manner, and support Vietnam in trade promotion activities and introducing more products, especially agro-fisheries products in Australia.
The two sides should work closer in new cooperation areas such as innovation, green and renewable energy, circular and high-tech agriculture as well as culture and tourism, he said.
For his part, Farrell affirmed that cooperation between Australia and Vietnam has been fruitful in all fields, especially trade, investment, education and training. He said he believes that the meeting will open up new development orientations for the Vietnam-Australia partnership.
At the meeting, the two sides discussed measures to further foster the Vietnam-Australia economic ties, evaluate the implementation of the Vietnam-Australia Enhanced Economic Engagement Strategy and the outcomes of working groups on ODA, foreign investment and trade, and listen to recommendations from businesses of both sides on measures to improve the business environment quality.
Participants also discussed cooperation between the two countries at multilateral and regional forums such as the Association of Southeast Asian Nations (ASEAN), Asia-Pacific Economic Cooperation (APEC), World Trade Organisation (WTO), Regional Comprehensive Economic Partnership (RCEP), Comprehensive and Progressive Agreement for Trans-Pacific Partnership (CPTPP), ASEAN-Australia-New Zealand Free Trade Area (AANZFTA), and the Indo-Pacific Economic Framework (IPEF).
The meeting took place in the context that the two countries are celebrating the 50th founding anniversary of the bilateral diplomatic relations (1973 - 2023). During the visit to Vietnam by Governor-General of Australia David Hurley in April, the two sides agreed to discuss upgrading the relationship to a comprehensive strategic partnership at an appropriate time.
Participants agreed to organise the fourth Vietnam-Australia Economic Partnership Meeting in Australia in a convenient time.
Holiday airfares skyrocket as holidaymakers hesitate
The price of domestic airfares has increased significantly over recent days ahead of the upcoming five-day national holiday, dealing a heavy blow to tour operators' recovery efforts.
Local people will have five days off work starting on April 29 to celebrate National Reunification Day (April 30) and May Day (May 1). However, airfares for domestic routes have remained rather high, even higher than those for outbound tours, and the prices are likely to keep rising over the coming days.
On the websites of local airlines, airfares for flights from April 28 to May 4 change continuously every hour, with many flights running out of economy class tickets.
National flag carrier Vietnam Airlines has announced a round-trip flight from Hanoi to Phu Quoc at VND8.5 million to VND10 million, while budget airlines VietJet Air and Bamboo Airways have offered a similar flight on the same route at VND7.9 million to VND8.3 million, according to VOV.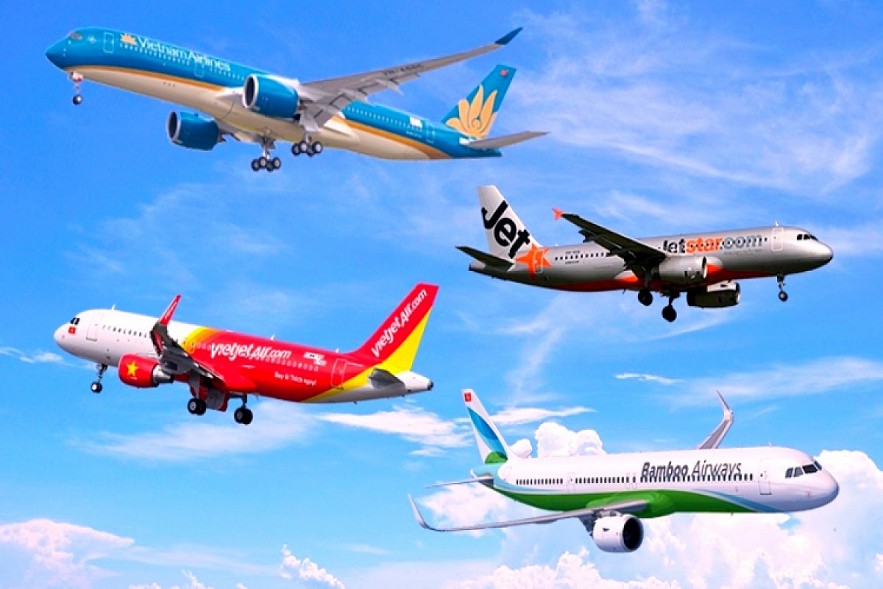 Domestic airfares have skyrocketed ahead of the five-day national break, starting April 28, due to people's rising travel demand. (Illustrative image)
Meanwhile, a round-trip flight run by VietJet Air, Vietnam Airlines, and Bamboo Airways from Ho Chi Minh City to Thailand costs between VND3.2 million and VND5 million. Similarly, airlines are offering tickets starting from VND5.5 million for a round-trip flight from Ho Chi Minh City to Singapore.
Airlines attribute the soaring prices of airfares on domestic routes to a surge in people's travel demand for the long holiday. In addition, airlines are attempting to increase the frequency of flights, thereby affecting supply sources. They are also trying to expand overseas destination networks, making a change in domestic flight arrangements.
The soaring prices of air tickets deal a heavy blow to domestic tour operators that are trying to stimulate local tourism. Many local holidaymakers have decided to travel abroad instead of flying to domestic destinations.
Truong Thi Thanh Huong, a resident living in Ho Chi Minh City, says she originally planned to travel to Da Nang during the upcoming holiday. However, she changed her mind when a round-trip flight to Thailand or Singapore would cost just VND5 million or VND6 million per person, compared to over VND5 million per person for a round-trip flight from Ho Chi Minh City to Da Nang.
During the Vietnam International Travel Mart 2023 recently held in Hanoi, travel businesses marketed thousands of promotional products with tours to Thailand, the Republic of Korea, Japan, and China receiving plenty of attention from visitors.
Nguyen Cong Hoan, general director of Flamingo Redtours, points out that soaring prices of domestic airfares reduced the overall attractiveness of products and will impact the competitiveness of destinations. To deal with this problem, many travel firms often make early deposits and hoard tickets in large quantities. However, this solution is not safe as travel businesses will be forced to sell off tickets when the market plunges.
According to information provided by experts, the surge in airfares will affect the repositioning of the tourism market in the current recovery period. As airfares account for 40% to 60% of the cost of a tour, they believe that rising ticket prices are not just an issue for the airline industry itself.
"This has a certain impact on domestic tourism, especially those that depend entirely on flights," emphasises Nguyen Thi Khanh, head of the Ho Chi Minh City Tourism Association. "The tourism and aviation industries should sit together to introduce effective stimulus programmes."
In this context, many travelers are hesitant to go on a summer holiday or consider alternatives by looking for more affordable flight routes or choosing a type of summer travel that does not use aviation in order to reduce costs.
Vietnam's GDP growth forecast to rank second in ASEAN
Vietnam's GDP is projected to grow 5.8% this year, sharing the second position with Cambodia in the region, only after the Philippines, according to the International Monetary Fund (IMF).
Notably, Vietnam's public debt is expected to stay at the lowest as compared with eight other ASEAN member countries, the fund said.
The fund also forecast that Vietnam's GDP growth will rebound to 6.9% in 2024, the highest in Southeast Asia, and its public debt will fall to 31.3% of the national GDP in 2028 from the record 47.5% in 2016. The debt-to-GDP ratio in 2028 will be the lowest within two decades, VNA reported.
In terms of inflation, the lender said it will reach 5% and 3% in 2023 and 2024, respectively.
Over the past time, the State Bank of Vietnam (SBV) has constantly cut regulatory interest rates, paving the way for credit institutions to reduce their lending interest rates, thus spurring economic growth, said Dao Minh Tu, deputy governor of the SBV.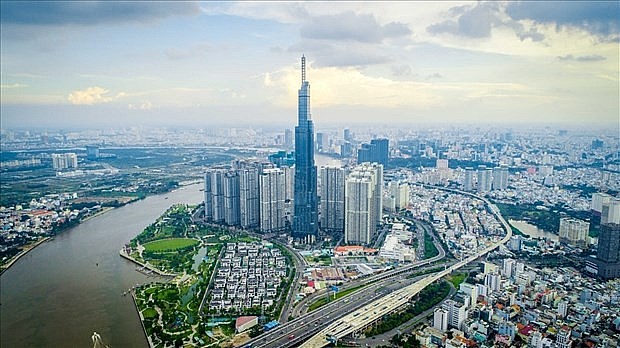 Vietnam's GDP is projected to grow 5.8% this year. (Photo: VNA)
Experts described the central bank's reductions as flexible and timely, and expected that 12-month deposit interest rates will hover around 7% and lending interest rates, 10%.
The bank has substantial room to further loosen monetary policy this year, they said, noting that it will continue to cut policy rates by 50 basis points in the second quarter of this year.
Experts from the Bao Viet Securities JSC shared the view that the biggest pressure on interest rates last year came from the US Federal Reserve's continuous rate hikes, making the USD soar to a 20-year high.
Meanwhile, those from the United Overseas Bank (UOB) said the Vietnam's GDP growth of only 3.32% in the first three months of this year, down from 5.92% in the last quarter of 2022, will prompt the central bank to further cut regulatory interest rates, and that the bank is likely to further relax policies in the time ahead.
Air quality in northern region reaches unhealthy levels
The northern region continued to experience poor air quality on the morning of April 17, with private provider PAM Air declaring the conditions as "unhealthy" and "very unhealthy", potentially affecting the entire population.
PAM Air monitoring stations in Cam Xa Commune, My Hao District, Hung Yen Province, reported that the Air Quality Index (AQI) exceeded the red-warning level, peaking at AQI 312.
The index surpassed 300, meaning everyone may experience more serious health effects.
The air quality in five stations in Hanoi, Hung Yen, and Thai Nguyen provinces showed the AQI at purple (AQI 201-300, "very unhealthy").
Dozens of stations in some northern localities also reported the air quality index as red (AQI 151-200, 'Unhealthy'), mainly in Hanoi and neighbouring areas, cited VNS.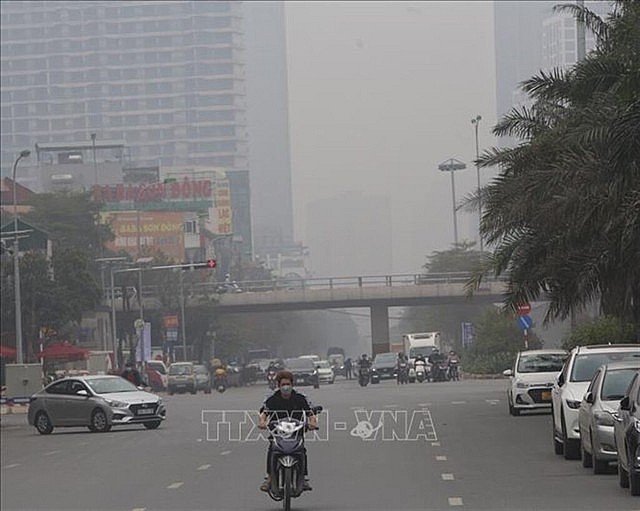 Air quality in the northern region reaches unhealthy levels on Monday morning. Photo: VNA
According to the Department of Environmental Pollution Control under the Ministry of Natural Resources and Environment, the air quality in some localities is deteriorating due to fine dust particles (PM2.5).
Moreover, the current adverse weather developments, such as differences in temperature, humidity, wind direction and thermal radiation, have also affected the diffusion of air pollutants, which makes dust stay longer in the air.
The Department of Environmental Pollution Control urges local authorities to take prompt action.
Provincial and municipal environment departments must increase the frequency of air monitoring programmes.
Local authorities must focus on inspecting and supervising industrial production facilities to control emissions and ensure companies install emission monitoring systems.
Ninh Binh hailed as most affordable tourist destination in Vietnam
The northern province of Ninh Binh is the place where travelers can enjoy the most competitive room rates in April, according to travel website Agoda.
Many tourists across Asia and Australia are looking forward to long weekends and holidays in the coming weeks.
In Vietnam, Ninh Binh is the most affordable tourist destination, with an average hotel room rate of US$47.
The other top five are the imperial capital of Hue at $49; fast growing coastal destination Quy Nhon at $58; mountain retreat Da Lat at $62; and the two major cities, HCM City and Hanoi, each at $67.
Average room rates for April were calculated based on available Agoda data on March 28, 2023, cited VNS.
The destinations with the cheapest average accommodation rates across the APAC region are Khon Kaen in Thailand, Sibu in Malaysia, Surakarta in Indonesia, Puri in India, Bacolod in Philippines, Chiba in Japan, Gwangju in South Korea, and Brisbane in Australia.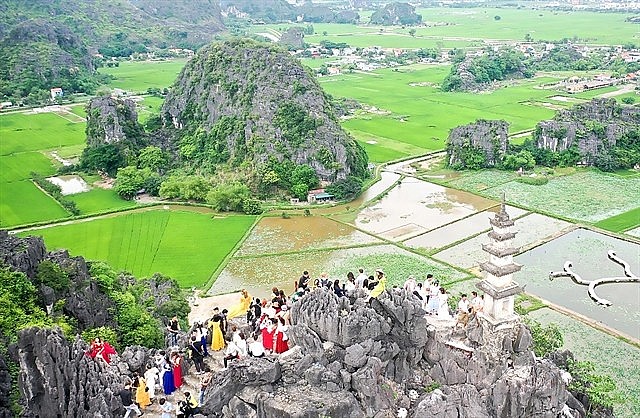 An image of Ninh Binh's beauty. The province has the most competitive hotel room rates in April. Photo: Ninh Duc Phuong
"With 2023 already well underway and public holidays coming up in numerous regions, many of us are looking for a well-deserved break," said Vu Ngoc Lam, country director for Vietnam at Agoda.
"But at the same time, with cost of living in the daily news across the globe, we're all trying to be smart about how to spend our hard-earned cash," he said.
Ninh Binh's magnificence has stunned those who have roamed there for millennia. Located just an hour from the capital Hanoi, its towering peaks, tranquil waterways, giant temples, and storied pagodas have captivated all who venture there.
Rising to prominence as the setting for the Hollywood blockbuster Kong, the home of Trang An landscape Complex, a UNESCO World Heritage site, Ninh Binh has experienced a resurgence of interest from visitors, paddling through its shimmering rivers, and venturing up the 500 steps carved into the side of a mountain that leads one into Mua Cave.
It's gorgeous scenery changes year-round. And getting there is a breeze, with countless Hanoi transport companies offering bus and limousine options for the two-hour drive, ensuring that all price-points are covered for visitors looking to take in one of Vietnam's hidden charms.