Vietnam News Today (Aug. 16): Vietnam Grants E-visas to All Foreign Arrivals
Vietnam News Today (Aug. 16): Vietnam and Israel become leading important partners; Conference seeks ways to accelerate tourism recovery; Vietnam grants e-visas to all foreign arrivals; Active response to COVID-19 urged as new sub-variant emerges globally.
Vietnam News Today (Aug. 16) notable headlines
Vietnam and Israel become leading important partners
Conference seeks ways to accelerate tourism recovery
Vietnam grants e-visas to all foreign arrivals
Active response to COVID-19 urged as new sub-variant emerges globally
Vietnam among top 10 tourist markets of Singapore
Photo exhibition marks Vietnam-Italy diplomatic ties
Ample room remains for Vietnam-Israel to boost trade, investment cooperation
International Travel Expo Ho Chi Minh City 2023 to draw over 400 exhibitors
Vietnam expects US$2 billion trade target with Bangladesh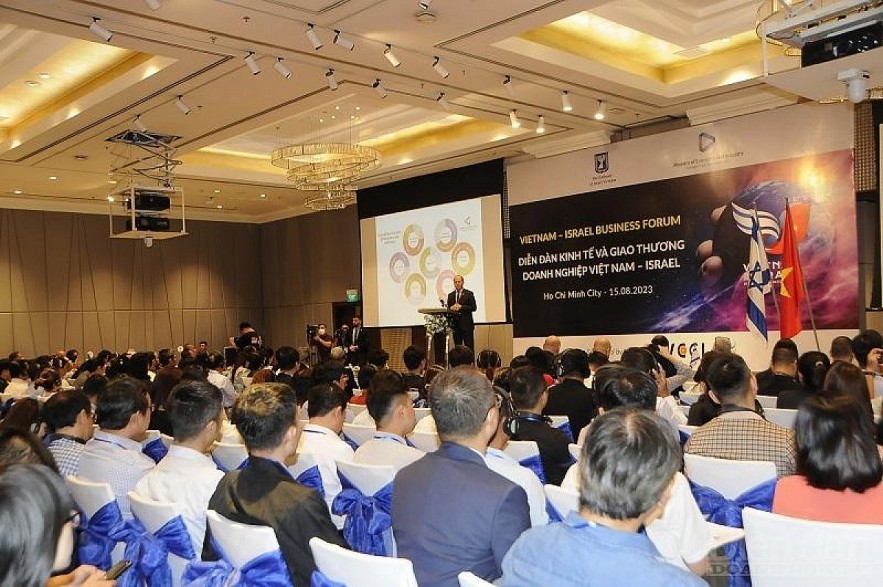 At the event (Photo: diendandoanhnghiep.vn)
Vietnam and Israel become leading important partners
After 30 years since the establishment of diplomatic ties, the friendly co-operative relationship between Vietnam and Israel has continuously seen strong development, thereby making both sides become each other's leading and important partners in Southeast Asia and West Asia, respectively.
There remains ample room for the two countries to further boost comprehensive economic and trade links towards a business ecosystem for the business communities of each side in the coming time.
This assessment was made by delegates at the Vietnam-Israel Business Forum co-organised on August 15 by the Vietnam Chamber of Commerce and Industry (VCCI)'s chapter in HCM City and the Embassy of Israel in Vietnam.
Regarding investment, as of July 20, Israel has run 40 FDI projects in the country, with a total capital of more than US$140 million, thereby ranking 47th out of 148 countries and territories investing in the Vietnamese market.
The nation currently has four investment projects in Israel with a total value of roughly US$76 million.
In terms of trade, Israel represents the fifth largest trading partner and the third largest export market of Vietnam in the Middle East, as well as being the 33rd largest trading partner out of a total of more than 200 national and territorial markets that the country has imported and exported goods.
The economic structures of both nations are complementary as the import and export products of the two not only do not compete directly, but also complement each other.
In 2022, total Vietnamese import-export turnover with Israel reached US$2.2 billion, up 17.9% over the same period from 2021, of which Vietnamese export turnover to the Middle East nation hit US$785.7 million and Vietnamese import turnover from Israel stood at US$1.4 billion.
Vietnamese products which have secured a foothold in the Israeli market include mobile phones and components, seafood, agricultural products of all kinds, footwear, as well as garments and textiles.
However, according to Director of the VCCI's HCM City chapter Tran Ngoc Liem Tran Ngoc Liem, compared with Israel's potential in science, technology, and finance, these figures for direct investment in the Vietnamese market are meager and not commensurate with the potential and needs of the two sides.
The Vietnamese Government strives to create favorable conditions for Israeli enterprises to invest more in the country in the fields of industrial production and agriculture with high technology applications, materials industry, information technology, green and clean production, and investment in industrial infrastructure development.
Simultaneously, the two countries are in the process of striving to elevate bilateral trade turnover target to US$3 billion in the time ahead, cited VOV.
On July 25, both sides signed the Vietnam-Israel Free Trade Agreement (VIFTA) which covers many areas of mutual interest, such as trade in goods, service, investment, rules of origin, sanitary and phytosanitary measures, customs, and government procurement.
Most notably, Israel is the first country in West Asia that the Vietnamese side has signed an FTA with, whilst Vietnam is also the first country in Southeast Asia that Israel has signed an FTA with.
The signing and implementation of the VIFTA will create a favorable premise for the country to bolster the export of key products, not only to Israel, but also have the opportunity to access other markets in the Middle East, North Africa, and Southern Europe.
In the opposite direction, besides the Vietnamese market of over 100 million people, Israeli goods and technologies have opportunities to gain access to markets in ASEAN member states, the Asia-Pacific region, and other major economies in the 16 FTAs that Vietnam has joined.
Israeli Minister of Economy and Industry Nir Barkat said the Israeli side is one of the world's leading countries in terms of technology and startups.
Along with potential of science and technology, the Israeli Government has also adopted mechanisms and policies which seek to encourage enterprises to develop, expand investment, and co-operate in developing foreign markets.
With the signing of the VIFTA, Israel is opening more doors for Vietnamese goods to penetrate directly into the domestic consumer market. Therefore, this is an opportunity for the two sides to promote trade and investment, as well as forming a business ecosystem in the business communities of the two countries.
He also suggested that the two sides consider opening a direct flight from Ho Chi Minh City to Israel soon in an effort to shorten the geographical distance and create offer optimal conditions for businesses and investors to connect and share information about each other's needs and markets, thereby augmenting more effective co-operation activities.
Vo Van Hoan, vice chairman of the Ho Chi Minh City People's Committee, emphasized that the signing and implementation of the VIFTA will open up new and deeper opportunities for both sides.
The southern metropolis wishes to bolter linkages and attract Israeli businesses to invest in areas where the city is in great demand such as the digital economy, science and technology, high-tech agriculture, and renewable energy, etc. This will serve to promote investment and trade relations between Vietnam and Israel commensurate with the potential and needs of the two nations, he added.
Conference seeks ways to accelerate tourism recovery
The Ministry of Culture, Sports and Tourism on August 15 held a conference to disseminate new legal documents to accelerate tourism recovery and development in an effective and sustainable manner.
The law on amending and supplementing a number of articles of the Law on Exit and Entry of Vietnamese Citizens and of the Law on Entry, Exit, Transit and Residence of foreigners in Vietnam took effect from August 15. Accordingly, the duration of an electronic visa is extended to 90 days from 30.
Citizens of the countries that are unilaterally exempted from visas by Vietnam will be granted temporary residence for up to 45 days from 15 days and can be considered for visa issuance and temporary residence extension according to regulations, according to VNA.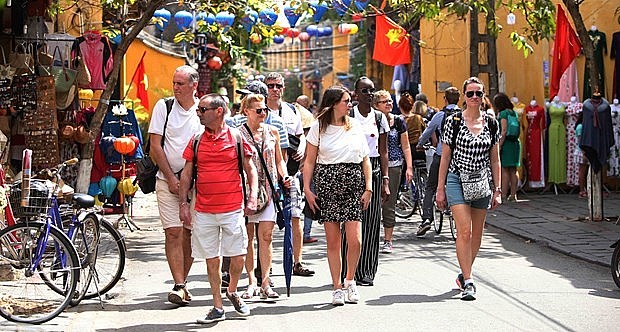 Foreign travelers visit Hoi An ancient town. (Photo courtesy of the Ministry of Culture, Sports and Tourism)
Speaking at the event, Deputy Minister of Culture, Sports and Tourism Doan Van Viet said the country welcomed 6.6 million foreign visitors in the first seven months of this year. Domestic tourists were estimated at 76.5 million in the review period. The country earned VND416.6 trillion (US$17.4 billion) from the tourism industry.
The conference aims to enhance the role and responsibility of the sector in effectively implementing tasks and solutions, creating a high consensus in awareness and action of the tourism industry as well as relevant industries, localities, businesses and people, Viet said.
He highlighted the need for taking drastic actions to create breakthroughs in tourism development, including seizing opportunities created by a more open visa policy to help the tourism industry develop rapidly and increase the number of foreign travelers to Vietnam.
It is necessary for the industry to promote the dynamism and creativity of enterprises in tourism recovery and development, the official added.
From now until the end of this year, the ministry will submit to the Government a master plan on Vietnam's tourism development system for the 2021-2030 period, with a vision to 2045, Viet said, adding that it will also build a national database on tourism, and research and develop a project on establishing Vietnam tourism promotion offices abroad, with priority to key markets.
Vietnam grants e-visas to all foreign arrivals
The Vietnamese Government has decided to issue e-visas to all foreign arrivals at 52 ports of entry into Việt Nam starting from August 15, according to the latest Resolution No. 127/NQ-CP.
Prior to this decision, the country has only been issuing 30-day single-entry e-visas to citizens from 80 countries.
The new e-visa, issued by the Việt Nam Immigration Department (under the Ministry of Public Security) to foreign arrivals through the electronic payment system, would be valid for multiple entries within 90 days.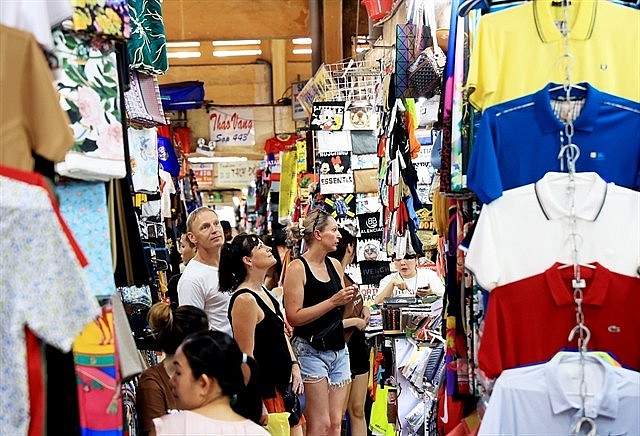 Foreign tourists visiting Ben Thanh Market, District 1, HCM City. Photo: VNS
The entry points include the 13 airports, such as Noi Bai International Airport in the capital city Hanoi, Tan Son Nhat International Airport in HCM City, Cam Ranh Airport (Khanh Hoa Province), Da Nang Airport (Da Nang City), Cat Bi Airport (Hai Phong City), Can Tho Airport (Can Tho City), Phu Quoc Airport (Kien Giang Province), Phu Bai Airport (Thua Thien-Hue Province), Van Don Airport (Quang Ninh Province), Tho Xuan Airport (Thanh Hoa Province), Dong Hoi Airport (Quang Binh Province), Phu Cat Airport (Binh Dinh), Lien Khuong Airport (Lam Dong Province).
16 land entrances include international border gates of Tay Trang (Dien Bien Province), Mong Cai (Quang Ninh), Huu Nghị (Lang Son Province), Lao Cai (Lao Cai Province), Na Meo (Thanh Hoa), Nam Can (Nghe An Province), Cau Treo (Ha Tinh Province), La Lay and Lao Bao (Quang Tri Province), Bo Y (Kon Tum Province), Moc Bai and Xa Mat (Tay Ninh Province), Tinh Bien (An Giang Province), Vinh Xuong International Land and Waterway Border Gate (An Giang), and Ha Tien (Kien Giang).
13 seaports include Hon Gai and Cam Pha ports (Quang Ninh), Hai Phong (Hai Phong), Nghi Son (Thanh Hoa), Vung Ang (Ha Tinh), Chan May (Thua Thien-Hue), Da Nang (Da Nang), Nha Trang (Khanh Hoa), Quy Nhon (Binh Dinh Province), Dung Quat (Quang Ngai), Vung Tau (Ba Ria-Vung Tau Province), Ho Chi Minh City Seaport (HCM City), and Duong Dong (Kien Giang), reported VNS.
The Government assigned the Prime Minister to direct relevant agencies to take necessary measures to ensure national sovereignty, social security, order and safety during the implementation of the Resolution.
Also, the Government has issued Resolution No. 128/NQ-CP amending Resolution No. 32/NQ-CP dated March 15, 2022, regarding visa exemption for citizens of certain countries.
Accordingly, citizens from Germany, France, Italy, Spain, the UK, Russia, Japan, the Republic of Korea, Denmark, Sweden, Norway, Finland and Belarus could stay in Vietnam for 45 days instead of 15 days since their entry, regardless of passport type or purpose of entry if they meet entry requirements in line with Vietnam law.
The Resolution takes effect from August 15.
Active response to COVID-19 urged as new sub-variant emerges globally
The Ministry of Health has sent a dispatch to authorities of centrally-run cities and provinces requesting active response to COVID-19 as the number of new infected cases globally surged by 80% last month.
In its recent report, the World Health Organization (WHO) identified the new EG.5 sub-variant of Omicron as a "significant concern."
The report also revealed that during July 10-August 6, there were nearly 1.5 million new infections worldwide, marking an 80% increase compared to the previous four weeks. However, the number of COVID-19-related deaths fell by 57%, totaling 2,500 cases, cited VNA.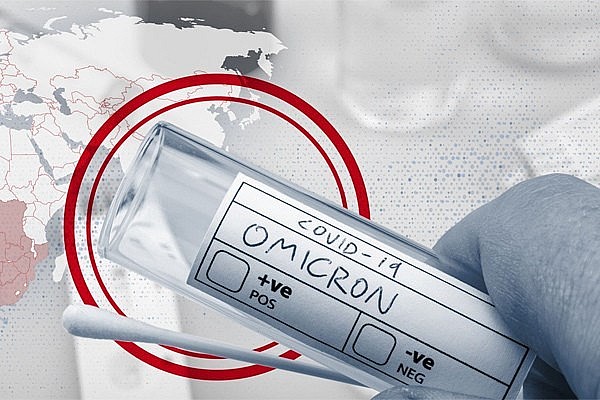 Illustrative image (Photo: vietnamnet.vn)
Accordingly, cities and provinces were urged to seriously follow the Government and Prime Minister's directives on pandemic prevention and control, effectively realize the Government's Resolution and the Health Ministry's guidelines on prevention and control of COVID-19 and other infectious diseases such as dengue fever, hand-foot-and-mouth disease.
Assoc. Prof Tran Dac Phu, former Director of the ministry's General Department of Preventive Medicine, said in the current context, Vietnam needs to continue closely monitoring the WHO's information on the transmissibility and virulence of new variants, including the EG.5 sub-variant.
Preventive measures in the public should continue, such as wearing masks in high-risk areas, regularly washing hands and receiving vaccination, and others, he said.
Vietnam among top 10 tourist markets of Singapore
The number of Vietnamese tourists visiting Singapore is surging following the COVID-19 pandemic, with Vietnam remaining an important source of tourists to the country, according to Melissa Ow, chief executive of Singapore Tourism Board (STB).
Before the start of the COVID-19 pandemic, the number of Vietnamese travelers to Singapore enjoyed steady growth of 13% annually, with this highlighting the strong growth of the market.
In the first seven months of the year over 280,000 Vietnamese tourists visited the island nation, marking a strong increase of 123% compared to the same period from last year.
Vietnam Airlines also reported that during the January to July period the number of passengers on the Vietnam-Singapore route increased by 2.4 times on-year, VOV reported.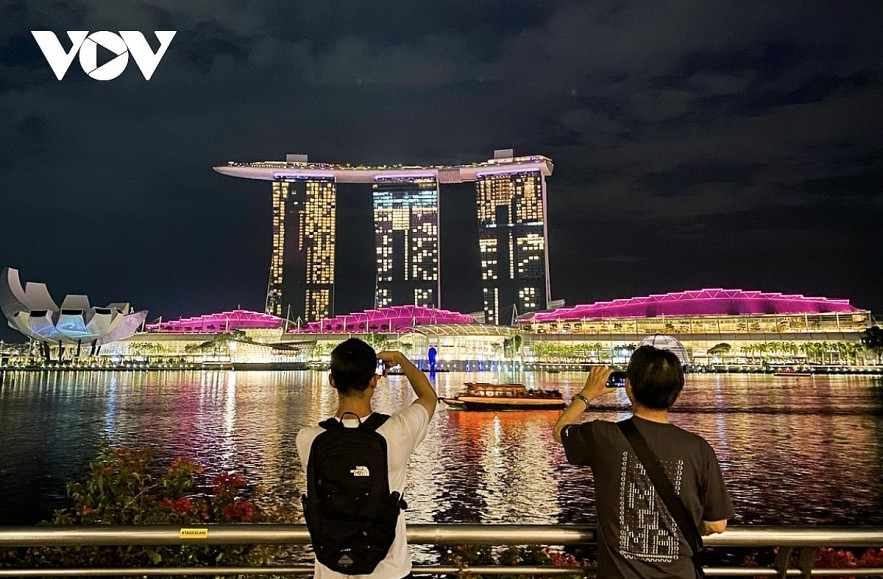 Photo: VOV
At a memorandum of co-operation signing ceremony held between Vietnam Airlines and Singapore Tourism Board on August 15, Ow noted that Vietnamese tourists to Singapore ranked ninth among the international arrivals in the country, with high hopes that the Singaporean side can lure more travelers in the future.
The signing of the latest MoU between the two sides will contribute to developing new tourism products for Vietnamese visitors to experience, thereby heightening co-operation and creating favorable conditions for both sides to attract more tourists, she added.