Vietnam News Today (Aug. 13): Vietnam-Japan Festival Imbued With Cultural Exchange, Friendship
Vietnam News Today (Aug. 13): Vietnam-Japan festival imbued with cultural exchange, friendship; Vietnamese brand praised in the US, competes in high-end market; Summer camp cements solidarity among OV youths; HCM City's District 1 to organise largest culinary event ever.
Vietnam News Today (Aug. 13) notable headlines
Vietnam-Japan festival imbued with cultural exchange, friendship
Vietnamese brand praised in the US, competes in high-end market
Summer camp cements solidarity among OV youths
HCM City's District 1 to organize largest culinary event ever
5,000 join charity walk for AO/dioxin victims in HCM City
Vietnam's global position continues to rise: Party official
Vietnam pushes for carbon market development
Vietnam gets green light to export fresh husked coconut to US
"Happiness Road" in Ha Giang Karst Plateau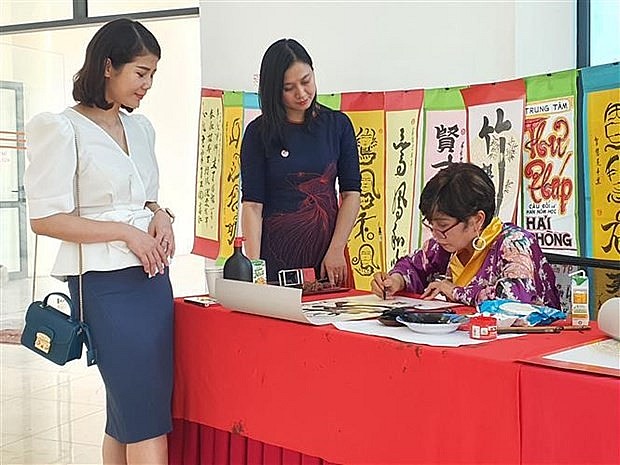 A calligraphy booth at the festival (Photo: VNA)
Vietnam-Japan festival imbued with cultural exchange, friendship
A Vietnam-Japan festival took place in Hanoi on August 12, featuring a myriad of exciting activities to celebrate the five-decade diplomatic relations between the countries (September 21, 1973-2023).
In his opening remarks, Chairman of the Vietnam-Japan Friendship Association's municipal chapter Dao Viet Long stressed the bilateral relationship has seen significant leaps in development, serving as the foundation for its even more vibrant future growth and for the extension of its regional and global reach, bringing mutual benefits to both sides, cited VNA.
Kamitani Naoko, Director of the Japan Information and Culture Center at the Japanese Embassy in Vietnam, said that the relationship is currently at its best. The foundation for its strong development lies in the understanding and empathy between their people, which stem not only from bilateral cooperation in political and economic aspects, but also from the nations' long-standing historical and cultural connections nurtured through regular exchange activities between generations of leaders and people.
The festival treated participants to a photo exhibition of 50 works that capture the culture, landscapes, and people of both countries; a Haiku poetry symposium; a seminar on cherry blossom care and management in the capital city. It was rounded off with a gala of songs, art performances, and martial arts displays. Among performers was the Hanoi Freude Choir, which comprises 14 Vietnamese and Japanese artists.
Vietnamese brand praised in the US, competes in high-end market
The first products exported by Viet Air Filters Manufacturing Corporation (VAF) to the US were the high-end Hepa H14, meeting European standards. The emails from customers to the company all contained the word "excellent".
The number of stalls introducing Vietnam-made products at HVACR Vietnam 2023, the 15th international exhibition about HVAC (heating, ventilation, and air conditioning) technology, refrigeration system and smart building, was modest.
The stall that left the biggest impression on visitors was VAF, a Vietnamese brand.
Asked if the company exported its products abroad, Nguyen Ngoc Quang, VAF's Project Director said: "Yes, of course. Our products have been exported to the US market for a long time. We have also exported to other markets recently, including Taiwan, a market which is very difficult to approach where there are a lot of competitors."
Vietnamese-branded products meet international standards
Fifteen years ago, the founders of VAF, who were among the very few people bringing air filter products into the Vietnamese market, spent time to take an in-depth approach to this industry.
Before setting up a factory to manufacture products, four specialists were sent to the US to attend a training course on air filtration and manufacturing technology at Blue Heaven Technologies, according to VNN.
And then VAF, located in Thu Dau Mot City of Binh Duong province, came out with an aim to become a Vietnamese brand specializing in making air filters, and clean-room equipment with international standards.
From the very beginning, the managers of the company decided that the company would not make low-cost products and compete with rivals in prices. The company will only manufacture high-end products and compete with strong rivals in quality, capacity and technologies.
VAF continually upgraded the technologies and production process and bought modern equipment. All the important equipment use the most advanced technologies, such as Electronic Commutated (EC) fan.
Moreover, leaders of the company are willing to pay for in-depth training for workers in order to improve competitiveness and create high value for products.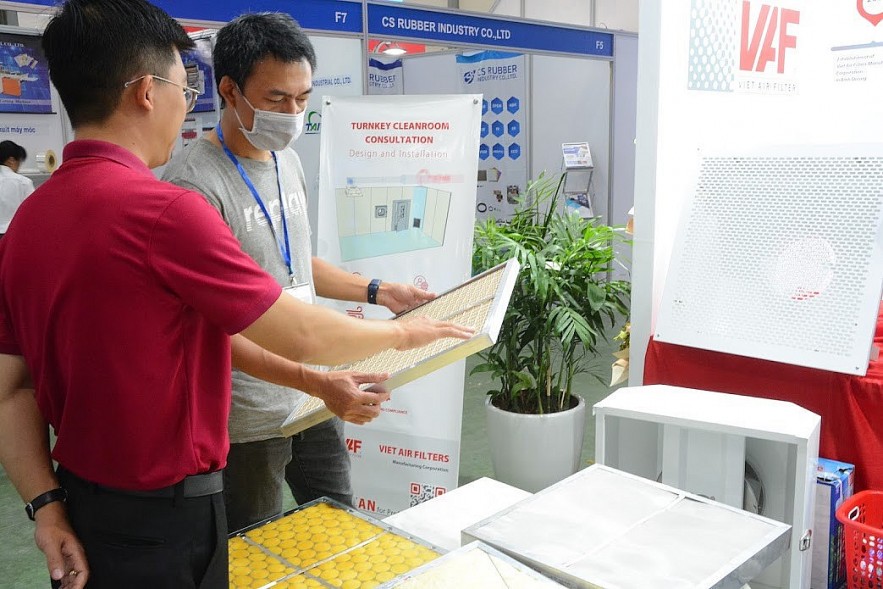 VAF's products all meet international standards.
VAF now has two factories, one in Thai Nguyen that mostly serves clients of Samsung, and the other in Binh Duong which has an output of over 500,000 products a year. The locally made content comprises 30-90 percent. Its product range is quite diverse, from coarse filters (V-RA, V-Di, V-Wash) to fine filters (VM I, VM II, V-PAK, V-DURA) and Hepa filters (Ultracel I, Ultracel II, Ultracel V)
There are not many enterprises like VAF: all VAF products can meet international standards (EN 1822-5:2009, EN 779: 2012, ISO 16890:2016). Its products are used by many foreign companies that run production and business activities in Vietnam, including Intel, Samsung, Coca-Cola, Pepsi Co, Unilever, P&G, Tenamyd and Medochemie.
VAF began going abroad in 2020 with Hepa H14 99.999 @ 0.3 micromet EN 1822 provided to AirClean Systems in the US. The emails sent to VAF from customers all contain the word excellent, according to Quang.
The US-China trade war gave a great opportunity to VAF to penetrate the US market. The VAF brand is now officially protected in the US and the company has become an official member of NAFA (National Air Filtration Association), which, as noted by experts, gave "wings to the Vietnamese tiger", i.e. helping it more easily acquire choosy clients.
VAF has also been seeking opportunities in other markets. In the US, VAF products are used for surgery rooms, specialized rooms in pharmacies, and room and electronic sectors. In Taiwan, they are used for thermal power plants.
Competing in technology, not price
To prove its product quality, VAF products are inspected by an independent certification institution in Taiwan. The inspection cost in accordance with ISO and EN standards for every air filtration is about US$2,000. VAF itself has its own testing system that examines finished products at its factory.
Besides manufacturing air filtration products for industrial use, VAF is planning to make machines and equipment for civil use as well.
Stressing that VAF competes with major companies with technological quality, one of the solutions VAF is pursuing is joining international professional associations. This allows the company to quickly update new technologies and apply technologies to its products.
Summer camp cements solidarity among OV youths
The Vietnam Summer Camp 2023, which brought together 120 outstanding young overseas Vietnamese people from many countries and territories around the world, wrapped up its journey but left a strong impression on solidarity among participants.
This year's summer camp took place in 10 provinces and cities, including Hanoi, Phu Tho, Ninh Binh, Thanh Hoa, Nghe An, Ha Tinh, Quang Binh, Quang Tri, Thua Thien - Hue and Da Nang.
The youngsters paid tribute to President Ho Chi Minh at the Kim Lien special national relic site in the late leader's hometown in the central province of Nghe An's Nam Dan district. At the memorial site – which is linked with the President's family and childhood, the group pledged to unite as one and make contributions to the construction and defence of the homeland and the growth of the Vietnamese community.
As part of the program, they offered incense and flowers at the Dong Loc T-junction monument in the central province of Ha Tinh. The activity aimed to commemorate the 76th anniversary of the War Invalids and Martyrs' Day (July 27,1947-2023), and the 55th death anniversary of ten young female volunteers who sacrificed their lives at the T-junction to ensure the safe operation of the transport route to the southern battlefields.
At the memorial site, the young people expressed their gratitude for the great merits rendered by the previous generations who fought and sacrificed their lives for the cause of national liberation and reunification. They also pledged to unite and make contributions to the development and prosperity of their homeland, VNA reported.
At the special national relic site of Quang Tri Ancient Citadel in the central province of Quang Tri, the students laid wreaths, offered incense, and remembered the great merits of generations of their ancestors who laid down for national independence and freedom as well as the happiness of the people.
They visited and offered flowers and incense at the province's Truong Son National Martyrs Cemetery. Here, they had a chance to learn about the history of the national special relic sites of Hien Luong Bridge - Ben Hai River and Vinh Moc Tunnels. and Vinh Linh tunnel village system. They visited and presented gifts to Heroic Vietnamese Mothers in Vinh Linh district.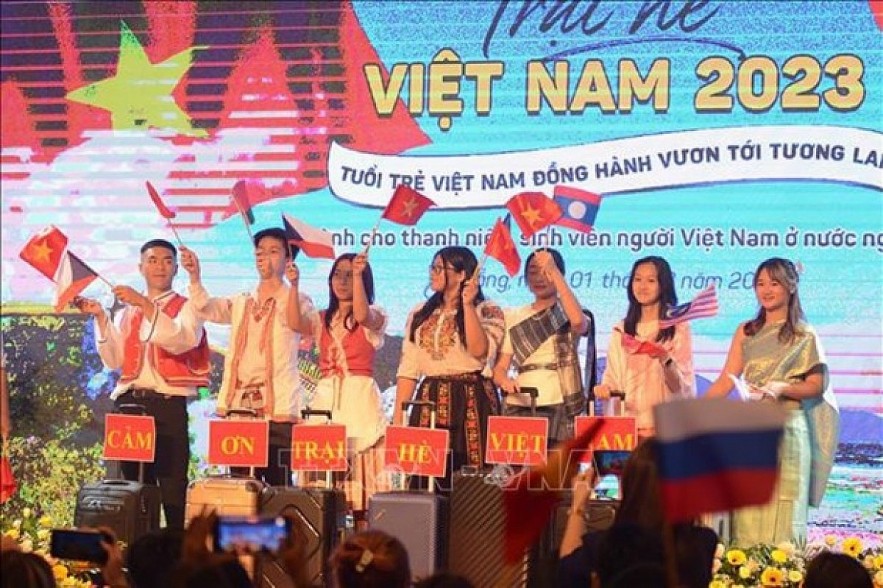 Photo: VNA
They toured the central province of Thua Thien-Hue on July 29 and 30, after 11 days exploring their home country. They were treated to wearing traditional Ao dai, travelling the picturesque landscapes of Hue, and visiting a number of famous historical sites such as Khai Dinh Tomb, Tu Duc Tomb, Thien Mu Pagoda, and the Imperial City of Hue.
Deputy Minister of Foreign Affairs Le Thi Thu Hang, who is also chairwoman of the Committee for Overseas Vietnamese Affairs under the Ministry of Foreign Affairs, stressed that the summer camp, in its 18th edition, has promoted the role of OV youths in national development.
Through the camp, they had chances to visit historical relic sites, pay tribute to national ancestors and national heroes, and engage in exchanges with their peers at home, she added.
The annual program, organized by the committee in collaboration with relevant units, aims to connect Vietnamese young people from different parts of the world and nuture the pride that they have for their home country.
First held in 2004, the camp has brought thousands of outstanding young OVs aged 16-24 to visit their motherland.
HCM City's District 1 to organize largest culinary event ever
HCM City's District 1 will organize a F&B Networking Fair 2023 later in August to highlight special Vietnamese culinary characteristics and promote businesses in the field.
It is the largest event in the field held by the People's Committee, Labor Confederation, and Business Association in the district and the HCM City F&B Association.
It takes place from August 25 to 27, with exhibitions, products and service promotions.
Conferences during the event will enable enterprises, experts, authorities, and Michelin-starred restaurants to exchange experiences in the field, covering topics such as connecting the industry ecosystem, applying technology in small and medium enterprises, and sharing important background knowledge for start-ups, cited VNS.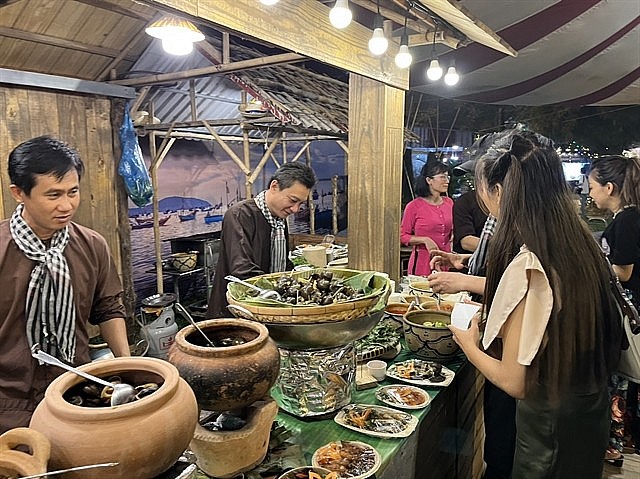 The Food and Culture Festival in HCM City in April. The city's District 1 will organize F&B Networking Fair 2023 to help Vietnamese culinary businesses network. Photo: VNS
Contest Overview, a professional bartending competition, is part of the event, with over 500 bartenders from restaurants and hotels in the city.
Nguyen Duy An, deputy chairman of District 1 People's Committee, said that since F&B is one of the district's leading economic sectors, having 29 out of 103 restaurants recognized by the Michelin Guide, the event will help facilitate trade and improve local tourism and service.
"District 1 has many advantages in the field to become an ideal market for investors and attract local and foreign visitors," An said.
The event will also set a precedent by proposing a nighttime economic development plan to the HCM City People's Committee to solicit investment, he said.
HCM City has been organizing numerous well-received culinary events and festivals to promote local businesses and restaurants, such as the Food and Culture Festival on April.
5,000 join charity walk for AO/dioxin victims in HCM City
A charity walk for Agent Orange/dioxin victims was held at Dam Sen Cultural Park in Ho Chi Minh City on August 12, with 5,000 people taking part.
The event was held by the municipal chapter of the Vietnam Association for Victims of Agent Orange/Dioxin (VAVA) on the occasion of the Action Month for AO/dioxin victims and the 62nd anniversary of the dioxin disaster in Vietnam (August 10), VNA reported.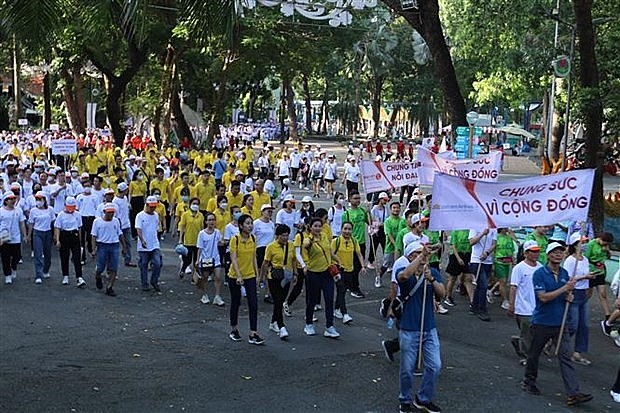 At the event (Photo: VNA)
Speaking at the opening ceremony, Major General Tran Ngoc Tho, Chairman of the chapter, said since its inception in 2005, the chapter has carried out many charity programs to mobilize funds tfor AO/dioxin victims.
It raised nearly VND8.5 billion (US$356,500) and supported a total of 8,783 AO victims in the first six months of this year, Tho said, adding that the city is now home to over 20,000 people infected with and exposed to the toxic chemical. Only over 5,000 of them who joined the war and their children are eligible to receive monthly allowances.
On the occasion, the Vietnam Bank for Agriculture and Rural Development presented 20 savings books, each worth VND10 million, to 20 households with AO victims.
Disabled children at Hoa Binh Village and Tu Du Hospital in Ho Chi Minh City also received gifts from the organizing board.