Vietnam News Today (Aug. 17): Vietnam Able to Become New Tiger in Asia
Vietnam News Today (Aug. 17): New sub-variants of Omicron strain detected in Vietnam; Vietnam able to become new tiger in Asia: economist; Vietnam, UK step up cooperation in fight against human trafficking.
Vietnam News Today (Aug. 17) notable headlines
New sub-variants of Omicron strain detected in Vietnam
Vietnam able to become new tiger in Asia: economist
Vietnam, UK step up cooperation in fight against human trafficking
Ministry warns of increasing serious Covid-19 cases
Vietnamese exporters urged to expand in the EU through retail distribution system
Defense Ministry approves of long-planned cargo airline
Four more vaccines to be included in Expanded Immunization Program
Health Ministry demands prudence as Covid-19 cases rise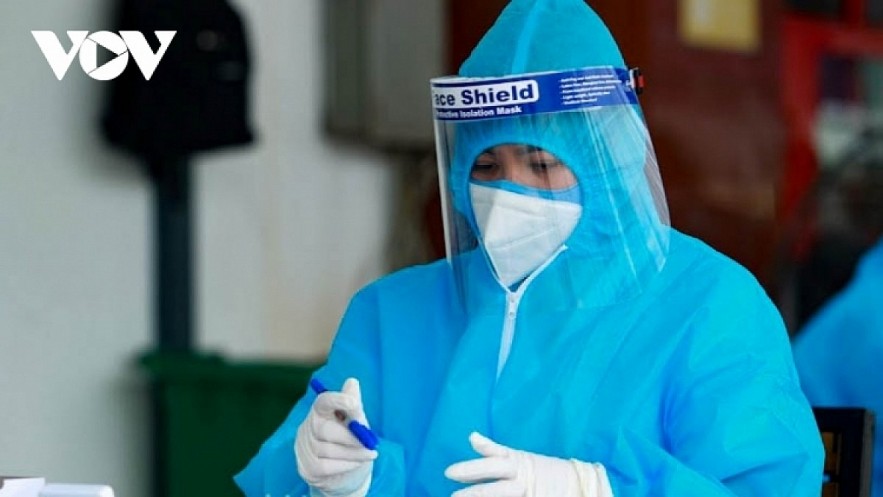 Photo: VOV
New sub-variants of Omicron strain detected in Vietnam
The number of Covid-19 cases is currently increasing both globally and in Vietnam due to the recent rapid spread of the Omicron variant, according to the General Department of Preventive Medicine.
The department revealed that Vietnam is recording an average of roughly 2,000 new cases of Covid-19 per day, with several sublineages of the Omicron variants namely BA.4, BA.5, BA.2.75, and BA.2.12.1 being reported.
The Ministry of Health has recently sent an urgent document to local Departments of Health across the country, requesting them to keep a close watch on the evolving of the new subvariants and tighten anti-pandemic measures, cited VOV.
Specifically, the General Department of Preventive Medicine has proposed that the directors of health departments regularly report the real number of infected cases in a timely manner, closely monitor the emergence of new variants of the SARS-CoV-2 virus, and take prompt measures in a bid to avoid severe cases and fatalities.
Since the beginning of the pandemic, Vietnam has recorded 11,367,479 Covid-19 cases, ranking 12th out of 227 countries and territories globally. Of the total, 10,029,826 patiens have recovered and 43,098 have died of the virus and underlying illnesses.
The Ministry of Health has warned that people continue taking protective measures such as strengthening disinfection efforts, wearing masks in high-risk areas, and getting booster jabs to prevent the disease and limit severe cases.
Vietnam able to become new tiger in Asia: economist
Vietnam, a rising star in the global supply chain, has the potential to become a new tiger in Asia, economist Brian Lee Shun Rong at Maybank - Malaysia's largest financial services group and the leading banking group in South East Asia – has reportedly said.
Speaking at Forbes Vietnam's recent Business Forum, Brian Lee affirmed that Vietnam will become a new tiger of Asia, after the Republic of Korea, Singapore, and China's Taiwan and Hong Kong.
He said that the Vietnamese industry is developing strongly, driven by foreign-invested enterprises.
According to data from Maybank, both FDI influx into Vietnam and its export turnover in the past 10 years are bigger than those of all other Southeast Asian countries. In particular, the electronics and phone industry has surpassed garment and textiles to become the biggest contributor to the total export value.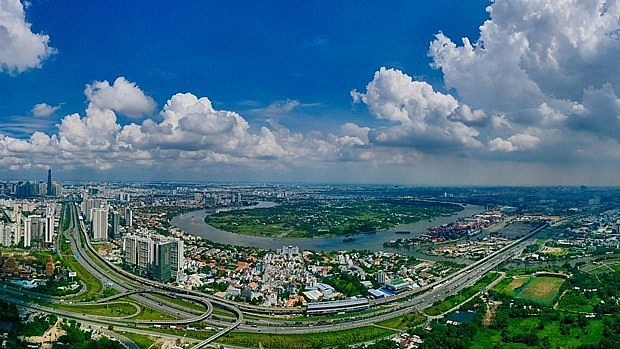 Ho Chi Minh City seen from above. Photo: vneconomy.vn
This shows that Vietnam has enhanced its position in the global value chain, said Brian Lee, adding that the productivity of its workers also grows faster than that in other ASEAN countries.
To become a tiger of Asia, Vietnam should have world-standard infrastructure and skilled workforce, support domestic enterprises in improving their foothold in the global supply chain, and step up growth based on digital transformation, the economist noted.
The Russian newspaper also quoted economic expert Nguyen Xuan Thanh, a lecturer at the Fulbright School of Public Policy and Management, as saying Vietnam is well controlling inflation and fiscal and monetary policies.
According to him, even if the world oil price increases again, without exceeding the peak of 120 USD per barrel, Vietnam's economic situation in 2022 will still be positive, with inflation below 4% and GDP growth over 7%.
Vietnam, UK step up cooperation in fight against human trafficking
Vietnam appreciated the UK's assistance in human trafficking prevention and control and expected that the two sides would continue cooperation and experience sharing in the field, said Deputy Minister of National Defense Sen. Lt. Gen. Hoang Xuan Chien.
At a reception in Hanoi on August 16 for visiting Permanent Secretary at the UK's Home Office Matthew Rycroft, Chien stressed that cooperative relations between the two countries have been actively fostered by their leaders over the past time, particularly via visits.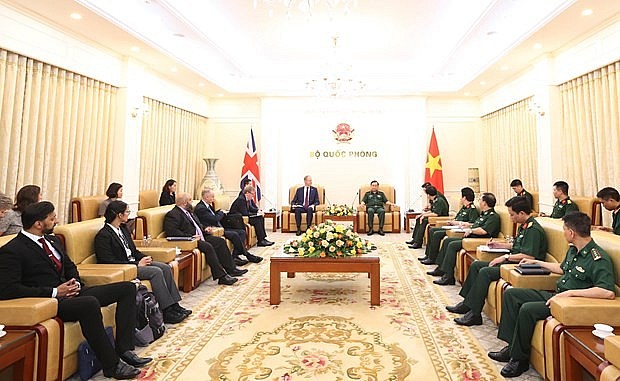 At the reception. Photo: VNA
The officer informed his guest that on the basis of a memorandum of understanding (MoU) on cooperation in the fight against human trafficking signed in November 2018, the Border Guard High Command under the Vietnamese Ministry of National Defense has maintained an effective cooperation mechanism with the UK Border Agency.
The two sides have conducted many exchange and training sessions to share experience, and are actively coordinating in compiling manuals on human trafficking prevention and control for the Vietnamese side, according to VNA.
Chien proposed the UK continue cooperating with the Vietnamese side to effectively implement the MoU by increasing meetings, training courses, and information-experience exchange.
He suggested the UK side consider joining Vietnam's Border Guard Academy in developing training materials and textbooks on fighting human trafficking.
Ministry warns of increasing serious Covid-19 cases
The Ministry of Health has warned of an increase in the number of new Covid-19 infections as well as critical cases.
Over the past week, Vietnam has recorded an average of 2,000 new Covid-19 patients each day.
More than 100 seriously ill Covid-19 patients are being treated at hospitals.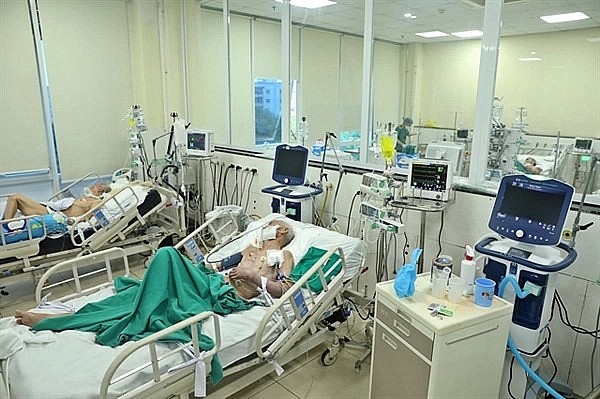 The Central Hospital for Tropical Diseases is treating 30 seriously ill Covid-19 patients. Photo: VNA/VNS
The increase would cause overload for the health system, particularly in the context of the outbreak of other diseases such as dengue fever, influenza A and hand-foot- and mouth-disease, according to the ministry.
Also, there is a high risk for newly emerging infectious diseases such as monkeypox and chronic liver disease to enter Vietnam.
As the BA.4 and BA.5 sub-variants of Omicron have appeared in many southern localities while the new academic year will start soon, the ministry urged localities to continue to speed up vaccination, particularly booster doses for the adult population and the second dose for children between five and under 12 years old, cited VNS.
The ministry said it will continue closely watching the development of the Covid-19 pandemic and regularly evaluate and analyse the situation in order to build plans and scenarios to respond to any outbreak in a timely manner.
The national Covid-19 caseload in Vietnam now stands at more than 11.3 million, according to the Ministry of Health.
The total number of recoveries rose to over 10 million. There are 106 patients in serious conditions needing breathing support.
The country has so far administered more than 251 million doses of vaccines.
HCM City ready to reactivate Covid-19 treatment hospitals
The Department of Health of HCM City has recently requested its medical facilities to get plans readied for the acceptance and treatment of Covid-19 patients in the context of increases in the number of new cases.
The department assigned the Hospital for Tropical Diseases to be responsible for preparing human resources to reactivate the Covid-19 treatment hospital for severe cases when required.
In addition, it requested all hospitals, health centres, and medical facilities in the city to actively review their resources to be ready to respond when the Covid-19 pandemic worsens.
The city's Centre for Disease Control was assigned to strengthen case surveillance through the Infectious Disease Surveillance System connected to the Covid-19 Digital Management Platform, with the focus on fluctuations in the number of new cases, and the status of vaccination for vulnerable people.
The Health Department also stressed the need to step up communication work to raise awareness about the importance of vaccinations and continue giving help to and managing Covid-19 patients at home through this platform.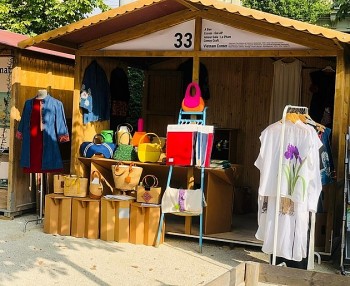 World
Vietnam's GDP grew by 8.83% in the first nine months of 2022, the highest increase in the period of 2011-2022.