Vietnam News Today (Aug. 2): Vietnam-UAE Ties Flourish Over Three Decades
Vietnam News Today (Aug. 2): Vietnam, Singapore cherish growing 50-year ties; Vietnam-UAE ties flourish over three decades; Domestic retail gas prices up after consecutive falls; Hanoi ready to offer optimal conditions for US businesses.
Vietnam News Today (Aug. 2) notable headlines
Vietnam, Singapore cherish growing 50-year ties
Vietnam-UAE ties flourish over three decades
Domestic retail gas prices up after consecutive falls
Hanoi ready to offer optimal conditions for US businesses
Women's World Cup: Vietnam aim for good display against the Netherlands
Vietnamese Canadian firm benefits from CPTPP
S&P Global: Vietnam's manufacturing industry shows signs of stabilisation
Singaporean entrepreneurs highly value cooperation potential with Vietnam
EVFTA opens door wider for Vietnamese goods to EU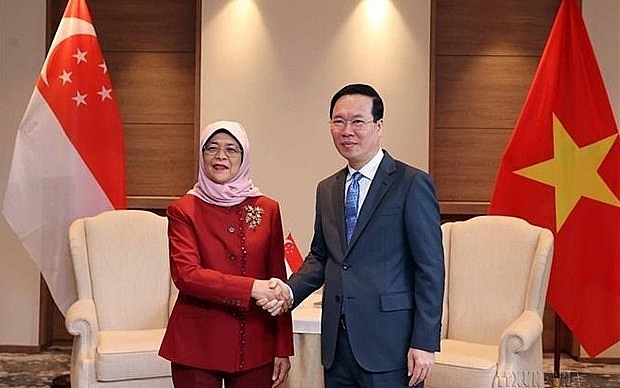 President Vo Van Thuong (R) meets with Singaporean President Halimah Yacob in London on May 5, 2023 during his trip to attend the coronation of King Charles III (Photo: VNA)
Vietnam, Singapore cherish growing 50-year ties
Over the past 50 years, Vietnam and Singapore have been enjoying a thriving partnership with great achievements in all fields.
Growing strategic partnership
Vietnam and Singapore set up their bilateral diplomatic relations on August 1, 1973, and this makes Singapore become one of the first countries to establish diplomatic relations with Vietnam after the signing of the Paris Peace Accords. In the 1990s, the bilateral ties expanded strongly, especially after Vietnam became a member of the Association of Southeast Asian Nations (ASEAN) in 1995.
In 2013, Singapore become one of the first ASEAN member countries to set up a strategic partnership with Vietnam, opening up a new era in bilateral ties with win-win cooperation and mutual respect and trust. The bilateral ties have been deepened in five pillars and expanded to other fields, along with close coordination at international and multilateral forums.
Bilateral collaboration through Party, State, Government and parliament channels as well as in specific sectors has been continuously strengthened.
Over the recent years, despite impacts of the COVID-19 pandemic, the two sides have maintained delegation exchanges and meetings at high and all levels, including Prime Minister Pham Minh Chinh's official visit in February 2023, during which the two sides agreed to continue to foster political trust through increasing high-level exchanges and meetings as well as effective implementing bilateral cooperation mechanisms and agreements.
Many cooperation deals were signed during the visit, including a memorandum of understanding on bilateral partnership in digital economy and green economy, creating a new motivation for bilateral ties in the time to come.
Along with bilateral cooperation, the two sides have coordinated closely at regional and international forums, contributing to promoting regional linkage and connectivity, narrowing the development gap and enhancing the capacity to deal with emerging challenges, thus contributing to efforts to maintain peace, stability and prosperity in the region.
The two countries have worked closely together within the ASEAN to improve the role and position of both sides in the grouping as well as in the world, maintaining the central role of the association in the regional security architecture.
Bilateral collaboration in defence-security has been strengthened with regular high-level exchanges and existing dialogues and annual cooperation mechanisms. The two countries have also shared viewpoints on strategic security issues in the region, including that on the East Sea, while protecting the common stance of the ASEAN for peace and security in the region.
Economic-trade cooperation – highlight in bilateral ties
Together with sound political relations, bilateral economic, trade and have been promoted extensively and intensively. Economic-trade cooperation between Vietnam and Singapore is one of the model partnership in Southeast Asia.
Despite the pandemic impacts, two-way trade increased 23.3% year on year to 8.3 billion USD in 2021, and 10% to over 9 billion USD in 2022.
Vietnam and Singapore have supplementary economic structures, and both are members of the Comprehensive and Progressive Agreement for Trans-Pacific Partnership (CPTPP) and the Regional Comprehensive Economic Partnership (RCEP).
During then President Nguyen Xuan Phuc's visit to Singapore in February 2022, the two sides signed five cooperation deals among ministries and agencies, along with the nearly 30 agreements among localities and businesses with a total value of nearly 11 billion USD.
As of the end of June, Singapore had been the largest ASEAN investor in Vietnam and the second among the 143 countries and territories investing in Vietnam, with 3,200 valid projects worth 73.4 billion USD, cited VNA.
Singaporean investors have been present in 51 out of the 63 cities and provinces across Vietnam, mostly in Ho Chi Minh City, Hanoi and Bac Ninh, focusing on sectors of manufacturing and processing; real estate; production and distribution of electricity, gas, water, and air conditioners.
Meanwhile, Vietnam has run 150 projects in Singapore with a total value of 700 million USD, mostly in science-technology, retail and wholesale, and information and communications.
The Vietnam-Singapore Industrial Parks (VSIPs) are a symbol of economic cooperation between the two countries. Currently, there are 12 VSIPs in nine provinces and cities of Vietnam. Operating VSIPs have a high occupancy rate (over 83%), attracting 17.6 billion USD in total investment capital, and creating jobs for nearly 300,000 direct workers.
Expanding cooperation areas
Regarding transport cooperation, Singapore is one of the most important aviation markets of Vietnam, being the sixth largest source of passengers as of 2019. After a disruption due to the COVID-19 pandemic, Vietnamese and Singaporean airlines have resumed regular commercial flights between the two countries, supporting the recovery of bilateral tourism cooperation and contributing to the post-pandemic recovery in both countries.
At the same time, the two sides have also strengthened partnership in finance-banking, education-training, and natural resources-environment.
They have worked closely in COVID-19 prevention and control. Right after the outbreak of the pandemic, Singapore was one of the first ASEAN members to provide Vietnam with medical supplies and equipment. In March 2020, Temasek Foundation of Singapore presented the Vietnamese Ministry of Health with 100 respirators, along with two testing machines and quick test kids. In September 2021, Singapore provided Vietnam with medical equipment worth nearly 5 million USD.
During the complicated COVID-19 period in Singapore, the National Assembly of Vietnam supported Singapore with medical masks, while Vingroup Group presented the Singapore Government with 200 respirators manufactured in Vietnam with US's Medtronic technology.
Currently, about 13,000 Vietnamese people are living in Singapore, acting as bridges for the friendship between the two nations.
Vietnam-UAE ties flourish over three decades
The bilateral relationship between the nation and the United Arab Emirates (UAE) has grown and flourished across multiple areas, ranging from politics and diplomacy to trade, investment, labour, and tourism, over the last three decades since they first established diplomatic ties on August 1, 1993.
The UAE Government and people strongly supported Vietnamese struggle for national independence and national construction.
Political trust and mutual understanding between the two sides has been continuously strengthened, clearly proven by the regular exchange of delegations at all levels between the two countries held in recent times. This has therefore contributed to deepening bilateral relations and opening up many co-operation opportunities in many areas.
In April this year Minister of Industry and Trade Nguyen Hong Dien and Minister of State for Foreign Trade of the UAE Thani bin Ahmed Al Zeyoudi signed a Ministerial Declaration regarding starting negotiations on a comprehensive economic partnership agreement (CEPA). This marked a crucial milestone in bilateral ties whilst ushering in a new phase of strategic co-operation in a variety of fields.
This represents a basis for lifting mutual ties to a new development level, contributing to expanding the export market of Vietnamese goods and services to the UAE, and creating a premise for the country to boost trade and service relations with the Middle East and African countries in general.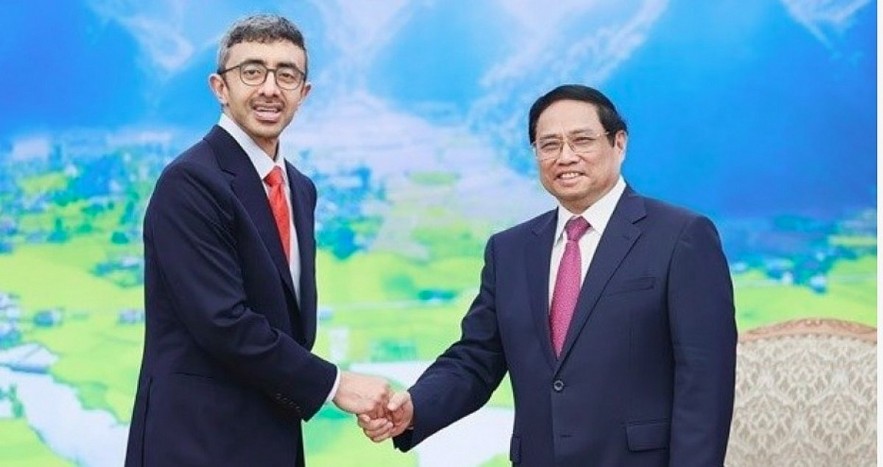 Prime Minister Pham Minh Chinh (R) and Foreign Minister of UAE Sheikh Abdullah bin Zayed Al Nahyan.
The deal also intensifies the UAE's investment in the Vietnamese market and seeks to expand cooperation opportunities to other fields such as innovation, renewable energy, investment, logistics, technology, tourism, and agriculture.
Both sides have also enhanced coordination and mutual support at multilateral organizations and forums, improved the overall effectiveness of the political consultation mechanism between the two foreign ministries, and promoted the role of Vietnam and the UAE in the relationship between ASEAN and the Gulf Cooperation Council (GCC).
Economic ties have always been an important pillar and represented a bright spot in the bilateral linkages. At present, the UAE is now the country's largest trading partner in the Middle East-North Africa region.
Statistics compiled by the General Department of Customs and the Ministry of Industry and Trade indicate that two-way trade in the 2016 to 2020 period stood at US$ 5 billion to US$5.5 billion per year. In 2021, the figure reached US$5.3 billion, up 21% on-year. In the first three months of the year, two-way trade hit US$1.12 billion, expanding by 22.14% compared to the same period from last year.
Currently, Vietnamese goods account for approximately 2.2% of the import market share in the UAE, while the Middle East country represents some 0.2% of Vietnam's import market share, according to VOV.
The two nations are therefore striving to lift two-way trade to US$10 billion and above in the near future.
Regarding investment ties, the UAE is one of the major investors in the Vietnamese market, with projects such as Hiep Phuoc Port and Halong Star Hotel, along with tourism projects in central Da Nang with a total investment capital of about US$4 billion.
The potential for further economic and trade cooperation remains huge because the two economies have complementary strengths, especially when the CEPA is signed.
According to Luong Hoang Thai, director of the Ministry of Industry and Trade (MoIT)'s Multilateral Trade Policy Department, the CEPA will help the Vietnamese side not only export goods directly to the UAE but also to make inroads into the Middle East market by the "UAE gateway".
Experts have indicated that CEPA will be a legal basis for the two countries to ramp up linkages in oil and gas exploration and production, share technical expertise, and train high-quality human resources in the industry.
At present, there are about 3,500 Vietnamese laborers working legally in the UAE, primarily in the fields of construction, mechanical, shipbuilding, and services.
With the available cooperation potential and efforts of both sides, economic, trade, and investment collaboration between Vietnam and the UAE are expected to develop fruitfully for the greater benefit of both nation's citizens.
Domestic retail gas prices are up after consecutive falls
Retail gas prices in Vietnam, after dropping for two consecutive months, have bounced back this month following an increase in the global market.
Accordingly, the August retail prices of Petrolimex gas (including VAT) in the Hanoi market are 380,160 VND (16.05 USD) per 12 kg household cylinder and 1,520,640 VND per 48 kg industrial cylinder. These represent increases of 26,360 VND and 105,640 VND, respectively.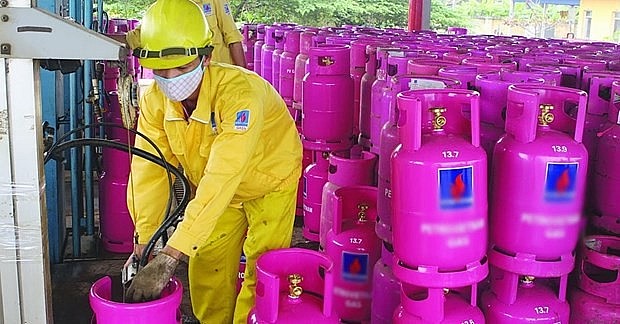 Since the beginning of this year, domestic gas prices have decreased five times in January, March, April, June, and July and gone up three times in February, May, and August. (Photo: vietnamnet.vn)
Nghiem Xuan Cuong, head of the Commercial and Civil Gas Sales Department under the Petrolimex Gas JSC, attributed the rise to the average world gas price contract for August being set at 465 USD per tonne, up by 77.5 USD per tonne compared to July, according to VNA.
Since the beginning of this year, domestic gas prices have decreased five times in January, March, April, June, and July and gone up three times in February, May, and August.
Hanoi ready to offer optimal conditions for US businesses
The administration of Hanoi stands ready to support and create favourable conditions for businesses from Oakland, California, as well as those from the United States in general, to accelerate new projects in the city, thereby contributing more to the development of relations between the two countries and two localities.
This was affirmed by Tran Sy Thanh, chairman of the Hanoi People's Committee, at a recent meeting held with a business delegation from the US State of California led by Mayor of Oakland Sheng Thao.
At the meeting the municipal leader emphasized that this year marks the 10th anniversary of the Vietnam-US Comprehensive Partnership, amid both nations' trade relations developing in a strong, sustainable, and harmonious direction, Hanoi is keen to strengthen ties with partners from the US.
According to Thanh, Hanoi is in an important development stage of rebuilding the Capital Law, with two development plans devised for the capital until 2045 and a vision to 2065.
Chairman of the Hanoi People's Committee Tran Sy Thanh (R) and Oakland Mayor Sheng Thao (Photo: baodautu.vn)
Accordingly, Hanoi has identified a number of prioritized fields in order to attract investment in line with the general development trend, all of which can engage in the global value chain and work to exploit its own advantages, as well as the strengths of adjacent provinces and cities in the region. This includes sectors such as real estate, commercial infrastructure, high-tech industry, and environmentally-friendly and low-consumption energy.
Thanh outlined that the capital prioritizes investment promotion in a number of areas that bring added value moving forward such as agriculture, tourism, education, and healthcare; along with key industries including high-tech projects, supporting industries, and biological industry.
Amid this context, the chairman of the Hanoi People's Committee welcomes the visit by the business delegation from California to seek investment and to build ties to create further co-operation opportunities with Hanoi, reported VOV.
Agree with the sharing and suggestions of the municipal leader, Mayor Thao said she believes that the co-operation between the two countries, as well as other, localities will record effective results in the future.
At the meeting, US businesses highlighted the strengths of Oakland as a port, waste treatment, and hub for clean technology development. In addition, the state of California has also invested billions of US$ in reducing emissions in the air, as well as developing the road, sea, and aviation transport.
US business delegates used the occasion to express their hope that through this visit and the meeting with municipal leaders, both sides will be able to promote their strengths, thereby opening up more specific investment and co-operation opportunities in the time ahead.
Women's World Cup: Vietnam aim for good display against the Netherlands
This afternoon, Vietnam will head into their last match at the 2023 FIFA Women's World Cup against the Netherlands, during which Mai Duc Chung's side are bound to give their best to look for their first goal before leaving the tournament.
Vietnam's door to the World Cup knockout stage officially closed following their straight losses against the United States and Portugal.
At present, the US and the Netherlands are leading Group E on four points, just a single point above Portugal in third place. Meanwhile, Vietnam currently stand at bottom in the group with zero points.
Despite having crashed out of the tournament, Vietnam still have one more chance to enrich their World Cup experience and show off themselves as they meet the Dutch challengers, who are the defending World Cup runners-up.
Addressing a press conference on July 31, head coach Mai Duc Chung acknowledged that the match would not be simple at all because the Netherlands wish to win big to advance to the next round.
However, he affirmed his side would never give up, adding that Vietnam would have to play more solidly and with better defence if they want to produce any surprise.
It is clear that the Netherlands, a regular in the world's top 10, outperform the Vietnamese team in every aspects, from physique, fitness to expertise level.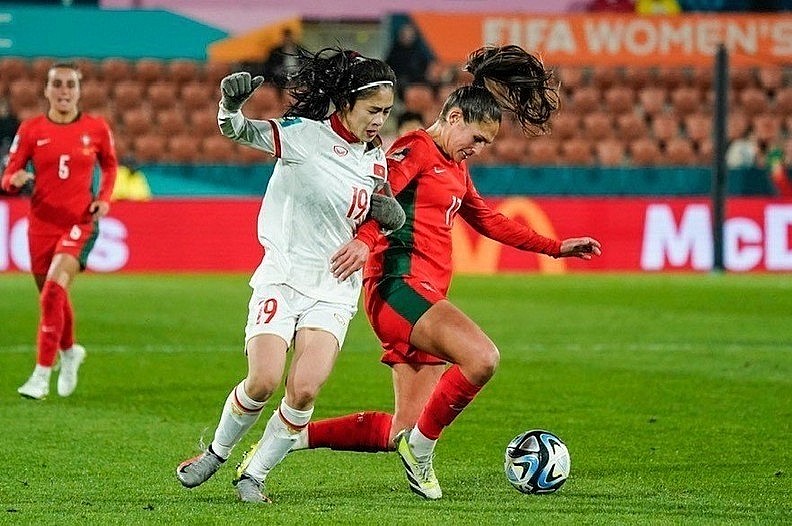 Vietnam's Thanh Nha (no. 19) in action during their second group match against Portugal at the 2023 FIFA Women's World Cup on July 27.
The Dutch side's showing in their first two matches showed that they are stronger than Portugal and slightly inferior to the US team (but still capable of holding the reigning world champions).
The absence of key striker Vivianne Miedema, one of the nominees for the Ballon d'Or and FIFA The Best awards, have significantly affected the Netherlands' attacking efficiency. Meanwhile, the alternative plan also did not work as Arsenal star Lineth Beeransteyn suffered an injury in the opening clash against Portugal.
The Netherlands' attacking power defends much on Jill Roord and Esmee Brugts, who both performed well against the United States, cited NDO.
In general, the Dutch players are superior to the Vietnamese women's team in terms of both physical strength and playing skills. They have very fast players. Even the fast, strong defenders of Portugal could not catch up with Lieke Maarten and her teammates.
It is a very tough mission for the Vietnamese defenders to keep up with the opponents' pace and follow them in high-speed movements.
Mai Duc Chung's players need to better adhere to tactics and maintain greater defensive focus than they did in the previous match against Portugal.
A strong fighting spirit, solid defence and sensible tactics will be the factors that help the Vietnamese side deliver a good display against the defending World Cup runners-up and even possibly realise the goal of scoring their first World Cup goal.
The Vietnam-Netherlands match will take place at 2pm today (Vietnamese time) at New Zealand's Forsyth Barr stadium.