Vietnam News Today (Aug. 9): Vietnam, India Seek to Foster Economic, Trade Ties
Vietnam News Today (Aug. 9): Vietnam, India seek to foster economic, trade ties; Vietnam to forge relations with Iran – an important partner in Middle East; AIPA-44: Vietnam supports parliamentary actions for green transition; Vietnam and India seek measures to enhance economic cooperation.
Vietnam News Today (Aug. 9) notable headlines
Vietnam, India seek to foster economic, trade ties
Vietnam to forge relations with Iran – an important partner in Middle East
AIPA-44: Vietnam supports parliamentary actions for green transition
Vietnam Airlines offers 400,000 seats during National Day
Hanoi named among world's 21 best winter vacations for 2023
Second military engineering unit deployed for peacekeeping mission
Vietnam plays core, leading role in ASEAN growth
NA Chairman begins official visit to Iran
AIPA-44: Vietnam voices support for stronger role of youngsters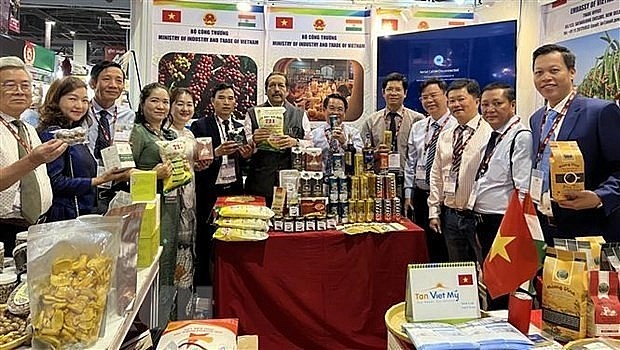 Vietnamese products introduced at a fair in India (Photo: VNA)
Vietnam, India seek to foster economic, trade ties
The Ministry of Industry and Trade (MoIT) and the Embassy in India and the host country's PHD Chamber of Commerce and Industry jointly organized a business forum between the two countries on the evening of August 7 in New Delhi.
MoIT Deputy Minister Phan Thi Thang said that Vietnam and India have a lot of favorable conditions to boost their economic cooperation and trade, as both have good economic growth and stable macroeconomic environment, direct flights link their major cities, and their import-export structures are complementary.
She pointed to several challenges and difficulties facing businesses, including negative impacts of world economic fluctuations, the lack of market-related information and business connectivity, and high costs and long transportation times, cited VNA.
To address these difficulties and promote economic and trade cooperation, Thang proposed strengthening supply chain connectivity based on the strengths of each country, and applying information technology and digital transformation in trade promotion. She also pointed to increasing direct transportation and establishing more routes between the two countries to save time, costs and take advantage of available resources.
Shantuna Srivatava, former Chairman of the Vietnam Chamber of Commerce in India, emphasised that potential for bilateral cooperation has not been fully exploited. He suggested setting a goal of raising two-way trade to US $20 billion in the coming time.
Vietnam to forge relations with Iran – an important partner in Middle East
Vietnam always attaches importance to the friendship and multifaceted cooperation with Iran, one of its important partners in the Middle East, Chairman of the National Assembly of Vietnam Vuong Dinh Hue told Speaker of the Iranian Consultative Assembly Mohammad Baqer Qalibaf during their talks in Tehran on August 8.
Hue expressed his pleasure to visit Iran, a country with a unique culture and long history, saying his visit is of great significance as the two countries are celebrating the 50th anniversary of the establishment of their diplomatic relations.
He noted with satisfaction the positive developments in bilateral cooperation in recent times, especially in the fields of politics-diplomacy, culture and people-to-people exchanges.
Speaker Ghalibaf for his part expressed his admiration for Vietnam's heroic history as well as its achievements in national development and international integration.
He affirmed that the Iranian Consultative Assembly and people wish to further promote the friendship and multi-faceted cooperation with Vietnam which is Iran's important partner in the Asia-Pacific region, according to VOV.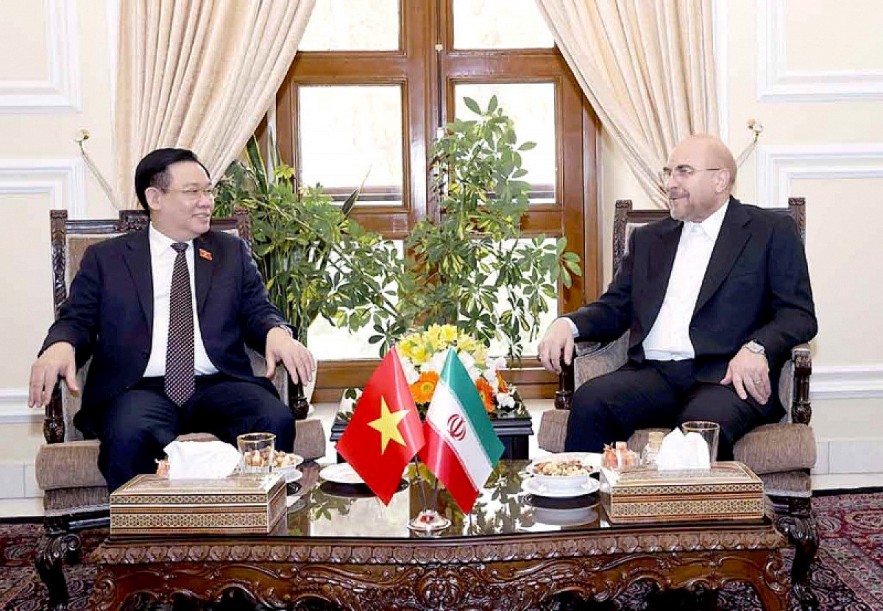 Vietnamese National Assembly Chairman Vuong Dinh Hue (L) and Speaker of the Iranian Consultative Assembly Mohammad Baqer Qalibaf discuss measures to increase the efficiency of cooperation between Vietnam and Iran during their talks in Tehran on August 8. (Photo: VNA)
He said he believes that cooperation between the two countries and between their legislative bodies will record more encouraging results in the coming time.
Both host and guest agreed on specific measures to enhance the efficiency of bilateral cooperation in the future, including increasing visit exchanges and people-to-people exchanges to promote mutual friendship and understanding, and well preparing for the coming 10th meeting of the Vietnam – Iran inter-government committee to be held in Hanoi.
They encouraged more meetings and connections between localities and businesses of the two countries to seek business and investment cooperation opportunities, and to create favorable conditions for the strong products of each country to penetrate each other's markets.
Hue suggested that Iran increase the import of Vietnamese agricultural products such as rice, tea, pepper, coffee, and rubber. He affirmed his commitment to facilitating market access for Iranian products like dried and fresh fruits in Vietnam.
The two sides agreed to cooperate in the production of products meeting Halal standards. They underlined the need to strengthen customs cooperation and resume cooperation mechanisms between the two countries in the banking and trade sectors, hoping to hammer out breakthrough measures for economic and trade cooperation.
The Iranian legislator told his guest that Iranian businesses are increasingly keen on the Vietnamese market thanks to its political stability and attractive business-investment environment. He expressed Iran's wishes to further strengthen economic, trade and agricultural cooperation with Vietnam, assuring that the Iranian parliament is ready to create favou¥rable conditions for businesses of both sides to ramp up business and investment cooperation.
Also at the meeting, the two sides discussed measures to promote Vietnam – Iran cooperation in other potential fields such as science-technology, digital transformation, education-training, student exchange, and tourism.
On this occasion, Chairman Vuong Dinh Hue cordially invited Speaker Mohammad Baqer Qalibaf to pay an official visit to Vietnam soon, and the invitation was accepted with pleasure.
Hue also invited the Iranian parliament to send a delegation to the ninth Global Conference of Young Parliamentarians to be held in Hanoi this September.
After the talks, the two leaders signed a Memorandum of Understanding on cooperation between the two legislative bodies.
AIPA-44: Vietnam supports parliamentary actions for green transition
The Vietnamese delegation has expressed support for parliamentary actions aimed at promoting green employment and skills to facilitate the process of transitioning to a green economy.
During the meeting of the ASEAN Inter-Parliamentary Assembly (AIPA) Committee on Social Matters in Jakarta, Indonesia on August 8 within the framework of the 44th General Assembly of AIPA, the Vietnamese side offered opinions on a Resolution proposed by Indonesia, reiterating that green growth has been identified as a vital aspect of sustainable development.
They emphasised the need for a well-integrated, rational, and harmonious approach between socio-economic development and environmental protection, thus aiming to address the present needs without impacting future generations, reported VNA.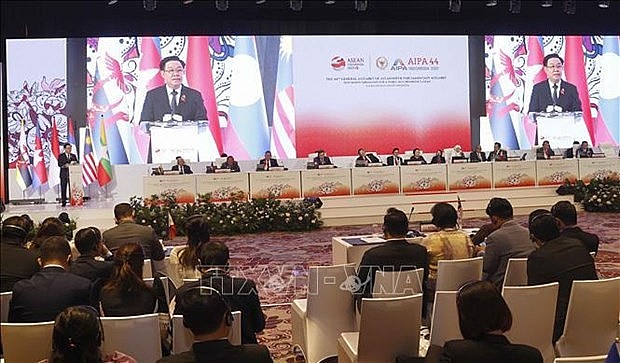 At the event (Photo: VNA)
According to them, Vietnam's green growth programme has been concretised through the National Green Growth Strategy for the 2011-2020 period with a vision towards 2050. However, it still meets difficulties in the implementation process due to limited awareness of ministries, agencies, local authorities and people as well as the lack of resources.
The Vietnamese delegation encouraged regional countries to establish sets of indicators to measure green growth for each nation, moving towards creating an ASEAN set of indicators for measuring green growth. This involves promoting the widespread adoption of cleaner production methods;minimizing, conserving and improving the efficient use of natural resources, while reducing emissions, limiting pollution, and protecting environment quality and human health.
They also called on ASEAN member states to adopt solutions to enhancing labor productivity, reducing unemployment rates, especially among youths; decreasing informal employment, particularly for women, and transitioning the economic structure towards green economic objectives, green employment and sustainability.
Discussing a Resolution on addressing the challenges of youth employment for a secure and prosperous ASEAN, they said the recent pandemic crisis will affect each worker differently while the number of unemployed and untrained young people is expected to rise.
They suggested that particular attention should be given to vulnerable groups at high risk of unemployment.
Vietnam Airlines offers 400,000 seats during National Day
Vietnam Airlines Group, which comprises Vietnam Airlines, Pacific Airlines, and Vietnam Air Services Company (VASCO), has announced that it will provide nearly 400,000 seats on domestic routes during the upcoming National Day on September 2, representing a rise of 15% compared to previous holidays.
The group will also open for sale more than 155,000 seats on international air routes, representing a two-fold rise higher than the same period from last year, to meet increasing travel demand of those who choose foreign destinations for their holiday.
Within the domestic market, there remains high travel demand on air routes between Hanoi, Ho Chi Minh City, Da Nang, Nha Trang, and Phu Quoc.
Vietnam Airlines will continuously offer updates on market demand and make flexible adjustment of flights in order to meet the highest travel demand during the peak period from August 31 to September 5, cited VOV.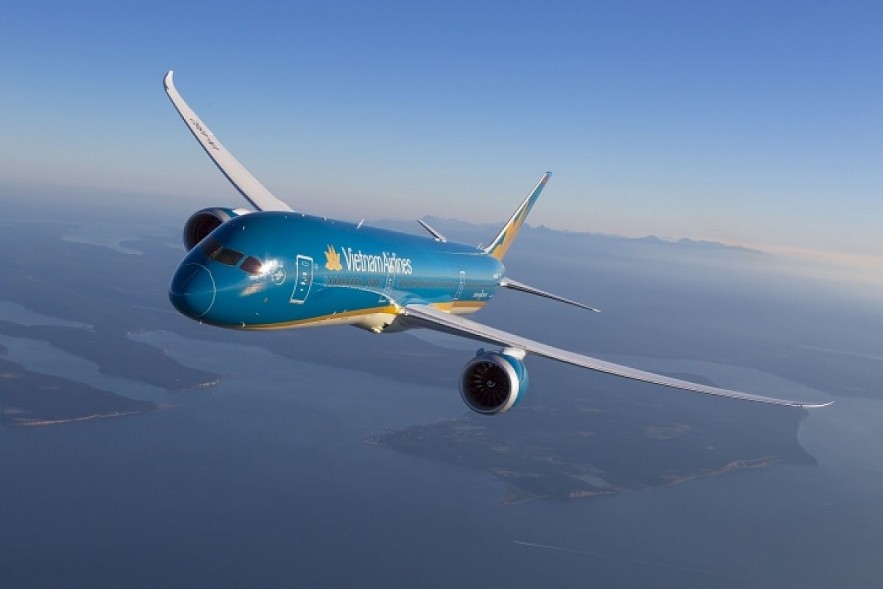 Photo: VOV
In addition, this year's airfares will be sold in a flexible manner according to the market law of supply and demand. At present, local airlines have yet to increase flights, although airfares for the upcoming holiday period are showing signs of decreasing.
Specifically, round-trip air tickets for flights from Hanoi and Ho Chi Minh City to popular destinations such as Phu Quoc, Da Nang, Con Dao, Lam Dong, Dak Lak, and Nha Trang will be reduced by between VND1.2 million and VND1.8 million per ticket compared to late July when passengers purchase tickets during the peak summer holiday.
The national flag carrier recommends that passengers purchase air tickets on the airline's official website, through mobile applications, at ticket offices, or through agents, while using online check-in to avoid crowds building up at the airport on this occasion.
Hanoi named among world's 21 best winter vacations for 2023
The US News & World Report has unveiled the 21 best winter vacations to enjoy this year around the world, with Hanoi ranking sixth in the list.
The Vietnamese capital offers beautiful weather once winter arrives, as daytime temperatures range comfortably between the 60s and 70s (°F) and rain showers are infrequent, the website wrote.
Travelers are able to visit top attractions such as the Temple of Literature and indulge in a steaming bowl of Phở, the nation's most popular kind of noodle soup for dinners.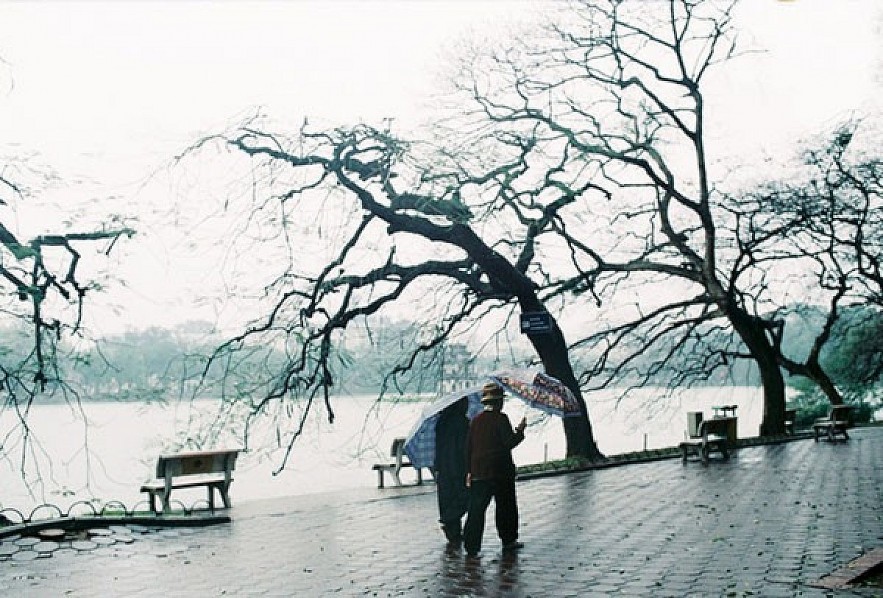 Photo: VOV
The website of the United States also noted that a wintertime visit offers the opportunity for guests to experience some of Hanoi's best events, such as Tet which celebrates the Vietnamese Lunar New Year every January or February and the Perfume Pagoda Festival which is a Buddhist pilgrimage which takes place every February.
Elsewhere, Honolulu-Oahu in the US topped the list of best winter vacations. As temperatures begin to drop in other parts of the world, Hawaii's capital remains comfortable with average highs in the low to mid-80s (°F), the website noted.
The other places to make the top five include Sydney of Australia, Lucerne of Switzerland, the Galapagos Islands of Ecuador, and St. Lucia in the eastern Caribbean.