Vietnam News Today (August 24): Soldiers Supply Food to Ho Chi City Needy Citizens
Vietnam News Today (August 24): Vietnam promotes parliamentary diplomacy through AIPA meetings; Single-day infections climb to 10,280, nearly 7,000 recover from COVID-19; Soldiers supply food to Ho Chi City needy citizens; Vietnamese coffee industry to go global.
Vietnam News Today (August 24) notable headlines
Vietnam promotes parliamentary diplomacy through AIPA meetings
Single-day infections climb to 10,280, nearly 7,000 recover from COVID-19
Soldiers supply food to Ho Chi City needy citizens
Vietnamese coffee industry to go global
Vietnamese song attracts international attention
Defence ministry hands over 30 ambulances to support HCM City's COVID-19 fight
Vietnam's catgut embedding acupuncture method becoming popular in Europe
Vietnam receives over 500,000 doses of COVID-19 vaccine from Poland
Viettel operates two innovation labs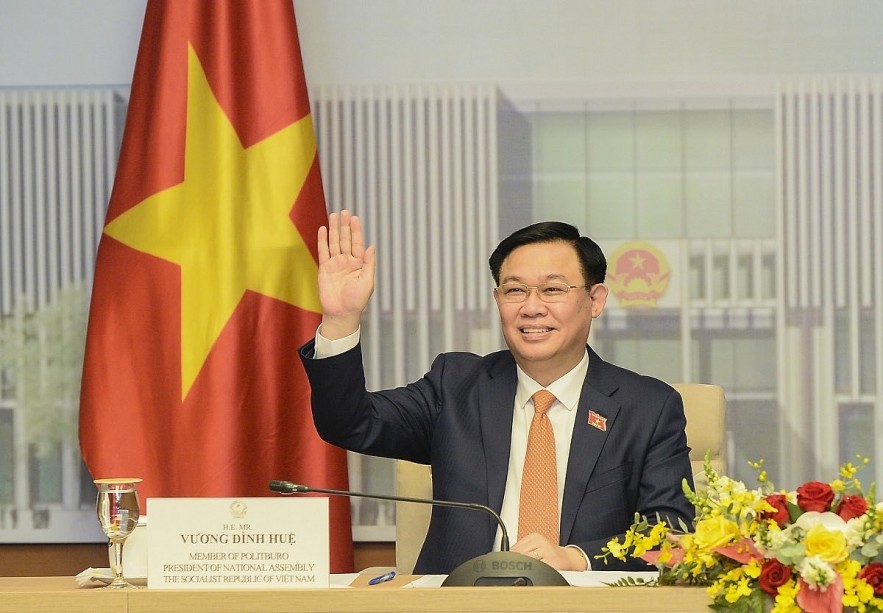 National Assembly Chairman Vuong Dinh Hue. Photo: VOV
Vietnam promotes parliamentary diplomacy through AIPA meetings
The nation's attendance at the General Assembly of the ASEAN Inter-Parliamentary Assembly (AIPA-42) marks one of the first official multilateral external activities of the 15th National Assembly (NA), continuing to demonstrate its position and role following the AIPA- 41 held in Hanoi.
The Vietnamese legislature will send a message of innovation, responsibility, and initiative to AIPA-42 which is currently underway in Brunei in video conference format from August 23 to August 25.
National Assembly (NA) Chairman Vuong Dinh Hue is leading the Vietnamese NA delegation at the AIPA-42 following an invitation from Speaker of the Legislative Council of Brunei Pehin Dato Abdul Rahman Taib.
The participation of the Vietnamese NA delegation at the function is also a continuation of the very important achievements made by Vietnamese parliamentary diplomacy over the years.
According to NA Standing Vice Chairman Tran Thanh Man, the AIPA-42 theme of "Forging Parliamentary Cooperation in Digital Inclusion towards ASEAN Community 2025" clearly displays the organization's determination and consensus on partnering with ASEAN. Collaboration efforts will largely seek to control COVID-19, overcome difficulties in economic recovery, whilst reinforcing intra-bloc solidarity, reported VOV.
The purpose of the occasion is also to carry out the association's foreign policy goal of independence, self-reliance, balance, and maintaining its central role to complete aims relating to ASEAN Community building. This will be done alongside developing the image of a responsible ASEAN that is willing to co-ordinate in responding to emerged issues, said NA Vice Chairman Man.
During the upcoming AIPA-42, member parliaments will be continuing to reaffirm efforts, together with ASEAN member countries, to enhance the response capacity of each country and boost mutual support to stamp out COVID-19, he said.
By taking a comprehensive and parallel approach to pandemic control, ASEAN is intensifying measures within the ASEAN Comprehensive Recovery Framework, in which reform, renovation, digital transformation, and growth model transformation are considered leverage for the recovery of the association's sustainable growth.
Over the duration of the event, the Vietnamese NA will also propose initiatives to further augment inter-parliamentary co-operation in ASEAN. These proposals and ideas express the message of the country's innovation and actions for the development of the ASEAN Community, emphasized Ha.
Single-day infections climb to 10,280, nearly 7,000 recover from COVID-19
A further 10,280 people were detected to be positive for the SARS-CoV-2 virus over the past 24 hours to 6 p.m. on August 23, including 10,266 domestic infections and 14 imported cases, according to the Ministry of Health.
The five localities recording the highest number of infections were HCM City (4,251), Binh Duong (3,183), Dong Nai (623), Tien Giang (459), and Long An (388).
Elsewhere, other local cases were detected among the country's remaining 35 pandemic-hit localities, including some southern localities which reported hundreds of new infections.
Photo: VOV
Of the latest cases documented nationwide on August 23, a total of 6,021 were detected within the community, while the remaining infections were found in quarantine facilities or in locked-down areas.
The nation has registered a total of 358,456 infections since the pandemic initially hit the country early last year, with 2,531 imported and 355,925 domestic infections being logged to date.
Furthermore, the number of recoveries increased to 154,612 after 6,945 patients were announced to be free from the virus, cited VOV.
The Treatment Subcommittee under the National Steering Committee for COVID-19 Prevention and Control the same day confirmed an additional 389 COVID-19 fatalities in 9 localities, raising the death toll regarding the disease to 8,666.
The overall number of positive COVID-19 cases nationwide during the latest wave since late April stands at 354,355, ranking 66th among 222 countries and territories globally. On average, there are 3,646 COVID-19 cases for every one million people.
The country has now vaccinated over 17.3 million people, with over 1.8 million being fully vaccinated with two jabs.
Soldiers supply food to Ho Chi City needy citizens
Military personnel and task forces in Covid-19 epicenter HCMC have delivered food to the doorsteps of patients and people in difficulty Monday.
Infantry soldiers of 7th Military Region, which commands armed forces defending southeast Vietnam, and volunteers in Binh Thanh District divide rice, cooking oil, soy sauce, canned meat, milk and vegetables into packages to give 100 families.
Aside from the free food, they also deliver food ordered by locals, VnExpress reported.
Nguyen Thi Tra My, a member of the union, said it is expected to buy food on behalf of 300-400 families in the ward every day in the next two weeks of stricter Covid-19 restrictions in Ho Chi Minh City.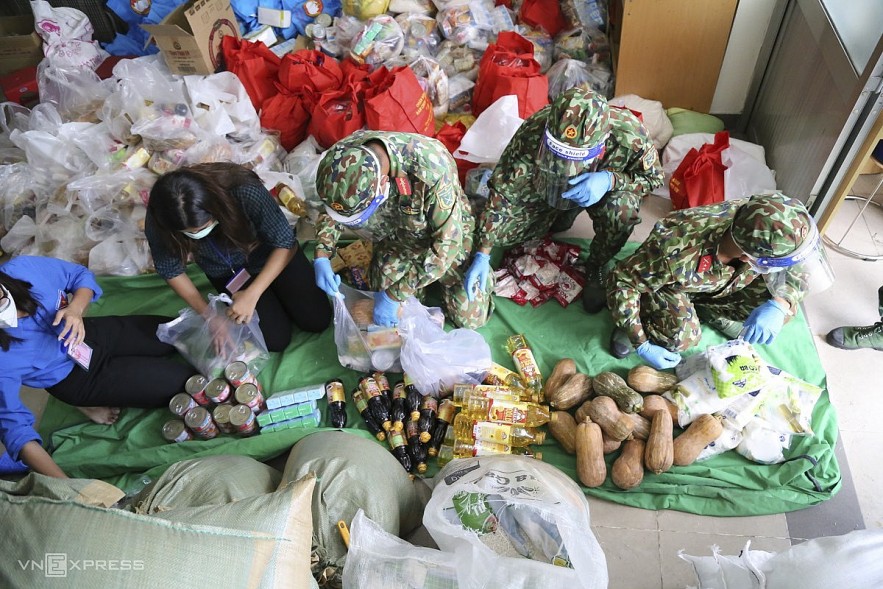 Photo: VnExpress
The union will send a list of food packages, to each residential area for each family to register. The food comes from supermarkets and will be delivered to each household in the morning.
HCMC on Monday commenced a 15-day campaign to tighten coronavirus restrictions, requiring people to "stay where they are," isolating homes from homes, streets from streets and wards from wards and have military forces support existing teams in the city in all activities to fight the pandemic, including patrolling and treating patients.
Those on the list to receive free food include people that have lost their livelihoods due to the pandemic.The Ministry of National Defense plans to mobilize about 35,000 militiamen and thousands of soldiers from 7th Military Region and 4th Corps, one of the four regular army corps of the People's Army of Vietnam stationed in Binh Duong Province that borders HCMC.
At the same time, more than 2,000 medics and 30 ambulances managed by the military in the north will be sent to HCMC to participate in testing and treating Covid-19 patients.
Vietnamese coffee industry to go global
Though COVID-19 has brought challenges to the coffee industry, businesses can nevertheless seek to adapt by exploring innovative and value-added ideas for Vietnamese coffee.
Coffee experts gathered at the RMIT University's International Business Forum 2021 last week to share how to promote the local commodity to the world.
According to the experts, Vietnam has consistently ranked among the world's largest coffee producers and exporters in recent years. Even before COVID-19 and later throughout the crisis, many Vietnamese coffee businesses have made efforts to diversify their export markets, improve quality, leverage the potential of specialty coffee, and expand online marketing and distribution channels.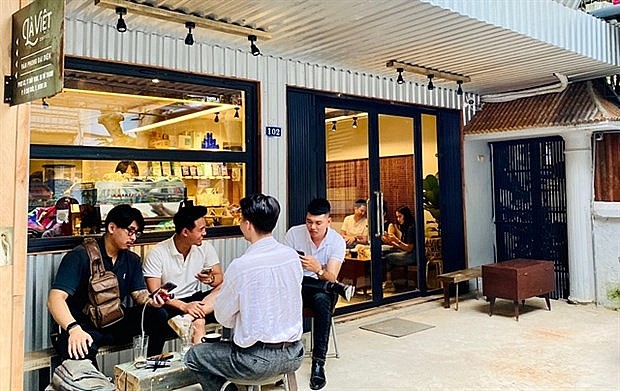 A Da Lat-based La Viet Coffee in Hanoi. La Viet Coffee wants to promote its products with the tourism model across Vietnam when travelling resumes after the pandemic. Photo: La Viet
RMIT International Business Senior Lecturer, Abel Alonso, said: "Responding to the current crisis through value-adding efforts and activities is crucial for Vietnam's coffee industry. Besides the established coffee house culture, many hospitality and tourism activities are making coffee their central product, especially in the post-COVID era."
"Stakeholders in this industry should understand that future development requires increased focus on value-adding activities and raising awareness of Vietnam's specialty coffee, as success stories from other countries like Peru demonstrate," he said.
Based on a couple of recent studies related to Vietnam's coffee industry, RMIT Tourism and Hospitality Management lecturer Vu Thi Kim Oanh emphasised the efforts made by Vietnamese coffee stakeholders in the journey to bring Vietnamese coffee to the world.
"Many stakeholders in the industry have taken specific actions to contribute to bringing Vietnamese coffee to the world. For example, tour companies, hotels, and coffee businesses have collaborated to build an experience model of a "coffee path", "from farm to cup", or "from seed to cup" for visitors," Oanh said, cited VNA.
Speaking at the forum, Tran Nhat Quang founder and CEO of Da Lat-based La Viet Coffee, highlighted the potential of 'in-country export'. When building their factory in Da Lat, La Viet combined their production facilities with a coffee shop in one space, so that visitors can enjoy their coffee while learning through visitation about the production process and products.
"We have a two-hour tour of our factory and the roasting and brewing experience. We also have a one-day tour, which offers an in-depth experience for international tourists interested in local farming. This tourism model was very successful prior to COVID-19, and we intend to continue with it when travelling is enabled again," Quang said.
Vietnamese song attracts international attention
Vietnamese hit song 'Hai Phut Hon' (Over Two Minutes) is gaining in popularity among social network users in the U.S., China, and South Korea.
Many Vietnamese in South Korea said the song has been played in many stores across the country, and used as background music on short video platform TikTok after a clip of a volleyball player dancing to the track published on Aug. 17 attracted more than 1.3 million views.
Many South Koreans have posted videos of themselves dancing to the Vietnamese song, including singer Aespa, reported VnExpress.
Rapper Phao has received a lot of success with 'Hai Phut Hon.' Photo: Phao
'Hai Phut Hon' has also cooked up a storm in the U.S. It was played during the basketball match between Utaz Jazz and Memphis Grizzlies in May and has entered Billboard's list of Top 12World Digital Song Sales.
In March, it was the most streamed Vietnamese song on global music streaming platform Spotify.
In China, the song has appeared on Douyin, a domestic version of TikTok, with many users including celebrities posting videos of themselves dancing to the melody.
'Hai Phut Hon' by Phao, real name Nguyen Dieu Huyen, 18, became a mega hit worldwide and even the most searched song globally on Shazam, an app that can identify music and TV shows from a short sample audio, last December.
This is not the first time a Vietnamese song has trended on Chinese social networks, with 'Cu Chill Thoi' (Just Chill) by indie band Chillies and 'De Den De Di' (Easy Come Easy Go) by singer Le Quang Hung having done so earlier.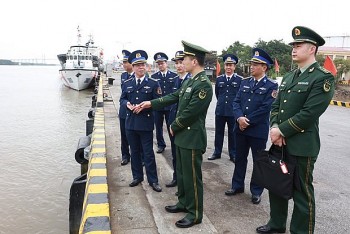 Focus
Vietnam Coast Guard exchanges with other countries