Vietnam News Today (Dec. 23): Vietnam Aims to Welcome Eight Million Foreign Arrivals by 2023
Vietnam News Today (Dec. 23): Vietnam aims to welcome eight million foreign arrivals by 2023; Indonesian President hosts welcome ceremony for President Nguyen Xuan Phuc; UN hails Vietnam's completion of JETP Agreement; Foreign retailers flock to Vietnam.
Vietnam News Today (Dec. 23) notable headlines
Vietnam aims to welcome eight million foreign arrivals by 2023
Indonesian President hosts welcome ceremony for President Nguyen Xuan Phuc
UN hails Vietnam's completion of JETP Agreement
Foreign retailers flock to Vietnam
Vietnam named Asia's best culinary destination
Tet gift hamper market offer more affordable choices
Vietnam, Cuba seek ways to further bolster ties
AFF Cup: Vietnam has good start with 6-0 victory against Laos
Ninh Binh province attracts visitors during Christmas season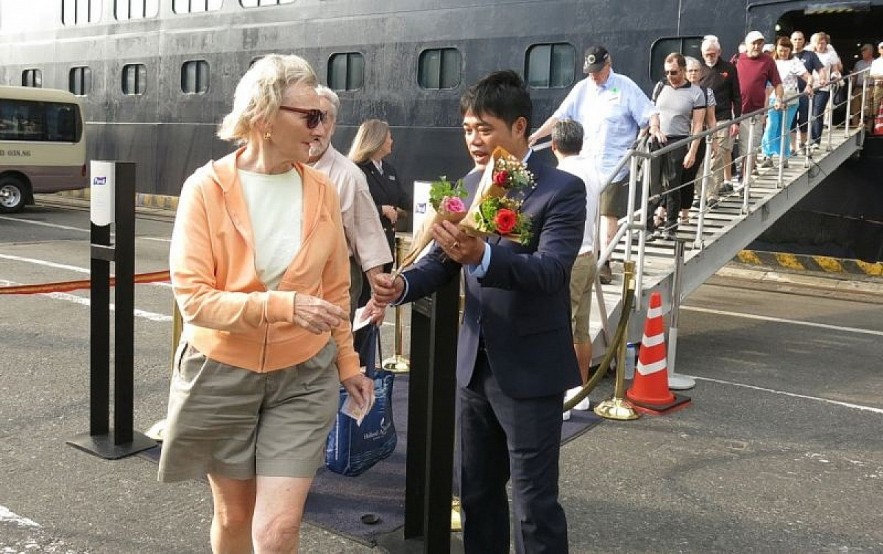 Photo: VOV
Vietnam aims to welcome eight million foreign arrivals by 2023
The Vietnam National Administration of Tourism (VNAT) plans to set a target of welcoming eight million foreign visitors and 102 million domestic tourists next year, earning an estimated revenue of VND650,000 billion in the process.
This information was unveiled as part of the draft report made to summarise operations of the tourism industry this year, as well as implementing tasks ahead for 2023.
The VNAT has set out plans for the tourism sector to improve infrastructure, develop smart tourism based on Industry 4.0 technology, and to boost rural tourism to achieve its goals, cited VOV.
Furthermore, the nation will also participate in major tourism events in countries such as Indonesia, Germany and the UK, thereby promoting the image of the country via major international media channels, as well as introducing local tourism in key markets, including ASEAN, Northeast Asia, Australia, Europe, and North America.
Nguyen Trung Khanh, director general of the VNAT, assessed that the Vietnamese tourism sector is likely to face numerous difficulties next year due to key markets such as China and Russia not being fully opened, as well as inadequacies in terms of Vietnamese visa policies compared to other countries throughout the region.
Sharing this perspective, Nguyen Asia, director of Oxalis Adventure, the tour organiser of trips to Son Doong cave, underlined the need to classify their market, adding that if Northeast Asian markets such as China, Japan, and the Republic of Korea fully open, then Vietnam can welcome about 12 million international visitors ahead in 2023.
Accordingly, the group of tourists from the Northeast Asian region can reach eight million, while tourists from Europe, America, and Australia are likely to hit four million.
Vietnam is therefore anticipated to welcome 3.5 million international visitors this year, equivalent to about 70% of the set plan of five million and 101.3 million domestic arrivals, up 68.8% compared to the target.Indeed, total revenue from tourism looks set to reach VND495,000 billion, 23% higher than the set plan.
Indonesian President hosts welcome ceremony for President Nguyen Xuan Phuc
President Nguyen Xuan Phuc, who is on a State visit to Indonesia, was welcomed by his counterpart Joko Widodo at a ceremony held at the Presidential Palace in Bogor city, West Java province, on December 22.
The host country held a gun salute for the Vietnamese leader, showing the importance it attaches to his trip from December 21 to 23.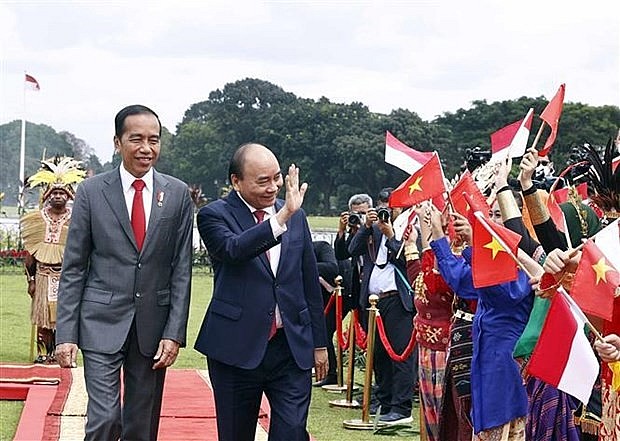 President Nguyen Xuan Phuc is welcomed at the ceremony in Bogor city on December 22. Photo: VNA
After the welcome ceremony, President Phuc planted a commemorative tree at the Presidential Palace of Indonesia, according to VNA.
Following that, the two leaders led high-ranking delegations to convene talks to review cooperation results over the past years and identify orientations for further strengthening the Vietnam-Indonesia strategic partnership.
UN hails Vietnam's completion of JETP Agreement
Ambassador Dang Hoang Giang, Permanent Representative of Vietnam to the United Nations on December 21 met with Selwin Hart Special Adviser and Assistant Secretary-General for Climate Action at the United Nations.
Ambassador Dang Hoang Giang asked Hart to convey the thanks of the Vietnamese Government to UN Secretary-General Antonio Guterres and the UN for actively supporting Vietnam in establishing a Just Energy Transition Partnership Agreement (JETP)
with international partners as well as in the process of implementing Vietnam's commitments at the 26th Conference of the Parties to the United Nations Framework Convention on Climate Change (COP26).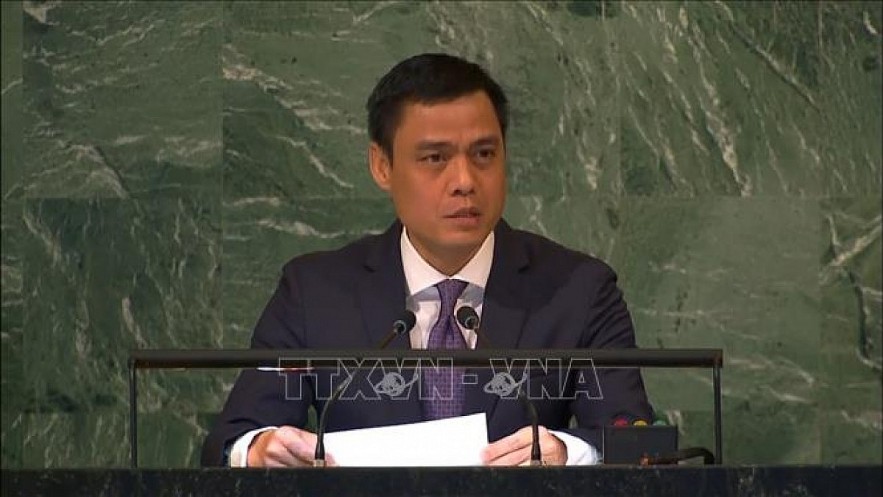 Ambassador Dang Hoang Giang, Permanent Representative of Vietnam to the United Nations.
The Ambassador said that the establishment of the agreement is the first step and wished that the UN would continue to accompany Vietnam in developing a resource mobilization plan to fully implement the agreement.
Ambassador Dang Hoang Giang also affirmed Vietnam's readiness to become involved in preparation for the Climate Action Summit proposed by UN Secretary General Guterres in 2023 to continue contributing to the joint effort on climate action, VOV reported.
UN Assistant Secretary-General Selwin Hart, said that UN Secretary-General Guterres was delighted with Vietnam's completion of the JETP Agreement, showing the nation's seriousness in realizing its commitments on climate change response.
He affirmed that the UN will continue to closely coordinate with Vietnam and international partners in the implementation of the agreement.
Vietnam is playing an important role in the global effort to respond to climate change, the UN official said, while expressing its hope that Vietnam will continue to share experience and successful lessons on energy transition.
Foreign retailers flock to Vietnam
More retail brands have opened in large cities and existing brands have expanded their networks in Vietnam.
After opening three shops in Hanoi at the same time, Uniqlo has opened another store in Thu Thiem in HCM City. The company has opened 15 retail stores within three years in Vietnam.
The Uniqlo network has been expanding more rapidly than other fashion retailers. Osamu Ikezoe, CEO of Uniqlo Vietnam, said that Vietnam is among its most important markets.
MUJI has opened its fourth store in Vietnam in District 7, HCM City. Established in 1980, the Japanese retailer has over 1,000 stores in the world, cited VNN.
In early November, Thiso, a subsidiary of Thaco, opened the Emart Sala supermarket in Thu Duc City. This is the second supermarket of the Korean retail brand in Vietnam.
According to Savills Vietnam's CEO Neil MacGregor, some new luxury and high-end brands such as Berluti, Cartier, Victoria's Secret and Urban Revivo are entering the market, while large retail chains such as Haidilao and Central Group are speeding up expansion in Vietnam. Some brands are joining the market through online sales before opening stores such as Sephora, Perfect Diary and Maje.
According to the General Statistics Office (GSO), the total goods and service retail turnover in November reached VND514.1 trillion, 2.6 percent up over October and 17.5 percent up month-on-month. In January-November 2022, the total goods and service retail turnover was VND5.180 trillion, up 20.5 percent year-on-year.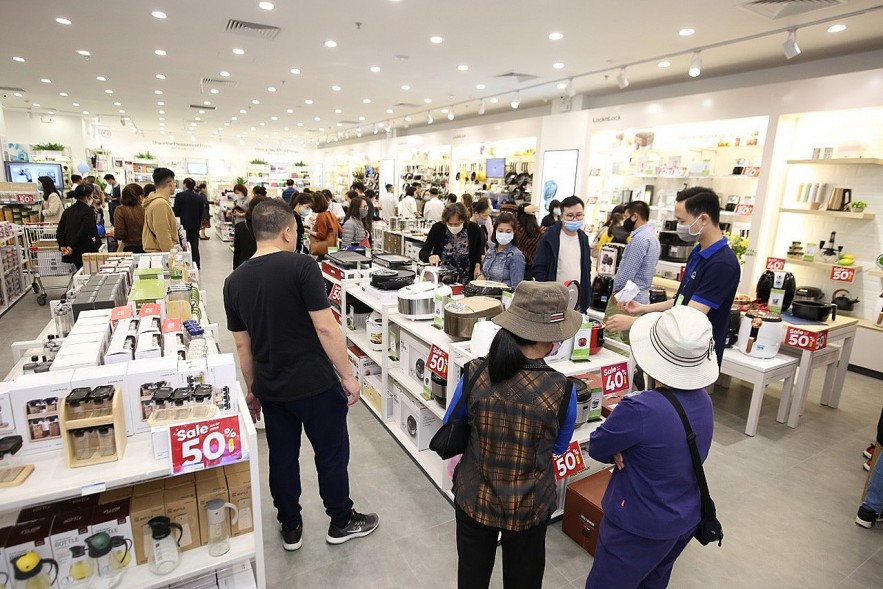 Photo: VNN
Neil MacGregor believed that Vietnam is in the period with optimistic demographic indicators, which is the driving force for domestic spending, the growth of the middle class, demand for accommodation, retail spending and growth.
Nick Bradstreet from Savills commented that Vietnam has great advantages to jump higher than neighboring markets such as Singapore and Thailand, where most famous international brands have been present.
From H&M, Zara to Louis Vuitton and Dior all have opened 5-6 stores in Singapore and Bangkok, while they only have 1-2 stores in Vietnam. Therefore, analysts believed that the brands would come to Vietnam to expand the market.
Vu Thi Hau, chair of the Vietnam Retailer Association, said 2023 would be the year of the full recovery of the retail industry after the pandemic.
Vietnam named Asia's best culinary destination
The third World Culinary Awards has listed Vietnam as Asia's Best Culinary Destination in 2022.
The Southeast Asian nation has surpassed many other destinations such as China, Malaysia, Singapore, the Republic of Korea, and Thailand, to earn the accreditation, reported VNA.
Rina van Staden, Director of the annual awards, said that the results were based on a year-long search for the world's top culinary brands, with experts and the public joining related voting.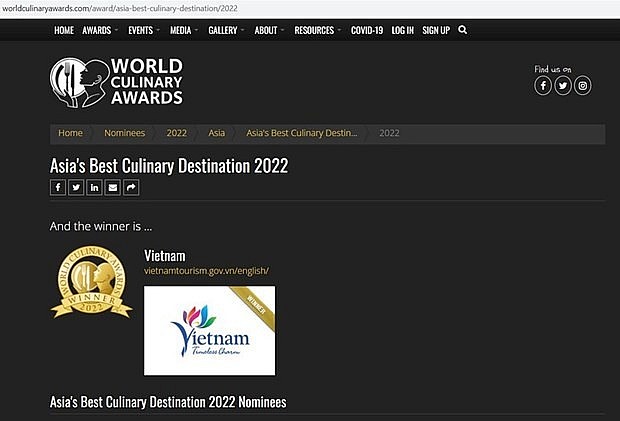 A screenshot of the World Culinary Awards website.
Winners of the 2022 edition are those that have strived to elevate the culinary excellence around the world, she added.
Vietnamese cuisine has been highly valued in prestigious competitions and by ranking organisations in the world. The country was ranked 5th among the top 10 countries globally with the best food by readers of the Canadian magazine The Travel last October.
On December 1, Michelin, for the first time, announced Hanoi and Ho Chi Minh City as the latest destinations joining the international selection of the MICHELIN Guide. MICHELIN inspectors will present their list of restaurants selected in June 2023.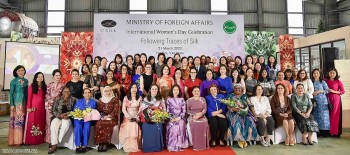 Friendship
Female ambassadors, representatives from diplomatic corps and international organizations, along with spouses of diplomats in Vietnam gathered together to find about more about silk weaving and silk products in Vietnam.