Vietnam News Today (Dec. 22): Tet Gifts Delivered to Truong Sa Soldiers, People
Vietnam News Today (Dec. 22): Indonesia - Vietnam relations built on a solid foundation; Tet gifts delivered to Truong Sa soldiers, people; Petrol prices continue to fall in latest review; Strong performance across spheres boosts Vietnam's economy.
Vietnam News Today (Dec. 22) notable headlines
Indonesia - Vietnam relations built on a solid foundation
Tet gifts delivered to Truong Sa soldiers, people
Petrol prices continue to fall in latest review
Strong performance across spheres boosts Vietnam's economy
Many export opportunities for enterprises through digital platforms in 2023
Vietnam target win in AFF Cup 2022 opener
President arrives in Jakarta, begins State visit to Indonesia
Vietnam crowned Asia's best culinary destination 2022
Apple plans to start producing MacBooks in Vietnam by mid-2023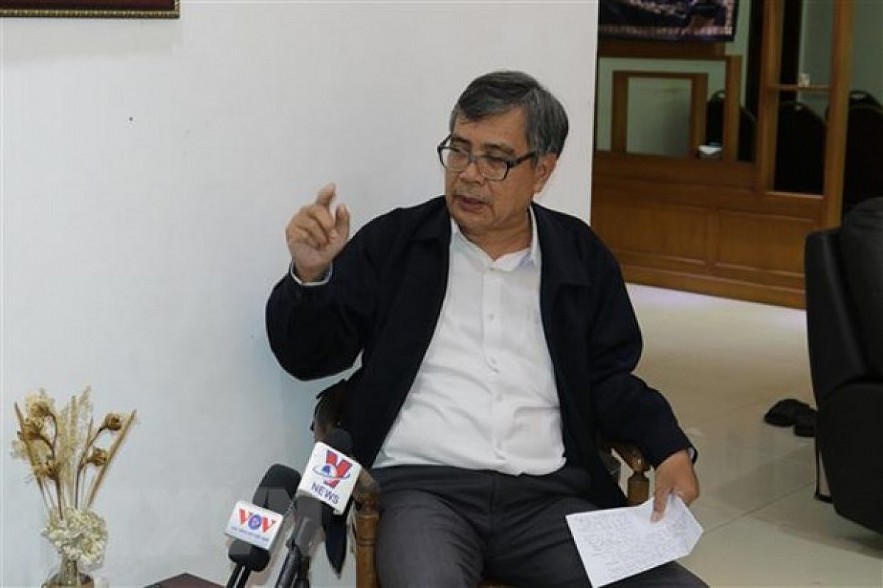 Indonesian veteran journalist Mohammad Anthoni. Photo: VOV
Indonesia - Vietnam relations built on a solid foundation
During its nearly 70-year history, relations between the nation and Indonesia have developed stably, extensively, and firmly across multiple fields, with the foundation for these ties being established by the two countries' leaders.
Veteran journalist Mohammad Anthoni outlined this in an editorial piece published on December 21 in the bulletin of National News Agency Antara.
This positive relationship between the two governments and peoples has been built, maintained, and developed by President Ho Chi Minh and President Sukano since the two nations' resistance wars for national independence.
Subsequent generations of leaders have subsequently sought to strengthen this neighbourly bond through high-level meetings.
Anthoni, who is also known as an international commentator and veteran Indonesian researcher, emphasized that President Nguyen Xuan Phuc's state visit from December 21 to December 23 to Indonesia is a message that reaffirms that the Vietnamese senior leadership greatly values the relationship with Indonesia.
Through this visit, President Phuc wishes to co-operate alongside Indonesia in a bid to promote a deeper strategic partnership in a multitude of fields, thereby affirming its role as an active member of ASEAN for the causes of peace, co-operation, development, and prosperity in the region and in the world.
Upon reviewing the milestones in the mutual relationship, Antoni said an important turning point in foreign relations took place in June, 2013, when both nations agreed to upgrade ties to that of a strategic partnership.
This is the result of efforts made by both nations' senior leaders and the consensus of the people of the two countries, thereby affirming their positions in the international and regional arena, cited VOV.
Next year will see the two countries celebrate the 10th anniversary of the strategic partnership, with a strong desire to further ramp up co-operation in a multitude of fields from diplomacy, politics, economy, culture, society, trading ties, and people-to-people exchanges.
According to Anthoni, joint relations have been tested and developed through the ups and downs of the times. At the time of the outbreak of the COVID-19 pandemic, both sides were the hard hit when recording a large number of infections and the spread of the pandemic on a national scale.
During that difficult period, both countries' leaders regularly maintained diplomatic communication channels, exchanged and shared ways to overcome difficulties, as well as uniting to combat the pandemic.
Not only that, both countries also shared this burden with other ASEAN member states in building a co-operation mechanism to prevent the spread of the pandemic and expand the vaccination network for the community in phases.
During his visit to Indonesia in 2021, Prime Minister Pham Minh Chinh emphasized that the Vietnamese side will go ahead with its foreign policy of independence, self-reliance, multilateralization, diversification, and being a responsible, proactive and active community member for comprehensive and extensive integration.
The journalist also emphasised that the country values and will continue to strengthen and expand the strategic partnership that exists with Indonesia.
During their talks, PM Chinh and President Joko Widodo were pleased to see that bilateral co-operation is increasingly deepening and becoming more substantive.
The two leaders therefore agreed to work together in a bid to effectively implement the Action Program for the 2019 to 2023 period, as well as carrying out the strategic partnership and vision for bilateral defence co-operation for the 2018 to 2022 period.
The two leaders took time to discuss a score of measures to augment bilateral economic ties, especially cutting trade barriers, resolving difficulties, and removing obstacles for businesses of the two countries in order to achieve the set goals.
The leaders also underlined the necessity of an early conclusion of negotiations on the delimitation of the exclusive economic zone (EEZ) between the two countries to create a legal corridor for the two sides to strengthen co-operation and minimise illegal fishing.
The settlement of differences in the maritime border between the two neighbouring countries will therefore contribute to maintaining peace, co-operation, and development in the region.
At the fourth meeting of the Joint Committee on Bilateral Cooperation (JCBC-4) on July 20, Foreign Minister Bui Thanh Son and his Indonesian counterpart Retno Marsudi both applauded the various achievements recorded in bilateral co-operation across a variety of fields, especially economic ties.
Bilateral trade turnover in 2021 duly reached US$411.5 billion, up 40% compared to 2020, thereby exceeding the target of US$10 billion set by the two sides in the Action Plan to implement the strategic partnership in the 2019 to 2023 period.
Both nations also consented to strengthen and deepen the strategic partnership through enhancing political trust, promoting bilateral linkages, maintaining trade and investment growth momentum, while simultaneously stepping up ties in other areas such as defence, security, agriculture, energy, tourism, and connectivity.
To further strengthen the partnership in the future, the two sides concurred to accelerate the completion of the Action Plan for the 2024 to 2028 period as a guide for future bilateral co-operation.
In addition, the two sides also agreed on five important issues relating to trade co-operation, investment, maritime security, defence and security cooperation, as well as legal and consular affairs.
Tet gifts delivered to Truong Sa soldiers, people
Navy Region 4 ships carrying officers, soldiers, journalists as well as New Year gifts departed from Cam Ranh military port in the central province of Khanh Hoa on December 21 for Truong Sa (Spratly).
As scheduled, the vessels will dock at islands and islets in the district, delivering supplies and gifts to people and soldiers stationed there on the occasion of the upcoming Lunar New Year (Tet).
The gifts include essential goods and traditional food for Tet donated by organisations and businesses, according to VNA.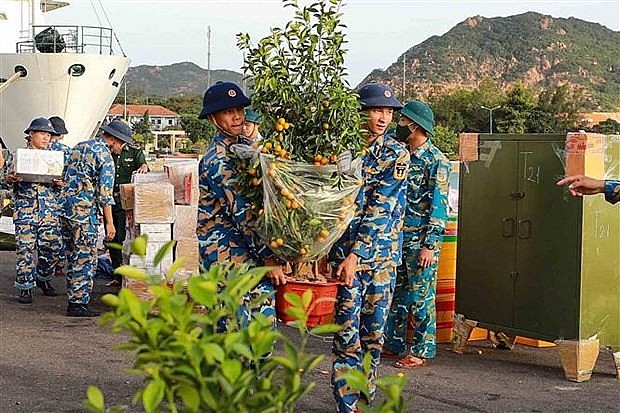 Transporting goods to islands. Photo: VNA
Earlier, on December 20, 100 gifts were presented to personnel and policy beneficiaries at the Navy Region 4 High Command, as part of an annual programme run by the online newspaper of the Communist Party of Vietnam and the Vietnam People's Navy High Command.
Petrol prices continue to fall in latest review
The retail prices of petrol and oil continued to decline as part of the latest adjustment made by the Ministry of Industry and Trade, and the Ministry of Finance as of 3 p.m, on December 21.
The change has een the price of RON 95-III bio-fuel drop by VND500 per litre to VND20,700 per litre.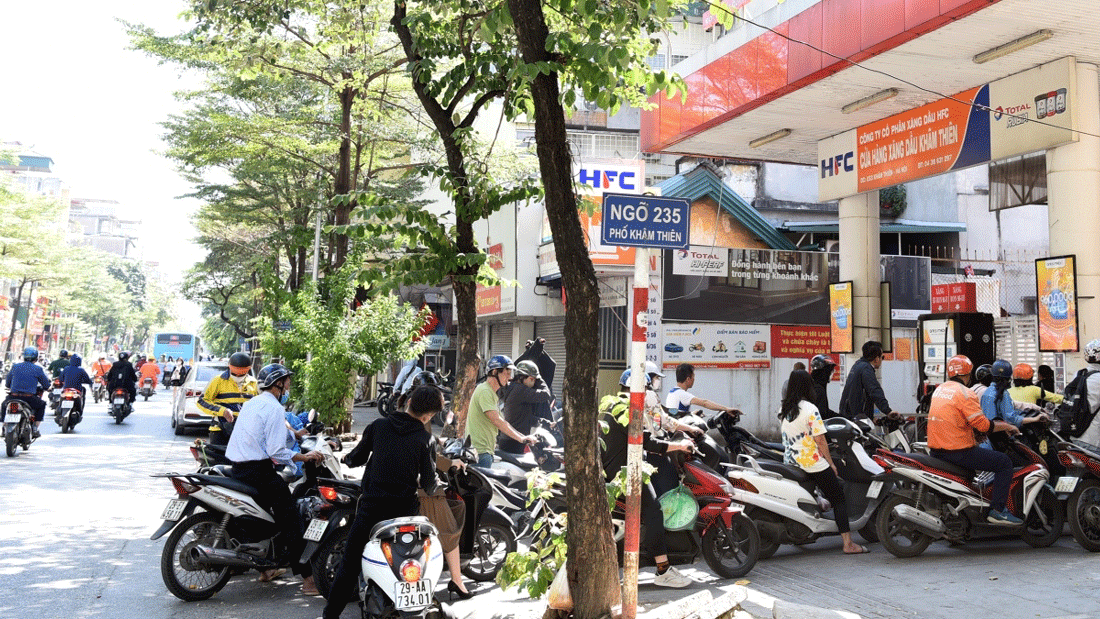 Photo: VOV
Meanwhile, the retail price of E5 RON 92 decreased by VND370 to VND19,970 per litre, reported VOV.
Elsewhere, the prices of diesel 0.05S and kerosene were capped at VND21,600 per litre and VND21,830 per litre, thereby marking declines of VND3,380 and VND70 per litre, respectively.
Furthermore, the price of mazut saw a fall of VND150 to VND13,860 per kilogram. Moreover, the two ministries also decided to extract VND300 per litre from the E5 RON 92 price, VND400 from the RON 95-III price, VND800 per litre from the diesel price, VND500 per litre from the kerosene price, and VND500 per kg from mazut for the petrol price stabilisation fund.
Strong performance across spheres boosts Vietnam's economy: ADB Country Director
Country Director of the Asian Development Bank (ADB) in Vietnam Andrew Jeffries has attributed Vietnam's economic growth in 2022 to a strong performance across sectors.
"A strong performance across sectors boosted Vietnam's economy and it expanded by 8.8% in the first three quarters of 2022," he said at the Vietnam Economic Forum in Hanoi on December 17.
He noted that Vietnam's export boom continued on revived global demand and rising global community prices, adding exports grew by 13% year-on-year and imports grew expanded by 10% year-on-year, resulting in a trade surplus of 10.6 billion USD in the first 11 months of 2022.
Disbursements of foreign direct investment increased by 7.8% year-on-year, estimated at 7.7 billion USD, the highest disbursement in five years. Domestic consumption in November was up 2.6% from the previous month and up 17.5% over the same period last year, according to the official.
Normalised mobility boosted domestic tourism, reaching nearly 100 million domestic visitors in the first 11 months, higher than the pre-COVID-19 period, he said, highlighting a return of international tourists this year.
"With these positive development, our growth forecast for 2022 for Vietnam is adjusted up to 7.5%," he emphasised.
However, Jeffries noted, headwinds are strengthening in the last quarter, explaining that key economic indicators have shown weakening global demand for Vietnam's exports and manufacturing purchasing managers index dipped to 47.4 in November from 50.6 in the previous month, cited VNA,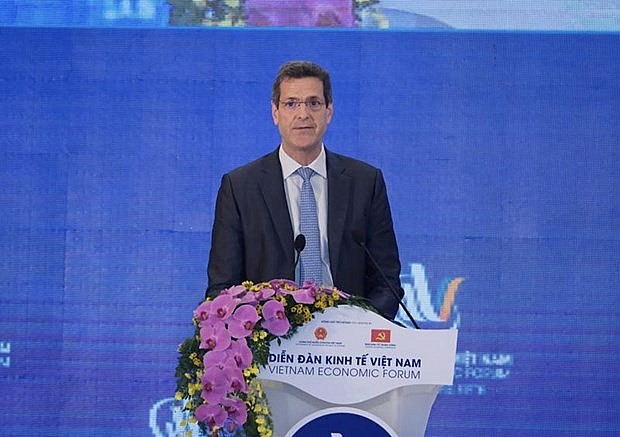 Country Director of the Asian Development Bank (ADB) in Vietnam Andrew Jeffries speaks at the forum. Photo: VnEconomy
Employment was also down due to declined economic activities, he said, pointing out that recent monetary tightening, irregularities in the corporate bond market and slow disbursement of public investment tightened liquidity for economic recovery.
According to Jeffries, the ADB has adjusted down its forecast for Vietnam in 2023 from 6.7% to 6.3% due to some external factors as high inflation in the US and other advanced economies, though slightly abating in November 2022, could prolong the current monetary tightening cycle. Even worse, the appreciating US dollar as the result of the FED monetary tightening could continue to put depreciating pressure on the Vietnamese currency, creating inflationary pressure, and putting pressure on the foreign reserves. Growth deceleration in China also impacts Vietnam's economic prospects in 2023, and the worsening situation in Russia and Ukraine could renew surges in commodity prices, further stoking global inflation and inducing further monetary tightening.
Regarding policy recommendations, the ADB Country Director said the policy responses for Vietnam need to strike a dedicated balance among curbing inflation and maintaining economic growth, and also ensuring the stability of the financial sector.
For monetary policy, he suggested that maintaining price stability should be the primary focus, and Vietnam's monetary stance should continue to be vigilant of inflation in 2023, saying further policy rate hikes may still be warranted in 2023 if inflation picks up.
There should be greater and more efficient coordination between the fiscal and monetary policies, he said, explaining that while monetary measures have tightened to stem imported inflation, targeted fiscal support becomes desirable to support firms and strengthen social protection, given increasing impacts on the labour force due to the global economic downturn.
Public investment included in the latest stimulus package of early 2022 should be implemented as planned, and efforts are needed to accelerate its disbursement, Jeffries said.
Speaking of the financial sector's stability, he stressed that to minimise risks to the stability, it is critical that the government continues to move forward with reforms such as promoting public credit ratings, developing corporate bond funds and pensions funds, and tightening the requirements to be qualified as a professional investor.
"We believe that with sound economic fundamentals and strong leadership, Vietnam will be able to brace the headwinds in 2023," he said. "Vietnam's economic prospects for the medium and long-term remain very positive, and we note that continued strong interest in Vietnam as an FDI destination is a long-term vote of confidence."
Jeffries pledged that the ADB, as a development partner, stands ready to support Vietnam as required.
Many export opportunities for enterprises through digital platforms in 2023
Vietnamese small and medium enterprises (SMEs) have many digital export opportunities when Vietnam becomes a new global production area.
Alibaba.com – one of the leading B2B E-commerce platforms, has announced the 2023 Annual Digital B2B Outlook Ebook for the Vietnam market. The exclusive ebook by AliResearch gathers contributions and efforts from businesses, academics and research institutions, to help businesses accelerate digital transformation. The ebook highlights current global market trends, and explains how Alibaba.com in Vietnam can help SMEs overcome a string of difficulties and uncertainties in 2022, towards a successful future.
According to ebook, with the lingering shocks of the pandemic, more and more businesses will move to digital. The relative stability of digital sales will be what many companies need to maintain their operation in the coming year. This trend also implies that B2B online sellers are likely to see greater competition.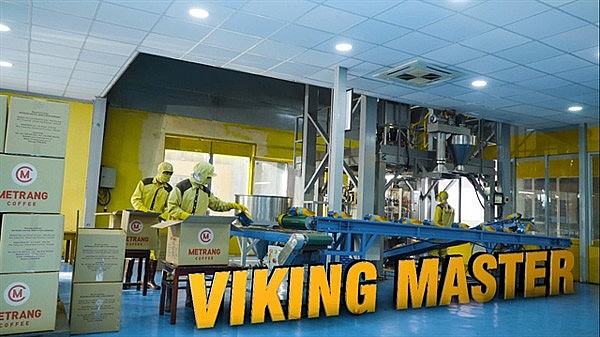 Me Trang Coffee Joint Stock Company has had access to the international market through e-commerce platforms for years. Photo: Me Trang Coffee Joint Stock Company
Andrew Zheng, Vice President of Alibaba.com, said: "We discovered some lessons that B2B businesses can learn to apply in the new year. The first lesson is that a stable B2B e-commerce platform is crucial. As e-commerce flourishes, finding a destination to sell as well as sourcing is very important. The second lesson is the value of strengthening partnerships with trusted suppliers. As a business owner or chief operating officer, you know there will be fluctuations, so you need partners who can together face the movement with you."
When moving to digital, digital marketing has always been a great attraction to enterprises, especially since there is 93 per cent interaction through search engines. With digital marketing, new entrants can take action immediately to get a piece of those interactions. The possibility that the number of companies using digital tools for administrative purposes will also increase.
Some long-term trends take place constantly, such as the rise of personalised experiences and video marketing in B2B e-commerce. But some new trends will take centre stage, such as the reduced time consumers spend online, VNS reported.
Vietnam export volume has increased rapidly over the past year, contributing to successful growth over the past decade, and emphasising Vietnam manufacturing to the global market. There are many reasons for this growth, from political events and a shift in the structure of foreign investment to the pandemic and global supply chain problems. Each piece has come together, making Vietnam an important player in the global economy. Vietnam is also a member of Free Trade Agreements (FTAs) and a member of the Regional Comprehensive Economic Partnership (RCEP). This creates even more opportunities for SMEs in new foreign markets.
Roger Lou, Country Manager of Alibaba Vietnam, said: "Vietnam has always been one of Alibaba's most strategic markets. Currently, Vietnam supplies mainly to the US, Europe, Japan, Korea and Asia Pacific countries. We continue to expand investment in Vietnam and establish a local ecosystem, including domestic partners, local customer service and development teams and market operations teams to continuously improve the organisational capacity of local teams."
According to Alibaba.com, to be successful on the platform, sellers need to have good negotiation skills, a strong country origin and a low minimum order quantity. Investing in platform operations is essential to help sellers reach more customers. Efficient day-to-day operations allow sellers to secure more orders. More than 30 per cent of sellers have dedicated staff to operate online stores that can secure more than six important orders on the platform each year. For sellers operating through a third-party reseller, about 1 to 10 orders are viable in the first year.