Vietnam News Today (Dec. 28): Retailers Get Ready for Busiest Shopping Season of The Year
Vietnam News Today (Dec. 28): Vietnam logs 211 new Covid-19 cases on December 27; Retailers get ready for busiest shopping season of the year; Potential remains for Vietnam's exports to EU; Vietnam obtains highest GDP growth rate since 2007.
Vietnam News Today (Dec. 28) notable headlines
Vietnam logs 211 new Covid-19 cases on December 27
Retailers get ready for busiest shopping season of the year
Potential remains for Vietnam's exports to EU
Vietnam obtains highest GDP growth rate since 2007
FTAs help push Vietnam's exports
Cultural diplomacy brings Vietnamese, French people closer
Vietnam's second UN peacekeeping unit unveiled in Hanoi
Vietnam optimizes monetary policy for inflation control, macroeconomic stability
Vietnam among world's top 5 factories of the world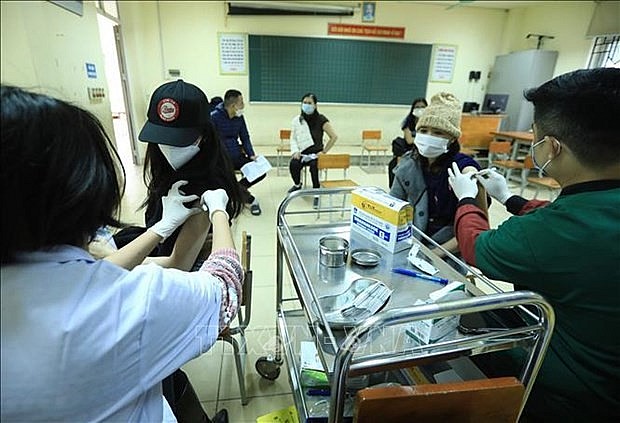 People get booster shots of Covid-19 vaccine. Photo: VNA
Vietnam logs 211 new Covid-19 cases on December 27
The national Covid-19 caseload rose to 11,524,647 with 211 new cases recorded on December 27, according to the Ministry of Health.
With 86 patients given the all-clear during the day, the number of recoveries rose to 10,610,917, cited VNA.
Meanwhile, there are 39 patients needing breathing support.
No death from Covid-19 was recorded in the past 24 hours. The total fatalities stand at 43,184.
With 21,933 doses administered on December 26, the total number of doses of Covid-19 vaccines injected rose to 265,401,974.
Retailers get ready for busiest shopping season of the year
With the Lunar New Year (Tet) around the corner, retailers are scrambling to stockpile goods to meet the imminent surge in demand.
A representative of Saigon Co.op said stocks of fresh foods have been doubled so that its Co.opmart, Co.opXtra, Co.op Food, and Co.opSmile stores could meet any surge in demand during Tet.
Saigon Co.op has also increased by 20-50% the stock of goods it is selling under the city's price stablisation programme and of essential goods, he said.
To ensure consumer price stability, it has allocated most of its budget to nine items under the programme – rice, sugar, cooking oil, pork, poultry meat, poultry eggs, processed food, fruits and vegetables, and seafood, the representative said.
Saigon Co.op will also increase its supply of ready-to-eat dishes.
Nguyen Trong Tuan, operations director of WinMart supermarket system, said the number of customers shopping at WinMart/WinMart has increased sharply since early this month.
They mainly buy essential goods and Tet gift baskets, and the numbers are expected to go up even further between the beginning of January and Tết, which falls on January 22, he said.
WinCommerce had readied stocking plans for Tet a few months ago, and they involve increasing stocks by 20-30% from last year, he said.
"In the fresh food category, we focus on certain items such as vegetables, fruits and meat.
"Traditional Tet items such as fruit gift hampers, banh chung (square glutinous rice cake) and vegetable pickles are also stocked in large quantities and at good prices with promotions of up to 50%."
Stocks of other commonly consumed items during Tet such as confectionery and beverages have increased by 20%, he said.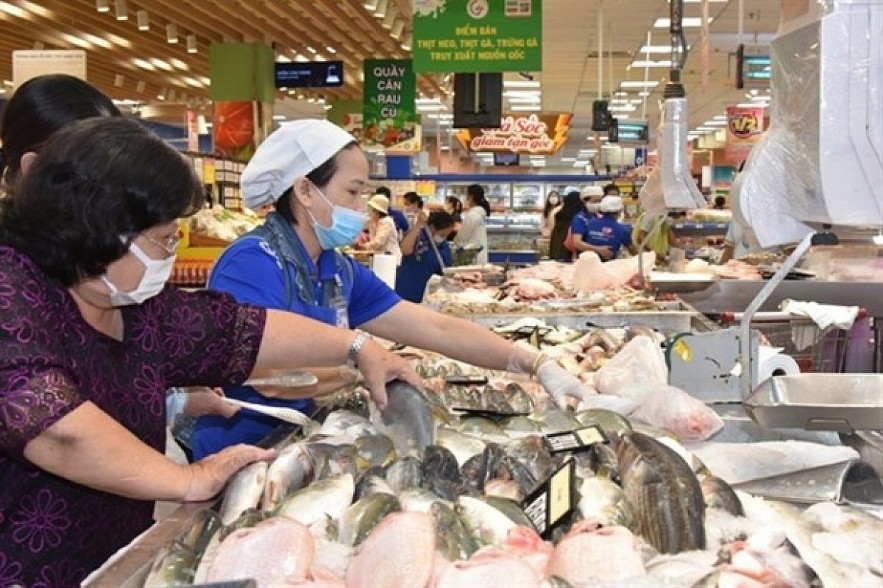 Retailers have increased stocks of fresh food and other essential goods commonly consumed during Tet to ensure sufficient supply and stable prices. Photo: Saigon Co.op
WinCommerce has also increased the supply of dry foods and regional specialties, he added.
Forecasting shopping demand during Tet to be equal to or higher than before the pandemic, Central Retail's GO!, Big C and Tops Market supermarket chains have also stocked up abundantly.
They have increased stocks of pork, beef, seafood, vegetables, and fruits and are selling a range of fruit hampers with imported items and specialties from around Vietnam.
Retailers have also launched big promotions on the occasion, according to VOV.
Saigon Co.op said its supermarkets would have promotion programmes from now until the Lunar New Year, including discounts on thousands of products of up to 50% and even higher during a 10-day period before the holiday, gifts, higher reward points than normal and gift vouchers.
There is a 15% discount on some three million Tet gift hampers.
Saigon Co.op is also implementing a programme called 'Gan ket tinh than - Tet xa them gan' under which customers can order gift baskets at any Co.opmart and Co.opXtra supermarket or online at https: //cooponline.vn, and get them delivered almost for free to more than 40 provinces and cities.
Go!, Big C and Tops Market are offering discounts of up to 50% on hundreds of products and discounts on gift hampers.
From December 22 to January 4, shoppers at GO! and Big C with bills of VND500,000 (US$21.2) or more will get a lucky draw coupon with prizes worth more than VND1.5 billion (US$63,615).
In addition to offering discounts on up to 50% on many products, WinMart/ Winmart stores nationwide will gift customers with a 750g bag of Ngọc Nương rice when they buy a half MEATDeli 'Gà ngon LaChanh' (chicken with fresh lemon leaves) and two bags for buying a whole until January 21.
According to market research company Kantar Worldpanel Vietnam, following two years of low sales during Tet, things are expected to look up for the fast moving consumer goods industry this time around since the Vietnamese economy has recovered and consumers have a positive outlook on economic prospects.
The occurrence of two major holidays in a single month (New Year and Lunar New Year) is expected to provide a boost to spending.
Tet is the busiest season of the year in Vietnam, usually generating massive demand for shopping, gifting and travel.
Potential remains for Vietnam's exports to EU
The Ministry of Industry and Trade (MoIT) on December 27 organised a conference to review the implementation of the EU-Vietnam Free Trade Agreement (EVFTA) over the last two years.
Speaking at the event, Deputy Minister of Industry and Trade Tran Quoc Khanh said that since August 2020, Vietnam and the EU have seen positive results in their two-way trade despite the COVID-19 pandemic.
In the first year of the EVFTA's implementation, bilateral trade between Vietnam and the EU reached 54.9 billion USD, up 12.1% over the same period the previous year, of which export revenue reached 34.5 billion USD, up 11.3%.
In the second year, it reached 61.4 billion USD, up nearly 11.9%, of which exports reached 45 billion USD, up 17%.
Illustrative image. Photo: VNA
In the first 11 months of 2022, two-way trade turnover reached 57 billion USD, up 14% over the same period last year, of which exports reached 43.5 billion USD, up 21%. Key export products from Vietnam recorded positive growth such as textiles, footwear, and seafood, with year-on-year increases of 24%, 19% and 41%, respectively.
The results show that Vietnamese enterprises have taken advantage of the EVFTA. Four out of ten Vietnamese enterprises have benefited from the EVFTA, according to the Vietnam Chamber of Commerce and Industry, reported VNA.
However, according to the MoIT, the EU market still offers opportunities for Vietnamese enterprises despite facing difficulties in accessing the market.
Deputy Minister Khanh said that Vietnam's brand has not been built or is not popular in European countries.
The value and benefits that Vietnamese businesses earn are not commensurate with their potential, he added.
Ngo Chung Khanh, Deputy Director General of the MoIT's Multilateral Trade Policy Department, said that the ministry plans to coordinate with other ministries and agencies to further provide enterprises with EVFTA-relating information.
Besides, the ministry will also assess the implementation of the EVFTA in provinces and cities nationwide through FTA INDEX which is expected to launch in late 2023.
The ministry will open training courses for enterprises, and speed up solutions to support enterprises in accessing and taking advantage of the EVFTA.
Vietnam obtains highest GDP growth rate since 2007
2022 is the first year since 2007 that the economy has reached a GDP growth rate of 8%.
In its report to the National Assembly, the Government forecasted that Vietnam's GDP growth rate in 2022 would be about 8%, exceeding the set target of 6-6.5%.
According to statistics, Vietnam's economic growth has had a positive recovery since early 2022 while many economies in the region and the world have been facing risks of recession.
In Q1, Q2 and Q3/2022, GDP growth rates reached 5.05%, 7.72% and 13.67%, respectively. Economic growth rate for January-September 2022 increased by 8.83. The estimated 8% of GDP growth rate for 2022 is the highest in 15 years.
Since 2007 (above 8.4%), GDP growth has tended to decrease. Except for 2018 with GDP growth rate of 7.08%, growth in the remaining years was below 7%. For the period 2016-2020, Vietnam's average growth rate was 5.8% while the set target was 7%/year.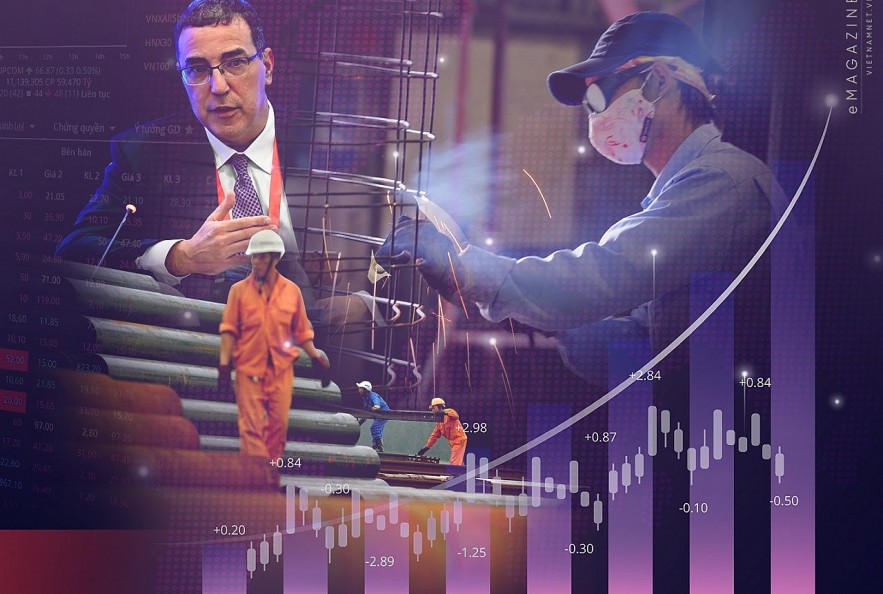 Photo: VNN
Thanks to high GDP growth, total state budget revenue for the whole year is estimated at $70.18 billion – exceeding by $8.8 billion or 14.3 per cent as compared to the target set in November last year by the National Assembly, also up 2.9 per cent against the figure last year.
This is an important contribution to ensuring sufficient resources for the budgeted expenditure tasks, and at the same time, room for fiscal policy management and policies to support growth, stability and improvement of people's living standards, cited VNN.
However, signs of difficulties appeared in the later months of 2022. These are uncertainties from the financial market, corporate bonds, securities, rising interest rates, lack of orders from foreign partners, slow disbursement of public investment, and a decline in foreign investment.
The Government assessed: there are many potential risks and challenges for stabilizing the macro-economy, curbing inflation, and ensuring large balances due to adverse developments from the world economic and political situation, which make global inflation increase and economic growth in many countries decline, even fall into recession, putting pressure on prices, interest rates and exchange rates.
Therefore, the Government cautiously set a GDP growth target of about 6.5% for 2023.
FTAs help push Vietnam's exports
Over the past years, free trade agreements (FTAs) have proved effective in promoting Vietnam's exports.
As of late 2022, 15 FTAs, to which Vietnam is a signatory, became effective, and two others were in the negotiation process.
With import and export tariff incentives offered by these trade deals, Vietnamese importers and exporters have many competitive advantages in these markets with similar products.
To bring into full play these advantages, Nguyen Thi Thu Trang, Director of the World Trade Organisation (WTO) Integration Centre at the Vietnam Chamber of Commerce and Industry (VCCI), said that the Ministry of Industry and Trade, the Ministry of Agriculture and Rural Development, and the Ministry of Culture, Sports and Tourism will launch product promotion campaigns designed for each market, with priority given to the US, Europe and other choosy markets.
Accordingly, the Vietnam Trade Offices in the markets that have signed FTAs with Vietnam will build a channel to connect partners with Vietnamese enterprises in each market and disseminate information about these channels to businesses.
Thanks to advantages brought about by the FTAs, 2022 marks the seventh consecutive year Vietnam has reported a trade surplus.
Photo: VNA
Statistics of the Ministry of Industry and Trade showed that this year's import-export turnover is estimated at US$732 billion, up 10% year-on-year. Of the total, US$371.5 billion comes from exports, up 10.5% year-on-year, exceeding the target of 8% assigned by the National Assembly and the Government.
This year, 39 commodities report their export turnover of over US$1 billion, with nine surpassing the US$10-billion mark, reported VOV.
Trinh Minh Anh, Chief of the Office of the Inter-sectoral Steering Committee for International Economic Integration under the Ministry of Industry and Trade, said that the domestic market has recovered strongly, with the growth of 2.7 times higher than the plan, basically meeting the demand for essential goods of the people, and helping to control inflation in the context of a strong recovery in demand for goods after the Covid-19 pandemic and great fluctuations of the world market, and many countries facing high inflation.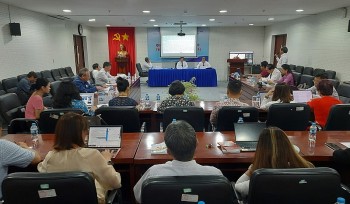 Friendship
The Vietnam - India Friendship Association's Ho Chi Minh City branch, the Ho Chi Minh City Union of Friendship Organizations (HUFO) and the Southern Institute of Social Sciences on March 21 held a scientific seminar themed "Vietnam - India relationship: tradition and present".