Vietnam News Today (Jan. 13): Vietnam Set to Become Asia Startup Hub
Vietnam News Today (Jan. 13): Vietnam confirms 28,291 new local Covid-19 cases; Vietnam's economic growth forecast to rebound strongly in 2022 ; Vietnam set to become Asia startup hub; Official slogan for SEA Games 31 announced.
Vietnam News Today (Jan. 13) notable headlines
Vietnam confirms 28,291 new local Covid-19 cases
Vietnam's economic growth forecast to rebound strongly in 2022
Vietnam set to become Asia startup hub
The official slogan for SEA Games 31 announced
Hanoi prepares to serve foreign guests when conditions allow
Vietnam, Belarus hold great cooperation potential: FM
China reopens one more border gate with Vietnam for fresh fruit imports
The exhibition spotlights tigers in Vietnam's ancient art
Market potential of elderly service industry growing fast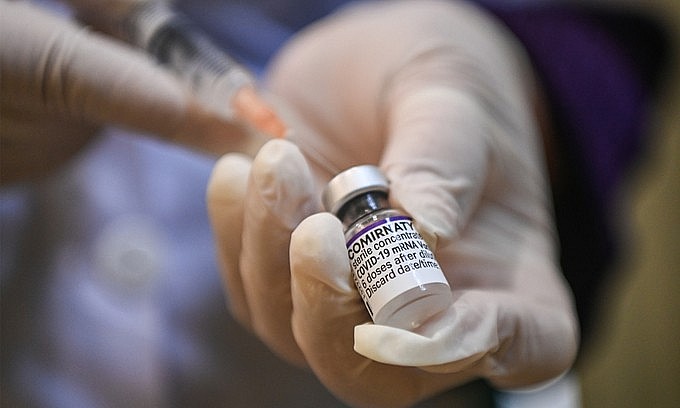 A medical staff prepares to give Covid-19 vaccine in Hanoi, January 7, 2021. Photo: VnExpress
Vietnam confirms 28,291 new local Covid-19 cases
The Health Ministry announced 28,291 new domestic Covid-19 patients Wednesday, including 12,156 cases in the central province of Khanh Hoa added to the national database.
Most of the cases were detected in central Khanh Hoa at 12,928 cases. It was followed by Hanoi with 2,948 and Binh Dinh Province with 702 cases.
The southern province of Long An recorded its first Covid-19 patient with the Omicron variant, a 57-year-old Chinese man who works as an expert for a company.
He traveled from Uganda and landed in HCMC on December 25.
Vietnam has recorded 32 Omicron cases to date, all of them quarantined upon arrival.
In the past 24 hours, 177 Covid-19 patients have died, including 18 in HCMC and 13 in Hanoi, cited VnExpress.
Since the pandemic started last year, the death toll in Vietnam has climbed to 34,964, or 1.8 percent of all infections.
In the latest wave that hit the country in late April, more than 1.95 million cases have been confirmed and 1.63 million them have recovered.
So far, 74.1 percent of the population have been vaccinated with two doses.
Vietnam's economic growth forecast to rebound strongly in 2022
Some foreign financial organizations have issued relatively positive predictions for Vietnam's economy this year, with growth expected at 6.5 - 6.7%.
Standards Chartered held that the GDP growth would rebound strongly to 6.7% in 2022 and 7% in 2023, saying Vietnam's medium-term outlook remains positive.
The bank made the forecast in its latest reports titled "Still battling headwinds" and "Vietnam - Moving back to high growth".
"The economy should continue to bounce back in 2022 as the pandemic improves. Income growth has outpaced spending growth in recent years; this provides a decent savings buffer against the pandemic." said Tim Leelahaphan, economist for Thailand and Vietnam at Standard Chartered.
"Covid-19 remains a key risk, at least in the short term. The first quarter could see a full resumption of factory operations, after closures in Q3/2021, and government stimulus; clearer recovery is expected in March," he noted.
Photo: VOV
Economists at Standard Chartered said a continued improvement in the global trade environment will support exports in 2022 although import growth is likely to remain high.
In the recent "Vietnam at a glance" report, HSBC said after two years of growth slowdown, the country's economic growth will accelerate to reach 6.5% in 2022. The Government also targeted this year's GDP expansion at 6.5 - 7%, equivalent to the pre-pandemic levels.
It noted Vietnam has recovered steadily after hitting bottom in 2021 and that it will regain growth momentum in all aspects soon.
Manufacturing and export are expected to retain their leading positions, partly thanks to the stable commitments to foreign investment attraction. Besides, domestic demand is likely to bounce back further when current restrictions are gradually removed and the labour market revives, according to VOV.
HSBC noted the biggest obstacle needing attention now is the ongoing Covid-19 outbreak, especially the appearance of the Omicron variant, but it is encouraging that the vaccination has been much improved, enough for avoiding another period of widespread social distancing.
Vietnam set to become Asia startup hub
Vietnam could be Asia's next startup hub after local companies saw funding surge over 40 times in the last five years, a venture capitalist said.
Venture funding for startups in Vietnam reached $2.1 billion last year, up from just $48 million in 2017, Binh Tran, co-founder of Ascend Vietnam Ventures, told Bloomberg Television.
The sector is now attracting top tier Silicon Valley venture capitalists, including Goodwater Capital LLC, Accel Partners LP and Altos Ventures Management Inc, he added.
"Vietnam saw a tremendous amount of maturity and growth early on, which will help it become a very important hub for the region," he said.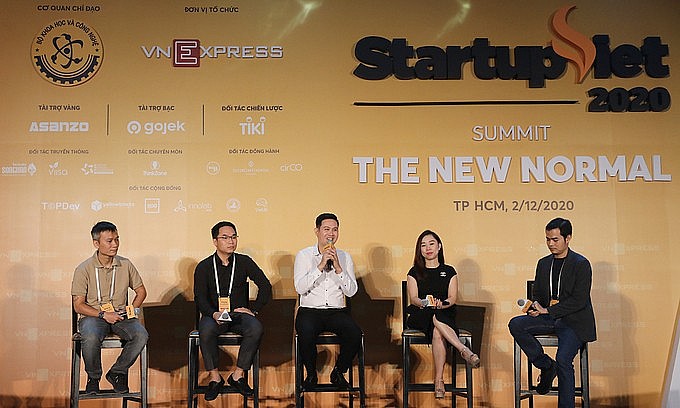 Entrepreneurs speak at a startup event in December 2020. Photo: VnExpress
The country is forecast to have the second-largest digital economy in Southeast Asia by 2030, according to a report by Google, Temasek Holdings Pte and Bain & Co.
Official slogan for SEA Games 31 announced
"For a Stronger South East Asia" has been chosen as the official slogan of the 31st Southeast Asian Games (SEA Games 31) and the 11th ASEAN Para Games (ASEAN Para Games 11), with the international events set to be hosted by the nation this year.
The slogan aims to convey a message to the governments and citizens of Southeast Asian countries to unite and develop a strong ASEAN community, along with promoting ASEAN's role in the international arena, according to the Vietnam Sports Administration, cited VOV.
The logo and mascot for the 31st SEA Games 31 and the 11th ASEAN Para Games were officially launched during a ceremony held on November 19 in Hanoi.
Saola which is a rare, friendly, flexible, and nimble animal that has been chosen as mascot of the regional games as it perfectly demonstrates the various characteristics of sporting activities.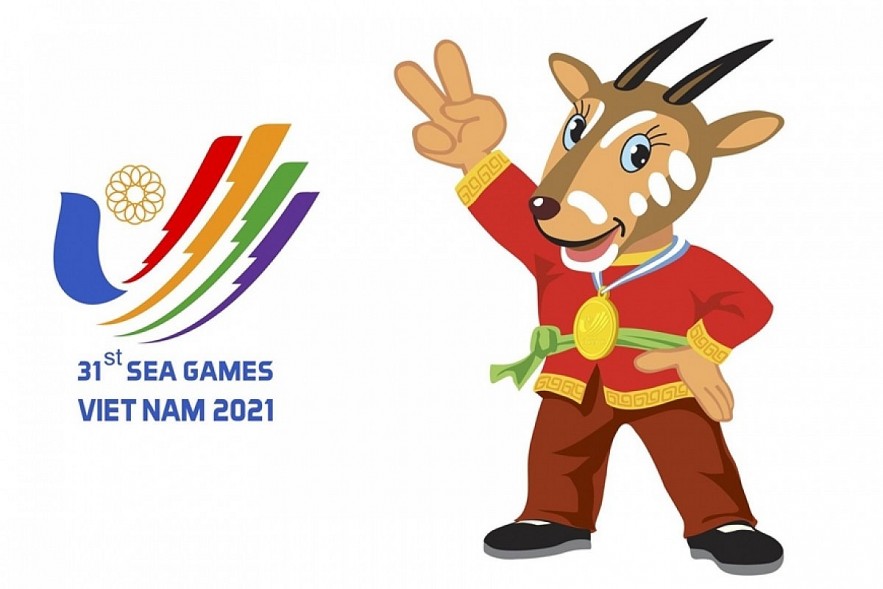 Photo: VOV
Meanwhile, a logo symbolizing a flying bird and a V-shaped hand has been introduced as the official logo for the events.
The 31st SEA Games is set to get underway in Hanoi and other northern cities and provinces between May 5 and May 23. It marks the second edition which will be held in Vietnam after the first games back in 2003.
The first meeting between all 11 national chiefs of the participating countries in the SEA Games 31 is scheduled to take place virtually on January 18.
During the course of the meeting information on the organization of the largest regional games, the venues, competition programs, preparation for accommodation, health care, and immigration procedures will be updated to sports delegations.
Hanoi prepares to serve foreign guests when conditions allow
The capital city of Hanoi is making preparations to welcome foreign visitors when conditions allow, apart from serving domestic tourists.
While surging Covid-19 cases are preventing local heritage sites from opening to visitors, the sites are using 3D technology to offer virtual tours to visitors both at home and abroad to learn more about the city's natural and cultural values.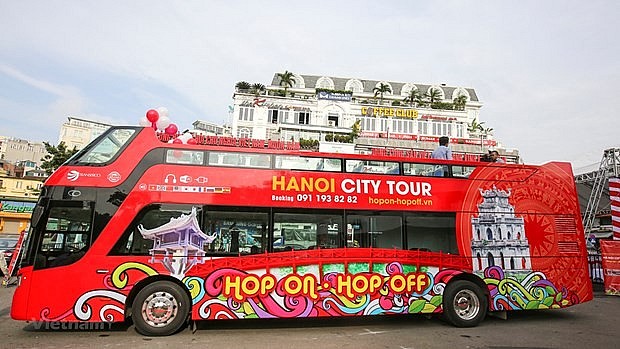 Photo: VNA
Director of the municipal Tourism Department Dang Huong Giang said the sector is carrying out tourism promotion programs with members of the Council for Promotion of Tourism in Asia (CPTA), the Tourism Promotion Organization for Asia-Pacific Cities (TPO), the Mekong – Lancang Tourist Cities Cooperation Alliance and other activities abroad. The city will also launch a program to introduce its attractions on CNN channel, focusing on the periods before, during and after the 31st Southeast Asian Games, which the city is hosting together with some other localities.
The department has also given instructions to tour agencies, lodging facilities and tourist destinations in how to meet conditions to ensure the safety and quality of tourist products, thus meeting demand of foreign guests in the future.
In recent years, Hanoi has emerged as one of the most attractive destinations in the region and the world, VNA reported.
According to the 2021 TripAdvisor Travelers' Choice Awards, the city was one of the four Vietnamese cities listed among the most popular destinations in Asia in 2020. On the list, Hanoi ranked second, Hoi An ancient town in central Quang Nam province fourth, Ho Chi Minh City 11th, and central Da Nang city 16th. The capital city was also ranked sixth among the 25 most popular destinations in the world by TripAdvisor.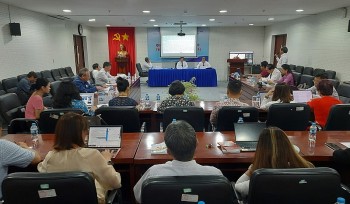 Friendship
The Vietnam - India Friendship Association's Ho Chi Minh City branch, the Ho Chi Minh City Union of Friendship Organizations (HUFO) and the Southern Institute of Social Sciences on March 21 held a scientific seminar themed "Vietnam - India relationship: tradition and present".