Vietnam News Today (Jan. 25): Travel Firms Launch Outbound Tours for 2022
Vietnam News Today (Jan. 25): Vietnam records 14,307 new Covid cases; HCM City takes lead in Covid-19 fight: PM; Travel firms launch outbound tours for 2022; Hanoi to resume in-person classes for secondary, high school students next month.
Vietnam News Today (Jan. 25) notable headlines
Vietnam records 14,307 new Covid cases
HCM City takes lead in Covid-19 fight: PM
Travel firms launch outbound tours for 2022
Hanoi to resume in-person classes for secondary, high school students next month
HCM City ready to welcome back international visitors
HCMC records 2 more Omicron infections linked to US entrant
Vietnamese in Ukraine remain hopeful despite tensions with Russia
Bamboo Airways to launch regular direct flight from Hanoi to Frankfurt
HCMC airport, bus stations fill up as Tet approaches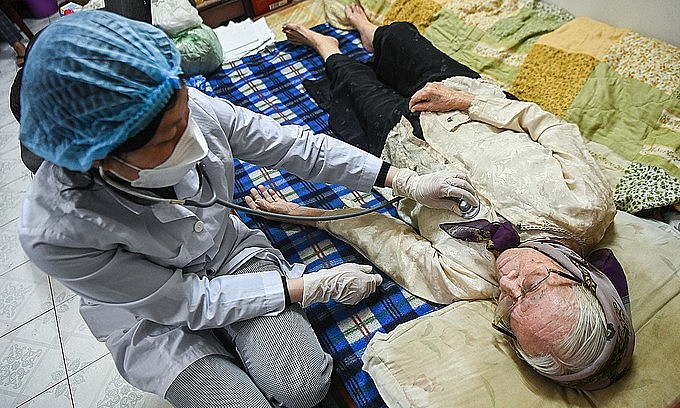 A Hanoi woman has her health checked before Covid-19 vaccination, January 2022. Photo: VnExpress
Vietnam records 14,307 new Covid cases
The Health Ministry confirmed 14,307 new local Covid-19 cases Friday in 61 cities and provinces, pushing the ongoing wave's tally to 2,126,656.
The three localities with the highest number of new cases were Hanoi with 2,801 cases, Da Nang with 958 cases, and Hai Phong with 733 cases.
Of the day's tally, 9,534 cases were detected in the community.
Vietnam has recorded 163 cases infected with the Omicron variant, including five community cases in HCMC.
The Covid-19 death toll in Vietnam rose to 36,887 with the confirmation of 165 deaths Monday.
The Health Ministry also confirmed 36,331 recoveries the same day, bringing the total number of recovered cases so far to 1,841,180, cited VnExpress.
The average number of new cases in the country for the past seven days has been 15,734 a day while the national death rate has been 157 a day on average.
Over 73.8 million people of Vietnam's 96 million population have been vaccinated with two doses, and more than 23.8 million have received the third dose.
HCM City takes lead in Covid-19 fight: PM
Ho Chi Minh City has made important contributions to Covid-19 prevention and control through changes in mindset and approach along with decisive pilot steps, and has successfully made it a safe city again, Prime Minister Pham Minh Chinh has affirmed.
Visiting the municipal Department of Health on January 24 on the occasion of the upcoming Lunar New Year (Tet), the government leader hailed the hard work of the city's health sector during the city's fight against the pandemic in the context of the highly contagious Delta variant and a shortage of vaccines and treatment drugs.
He said in such difficult conditions, many "unprecedented" policies to rein in the pandemic and support people have been built, promulgated, and implemented drastically and effectively on an unprecedented scale.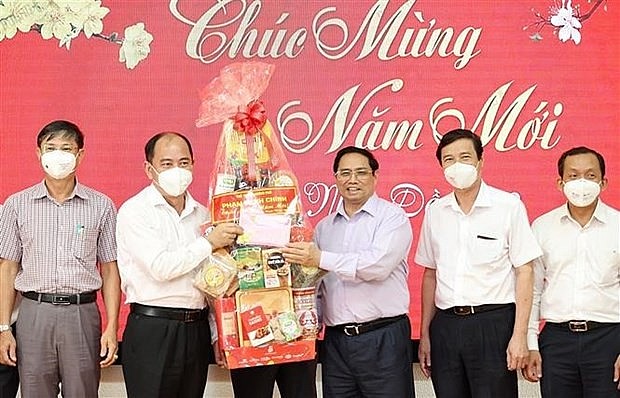 Prime Minister Pham Minh Chinh (third from right) presents Tet gifts to Ho Chi Minh City's Health Department staff. Photo: VNA
He noted that Ho Chi Minh City was also the first locality to launch the vaccination drive, contributing to turning Vietnam from a country with a very low vaccination rate into one of the six countries with the highest vaccination coverage rate in the world.
To date, the city has confidently reopened its door, and proactively implemented the policy of safe and flexible adaptation to and effective control of the pandemic.
In 2022, there will be certainly more difficulties and challenges than opportunities and advantages, as the pandemic is still likely to develop complicatedly with new variants, the PM said, requesting that Ho Chi Minh City not to lose vigilance, and to effectively implement the program on pandemic prevention and control for 2022-2023, and the socio-economic recovery and development plans, according to VNA.
On the same day, PM Chinh visited Thi Nghe Protection Center for Disabled Orphans which is taking care of nearly 250 disabled and orphaned children.
The care for disabled and orphaned children must be in both material and spiritual aspects, he stressed, asking the centre's staff to take care of children with all their heart.
Travel firms launch outbound tours for 2022
Several local tourism businesses have launched numerous outbound tours starting from the Lunar New Year or Tet, due to low service prices being recorded at various foreign countries globally.
Vu Giang Bien, director of Asia Paradise Travel Company (PATTOURS), revealed that except tours to Qatar with high costs due to 2022 World Cup, tour prices are anticipated to decrease as international air routes reopen and become stable.
This year will see PATTOURS launch a number of outbound tours to Qatar from April to December, Russia from May, a cruise tour to Nordic and Baltic nations from June to October, and a Silk Road tour to explore three nations in Central Asia from June to November.
Most notably, a tour to explore Sri Lanka is anticipated to be particularly attractive and suitable for Vietnamese tourists this year.
Other outbound tours have also resumed after being impacted by the Covid-19 pandemic, including the Phnom Penh - Siem Reap caravan tour in Cambodia.
A representative of Hon Ngoc Vien Dong travel firm revealed that the caravan tour is expected to depart on the second day of the Lunar New Year, with Vietnamese tourists being required to be fully vaccinated or have negative test results for Covid-19 in order to enter Cambodia.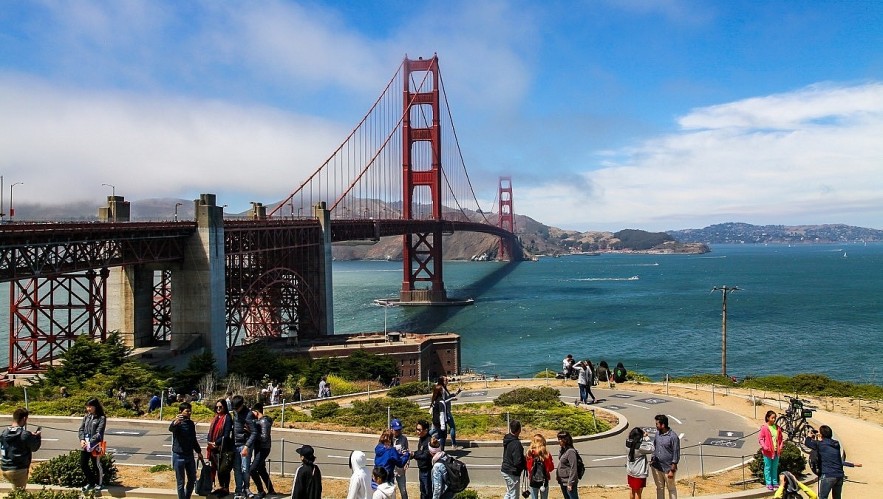 Tour to the West Coast in the US is expected to take visitors to San Francisco.
With regard to the Vietnamese proposal to reopen international tourism at the end of April, Tran Phuong Linh, director of Marketing & Information Technology of BenThanh Tourist, predicts that there will be a boom in the outbound tourism market in the time ahead in the event that the proposal is approved.
At present, Ben Thanh Tourist plans to organize charter flights to Japan, the Republic of Korea, and markets in South America, Linh said, adding that the company is expected to take full advantage of tourism stimulus packages put forward by other countries to offer the best prices possible for tourists, reported VOV.
According to Nguyen Nguyet Van Khanh, deputy director of Marketing Department under tour operator Vietravel, demand for outbound tours has significantly increased recently, and his firm is in the process of selling tours to explore the West Coast of the United States and a high-class experience tour to the Maldives.
Moreover, the company will also move to open additional tours to Cambodia and Europe, along with other tours to Dubai, Thailand, Singapore, Taiwan (China), Japan, and the Republic of Korea in the time ahead.
Khanh assessed that there will be positive outlook for the tourism industry in the future thanks to high vaccination coverage in many countries globally, the pilot implementation of welcoming back foreign tourists, and the reopening of regular commercial flights.
Hanoi to resume in-person classes for secondary, high school students next month
Students from 7th to 12th grades in areas with low and medium Covid risks in Hanoi will return to schools on February 8, the city's administration said Monday.
The decision for students of those grades, aged 14-17, to get back to their classes after eight months of studying online was made following a proposal by Hanoi's Department of Education and Training.
According to the department, the pandemic situation in the city has been under control while a majority of students have been vaccinated against Covid-19, VnExpress reported.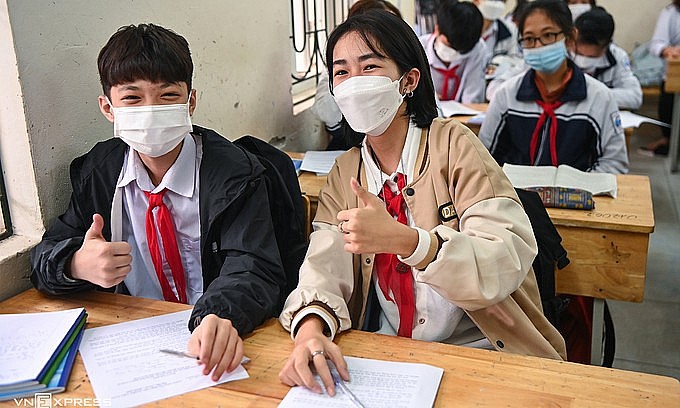 Students at a secondary school in Hanoi's Ba Vi District attend an in-person class in November 2021. Photo: VnExpress
For now, 98.3 percent of children aged 12-14 in the city have got two doses while the rate is 97.6 percent of those aged 15-17.
Students in Hanoi had stopped attending schools since last May under the impact of the fourth Covid-19 wave.
On November 8 last year, direct classes were resumed for about 4,000 9th graders in Ba Vi District. Two weeks later, 9th graders in 17 districts and suburban towns also got back to school.
On December 6, several high schools reopened for 12th graders.
There are now around 64,000 students out of 2.2 million in the capital studying in school, while the rest remain home.
Prime Minister Pham Minh Chinh last week had requested cities and provinces to let students from 12 years old get back to school as soon as possible after Tet, the Lunar New Year holiday, especially in localities that have achieved a high vaccination rate for children.
This year, the Tet break in Vietnam will last for nine days from Jan. 29 to Feb. 6.
HCM City ready to welcome back international visitors
Ho Chi Minh City's Department of Tourism said on January 24 that it has sketched out a two-phase plan to welcome back foreign visitors this year.
During the first phase of the pilot program, from January to March, foreigners and Vietnamese abroad will be able to enter Vietnam when they present vaccine passports or certificates of full vaccination against the Covid-19 pandemic, recognized by Vietnamese competent agencies, with the last shot given at least 14 days and no more than 12 months before departure.
Those who have a certificate proving that they have recovered from Covid-19 within six months before departure will also be eligible to enter the country.
Unvaccinated or partially vaccinated children less than 18 years old can come with their parents, guardians and caregivers who are fully vaccinated or have recovered from the coronavirus disease.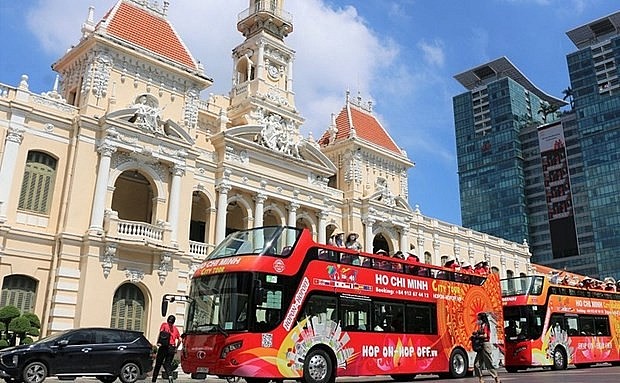 HCM City ready to welcome back international visitors. Photo: VNA
Other conditions include having negative results for SARS-CoV-2 test by RT-PCR/RT-LAMP method within 72 hours before entry and certified by the authority of the country conducting the test, having medical or travel insurance that covers Covid-19 treatment with a minimum liability of US$50,000, and joining package tours offered by travel firms.
In the second phase, which will begin in April, the door will be open for those aged from 18 to 65 who are unvaccinated or partially vaccinated apart from individuals that satisfy requirements set in the first phase, according to VNA.
Nguyen Thi Anh Hoa, Director of the municipal Tourism Department, said the sector has made preparations for the implementation of the pilot program in terms of registration, visa grant and temporary residence certification, while offering necessary advice to tourists before their boarding or entry.
Notably, the sector has set up a hotline to deal with medical incidents emerging during the implementation, she added.