Vietnam News Today (Jan. 29): Vietnam Scraps Rapid Covid Test Requirements for Int'l Passengers
Vietnam News Today (Jan. 29): Vietnam records 14,892 new local Covid-19 cases; PM orders prioritizing pandemic control for safe and warm Tet; Vietnam scraps rapid Covid test requirements for int'l passengers; Vietnam-Australia trade hits all time high in 2021.
Vietnam News Today (Jan. 29) notable headlines
Vietnam records 14,892 new local Covid-19 cases
PM orders prioritizing pandemic control for safe and warm Tet
Vietnam scraps rapid Covid test requirements for int'l passengers
Vietnam-Australia trade hits all time high in 2021
Spring Covid-19 vaccination campaign to start on January 29
Program on socio-economic recovery, development set to be issued before Tet
PM requests good preparations for all possible circumstances in 2022
Vietnam sends officers to UN Interim Security Force for Abyei
Experts warn about consequences of prolonged school shutdowns
A medical staff prepares Covid-19 vaccine for injection in HCMC. Photo: VnExpress
Vietnam records 14,892 new local Covid-19 cases
Vietnam confirmed 14,892 local Covid-19 cases Friday, bringing the infection tally in the ongoing wave to 2,188,804.
The three localities with the highest numbers of patients are Hanoi with 2,885 cases, Bac Ninh with 1,013 cases and Da Nang with 886 cases.
Vietnam has recorded 166 infections with the Omicron variant so far, cited VnExpress.
141 deaths were added to the national database on Friday. The total number of deaths so far is 37,432 cases, or 1.7 percent of all infections.
4,633 Covid-19 patients were announced recovered on Friday, bringing the total number of recovered cases to 1,950,244.
79 million people have received one Covid-19 vaccine shots, 74 million have received two and 27.3 million have received three.
PM orders prioritizing pandemic control for safe and warm Tet
It remains imperative to focus on prioritizing pandemic prevention and control measures to ensure people enjoy Tet in a safe, healthy, joyful, exciting, and economical manner, whilst also doing well with social welfare efforts to leave no one behind.
Prime Minister Pham Minh Chinh made the statement while chairing a regular cabinet meeting on January 28 aimed at assessing the socio-economic development situation in January. He also spent time to devise tasks for February and ahead for the following months, along with drafting a Government Resolution on a socio-economic recovery and development program.
During his opening remarks, PM Chinh outlined that this month has seen the country experience many important political, socio-economic, and diplomatic events, including the Government's teleconference with localities to assess socio-economic development results in 2021 and launching tasks ahead for this year.
This is in addition to the 15th National Assembly's first extraordinary session, an official visit to Vietnam by Lao Prime Minister Phankham Viphavanh, and the start of activities to ensure a warm and happy Lunar New Year holiday for people both at home and abroad.
Prime Minister Pham Minh Chinh chairs January's cabinet meeting. Photo: VOV
Following the positive results recorded in the fourth quarter of 2021, in January the socio-economic situation continues to recover, especially as production and business activities are resumed now the disruption of the labour supply chain has been handled.
Most notably, the macroeconomic situation can be viewed as stable, with inflation being brought under control. Consumer price index in January was controlled at an appropriate level, increasing by 1.94% over the same period from 2021.
Large balances of food and energy have been maintained to meet people's needs during the Lunar New Year festival. Indeed, the State budget meets spending needs, especially on disease prevention and support for social policy beneficiaries, according to VOV.
Business activities continued to record a positive recovery, with the number of newly-established businesses and those returning to the market being at the highest level ever.
The index of industrial production (IIP) in January grew by 2.4% over the same period from last year as the export turnover of goods in January reached US$29 billion, an increase of 1.6% over the same period from last year.
The Government chief concluded by underlining the need for greater efforts to ensure social order, safety, and security during the forthcoming Lunar New Year festival.
Vietnam scraps rapid Covid test requirements for int'l passengers
International passengers entering Vietnam will not need to receive rapid tests for Covid-19 upon boarding or embarking planes, the Government Office announced.
Passengers on international flights only need to present their Covid-19 PCR test results, according to document regarding international flights to Vietnam issued by the Government Office on Friday. Fully vaccinated people will be isolated at their residence or hotels for three days, and others for seven days.
Vietnam Airlines staff welcome foreign tourists arriving at Da Nang International Airport, November 17, 2021. Photo: Vietnam Airlines
Deputy Prime Minister Pham Binh Minh also agreed to increase the commercial flight frequency to Japan, South Korea and Taiwan, as well as Europe and Australia in the trial program for flight resumption.
The decision seeks to facilitate overseas Vietnamese returning home for Tet, the document added.
Vietnamese aviation officially reopened regular flights between Hanoi, Ho Chi Minh City and Bangkok, Phnom Penh, San Francisco, Seoul, Singapore, Taipei and Tokyo on Jan. 1 this year, reported VnExpress.
Besides PCR test results, people coming from countries with Omicron had also been required to undergo rapid test before boarding a flight and after landing.
On January 4, the Civil Aviation Authority of Vietnam has proposed that the quick test requirement be removed.
Vietnam-Australia trade hits all time high in 2021
Vietnam-Australia trade turnover reached US$12.4 billion in 2021 for the first time, an increase of nearly 50 percent compared to 2020.
Vietnam's export turnover to Australia topped US$4.45 billion, up 23 percent while its import was about US$7.95 billion, a year-on-year rise of 70 percent.
With this trade volume, Vietnam becomes Australia's 12th biggest trading partner and Australia is Vietnam's 10th biggest.
According to the Vietnam Trade Office in Australia, despite the negative impact of the Covid-19 pandemic, most of the exports to the Australian market have achieved impressive growth.
Employees work at shoe factory for exports at Vinh Hoa Hung Nam Industrial Zone in Kien Giang province's Go Quao district. Photo: VNA
Export turnover of raw materials and fuels experienced double- to triple-digit growth compared to the previous year. Such exports as textiles, garments, leather and footwear, machinery, equipment spare parts continued to increase remarkably, especially in the textile and garment sector saw a growth rate of 42.23 percent.
The turnover of Vietnam's key exports such as agricultural and fishery products also outperformed the previous year. Specifically, pepper surged by 41.98 percent, followed by rice, vegetable and fruits and seafood with 34.36 percent, 28.15 percent, and 16 percent, respectively.
The prospect of trade between Vietnam and Australia in 2022 is great as the two countries are now members of the Comprehensive and Progressive Agreement for Trans-Pacific Partnership (CPTPP) and the Regional Comprehensive Economic Partnership (RCEP) – an inclusive and open new-generation trade agreement. In addition, the two countries have completed the Enhanced Economic Engagement Strategy which sets out a roadmap to increase trade and investment opportunities, forging closer ties between the two countries, cited VNA.
Australia's Ambassador to Vietnam Robyn Mudie has said the two economies are highly complementary. Australia is a reliable supplier of the services and raw materials that Vietnam's exporters require, and Australian consumers enjoy Vietnam's high-quality products in their homes and workplaces. There is enormous potential to take this relationship even further as the two countries emerge from Covid-19.
The strategy will help guide the two countries towards an inclusive and sustainable growth path, she added.
Spring Covid-19 vaccination campaign to start on January 29
Vietnam will implement a Covid-19 vaccination campaign from January 29, with an aim to give booster shots to all eligible adults within the first quarter of 2022.
The campaign, launched by Prime Minister Pham Minh Chinh at a recent conference of the Health Ministry, also targets the completion of full Covid-19 vaccination for all children from 12-17 years old by the end of January, while continuing to consider and prepare for vaccination for children from 5-11 years old.
According to the Ministry of Health, the number of Covid-19 cases, including infections of the Omicron variant, may rise strongly during the upcoming Lunar New Year Festival and this year's festive season, putting high pressure on the health care system.
Illustrative image. Photo: VNA
Vietnam has so far detected 166 Omicron infections, including six found in the community, it said.
Therefore, the ministry expects that the Spring vaccination campaign will help reduce the number of fatal cases, and enable the reopening of schools in a safe manner.
Minister of Health Nguyen Thanh Long said that the campaign will run until February 28 at the national level, with the support of military and public security forces as well as other sectors, VNA reported.
Mobile vaccination posts and mobile emergency aid teams will also be set up to speed up the progress of the campaign, he said.
As of January 27, Vietnam had recorded 2,203,208 Covid-19 cases, with 1,945,611 having recovered and 37,291 succumbing to the disease.
The fatality ratio in January 2022 is five out of 100,000 cases, down by two compared to December 2021.
Vietnam has become one of the six countries with the highest Covid-19 vaccination coverage in the world, with almost 100 percent of people of 18 years old and over receiving at least one shot of the vaccine and 95 of them being fully inoculated. The corresponding ratios among children from 12 to 17 are 92 percent and 76 percent.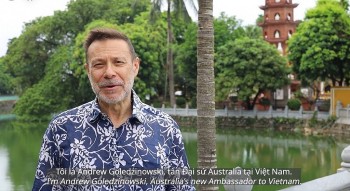 Friendship
According to newly appointed Australian Ambassador to Vietnam, Andrew Goledznowski, Australians are interested in visiting Vietnam now that the country is open again for business.