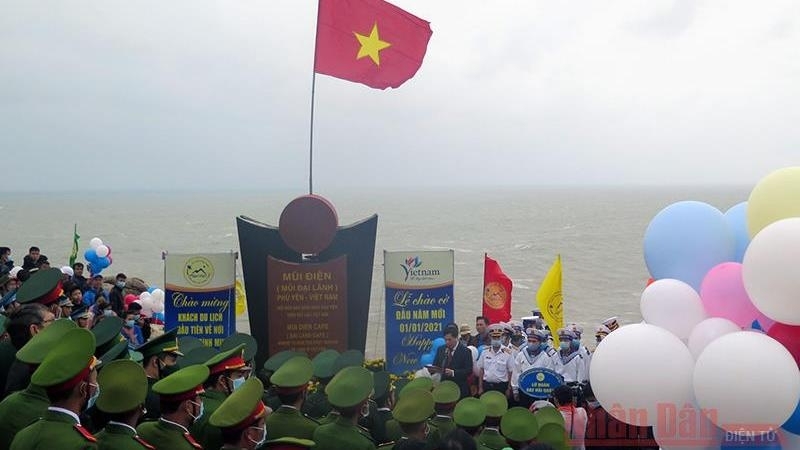 The flag salute ceremony at Mui Dien (Photo: Nhan Dan)
New Year flag-salute ceremony held on the country's easternmost point
A New Year 2021 flag-salute ceremony was held on January 1 in Hoa Tam commune, Dong Hoa town in the southern central province of Phu Yen - the easternmost point of Vietnam, where the sunrise is first seen on the mainland of the country.
Vice Secretary of the provincial Party Committee and Chairman of the provincial People's Committee Tran Huu The said the flag-salute ceremony is the opening event in a series of activities to celebrate the 410th anniversary of Phu Yen's establishment (1611 - 2021), aiming to educate young generations about the patriotism and the pride of national independence, Nhan Dan online reported.
This event also marked the beginning of events to introduce and promote the beauty of the Bai Mon - Mui Dien national tourism site to domestic and international tourists.
Also on the day, a ceremony to welcome first tourists to the Bai Mon – Mui Dien national tourist site took place at the same place.
Visiting Bai Mon - Mui Dien, tourists will have a chance to experience the first sunrise on the Vietnamese mainland and visit the 100-year-old lighthouse standing on top of Mui Dien.
Phu Yen set to attract about 2 million tourists in 2021.
HCM City announces the establishment of Thu Duc city
HCM City held a ceremony on December 31 to announce the National Assembly Standing Committee's resolution on organising administrative units at the district and commune levels and establishing Thu Duc city, as reported by Vietnam Plus.
HCM City held a ceremony on December 31 to announce the National Assembly Standing Committee's resolution on organising administrative units at the district and commune levels and establishing Thu Duc city.
Addressing the ceremony, Vice NA Chairman Uong Chu Luu said this is the first time the "city within a city" model has been used in Vietnam, thus forming a highly interactive innovative urban area in the city's eastern part that will be a new driver of economic growth in all of the southern key economic zone.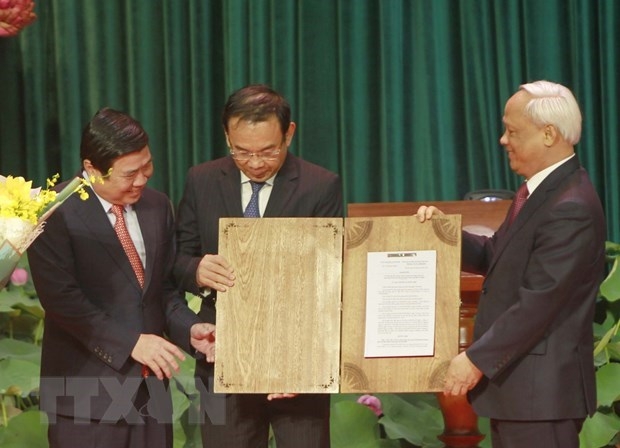 Vice NA Chairman Uong Chu Luu (R) hands over NA Standing Committee's resolution on organising administrative units at the district and commune levels and establishing Thu Duc city to HCM City (Source: VNA)
Luu urged HCM City leaders to compile and submit for approval a general plan for Thu Duc city that conforms with its overall general planning.
HCM City should prioritise investing in developing infrastructure, training high-quality human resources, using investment effectively, handling complaints and denunciations, and strengthening Thu Duc city's administrative apparatus.
Secretary of the Party Central Committee and Secretary of HCM City's Party Committee Nguyen Van Nen pledged that the city will build a dedicated project on specific policies and mechanisms for the development of Thu Duc city, for submission to the NA and its Standing Committee and the Government for consideration and decision.
Vietnamese import-export activities record impressive growth during 2020
Vietnam's total import-export turnover enjoyed a surge of 5.1% to US$543.9 billion compared to 2019 despite facing numerous difficulties throughout 2020, with the country posting a trade surplus of US$19.1 billion, the highest level for five consecutive years since 2016, according to the General Statistics Office.
Although the novel coronavirus (COVID-19) pandemic greatly affected global trade and investment, the nation ranked 22nd in the world in terms of turnover and export capacity, coming in 26th place in terms of the scale of international trade, a factor which looks set to add to the momentum for breakthroughs relating to import and export activities moving forward.
Dr. Le Quoc Phuong, former deputy director of the Ministry of Industry and Trade's (MoIT) Information Centre, notes that Vietnam currently ranks 26th out of 240 economies in the world in terms of export turnover, with an average export growth of over 20% annually over the past 35 years.
Most notably, the nation has several items ranking among the top five export products in the world, including rice, cashew nuts, coffee, textiles, footwear, and seafood, Dr. Phuong adds.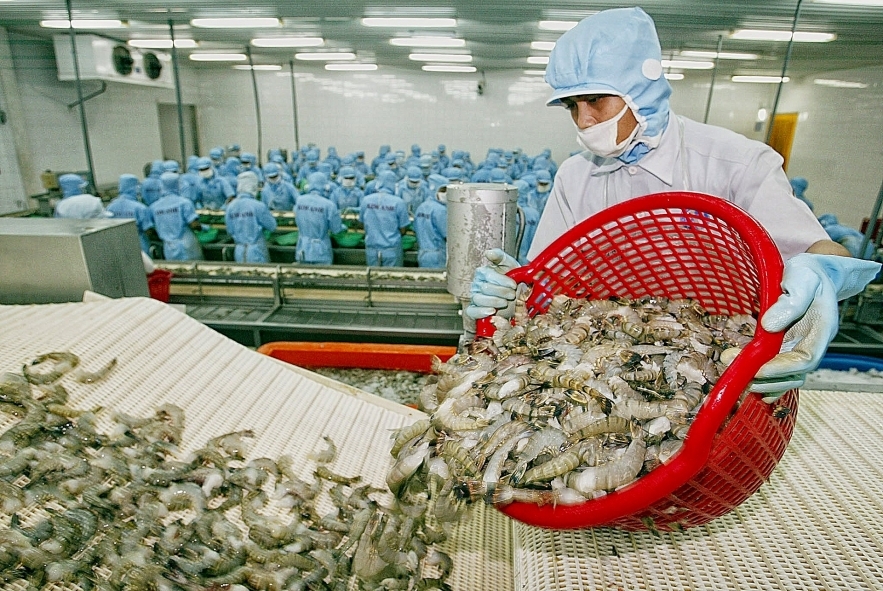 VASEP expects local shrimp exporters to seize opportunities and boost shrimp exports. Photo: vir.com.
According to experts, the robust export growth seen in 2020 has contributed to adding to the foreign currency revenue, thereby stabilising the macro-economy, expanding production, and attracting greater investment, VOV reported.
In contrast, economists have advised local firms to make radical reforms by restructuring sectors and trade promotion procedures, as well as improving product quality to seize upon opportunities presented through free trade agreements.
Vietnam records over 5,100 cyber-attacks throughout 2020
The nation registered as many as 5,168 cyber-attacks on its information systems during 2020, representing an annual decline of 0.15%, according to data released by the Ministry of Information and Communications' National Cyber Security Centre (NCSC).
December alone saw the country hit by 315 cyber-attacks, marking a 54.48% fall compared to the previous month, and a drop of 0.94% on-year.
A campaign aimed at reviewing and removing malware nationwide last year achieved several positive results, with the number of IP addresses of computers in virus-infected computer networks (IP Botnet) witnessing a sharp decrease.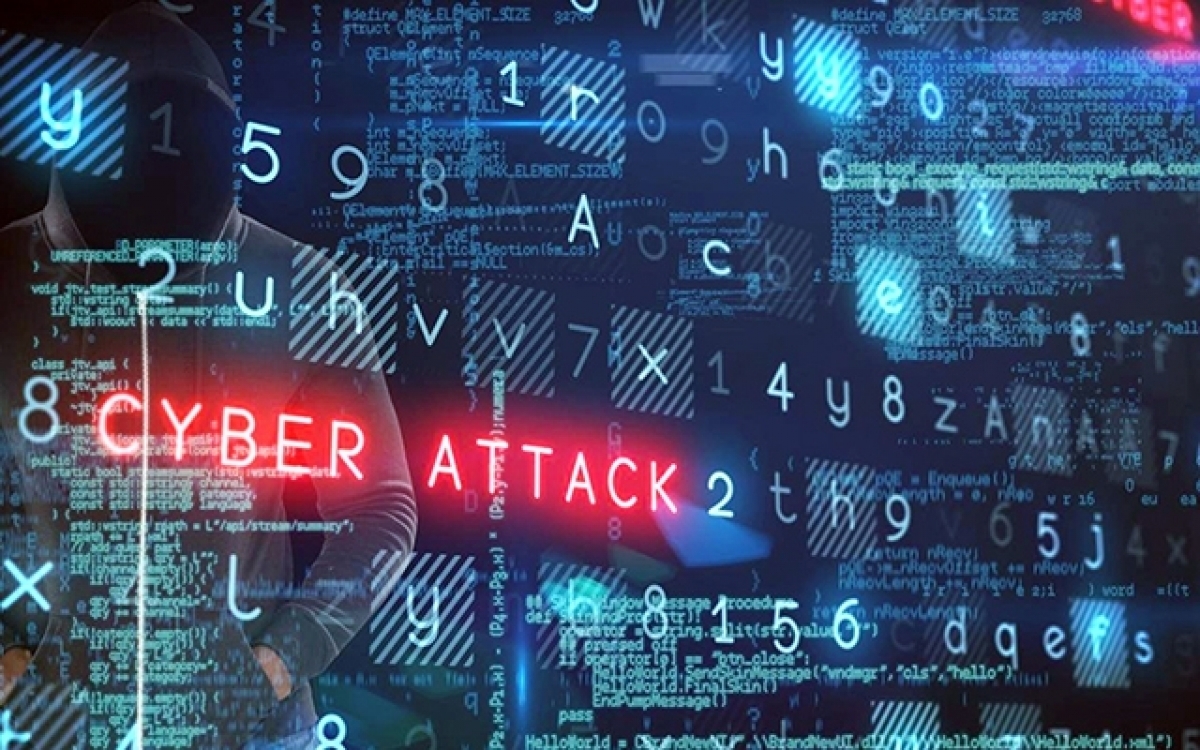 (Photo: VOV)
Furthermore, the number of Botnet IPs has nearly halved to over 1 million after being at over 2 million in the period from June 16, 2020, to July 15, 2020.
This can be seen as over 1.2 million computers were scanned, detecting malware present on more than 400,000 of those devices.
After over 8 million visits to the campaign via websites and various social networks, many individuals and organisations have been actively participating in inspecting, processing, and removing malware from thousands of computers of individuals and businesses for free.
In addition, the number of individuals and agencies giving feedback on the campaign reached over 23,000, as reported by VOV.
Jasmine Le