Vietnam News Today (Jul. 14): Vietnam's Economy Back on Track for Strong Recovery
Vietnam News Today (Jul. 14): Vietnam, China hold 14th meeting of steering committee for bilateral cooperation; Vietnam's economy back on track for strong recovery; UKVFTA opens up fresh opportunities for rice exports to UK market; Dengue fever develops complicatedly in Hanoi.
Vietnam News Today (Jul. 14) notable headlines
Vietnam, China hold 14th meeting of steering committee for bilateral cooperation
Vietnam's economy back on track for strong recovery
UKVFTA opens up fresh opportunities for rice exports to UK market
Dengue fever develops complicatedly in Hanoi
Despite uncertainties, investors continue to pour money into Vietnam
Vietnam records 1,001 new Covid-19 cases on July 13
Conference seeks to help firms capitalize on RCEP
Vietnamese, Korean foreign ministers hold phone talks
Vietnam to compete for bronze after losing Malaysia at U19 AFF Championship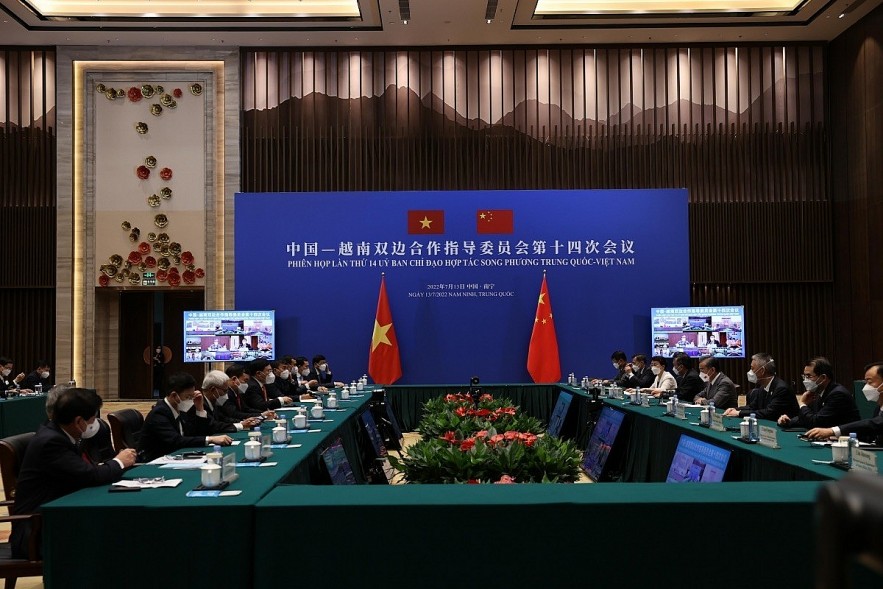 At the 14th meeting of the Steering Committee for Vietnam–China Bilateral Cooperation. Photo: VOV
Vietnam, China hold 14th meeting of steering committee for bilateral cooperation
Deputy Prime Minister Pham Binh Minh and Chinese State Councilor and Foreign Minister Wang Yi co-chaired the 14th meeting of the Steering Committee for Vietnam–China Bilateral Cooperation in Nanning city of the Guangxi Zhuang Autonomous Region.
During the meeting, the two sides congratulated each other on the positive development achievements of each country and emphasized the importance of mutual relations in terms of the overall foreign policy of both nations.
Deputy PM Minh wished China luck in successfully organising the 20th National Party Congress which is slated to take place in the second half of the year.
The two sides agreed that since the 13th meeting of the Steering Committee for Vietnam-China Bilateral Cooperation held in September, 2021, to work together to maintain stable and co-operative relations in order to achieve remarkable progress.
Co-operation in Covid-19 prevention and control has achieved many important results, while economic trade and investment ties and specialised fields between the two countries have continued to see positive developments.
The nation has maintained its position as China's largest trading partner in ASEAN, along with being China's sixth largest in the world by country criteria. In addition, China continues to be the country's largest trading partner.
Some difficulties and problems discussed by the two sides at the 13th meeting have been resolved by agencies and businesses, whilst frank acknowledgement took place relating to some existing problems in co-operation.
Regarding orientations for future ties, both sides consented to speed up the organisation of high-level visits and meetings, effectively carry out co-operation between the two parties, promote the important role of the steering Committee for bilateral ties in co-ordinating fields, and accelerating the removal of difficulties and problems that may arise.
The two sides agreed to maintain effective co-operation in several vital fields such as diplomacy, defence, and security, as well as enhancing substantive co-operation fields between the two countries in order to ensure stable, balanced, and sustainable development, as well as intensifying friendship exchanges between the two peoples.
Deputy PM Minh suggested that China continue to create favourable conditions for customs clearance of goods through road and rail border gates, especially for seasonal fruits, and Vietnamese agricultural and aquatic products exported to China.
Agreeing with the nation's cooperation proposals, Chinese Foreign Minister Yi affirmed that China attaches great importance to Vietnamese interest in expanding exports of agricultural and aquatic products to the northern neighbour, along with ensuring smooth customs clearance at border gates.
Regarding the shared border and territory, the two sides agreed to work together in managing the land border and satisfactorily handling arising cases, according to three legal documents on the land border that exists between Vietnam and China, cited VOV.
Both sides concurred to continue to strictly adhere to the high-level common perception regarding maintaining peace and stability at sea, including the agreement on fundamental principles guiding the settlement of maritime issues that may arise.
They will effectively promote negotiation mechanisms in a bid to achieve substantive progress, accelerate the negotiation of a new agreement on fisheries co-operation in the Gulf of Tonkin, and swiftly sign an agreement on search and rescue at sea and an agreement to set up a hotline for unscheduled cases of fishing activities at sea.
Deputy PM Minh emphasized that the two sides must make greater efforts to control disagreements and not take actions which may serve to complicate the situation and expand disputes. This should be done whilst respecting each other's legitimate rights and interests in accordance with international law, including the 1982 UN Convention on the Law of the Sea (UNCLOS) and jointly maintain peace and stability in the East Sea.
At the conclusion of the meeting, Deputy PM Minh and Chinese Foreign Minister Yi announced that the two sides had signed a number of co-operation documents.
This comes after Deputy PM Minh received Liu Ning, secretary of the Party Committee of the Guangxi Zhuang Autonomous Region (Guangxi), on the afternoon of July 12.
At the meeting, the two sides agreed to intensify exchanges and meetings at all levels, as well as further promoting existing co-operation mechanisms and methods, improving the efficiency of economic, trade, and investment ties, and strengthen the connection of transport infrastructure.
Vietnam's economy back on track for strong recovery: Singaporean daily
In an article posted on July 12, The Business Times of Singapore cited some economists' opinions that said Vietnam's economy is back on track for a strong recovery this year.
John Paul Lech, portfolio manager at Matthews Asia, said Vietnam is a frontier market star. While frontier markets are generally smaller, less liquid and have limited foreign investor access, it has bucked the trend.
For the first six months of 2022, foreign direct investment (FDI) into Vietnam grew by nearly 9% to US$10.1 billion.
Economist Chua Han Teng from DBS, the largest bank in Singapore, forecast Vietnam's GDP expansion will reach 7% this year to meet the set target.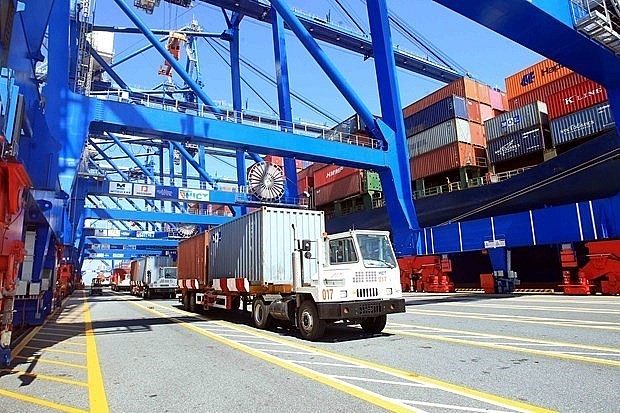 Containers are loaded at Hai Phong Port. Photo: VNA
He held that the service sector will continue growing fast when Covid-19 is classified as an endemic disease. The service sector, especially retails, is bouncing back strongly while the number of new businesses is increasing.
He added Vietnam is emerging as an exporter of information and communications technology, and its market share may develop further.
The United Overseas Bank (UOB) recently upgraded the country's GDP growth forecast for 2022 to 7% from 6.5% basing on a simulation that there won't be any more serious disruptions caused by the pandemic, according to VNA.
The optimism was supported by a higher-than-expected GDP growth rate in the second quarter, at 7.7% compared to the same period last year - the fastest pace in 11 years and much higher than the previous estimate of 5.9%. This strong recovery was driven by manufacturing activities which have accelerated for four straight quarters and the rebounded service outputs which have continued regaining its foothold since the last decline in the third quarter of 2021.
However, economist Yun Liu said despite an optimistic growth trend, the energy crisis has begun affecting Vietnam's growth, recommending the country pay attention to rising growth risks, especially those posed by soaring energy prices.
UKVFTA opens up fresh opportunities for rice exports to UK market
Tariff quotas set out in the terms of the Vietnam – UK Free Trade Agreement (UKVFTA) as well as 100,000 Vietnamese people residing in the UK are viewed as important factors for promoting local rice exports to this market.
According to the Vietnam Trade Office in the UK, in 2020 the volume of rice imported into the UK expanded by 13.5% from 671,601 tonnes in 2019 to 762,526 tonnes.
Of the figure, rice imported from the nation increased from 1,296 tonnes to 3,396 tonnes during the reviewed period.
As a result, Vietnamese rice exports to the UK in 2020 increased spectacularly by 116% in volume and 106% in value compared to 2019.
Among the Southeast Asian nations exporting rice to the UK, Vietnam boasts the highest average unit price at US$1,012 per tonne.
Contrary to the reduced supply from Southeast Asia, four countries increased rice exports to the UK in 2021, including the Netherlands with an increase of 22,396 tonnes, Argentina with a rise of 5,194 tonnes, India up 2%, and Pakistan up 1%.
Rice consumers in the UK primarily come from the Asian community, with the second largest being the Indian and Pakistani communities. As a result, the market shares of Indian rice and Pakistani rice account for a high proportion of 27% and 20%, respectively, reported VOV.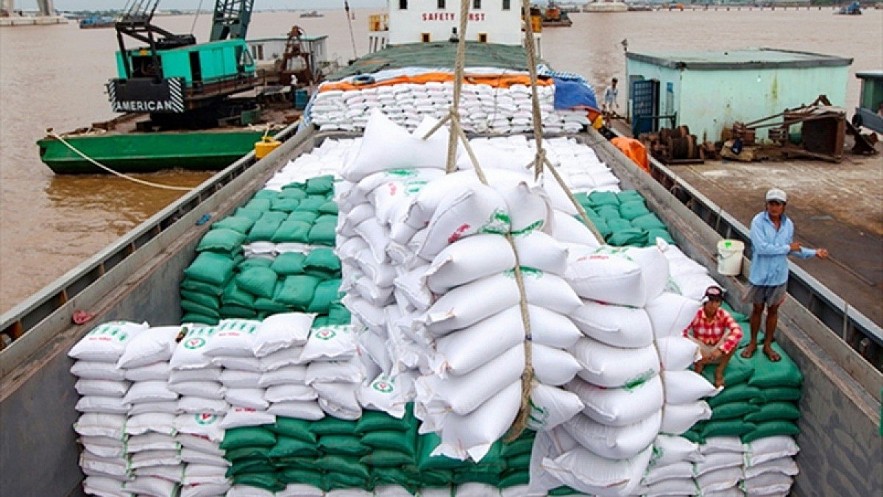 Photo: VOV
Furthermore, the Vietnam Trade Office in the UK market noted that Vietnamese rice in the UK is mainly sold to the Vietnamese community, as well as parts of the Chinese, Thai, Malaysian, and Filipino communities.
The Trade Office said that Vietnam currently ranks 15th among rice exporters to the UK with a market share of only 0.42%.
Due to this small figure there remains plenty of room for Vietnamese rice in the UK to be expanded, particularly due to the 100,000 people of Vietnamese origin living in the European country and thanks to the tariff quota regulations set out in the UK-Vietnam Free Trade Agreement (UKVFTA).
However, in order to turn this potential into reality, rice growers and rice exporters must thoroughly apply Global Good Agricultural Practice on a large scale, while simultaneously promoting the production of high-quality fragrant rice.
The Department of Crop Production, the Department of Plant Protection, and local administrations with large areas of rice cultivation must implement programmes to support farmers in rice varieties, safe agricultural materials, and rice storage before allowing exports.
Dengue fever develops complicatedly in Hanoi
Hanoi recorded 79 cases of dengue fever in the week from July 4-10, a 1.5-fold increase compared to the previous week, according to the city's Centre for Disease Control (CDC).
The infections were mainly detected in Phu Xuyen, Dan Phuong, Long Bien, Bac Tu Liem, Ba Vi, and Hoai Duc districts.
Since the beginning of this year, the capital city has reported 19 dengue fever hotbeds, with 254 cases and no fatality in 11 districts, cited VNA.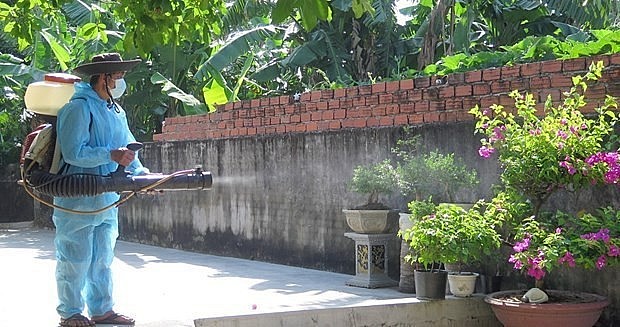 Spraying chemicals to kill mosquito larvae. Photo: VNA
The centre predicts that the number of new cases may rise in the coming time. To prevent it from spreading out, the municipal Department of Health has asked the CDC to keep a close watch on the developments of the disease.
Attention will be paid to stepping up dissemination to raise public awareness of disease prevention and control, improve environmental sanitation, and spray chemicals to kill mosquito larvae.
Despite uncertainties, investors continue to pour money into Vietnam
Foreign investors' confidence in Vietnam remains stable amid global uncertainties.
The cargo output of International Logistics Corporation (InterLOG) increased by 23 percent so far this year in comparison with the same period last year.
According to Tran Thanh Hoa, deputy business director of InterLOG, the company's operation has been recovering well. As fuel prices are on the rise, logistics firms have had to optimize their operation and expenses to provide services at competitive prices.
As the partner of many foreign invested enterprises (FIEs) nationwide, Vietnam is considered an attractive destination and it needs to grasp the opportunity to lure more investors and become a reliable place for foreign investors.
The Business Climate Index (BCI) announced by EuroCham in Vietnam on July 4 showed that the European enterprises' confidence in Vietnam's business environment in Q2 decreased slightly compared with Q1 by 4.4 percentage point to 68.8 points.
The prolonged war in Ukraine, the sharp rise in goods prices and the ripple effects of the Chinese 'Zero Covid policy all have led to lower expectations of European businesses in Vietnam, reported VNN.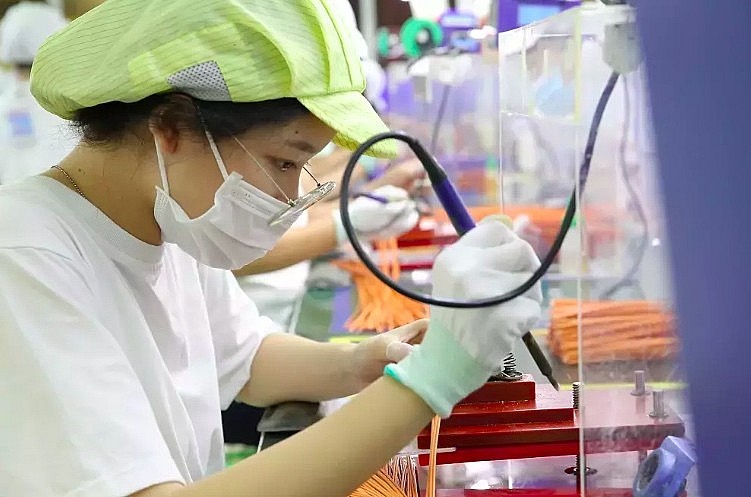 Photo: VNN
Compared with Q1 2022, the confidence in Vietnam's growth potential has decreased. Sixty percent of surveyed predicted that Vietnam's economy would be stable or improve in Q3. The figure was 69 percent in Q2.
Nguyen Duc Kien, head of the Prime Minister's Economic Advisory Board, said at a workshop held recently by the HCM City Economics University that new factors have appeared since the beginning of the year, causing the world to fall into a state of volatility, uncertainty, complexity and ambiguity, hindering socio-economic recovery.
He said that increasing geopolitical tensions have changed basic economic values established after World War II, especially the deep globalization trend in the past 30 years. This situation has hampered global efforts to tackle issues like the Covid-19 pandemic, poverty, inequality, climate change and environmental pollution.
The inequalities in the post-pandemic economic recovery have become apparent as many emerging and developing economies will face more difficulties due to the indirect impact from the Russia-Ukraine military conflict.
To collect information for BCI, EuroCham asked more than 1,200 its members in most of the business fields of Vietnam to provide quarterly updates about their business and predictions for their performance in Vietnam.
The survey pointed out that there are barriers to European investments in Vietnam and trade of the two sides. Thirty-five percent of surveyed people said simplifying administrative procedures is the most effective way to increase FDI capital, while 24 percent said developing infrastructure is the major factor.
Forty-five surveyed people said the major difficulties that foreign companies have are related to administrative procedures. The complicated procedures hinder the ability to take full advantage of the EU-Vietnam Free Trade Agreement (EVFTA).
Commenting about BCI results in Q2 2022, EuroCham Chair Alain Cany said the confidence of European businesses has decreased slightly, but all the factors affecting Vietnam are outside the country. A number of factors outside are causing global economic uncertainties.
Meanwhile, 45 percent of those surveyed said they feel very satisfied, or satisfied about Vietnam's great efforts to attract and retain FDI. Seventy-six percent hope their companies will increase the investments in Vietnam before the end of Q3. About 55 percent of people think that Vietnam has improved its ability to attract and maintain FDI capital since Q1 2022. The BCI of Q2 2022 is still 7.6 percentage points higher than in Q4 2021 (61 points).
The report on FDI in H1 released by the Foreign Investment Agency (FIA) under the Ministry of Planning and Investment (MPI) showed that as of June 20, the total registered FDI capital was $14.03 billion, equal to 91.1 percent in the same period last year.
While the newly registered capital still has not fully recovered after the pandemic, the additional investment capital of projects in Vietnam and the capital contribution to buy into Vietnamese enterprises rose sharply by 65.6 percent and 41.4 percent, respectively. The implemented capital of FDI projects was $10.06 billion, up by 8.9 percent over the same period last year.
YouGov Vietnam Managing Director Thue Quist Thomasen commented that foreign investors' confidence in the Vietnamese market is still stable amid uncertainties in the world, and FDI is still flowing to Vietnam.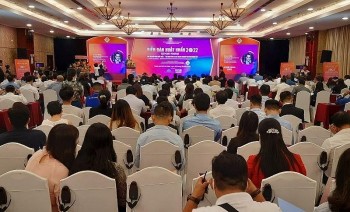 Focus
Vietnam News Today (Dec. 9): Vietnam - Singapore innovation centre helps firms transform production; HCM City among most searched destinations by travelers; Vietnamese digital technology industry's revenue estimated at 148 billion USD in 2022; Two Vietnamese films up for consideration at Oscars.