Vietnam News Today (Jul. 29): Vietnam, Japan Step Up Labour, Employment Cooperation
Vietnam News Today (Jul. 29): Vietnam, Japan step up labour, employment cooperation; Vietnamese President's visit opening new era of co-operation: Italian media; Vietnam welcomes 6.6 million international visitors in seven months; Cambodian scholar hails Vietnamese role in reinforcing ASEAN solidarity.
Vietnam News Today (Jul. 29) notable headlines
Vietnam, Japan step up labour, employment cooperation
Vietnamese President's visit opening new era of co-operation: Italian media
Vietnam welcomes 6.6 million international visitors in seven months
Cambodian scholar hails Vietnamese role in reinforcing ASEAN solidarity
Hanoi improves investment environment to attract FDI
Vietnam's positive role generates momentum for ASEAN: Canadian expert
Vietnam lures over 16 billion USD in foreign investment in 7 months
HCM City keen on expanding cooperation with Singapore
HCM City to host third National Culture and Business Forum in November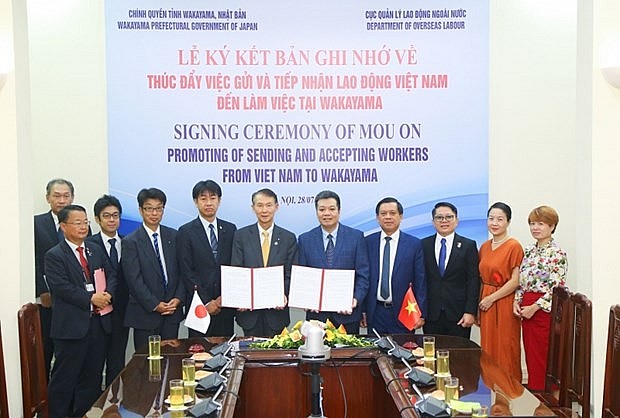 At the signing ceremony (Photo: VNA)
Vietnam, Japan step up labour, employment cooperation
Deputy Minister of Labour, Invalids and Social Affairs Nguyen Ba Hoan has proposed Japan's Wakayama prefecture pay more attention to vocational training and welfare of Vietnamese guest workers living there.
At a working session in Hanoi on July 28 with Governor of Wakayama prefecture Kishimoto Shuhei, Hoan welcomed his guest's visit which takes place at a time when the two countries are celebrating the 50th anniversary of bilateral diplomatic ties this year.
Hoan said there were about 345,000 Vietnamese workers living and working in Japan as of late December 2022, including 200,000 skilled apprentices, 78,000 workers with specific skills, and 65,000 engineers, interpreters, and others.
In the first half of this year, Vietnam sent more than 72,000 guest workers abroad, including over 35,000 to Japan alone, cited VNA.
Hoan suggested the Governor and Japanese firms consider additional measures to increase the number of Vietnamese skilled apprentices and workers coming to Japan for employment.
Kishimoto, for his part, thanked the Vietnamese Ministry of Labour, Invalids and Social Affairs (MoLISA) for working closely with Wakayama to launch activities over the past years.
The Japanese Government is striving to improve the working environment for foreign labourers, including those from Vietnam, he said, adding that during this visit, he had a chance to interact with Vietnamese students. Wakayama prefecture, in particular, and Japan as a whole, are aiming to welcome this high-quality workforce.
Later, Hoan witnessed the signing of a Memorandum of Understanding on cooperation in basic legal framework between the MoLISA's Department of Overseas Labour Management and Wakayama prefecture regarding the reception of Vietnamese workers for employment in Japan.
Due to the shortage of workforce, Wakayama has advocated enhancing training and reception of Vietnamese apprentices and workers with specific skills, and engineers for internships and employment in Japan.
Wakayama is one of the 47 prefectures of Japan, comprising 9 cities, with its capital being Wakayama city. It is strong in agriculture and fisheries, attracting a considerable number of foreign apprentices each year.
Last year, the total number of foreign workers in Wakayama was 3,390; 1,178 of them were Vietnamese workers, accounting for 34% of the total.
Vietnamese President's visit opening new era of co-operation: Italian media
Several prominent Italian newspapers on July 27 and July 28 continued to feature information about President Vo Van Thuong's State visit to the Southern European nation.
The La voce d'italia newspaper reported that at a meeting with his guest, Italian President Sergio Mattarella emphasised that there is not only political, economic, and cultural co-operation between the two countries, but also solidarity.
President Mattarella also revealed his intention to establish an Italy cultural institute in Hanoi in a bid to enhance co-operation, especially in science and technology, between the sides' research centres and universities, as well as expanding their exchanges of students and researchers, according to VOV.
Photo: VOV
According to information provided by the article, the focus of the meeting between the two was to reinvigorate close ties. They also used the occasion to exchange two agreements signed during the visit, the Vietnam-Italy treaty on mutual legal assistance in criminal matters and the cultural co-operation programme.
Elsewhere, an article published by the Notizie Geopolitiche newspaper highlighted talks, calling the first official meeting between the heads of state of the two countries in seven years as a basis to promote the nations' political trust and strengthen strategic partnership.
It also noted the agreement of the two leaders on the importance of bilateral co-operation in addressing unpredictable, complex, and unstable developments that may occur regionally and globally, as well as serious global issues that are increasingly impacting the international community.
The article highlighted that both sides reaffirmed their commitment to strengthening the strategic partnership via joint works in traditional fields, as well as new areas such as digital transformation, green growth, and climate change response.
They therefore consented to work together in order to ensure prosperity and inclusive development for the countries, thereby contributing to promoting peace, linkages, and development in the region and the world on the basis of respecting the fundamental principles of international law and the UN Charter.
The two also pledged to intensify the exchange of viewpoints, co-operation, and mutual support at international and regional forums, especially within the framework of the UN and ASEAN-EU mechanisms, said the article.
Meanwhile, an article on the countries' agreements and plans for the future posted on the website Thewatcherpost.it listed areas in which both sides are enhancing co-operation. This includes Industry 4.0, space, ecological and energy transition, and artistic heritage preservation. It quoted President Mattarella's statement that describes the level of the bilateral relationship as excellent from all points of view across politics, the economy, and culture, assessing that from the Italian point of view Vietnam represents a key partner in the ASEAN region.
Vietnam welcomes 6.6 million international visitors in seven months
Vietnam welcomed nearly 6.6 million international visitors in the first seven months of this year, accounting for 83% of the yearly target, according to Vietnam National Authority of Tourism (VNAT).
During the period, the industry also served 76.5 million domestic tourists. Total revenues from tourism reached 416.6 trillion VND (17.58 billion USD).
July alone saw over 1 million foreign arrivals, 6.5% higher than that of the previous month.
According to VNAT, the tourism sector expects to soon reach its yearly target as the second half of the year is usually the peak time for international visitors.
The RoK remained the largest source market of Vietnam tourism in the first seven months of this year with 1.9 million arrivals, accounting for one-third of total international visitors to Vietnam. It was followed by China and the US, VNA reported.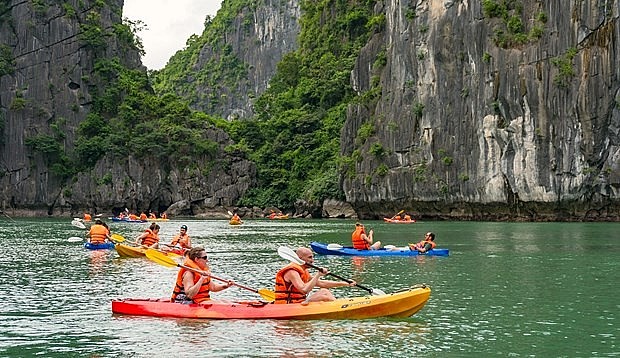 Tourists go kayaking on Ha Long Bay in the northern province of Quang Ninh province. Photo: quangninh.vn
Among the top ten source markets of Vietnam tourism, four are in Northeast Asia - the RoK, China, Taiwan (China), and Japan, and three in Southeast Asia - Thailand, Malaysia, and Cambodia. Australia and India ranked ninth and tenth. In Europe, the UK, France, and Germany were the three biggest source markets.
Many main source markets for tourists in Vietnam saw growth in July, such as Taiwan (31.3%), Japan (15%), China (14%), the US (7%) and the RoK (6%).
According to the World Tourism Organisation (UNWTO), global tourist arrivals will recover to pre-COVID-19 levels by 2024 at the earliest. The increasing number of tourists, together with changes in consumption trends, tourism markets and digital technology, poses significant challenges to tourism human resources in the new situation.
According to VNAT, with the current growth rate, the country's tourism industry needs 40,000 new employees each year while 25,000 employees need to be retrained. Meanwhile, local schools only train 20,000 students yearly. The number of professionally trained tourism workers accounts for only 43% of the total workforce in the industry and nearly half of them do not know foreign languages.
In addition, the quality and productivity of Vietnamese workers in the tourism and hotel industries remain low. Vietnamese tourism workers now have to compete with guest workers from the Philippines, Thailand, Indonesia, and Singapore, thus improving the quality of human resources is a must for Vietnam in the coming time.
Cambodian scholar hails Vietnamese role in reinforcing ASEAN solidarity
The nation has made active and responsible contributions to solidifying and expanding solidarity within ASEAN over the past 28 years since it joined the regional bloc.
Uch Leang, deputy director of the Department of Asian, African, and Middle-East Studies under the International Relations Institute of Cambodia (IRIC), made the statement in a recent media interview.
He outlined that immediately after becoming a member of the bloc in 1995, Vietnam actively accelerated the accession of Cambodia, Laos, and Myanmar to this regional organisation. Those efforts duly contributed to realising the idea of a bloc consisting of 10 Southeast Asian countries, thereby creating a new dynamic for the whole region.
Furthermore, the nation has also actively contributed to outlining the ASEAN Vision 2020, the ASEAN Charter, the ASEAN Community Vision 2025 and the Master Plan on ASEAN Connectivity 2025, and the Roadmap for an ASEAN Community, along with many other important agreements, especially relating to connectivity and narrowing the development gap between member states.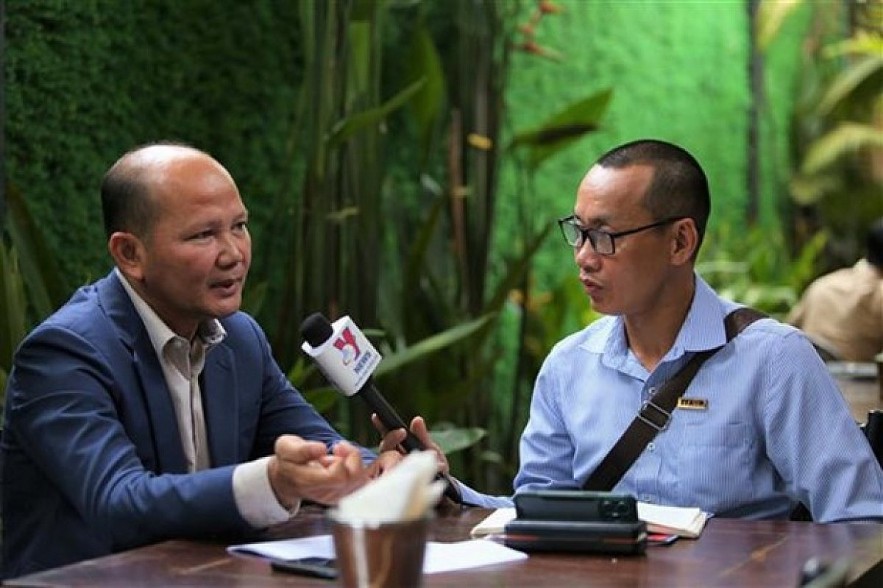 Deputy Director of the Department of Asian, African, and Middle-East Studies Uch Leang (Photo: VNA)
The Cambodian expert glowingly spoke of the Vietnamese push for the Treaty of Amity and Cooperation in Southeast Asia (TAC) to become a code of conduct for the relationship between member states and those outside of the region, as well as its participation in the development and adoption of the ASEAN Outlook for the Indo-Pacific (AOIP). This will serve to help shape the common stance of ASEAN whilst promoting appropriate co-operation on the basis of complying with ASEAN's values, principles, and centrality.
Highlighting Vietnamese determination to deal with challenges facing ASEAN members, he applauded the nation's capacity to respond to the COVID-19 pandemic, especially in its prompt implementation of the vaccination for people and rapid post-pandemic economic recovery, cited VOV.
As the ASEAN chair in 2020, the country worked hand in hand with other members in a bid to speed up smooth integration of the ASEAN community, as well as being ready for the implementation of active response measures aimed at minimising the impact of the pandemic, he went on.
Regarding the settlement of disputes in the East Sea, the country has underscored the stance of restraint and not further complicating the situation, whilst settling disputes on the basis of international law, including the UN Convention on the Law of the Sea (UNCLOS) 1982. According to Leang, this has contributed to maintaining peace, security, and freedom of navigation and aviation in the sea.
Hanoi improves investment environment to attract FDI
Foreign direct investment (FDI) capital has poured into Hanoi after a period of decline due to the COVID-19 pandemic, making the city the leading recipient of FDI in the first six months of 2023. The problem is how to promote this important resource to best serve the city's development.
Vietnam's N&G Group and SEIN I&D from the Republic of Korea (RoK) signed a deal in late June to build a Vietnam-RoK Techno Park Complex at the Hanoi Southern Supporting Industrial Park.
The two sides and other partners will invest in building infrastructure and specialised works dedicated to invention, production and application of micro-chip products according to global high-tech standards.
Leading the nation in FDI attraction
The Vietnam-RoK Techno Park Complex has a total area of 200ha, including space for production, research and development, logistics, housing and others.
Chairman of the N&G Group Nguyen Hoang said that the building of the complex ,which meets international standards, will attract investment and research projects on high-tech products, especially semi-conductor chip manufacturing. RoK investors also expect to build other manufacturing complexes in other localities, thereby, promoting investment cooperation between Vietnam and RoK.
Hanoi is also a familiar destination for a large number of Japanese investors. After the success of the two projects of Aeon Long Bien and Aeon Ha Dong with investment of about 200 million USD per project, Japanese retailer Aeon is urgently implementing more projects in Hanoi. Aeon Mall Vietnam aims to have additional four commercial centres in Hanoi by 2026 and more by 2030. These projects have all been approved by Japanese Aeon.
General Director of Aeon Mall Vietnam Nakagawa Tetsuyuki said: "We have fully prepared the capital, personnel, and equipment to commence the construction of an Aeon Mall in Hoang Mai district right after final procedures are completed."
According to the Hanoi Department of Planning and Investment, Hanoi has always been an attractive destination for foreign investors. The city has so far attracted about 62.27 billion USD of FDI, ranking second among localities nationwide. Hanoi also led the country in FDI attraction in 2018 and 2019 with total registered capital of 7.5 billion USD and 8.67 billion USD respectively.
Many large projects were licensed, such as the smart city urban area project with an investment of 4.1 billion USD, two projects run by Nidec Corporation at Hoa Lac Hi-Tech Park with a total investment of 400 million USD, the Xuan Son waste treatment plant project worth 90 million USD, and the R&D Centre project by Samsung worth 210 million USD, amongst others, cited NDO.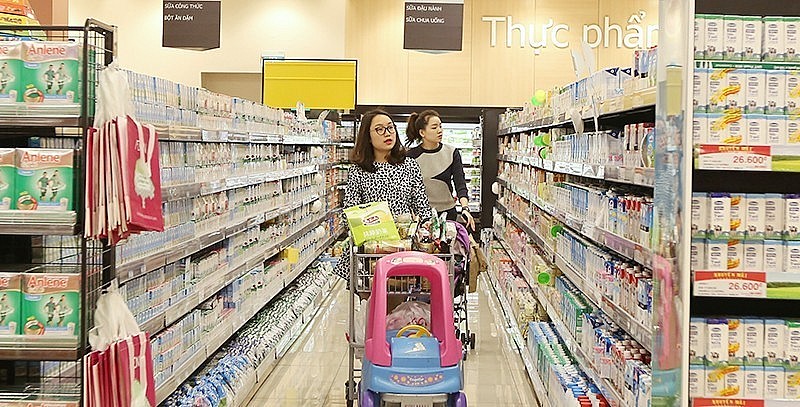 Consumers buy goods at Aeon Mall Long Bien. (Photo: Minh Ha)
The FDI inflow into Hanoi fell sharply only in the 2021-2022 period due to impact of the COVID-19 pandemic.
FDI inflow into Vietnam is expected to thrive in 2023 thanks to attractive investment policies and the reopening of the economy after the pandemic. Hanoi returned to its position as the leading FDI recipient in the first six months of this year with 2.26 billion USD of FDI, more than tripling the value during the same period in 2022.
During the first half of 2023, the city saw 196 new projects with a total registered capital of 75.33 million USD and 89 projects expanding their capital with total supplemented capital of 209 million USD.
Investors from Japan, Singapore, the Republic of Korea, the US, and the EU continue to conduct large projects in Hanoi, focusing on the areas of real estate, manufacturing, construction, amusement services, accommodation and food services, health and education.
Overcoming inadequacies
Hanoi's investment and business environment still reveals inadequacies that need to be addressed to effectively attract more FDI capital.
Regarding planning, Hanoi changed its administrative boundaries in 2008 and is currently adjusting several planning policies, leading to delays in the implementation of a number of projects.
In addition, legal regulations on investment, land, construction, and real estate remain overlapped and inconsistent, resulting in protracted preparation for the implementation of projects.
CEO of Sumitomo Corporation Asia and Oceania Group Keigo Shiomi said that the Group received the investment certificate for the smart city project in June 2018 and registered to adjust the project planning in May 2019. The investor has recently received a decision to locally adjust the detailed planning of 1/500 in Dong Anh district after more than four years. This is an important step towards accelerating the progress of this giant project.
Regarding land, Hanoi has a limited land fund with a land rental price 1.5 - 2 times higher than that of neighbouring localities, failing to create a competitive advantage. Meanwhile, there are few factory facilities that meet the conditions for new investment activities and production expansion.
Acting Director of Hanoi Department of Industry and Trade Tran Thi Phuong Lan said that most of the concentrated industrial parks in the area have been filled while newly approved industrial parks are in the process of land clearance and infrastructure construction.
General Director of Aeon Mall Vietnam Nakagawa Tetsuyuki also shared that the implementation of commercial centre projects requires a large land fund, so enterprises expect to continue receiving information about business premises from city authorities.
According to data from the Hanoi Department of Planning and Investment, FDI mainly focuses on the fields of real estate and construction (accounting for 38.7%), processing and manufacturing (31.1%), and other sectors (30.2%) while FDI in high technology and supporting industry remains limited.
Hanoi will continue improving the business and investment environment in a more effective and substantive manner in order to gradually overcome these limitations. Chairman of the Hanoi People's Committee Tran Sy Thanh emphasised that city authorities will always accompany and stand side by side with investors as well as solving problems during the implementation of projects.
The city will accelerate progress and improve and adjust capital planning with a vision to 2050 to submit to the Government and National Assembly for approval in October 2023 in addition to completing the Capital Law to promote its potential and advantages.
Hanoi will also establish more industrial zones and clusters to attract FDI while perfecting the infrastructure of industrial zones to meet actual needs. The city is also preparing conditions to receive and manage the Hoa Lac Hi-Tech Park.
With large-scale, complicated and prolonged projects, the city will propose the Government set up an inter-ministerial working group to tackle any problems arising.