Vietnam News Today (Jun 27): Vietnam Up 39 Notches in Quality of Life Index Rankings Globally
Vietnam News Today (Jun 27): Covid-19: 557 cases added to national caseload on June 26; Vietnam up 39 notches in quality of life index rankings globally; Aircraft fuel price reaches 8-year high; Vietnam considered promising destination for world's big names.
Vietnam News Today (Jun 27) notable headlines
Covid-19: 557 cases added to national caseload on June 26
Vietnam up 39 notches in quality of life index rankings globally
Aircraft fuel price reaches 8-year high
Vietnam considered promising destination for world's big names
Hue Festival 202 opens with colorful show
Australia seeks to deepen bilateral relations with Vietnam: FM
More efforts needed to tap renewable energy potential: Ministry
Miss Grand International 2023 to be held in Vietnam
PM attends Da Nang 2022 Investment Forum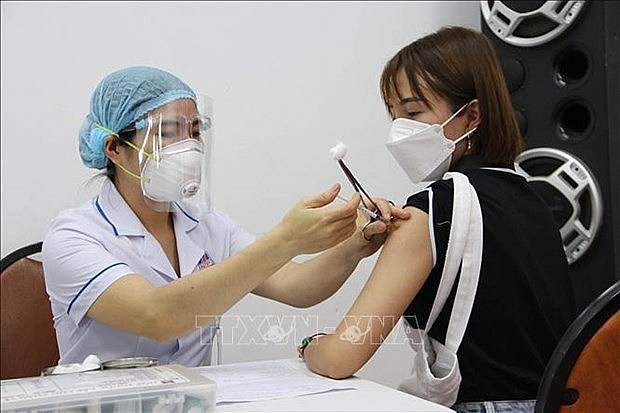 Vaccination against Covid-19 in Ho Chi Minh City. Photo: VNA
Covid-19: 557 cases added to national caseload on June 26
A total 557 new cases of Covid-19 were recorded in the past 24 hours from 4pm June 25 to 4pm June 26, according to the Ministry of Health.
Hanoi still reported the highest number of infections on the day with 177 cases, followed by Ho Chi Minh City with 32 and Bac Ninh with 32, cited VNA.
The national caseload reached 10,743,448.
A total 7,300 Covid-19 patients were given the all clear on June 26, bringing the number of recoveries so far to 9,649,814. There are 27 patients in serious conditions needing breathing support.
No death from Covid-19 was recorded in the past 24 hours. The total fatalities stood at 43,084.
On June 26, 345,608 doses of vaccines were administered, raising the total number of doses of Covid-19 vaccines injected to 229,551,802.
Vietnam up 39 notches in quality of life index rankings globally
Vietnam has made great strides in improving its living standard as it jumped 39 notches in the global quality of life index rankings in 2021, revealed CEOWORLD, the world's leading business and trade magazine.
CEOWORLD selected 165 countries that contribute the most to the world's GDP to rank the quality of life index.
In order to determine the rankings, researchers at the CEOWORLD magazine analyzed and compared 165 countries across 10 key categories: Affordability, Economic stability, Family-friendly, A good job market, Income equality, political neutrality & stability, Safety, cultural influence, Well-developed public education system, and Well-developed public health system.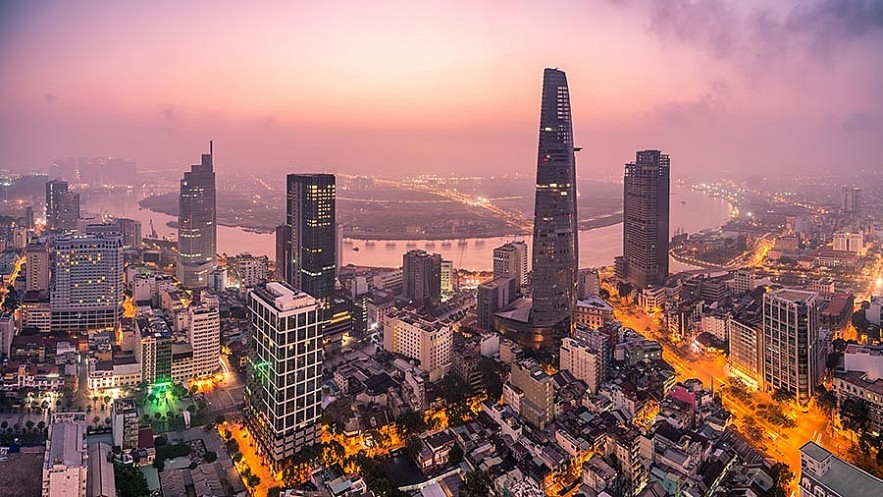 Photo: vietnam-briefing
Each attribute was graded on a 100-point scale, according to VOV.
According to the latest data of CEOWORLD, Finland was the country with the best quality of life in the world, scoring 99.06 points, while Denmark and Norway placed second and third, respectively. The 2021 rankings placed Belgium in fourth ahead of Sweden into fifth, while Switzerland ranked sixth and the Netherlands seventh.
Japan topped Asia, scoring 91.23 points. It was also among the top 10 countries with the best quality of life globally.
Elsewhere in Southeast Asia, Singapore was the country with the best quality of life, scoring 87.64 points.
Vietnam scored 78.49 points, ranking 62nd out of 165 countries in the analyzed report. In the previous year, CEOWORLD ranked Vietnam 101st out of 171 countries worldwide.
Aircraft fuel price reaches 8-year high
The continued air petrol price increase has caused headaches to air carriers. Airfares change from day to day.
Airfare increases are a hot topic of discussion on aviation and tourism forums. Along with the strong recovery of the tourism market after the pandemic, airfares for flights to tourism attractions have also bounced back.
On online air ticket booking websites, Vietnam Airlines return tickets for Hanoi-Da Nang flights are offered at VND3-5 million, including taxes and fees. The prices are nearly the same as Bamboo Airways – VND3-4 million, depending on number of flight hour. Vietjet Air has raised its airfare, but its airfares are still lower than Vietnam Airlines and Bamboo Airways.
As for the Hanoi-Phu Quoc route, the airfares of Vietnam Airlines and Bamboo Airways range from VND4 million for a pair of round-trip tickets. Vietnam Airlines' lowest rate for night flights is VND2 million. Even if choosing to fly at an inconvenient time, passengers would still have to pay no less than VND5 million for a pair of return tickets.
Meanwhile, to fly with Vietjet Air, passengers would have to pay VND3-7 million for return tickets.
The highest airfare in the market is the one set by Vietnam Airlines – VND11 million for a pair of return tickets. The figures are VND10 million for Bamboo Airways and VND7 million for Vietjet Air.
The airfares in summer are changing daily and weekly in accordance with the crude oil and petroleum prices in the world. The airfares have increased by twofold compared with earlier this year and the whole year of 2021, but they are still lower than the world's prices.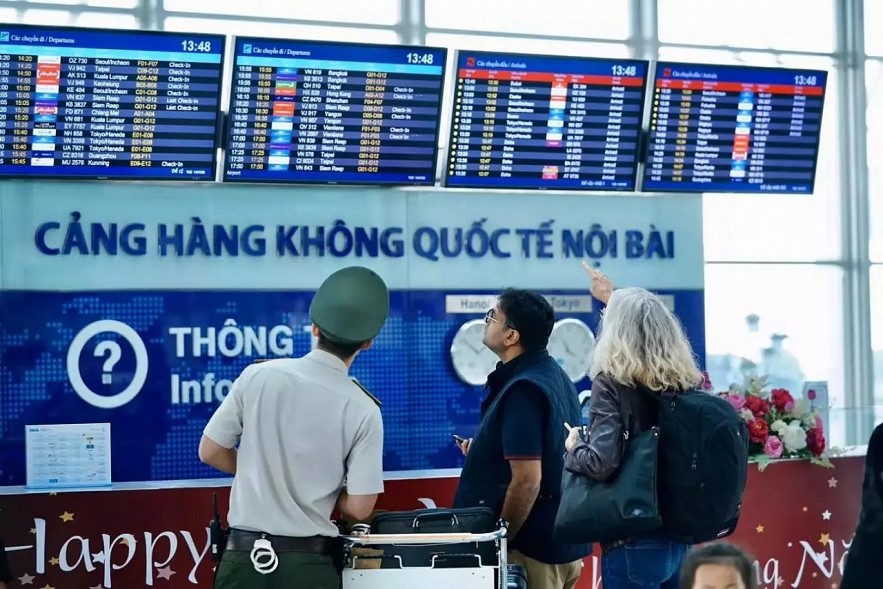 Photo: VNN
Explaining this, experts saying the air fuel price has been increasing since July 2014. The prices have reached 8-year highs.
The petrol price has been rising over the last seven review periods. With the latest petrol price adjustments, E5RON92 petrol is at VND31,300 per liter (an increase of VND190 per liter), while RON95-III is VND32,870 per liter (+ VND500). Meanwhile, diesel is now priced at VND30,010 (+ VND990), kerosene VND28,780 (+ 950) and mazut VND20,730 per kilogram (+ VND380).
The other reason behind the airfare increases is the high travel demand. People rush to travel after a long period of staying at home under lockdowns. With the socio-economic recovery, the number of domestic travelers in the first five months of the year increased by 243 percent over the same period last year to 48.6 million.
Nguyen Trung Khanh, Director General of the Vietnam National Administration of Tourism (VNAT), said Vietnam strives to receive 5 million international travelers this year and serve 60 million domestic travelers. The total revenue from tourism is expected to reach VND400 trillion.
The high travel demand makes the air tickets for flights to famous destinations such as Phu Quoc, Quy Nhon, Da Nang and Nha Trang more expensive. It is expected that the airfares would continue rising.
Airlines face big problems
The air petrol price hike has affected people and businesses, including air carriers and upset their plans.
Vietjet Air, for example, plans to carry 20 million passengers this year, and restore domestic and international air routes to serve people's travel and trade.
The private air carrier has built a business plan for 2022 based on the predicted oil price level of $80 per barrel. However, as the average oil price had reached to $130 per barrel as of March, its operation cost had increased by 28-35 percent. Meanwhile, the crude oil price had climbed to $155 per barrel as of May, the cost had increased by 48-60 percent compared with earlier this year.
The air carrier has applied a series of measures to cut costs and curb airfares, but the expenses are predicted to increase by trillions of dong this year, reported VNN.
A representative of Vietravel Airlines said the carrier built a business plan after the tourism market recovered based on predicted Jet-A1 prices of $83-90 per barrel. However, the air petrol price has nearly doubled the predicted level.
It is estimated that fuel expenses of the airline will increase by 25 percent compared with the average level of previous months.
Meanwhile, Vietnam Airlines said if the air petrol price stands firmly at $130 per barrel for the whole year 2022, the total expenses of the carrier will increase by VND5.7 trillion. If the air petrol price surges to $160 per barrel, additional expenses would be VND9.12 trillion.
Expenses on fuel accounts for 30-40 percent of total expenses of air carriers.
Vietnam considered promising destination for world's big names
Vietnam is said to be a destination for many major companies in the world, as the disruption of production activities due to the Covid-19 pandemic in China has forced them to find ways to move part of their production lines out of this country.
Consultant Henrik Bork of Asia Waypoint said that more and more Chinese consumer electronics manufacturers such as Luxshare Precision Industry, Goertek and Pegatron have recently set up new factories in Vietnam.
In its article in early June, Nikkei Asia wrote that for the first time ever Apple is moving some iPad production out of China and shifting it to Vietnam.
German English-language news site DW reported that companies, especially those operating in the electronics industry, are investing much in Vietnam. In February, the Republic of Korea's leading electronics group Samsung announced that it would invest an additional 920 million USD in the Southeast Asian country.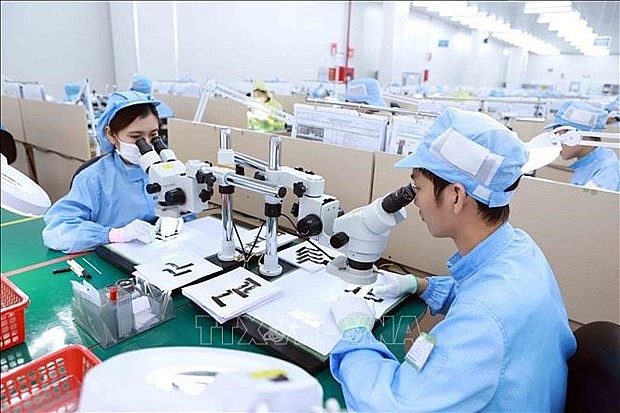 Illustrative image. Photo: VNA
According to assessments, global companies like Apple are moving production to Vietnam mainly due to high wages in China and intense US-China trade competition. The administration of US President Joe Biden is looking to diversify the global supply chain, and Vietnam is considered to have an important role in this policy.
In addition, Vietnam currently has a young labour force and a competitive manufacturing industry, and also boasts a sea route easy for exports, which has made many European Union (EU) and Asian countries sign free trade agreements with it.
DW quoted Daniel Müller, manager at the German Asia-Pacific Business Association, as saying: "It currently looks as if, in particular, medium-sized companies are increasingly striving to enter the Vietnam market."
Vietnam has become a more attractive destination for investors, Raphael Mok, head of Asia Country Risk at Fitch Solutions, told the news site.
Hue Festival 202 opens with colorful show
The week-long Hue Festival 2022 was kicked off on June 25 evening by a unique art program and an Ao Dai (Vietnamese traditional gown) show.
With the theme "Cultural heritage with integration and development", the opening ceremony of Hue Festival 2022 took place at Ngo Mon Square, attracting thousands of visitors.
The opening ceremony introduced cultural values and identities of the Hue ancient capital city, and Thua Thien-Hue province at large, which is striving to grow further, to visitors, NDO reported.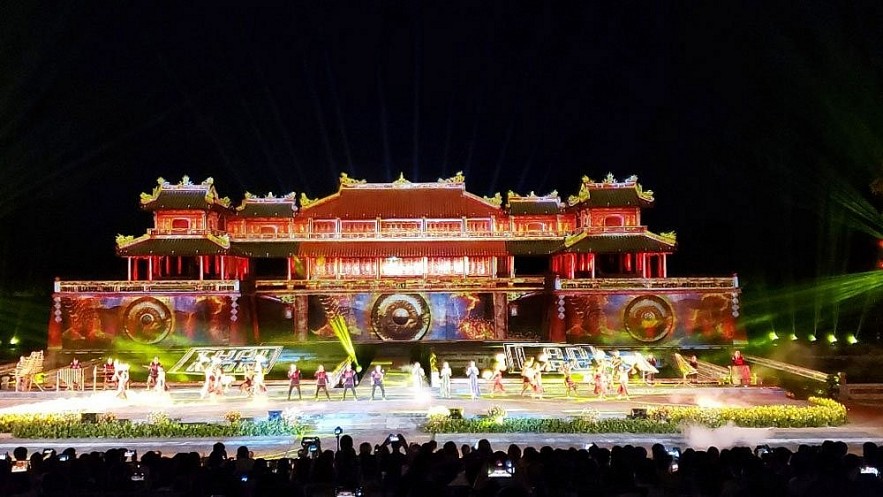 An performance at the opening ceremony. Photo: NDO
Addressing the ceremony, Vice Chairman of Thua Thien-Hue People's Committee and head of the festival organizing committee Nguyen Thanh Binh said after more than 20 years, Festival Hue has become a national cultural-artistic event, contributing to promoting the nation's cultural quintessence and popularizing the ancient royal city of Hue as a safe, friendly and beautiful destination.
He said from this year, the Hue Festival will be held with events all the year round, ranging from traditional court and folk festivals to activities featuring contemporary arts to attract visitors.
The Hue Festival 2022 will last until June 30 with eight major programs and many sidelines events, including an art program at the opening ceremony of the festival, a street carnival and a music program featuring famous song by composer Trinh Cong Son (1939-2001).
Other activities organized before, during and after the Hue festival include a food festival, a hot air balloon festival, Vietnam Summer Fair 2022 and a SUP (Standup Paddle Board) rowing competition. The events will take place in various locations along the Huong River.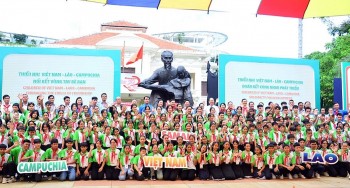 Friendship
Children from Vietnam, Laos and Cambodia gathered at a cultural exchange in Ho Chi Minh City on August 10, which is hosted by the Central Committee of Ho Chi Minh Communist Youth Union (HCMYU).