Vietnam News Today (Jun 26): Cashless Payments Still Booming After pandemic
Vietnam News Today (Jun 26): Covid-19: Vietnam reports 657 new cases, nearly 5,240 recoveries on June 25; Vietnam, RoK told to eye co-operation in key industries; Cashless payments still booming after pandemic; Da Nang receives record number of flights over two-year period.
Vietnam News Today (Jun 26) notable headlines
Covid-19: Vietnam reports 657 new cases, nearly 5,240 recoveries on June 25
Vietnam, RoK told to eye co-operation in key industries
Cashless payments still booming after pandemic
Da Nang receives record number of flights over two-year period
Festival promotes trade connections and consumption of OCOP products
World Bank makes recommendations for Da Nang development course
Seafood export takes larger bite out of foreign markets
India-Vietnam people-to-people exchange meet held in HCM City
Cambodian media spread message on relations with Vietnam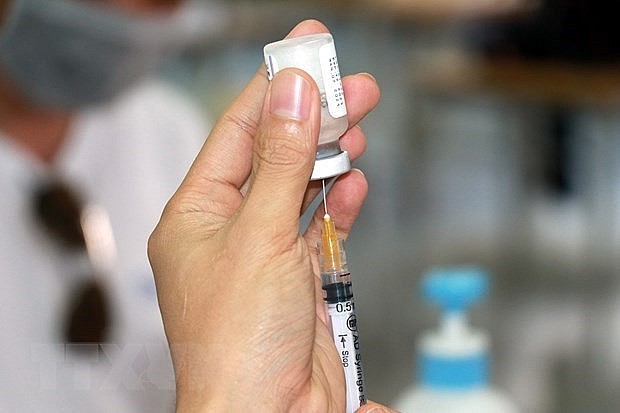 Covid-19 vaccine. Photo: VNA
Covid-19: Vietnam reports 657 new cases, nearly 5,240 recoveries on June 25
Vietnam recorded 653 new cases of Covid-19 and 9,351 recoveries in the past 24 hours from 4pm June 24 to 4pm June 25, according to the Ministry of Health.
Hanoi still reported the highest number of infections on the day with 169 cases, followed by Bac Ninh with 53 and Phu Tho with 45, cited VNA.
The national caseload reached 10,742,891.
A total 5,239 Covid-19 patients were given the all clear on June 24, bringing the number of recoveries so far to 9,642,514. There are 34 patients in serious conditions needing breathing support.
No death from Covid-19 was recorded in the past 24 hours. The total fatalities stood at 43,084.
On June 24, 722,191 doses of vaccines were administered, raising the total number of doses of Covid-19 vaccines injected to 229,206,194.
Vietnam, RoK told to eye co-operation in key industries
Vietnam and the Republic of Korea (RoK) should continue ramping up bilateral investment co-operation, especially in key industrial fields, whilst simultaneously focusing on the transfer of technology to Vietnam.
Vietnamese Deputy Prime Minister Pham Binh Minh made the remarks at the 30th Global Maekyung Forum recently held in Seoul to mark 30 years of the establishment of diplomatic relations between Vietnam and the RoK.
In a message given to the function, Deputy PM Minh highly appreciated the Maekyung Forum's role in connecting and promoting multi-faceted co-operation between all countries, as well as between Vietnam and the RoK, especially in terms of economics, trade, and investment.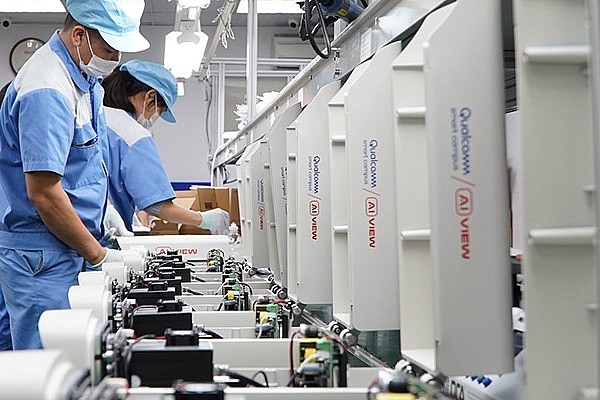 Photo: VNN
He went on to emphasize that bilateral relations have developed comprehensively, while political trust has been continuously consolidated since the two countries established their diplomatic ties in 1992.
Both countries have established a strategic co-operation partnership, thereby becoming each other's leading partners in many fields, and they are aiming to boost ties to a comprehensive strategic partnership in the near future.
The RoK currently ranks first in terms of foreign direct investment in Vietnam, second for Official Development Assistance (ODA), labour, and tourism, and third on trading. RoK businesses have poured roughly US$80 billion into approximately 9,300 projects in the Vietnamese market, making a practical contribution to local socio-economic development over the years, according to VOV.
Most notably, large-scale projects invested by leading multinational economic groups such as Samsung, LG, Posco, Hyosung, and Hanwha, along with many satellite investors, have contributed to forming strategic supply chains for Korean enterprises on a global scale.
Amid rapid and unpredictable changes occurring globally, Vietnam is determined to build an independent and self-reliant economy, while actively integrating into the wider world, affirmed Deputy PM Minh.
With a GDP exceeding US$350 billion, the country has become the fourth largest economy in ASEAN. Indeed, its trade turnover in 2021 rose by 22.6% last year to reach nearly US$669 billion, thereby making it one of 20 countries with the largest trade scale in the world.
Currently, Vietnam is home to roughly 35,000 active FDI projects with a total investment capital of over US$426 billion. Due to its positive FDI attraction results, Vietnam has been included in the list of the top 20 countries attracting FDI globally for the first time by the UN. The International Monetary Fund (IMF) projects Vietnamese economic growth will be at 6% this year before rising to 7.2% in 2023.
As a means of further strengthening the Vietnam – RoK Strategic Cooperation Partnership, Deputy PM Minh suggested that the two sides seek to increase investment co-operation, especially in industrial fields and technology transfer.
The Vietnamese Government always accompanies and creates favorable conditions for firms from the RoK in order to feel secure and make stable and long-term investments in the country, the Deputy Prime Minister assured.
According to him, both sides should move to expand their trading ties by making full use of the Vietnam - RoK free trade agreement (VKFTA) and the Regional Comprehensive Economic Partnership Agreement (RCEP), so as to raise bilateral trade turnover to US$100 billion in 2023 and US$150 billion in 2030.
Along with these efforts, he outlined that the two sides should develop a strategic partnership on digital platforms by sharing experiences and knowledge about digital transformation and corporate governance, as well as building research and development centers in Vietnam.
The forum was co-organized by the Maekyung Media Group of the RoK, the Korea Chamber of Commerce and Industry (KCCI), and the Vietnam Chamber of Commerce and Industry (VCCI).
Cashless payments still booming after pandemic
The Covid-19 pandemic has been brought under control, and life for most people returned to normal. However, non-cash payments, encouraged during the pandemic to limit contact, have become popular among many people.
The pandemic accelerated this payment form towards a cashless society as oriented by the Government and the State Bank of Vietnam (SBV).
According to a survey recently conducted by digital payment giant VISA, 65% of Vietnamese are carrying less cash in their wallets and one-third say they will stop using cash after the pandemic. Almost 76% of the consumers now use mobile wallets and even more (82%) use cards, reported VNA.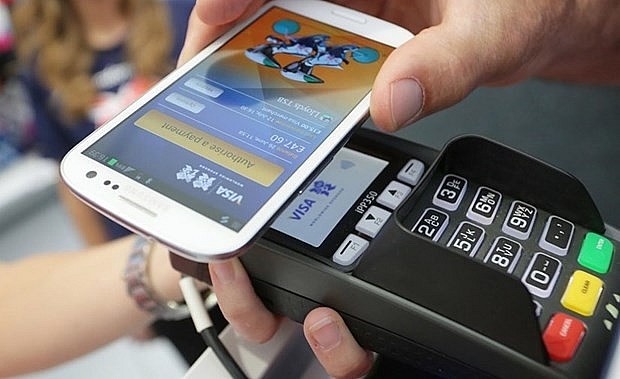 A type of cashless payment. Photo: VNA
VISA also pointed out that online shopping and cash alternatives are all likely to stay on after the pandemic. Two-thirds of Vietnamese tried shopping online during the pandemic and half of them made their first purchase through social networks. Nine out of 10 consumers are now using home delivery services, and almost all of them now use it more often than before the pandemic.
An overwhelming majority (more than 80%) now use their cards, QR payments, and mobile wallets at least once a week. Meanwhile, a solid half of all Vietnamese have begun using cards more often, while 64% and 63% have increased their use of mobile contactless and mobile wallet payments, respectively.
"The impacts of the pandemic cannot be ignored – neither in the short term nor the long term. It has resulted in lasting changes in the ways consumers are choosing to make purchases and in how they pay. Success for merchants and businesses rests on their ability to evolve and transform with these changes," said Dang Tuyet Dung, VISA country manager for Vietnam and Laos.
As of the end of 2021, 95% of all the financial institutions in Vietnam had been developing their own digitalization strategy. Currently, over 80 banks offer customers e-banking services; 44 banks offer mobile banking services; and 45 fintech firms offer payment intermediary services. Across the country, there are currently over 90,000 stores that accept QR code payments and nearly 300,000 point-of-sale terminals.
Da Nang receives record number of flights over two-year period
The central city of Da Nang welcomed a total of 114 domestic and international flights on June 25, a record high figure over the past two years.
On average the central city welcomes nine international flights per day at present, a rather low figure compared to the pre-pandemic period, but that signals the recovery of the local aviation industry following the success of Routes Asia 2022 in early June, according to Da Nang International Airport.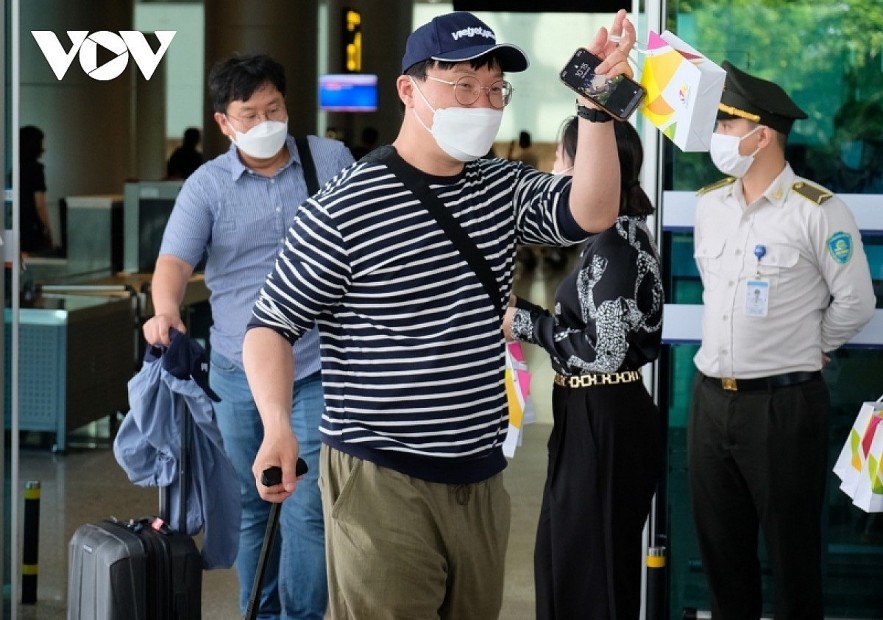 Da Nang welcomes Korean passengers on Korean Air flight at Da Nang International Airport. Photo: VOV
Le Trung Chinh, head of the municipal government, said that the city has set the goal of restoring its aviation industry to levels seen in the pre-pandemic period within the next two years, with a primary focus on potential markets such as the United States, Europe, the Middle East, India, and Southeast Asia, according to VOV.
The Da Nang Tourism Promotion Center reported since a number of airlines from Singapore, Malaysia, and Thailand resumed flights to Da Nang in late March, the city has welcomed 300 flights and tens of thousands of tourists so far.
Korean Air, the largest airline and flag carrier of the Republic of Korea (RoK), recently restored flights to the coastal city, bringing 200 passengers on June 22 following a two-year hiatus caused by Covid-19.
Currently, Korean Air is operating two charter flights per week to Da Nang running on Wednesday and Saturday, It plans to launch regular flights to the central city as of July 27 with a frequency of one flight per day.
Festival promotes trade connections and consumption of OCOP products
Hanoi Promotion Agency (HPA) in collaboration with Chuong My District People's Committee held the opening ceremony of the agricultural and One Commune, One Product (OCOP) product festival, combined with Hanoi's tourism, in Chuc Son Town, on June 24.
The festival takes place from June 24-26 to push up trade connections and product consumption between Hanoi and localities throughout the country, promoting agricultural production, tourism services, and socioeconomic development.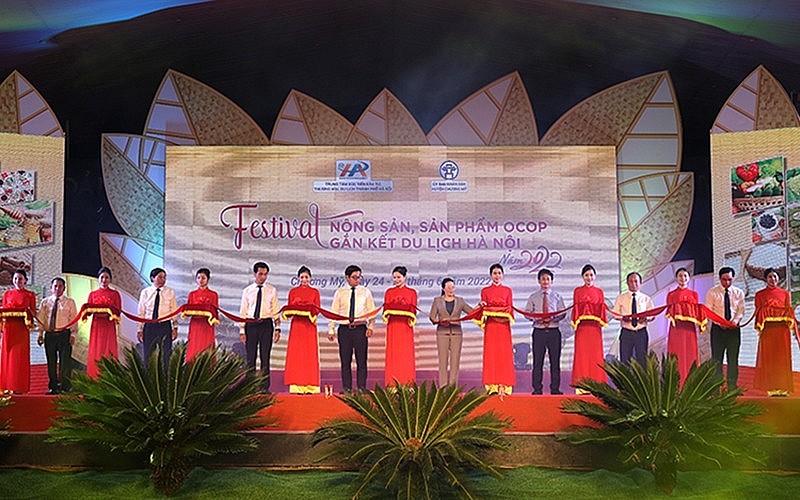 Delegates cut the ribbon to open the Agricultural and OCOP Product Festival 2022.
Speaking at the opening ceremony, Nguyen Anh Duong, HPA Director expressed his belief that the festival will provide a platform for participating enterprises to broadly present their products, brands, and agricultural models to the wider community of the city's visitors and consumers, cited NDO.
The festival's prime objective is to bolster OCOP promotion and agricultural models that can be linked to ecotourism.
The festival has a scale of 1,000 m2, a common exhibition area and 73 booths; in which there are 53 booths displaying OCOP products, craft villages of Chuong My district and districts in Hanoi, 20 stalls from 11 provinces and cities such as Lang Son, Bac Giang, Lao Cai, Thai Nguyen, Ha Nam, Nam Dinh, Ninh Binh, Thanh Hoa, Nghe An, Quang Tri and Lam Dong, bringing visitors and consumers of the Capital many interesting experiences.
In addition, traditional performing arts and folk games are also held.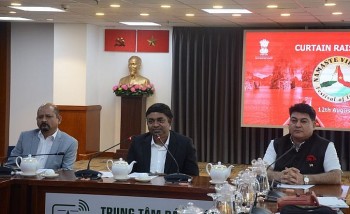 Handbook
The First Namaste Vietnam Fest will be held to mark 75 years of Indian Independence and the 50th anniversary of the establishment of Vietnam-India diplomatic ties (1972 – 2022).