Vietnam News Today (Jun 8): Hanoi to Inoculate Vulnerable Adults with Fourth Dose of Covid-19 Vaccines
Vietnam News Today (Jun 8): Vietnam reports 960 new Covid-19 cases, over 9,300 recoveries on June 7; Hanoi to inoculate vulnerable adults with fourth dose of Covid-19 vaccines; Vietnam prioritizes co-operation with US in dealing with war aftermath; Higher coverage helps SMEs recover faster.
Vietnam News Today (Jun 8) notable headlines
Vietnam reports 960 new Covid-19 cases, over 9,300 recoveries on June 7
Hanoi to inoculate vulnerable adults with fourth dose of Covid-19 vaccines
Vietnam prioritizes co-operation with US in dealing with war aftermath
Higher coverage helps SMEs recover faster
Vietnam-Australia business forum to seek co-operation opportunities
Coffee exports reach over US$2 billion over five-month period
Huge potential to boost co-operation in multiple fields with Morocco
Vietnam attends Seoul Food 2022
Vietnam promotes culture and tourism through Routes Asia 2022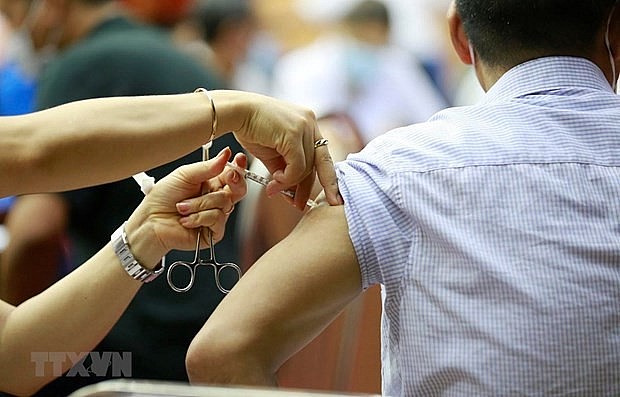 Illustrative image. Photo: VNA
Vietnam reports 960 new Covid-19 cases, over 9,300 recoveries on June 7
Vietnam recorded 960 new Covid-19 cases, no death and 9,309 recoveries on June 7, according to the Ministry of Health.
The capital city of Hanoi continued to log the highest number of daily infections with 194 cases.
It was followed by northern Yen Bai and Phu Tho provinces, with 67 and 55 infections, respectively.
The country has to date documented 10,727,005 Covid-19 cases, including 43,081 deaths.
The number of recoveries stands at 9,523,290.
More than 222.25 million doses of Covid-19 vaccines have been administered, including over 4.85 million doses injected for children from 5 to under 12 years old.
Hanoi to inoculate vulnerable adults with fourth dose of Covid-19 vaccines
Hanoi is considering injecting the second booster dose, or the fourth dose, of Covid-19 vaccines to vulnerable adults or those who jobs put them at high risk for exposure to Covid-19, starting this month.
People eligible to receive the dose include those aged 50 and above, those aged 18 and above who are diagnosed to be moderately or severely immunocompromised, or those with high-risk jobs such as healthcare workers, frontliners and factory workers, according to NDO.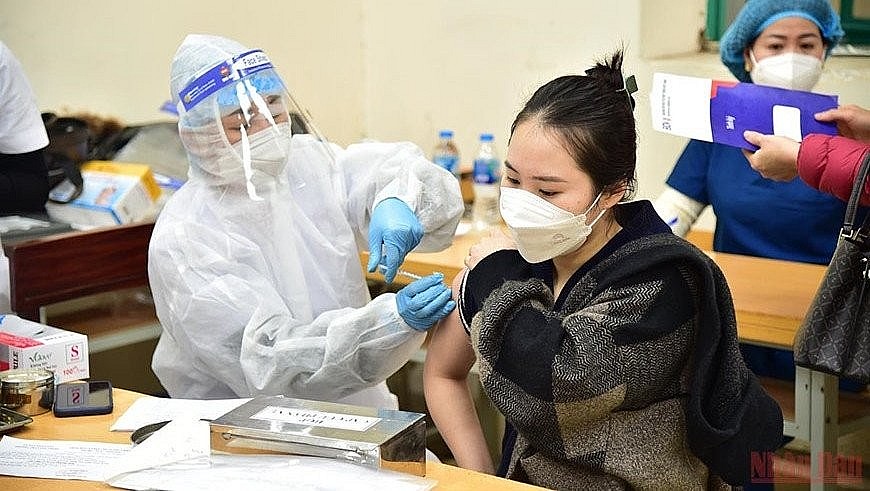 A woman is vaccinated against Covid-19. Photo: NDO
The capital city aims to have more than 95 percent of the eligible adults administered this time.
It does not rule out the possibility of expanding eligibility for the second booster dose if supply is sufficient.
The vaccines to be used will be Pfizer, Moderna and AstraZeneca.
Vietnam prioritizes co-operation with US in dealing with war aftermath
Deputy Defense Minister Hoang Xuan Chien has affirmed that the nation continues to place great importance on co-operation with the United States to overcome the consequences of war.
The Vietnamese defense official made the statement during a reception held on June 7 in Hanoi for Ann Marie Yastishock, mission director in Vietnam of USAID, and Colonel Thomas Stevenson, US Defense Attaché to Vietnam, who came to mark the end of their working term in the country.
Senior Lieutenant General Hoang Xuan Chien congratulated Yastishock and Col. Stevenson on their successful tenure, while simultaneously recognizing their efforts to maintaining and developing positive relations between the two countries and the two defense ministries, as well as the joint comprehensive partnership.
In recent times, both sides have achieved an array of outstanding results, thereby making positive contributions to healing war wounds and consolidating trust between the two countries.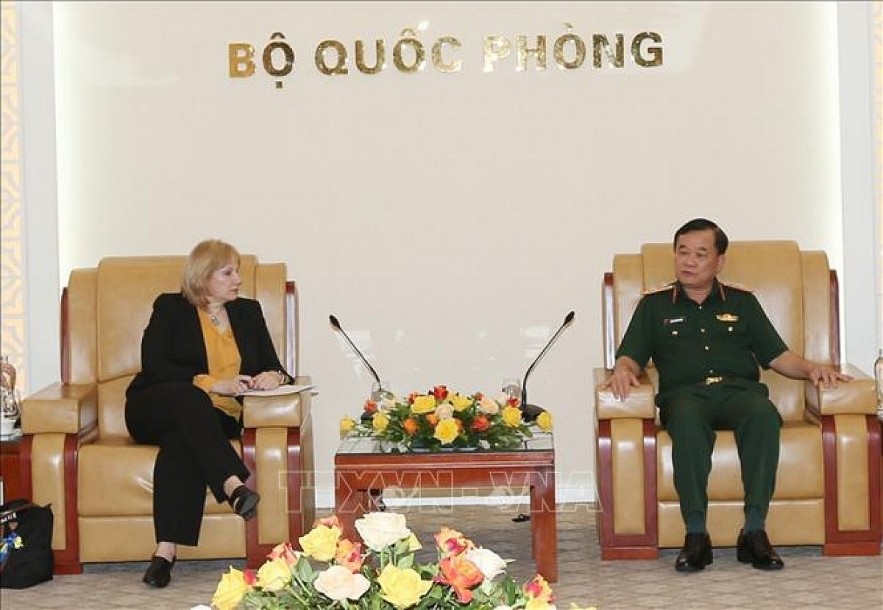 Deputy Defense Minister Hoang Xuan Chien hosts USAID Vietnam Mission Director Ann Marie Yastishock. Photo:VNA
Most notable, both sides have finalized the dioxin detoxification project at Da Nang airport and continued to carry out several projects on dioxin detoxification at Bien Hoa airport, thereby improving the quality of life for Vietnamese people with disabilities in localities which were heavily sprayed with Agent Orange. This is along with dealing with the consequences of bombs, mines, and toxic chemicals after the war.
The two sides also implemented a Memoranda of Understanding (MoU) on overcoming the consequences of mines and unexploded ordnance (UXO), as well as boosting co-operation in searching and gathering the remains of Vietnamese martyrs.
Defense co-operation between the two countries has also yielded positive results in terms of dialogue, delegation exchanges, training, search and rescue missions, humanitarian assistance, and UN peacekeeping operations, reported VOV.
The Deputy Minister therefore expressed his hope that Yastishock and Col. Stevenson in their new positions will continue to pay attention to and support the nation in propelling the comprehensive partnership forward in the future.
Yastishock and Col. Stevenson stated their honor at having the chance to work in Vietnam, while recalling their positive feelings for the country and local people, as well as the results of co-operation between the two countries over recent times, especially the concerted efforts to overcome the Covid-19 pandemic.
The two US guests thanked the Vietnamese Ministry of National Defense for creating favorable conditions and directing the Ministry's relevant agencies to co-ordinate in implementing co-operation fields over recent years. They also pledged to make further positive contributions by providing continued support for Vietnam-US relations in any capacity.
Higher coverage helps SMEs recover faster
The Law on Support for Small- and Medium-sized Enterprises (SME) took effect on January 1, 2018, but its programs have not provided adequate coverage to make any big difference.
According to the Vietnam Chamber of Commerce and Industry (VCCI), ten programs have been implemented under the law, but fewer than eight percent of enterprises enjoyed the benefits from the programs.
Notably, only 7.34 percent got access to the SME Credit Guarantee Fund, 6.55 percent got the consultancies from state agencies, and 4.75 got the subsidies for rentals in industrial parks, high-tech parks and industrial complexes.
Regarding other subsidies, just 6.17 percent were granted legal aid services subsidies, 5.40 percent market information consultancy subsides, 6.83 percent training courses subsidies and 5.39 percent vocational training subsidies.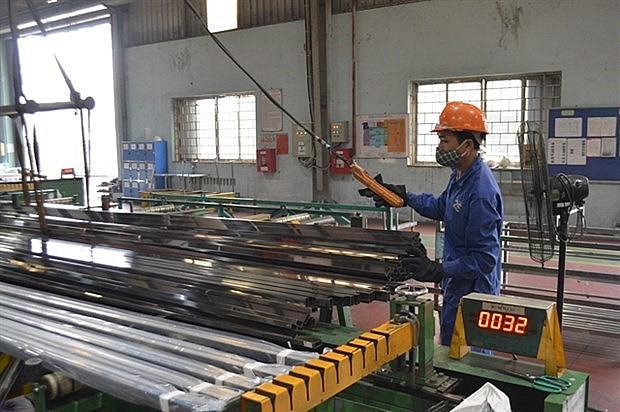 Illustrative photo. Photo: VNA
Although 80 percent of enterprises which managed to access the programs said procedures were easy to follow, the figure does not capture those who never applied. In fact, 51.3 percent were unaware of the programs, cited VNA.
"On the bright side, over 80 percent of firms that accessed the relief programs said eligibility procedures were easy to complete. However, one note of caution is that only firms completing the entire procedures gave these assessments," said Dau Anh Tuan, Deputy Secretary-General of the VCCI.
The law's low coverage has led to policy ineffectiveness and left many struggling enterprises in the lurch.
Given nearly 35,700 enterprises had to temporarily cease their operation and 11,300 awaited dissolution in Q1/2022, the VCCI urged the authorities to step up the programs to expand their coverage, helping more SMEs back on their feet.
SMEs account for 98 percent of enterprises in Vietnam, 45 percent of the country's GDP and 31 percent of the state budget, with over 5 million workers on the payroll.
The pandemic and the Russian-Ukraine conflict have put many SMEs at risk. They are struggling to keep afloat, are not so optimistic about the long-term, and are in urgent need of support, according to the VCCI.
Vietnam-Australia business forum to seek co-operation opportunities
A Vietnam-Australia business forum is set to take place next week in support of firms from the two countries to allow them to seek greater co-operation opportunities and technology transfer in clean energy, hi-tech agriculture, and digital transformation applications.
The "Vietnam-Australia Business Cooperation Forum" Technology Transfer and Business Opportunities between Innovation Ecosystems in Australia and Vietnam" will be organized by the Australian Department of Foreign Affairs and Trade (DFAT). The event will be held on June 16 in collaboration with the Ministry of Science and Technology (MOST), the University of Technology Sydney (UTS), Saigon Innovation Hub (SIHUB), and Ho Chi Minh City University of Technology.
It is set to be supported by the Australia-Vietnam Enhanced Economic Engagement Grant (AVEG) under which the Australian Government is committed to providing roughly US$2 million to assist small Vietnamese businesses.
The forum will be held both in person in Ho Chi Minh City and on virtual platforms, expects to see the presence of leaders of the two countries, as well as experts and business representatives from both sides.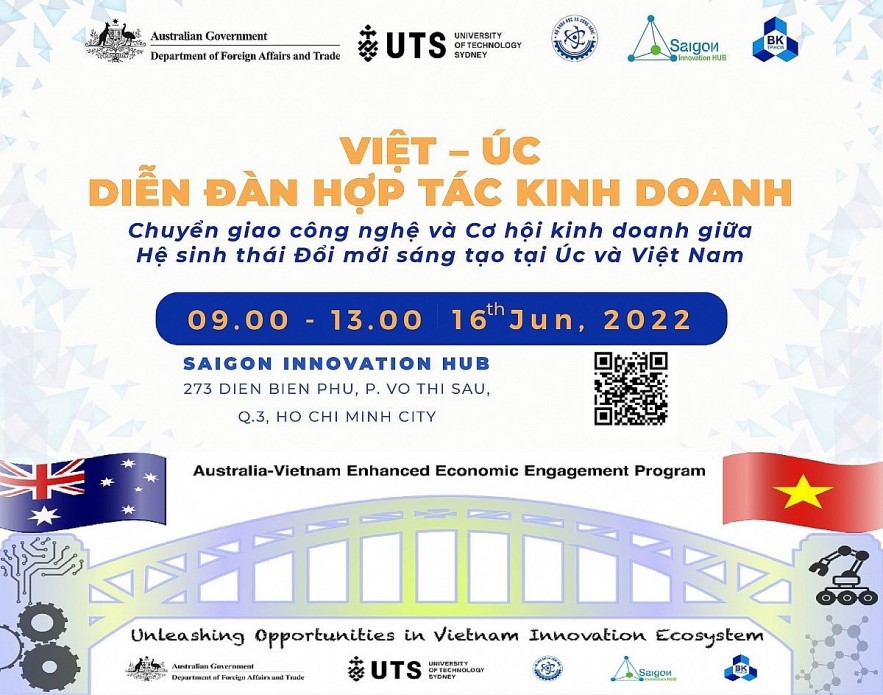 Photo: VOV
Discussions will mainly focus on the application of digital transformation in search and rescue efforts, climate change response, health care, benefit-sharing scheme in energy projects, preservation of agricultural and aquatic products using solar power, and agricultural product traceability using Blockchain. This is in addition to Internet of Things (IoT)-based smart farming solutions, biomethane production from agricultural residues, energy efficiency, and others.
Last November saw both sides adopt the Enhanced Economic Engagement Strategy, with the primary aim of becoming top-10 trading partners and doubling two-way investment, VOV reported.
According to the DFAT, joint trade has grown 8.6% annually over the past two decades, with Australian investment into the country reaching US$1.38 billion, equal to US$966 million, accounting for 0.51% of the latter's total FDI.
Australia provided ODA loans worth AUD78.9 million to the nation in 2020 and 2021.