Vietnam News Today (Mar. 13): Vietnam's E-sports Present Golden Opportunities
Vietnam News Today (Mar. 13): More than 168,000 new Covid-19 infections recorded over 24 hours; Vietnam's e-sports present golden opportunities; Industrial production recovers from high value-added products; Travel firms propose visa waivers for tourists from Australia, New Zealand, Canada, Switzerland.
Vietnam News Today (Mar. 13) notable headlines
More than 168,000 new Covid-19 infections recorded over 24 hours
Vietnam's e-sports present golden opportunities
Industrial production recovers from high value-added products
Travel firms propose visa waivers for tourists from Australia, New Zealand, Canada, Switzerland
Action plan to assist realization of green growth targets
Norwegian NGO continues support for Quang Tri in mine action
Prime Minister requests PPP facilitation for Van Phong EZ development
Quang Ninh fully geared for tourism reopening
An Giang works to build tourism trademark
Photo: VOV
More than 168,000 new Covid-19 infections recorded over 24 hours
The Health Ministry announced a further 168,719 new Covid-19 cases on March 3 across all 63 cities and provinces a drop of 386 infections from the previous day.
Among the latest cases, 15 were imported and the rest were domestic infections.
Hanoi recorded more than 30,600 new Covid-19 cases, and registered an additional 195,000 infections to the national database after reviewing related information.
The capital's tally was trailed by Nghe An (11,666), Phu Tho (7,216), and Bac Ninh (5,669),
The Health Ministry reported that a further 62 Covid-19 patients had died, including 10 in Hanoi.
The average death toll per day in the nation over the last seven days therefore stands at 81.
Since the pandemic started last year, the country's death toll has climbed to 41,290, or 0.7% of all infections.
During the latest wave which hit the country in late April, more than 5.89 million cases have now been confirmed, with more than 3 million of them since recovering, cited VOV.
Furthermore, nearly 200 million Covid-19 vaccine doses have been administered in the country to date.
Elsewhere, the number of children infected with Covid-19 in Ho Chi Minh City has continuously increased over the past three weeks, especially among primary school students, the main group which has not been vaccinated.
In the face of the current situation, the southern metropolis is in the process of completing preparations to vaccinate children from five to 11 years old as soon as they are provided with vaccines, as directed by Prime Minister Pham Minh Chinh and based on parental consent.
For several days, Hanoi capital has been the locality that has recorded the highest number of new infections throughout the country. At present, cases appear to be increasing day by day with no sign of abating.
According to an explanation given by medical experts, one of the reasons for the high number of SARS-CoV-2 infections in Hanoi is due to the prolonged impact of the pandemic and the steep increase in terms of the number of F0 cases in many localities following the nation moving on from its "Zero Covid" strategy.
Vietnam's e-sports present golden opportunities
The pandemic caused a series of disturbances in the traditional sports industry but created a golden chance for e-sports and game creators.
Experts said that with a savvy, large, dynamic and well-integrated youth population, Vietnam was catching up with the e-sports industry and it was an attractive growth market for the gaming industry, with one of the youngest populations in the region and the highest percentage of adult gamers in the world in 2020.
Vietnam has 77 percent of people online, of which 61 million people use smartphones and up to 90 percent are 'Gen Z,' which are the main target of game/e-sports creation. The e-sports industry has many opportunities for brand collaboration.
The number of 3G/4G subscribers in Vietnam accounts for 53 percent of mobile phone users. At the end of 2020, three major carriers, Viettel, Vinaphone and Mobifone, officially deployed 5G testing. Smartphone brands have also integrated 5G chips on the latest phone models, which will enhance the local e-sports.
Recently, Vero released a paper on e-sports in co-operation with Decision Lab which said brands could enter the e-sports market through in-game advertising, cross-platform advertising, tournament sponsorship, team/player sponsorship and co-creation.
The paper estimates the local video game market in 2020 to reach 40 million players, while 18 million people have played eSports, and about 86 percent of e-sports viewers claim to interact with the brand ads, and products recommended by gaming KOLs were among the best sellers.
An industry report, "The state of gaming creators in Vietnam" launched by Appota Group on March 3, said: "Besides playing games directly, watching livestreams is an emerging trend in which, the number of players, audiences and content creators has increased, making the gaming creators ecosystem develop and link more closely together."
Most experts in the industry said the explosion of the Game Streaming wave and social networking platforms were at their peak, according to VNA.
Many game creators are estimated to earn billions of dong each year from their activities. Photo: cafef.vn
According to Appota's report, up to 80 percent of the community said they spent more time watching gaming creator videos during the outbreak. The average audience spends 3 hours per day playing and watching e-sports, second only to traditional sports, about 3.4 hours per day, adding 45 percent of the esports audience were hardcore fans, about 9.1 million people.
The report said many were exposed to e-sports every day and considered it a form of daily entertainment.
Industrial production recovers from high value-added products
Local processing and manufacturing industry enterprises have gradually adapted and quickly found ways in which to maintain production and resume smooth supply chains amid ongoing complications caused by the Covid-19 pandemic.
The first two months of the year saw the index of industrial production (IIP) increase by an estimated 5.4% over the same period last year. Of this, the processing and manufacturing industry grew by 6.1%, contributing 5.2 percentage points to the overall increase.
Moving forward, industrial production is forecast to enjoy plenty of advantages from the Government's policy of "living together" safely with Covid-19 and the swift response of local businesses as they gradually devise strategies to smoothly maintain production activities and supply chains amid still challenges relating to the pandemic. Along with this, export orders in many fields have been relatively abundant.
Supply chain recovery
Phan Thi Thanh Xuan, vice president of the Vietnam Leather, Footwear and Handbag Association (Lefaso), said that the current production pace of enterprises, especially leather and footwear ones based in the southern region, remains quite good. Many enterprises have secured export orders at least until the end of the second quarter of the year, which serves as the foundation for them to accelerate production and regain growth after being impacted by the COVID-19 pandemic.
"With Nike brand alone, Vietnam has risen to become the largest leather and footwear outsourcing and manufacturing country for the company, accounting for more than 50% of Nike's shoe output. Outsourcing and exporting for Nike makes up for about 30% of the whole industry's export turnover, creating jobs for around 300,000 workers. This popular sports shoe brand is poised to continue to invest and expand production in Vietnam," the Lefaso representative added.
Judging from the results of industrial production growth over the past two months, Assoc. Prof. Dr. Pham Tat Thang, senior researcher of the Institute for Strategy and Policy Research under the Ministry of Industry and Trade, said the operation of industrial zones, including those based in both the north and south, have been stable following the full resumption of supply chains, while trade promotion activities have been restored, reported VOV.
Products with high technology content and added value are the advantages of many processing and manufacturing enterprises. Photo: VOV
"Vietnam's export turnover during the reviewed period focused on key products, especially those in the processing and manufacturing industry. The nation has up to nine items with export turnover of US$1 billion or more, of which five with export turnover of US$5 billion or more, including industrial products with high value-added content such as phones, components, electronics, machinery, and equipment," Dr. Thang pointed out.
Travel firms propose visa waivers for tourists from Australia, New Zealand, Canada, Switzerland
Travel firms have proposed the restoration of the visa waiver policy applied before the pandemic, and a waiver expansion for additional countries.
Hoang Nhan Chinh, secretariat director of the Tourism Advisory Board (TAB), said the Ministry of Culture, Sports and Tourism (MCST) has designed a plan on reopening tourism in a safe and effective way from March 15.
However, ministries have not reached a consensus on some issues. TAB has joined forces with the Private Economic Development Research Board (Board IV) to make suggestions to MCST Minister Nguyen Van Hung on solutions to improve the visa policy.
Citing reports from UNWTO (World Tourism Organization) and WTTC (World Travel & Tourism Council), TAB stressed that favorable policies on entry visas can help increase the number of international tourists by 5-25 percent a year. The policy on tourism visa exemption policy could cause travel demand to rise by 16.6 percent, and increase the number of direct workers in the tourism industry by 1.6-3.1 percent.
A survey by TAB on the impact of visa exemption for citizens of five Northern European countries found that the number of international tourists from the UK, France, Germany, Spain and Italy has increased by 20 percent.
If compared with other ASEAN countries, the entry visa exemption policy on Vietnam will help increase the number of foreign travelers.
Visa waiver for four more countries
The Government Office has sent a document to the Ministry of Foreign Affairs (MOFA) requesting to restore the visa waiver policy as applied before the Covid-19 outbreak.
Before the Covid-19 pandemic (January 2020), bilateral waivers were applied to 88 countries and unilateral waivers for 13 countries.
However, since most international tourists entering Vietnam hold ordinary passports, Vietnam's visa exemption policy only applies to 24 countries.
Of these, as of June 30, 2021, visa waiver expired for five Western European countries (the UK, Germany, Italy, France and Spain), key markets for Vietnam.
Under the proposal by MCST on applying the visa policy used before 2020, only 19 countries would enjoy the visa waiver immediately. But the five European countries mentioned above would still need a resolution on visa extension from the Government to have the same policy as before the pandemic, reported VNN.
Photo: VNN
Meanwhile, eight other countries will see the visa waiver expire on December 30, 2022, and they are also key markets for Vietnam (South Korea, Japan, Russia and some Northern European countries).
Before 2020, Vietnam granted e-visa to citizens from 80 countries and territories. However, among the countries with high numbers of travelers to Vietnam, some still cannot enjoy both the visa waiver and e-visa.
To improve competitiveness and create favorable conditions for foreign travelers, TAB has proposed an urgent extension of visa waiver for three years, to be done by March 15. Also, the board suggested extending their time in Vietnam to 30 days.
It also proposed an expansion of the visa exemption list for citizens of Australia, New Zealand, Canada and Switzerland; and extension of three years of visa exemption from January 1, 2023 for South Korea, Japan, Russia, Sweden, Denmark, Norway, Finland and Belarus.
In addition, Taiwan, Israel, South Africa, Turkey, Ukraine, Sri Lanka, Bangladesh, Pakistan and all European countries need to be added to the list of countries allowed to receive e-visas.
TAB has called for media campaigns to advertise Vietnam's tourism reopening and disseminate policies, including policies on visa waivers and e-visas.
Vietnam plans to receive 65 million tourists in 2022, including 5 million foreign arrivals and achieve a total tourism revenue of VND400 trillion.
Action plan to assist realization of green growth targets
The Ministry of Planning and Investment (MPI) is collecting opinions on the Prime Minister's draft decision on approving the national action plan on green growth for 2021-2030, with a vision to 2050.
On October 1 last year, the PM adopted the national green growth strategy for 2021-2030, with a vision to 2050.
This strategy aims to help promote economic restructuring in tandem with growth model reform, and achieve economic prosperity, environmental sustainability, and social equality. It also looks to obtain a green and carbon-neutral economy to help with efforts in curbing global warming.
The green growth strategy focuses on economical and efficient use of energy and natural resources based on science and technology, digital technology application and digital transformation, development of green and sustainable infrastructure, and promotion of green lifestyles.
Approved right ahead of the 26th session of the Conference of the Parties to the UN Framework Convention on Climate Change (COP26) last November, it reflects Vietnam's determination to carry out the commitments on greenhouse gas emission reduction and climate action through realizing green growth targets.
Photo: VNA
At COP26, Vietnam pledged to achieve net zero emissions by 2050, cut down methane emissions by 30 percent by 2030, gradually reduce and eliminate coal-fired power generation during 2030 - 2040, and protect forests.
To that end, Vietnam will have to further accelerate the green growth strategy implementation and translate the strategy into an action plan, cited VNA.
The MPI said the draft national action plan on green growth for 2021 - 2030 identifies concrete activities, tasks, along with implementation duration and resources. It was built with the new context and existing strategies and plans taken into account so as to ensure the compatibility, complementarity, and feasibility of green growth measures when they are carried out in each sector and the entire economy.
According this draft, the ministry will be the coordinating body for green growth, and its minister will act as head of the national steering committee on green growth.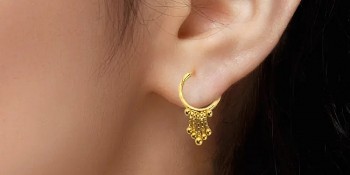 World
A driver in Pahalgam area of South Kashmir's Anantnag on Tuesday returned gold worth Rs 10 lakh to a Hyderabad tourist.