Vietnam News Today (Mar. 15): Vietnamese Tourism Eager to Welcome Foreign Visitors
Vietnam News Today (Mar. 15): Covid-19: Daily count falls slightly to more than 161,000 in Vietnam; Vietnamese tourism eager to welcome foreign visitors; Hanoi to open new pedestrian zone; Vietnamese in Laos commemorate fallen soldiers in Gac Ma battle.
Vietnam News Today (Mar. 15) notable headlines
Covid-19: Daily count falls slightly to more than 161,000 in Vietnam
Vietnamese tourism eager to welcome foreign visitors
Hanoi to open new pedestrian zone
Vietnamese in Laos commemorate fallen soldiers in Gac Ma battle
Truong Sa district to be developed into national socio-economic centre at sea
Covid-19 vaccination campaign crosses the 200 million dose mark
PM appreciates foreign assistance to Covid-19 fight
Travel firms await latest policy to welcome back foreign visitors
Germany increases natural rubber imports from Vietnam

The colum chart shows the number of imported cases, and the line chart shows the number of locally acquired infections. Photo: MoH
Covid-19: Daily count falls slightly to more than 161,000 in Vietnam
The Ministry of Health (MoH) confirmed 161,262 coronavirus cases detected in 61 cities and provinces across Vietnam during the past 24 hours, down 5,706 cases compared to the previous day.
Of the total, 161,247 cases were locally acquired, with 113,084 cases documented in the community, the MoH said in its coronavirus update released at 06pm on March 14.
The outbreak is spreading rapidly in northern Vietnam as nearly two thirds of the cases were recorded in the region.
Hanoi capital tops localities nationwide in infection number, registering 29,833 followed by Nghe An (10,389) and Bac Ninh (7471).
Four provinces: Quang Ninh, Thai Binh, Vinh Phuc and Lao Cai registered to add more than 103,000 cases to the national Covid-19 database, cited VOV.
As of 06pm on March 14, Vietnam has detected 6,377,438 Covid-19 cases since the start of the outbreak, ranking 20th out of 225 countries and territories worldwide.
Of the infected patients, 3,271,978 have been discharged from hospital after making a full recovery from the disease, and 41,477 patients have died of the virus.
More than 200 million vaccine doses have been administered nationwide.
Vietnamese tourism eager to welcome foreign visitors
The tourism sector is eager and confident to serve tourists again, building the image of Vietnam as a safe, friendly, hospitable destination for local residents and visitors.
According to the Ministry of Culture, Sports, and Tourism, March 15 is a proper time to reopen tourism for foreign visitors, as Vietnam has so far nearly completed the injection of booster doses of Covid-19 vaccines for adults to reach herd immunity.
Particularly, in May, the country will host the 31st Southeast Asian Games (SEA Games 31), which will help attract more visitors to the country, especially those from ASEAN members.
The Vietnam National Administration of Tourism (VNAT) said that analytical data from Google Destination Insights shows that international searches for information on Vietnam's tourism and aviation services began rising from early December and skyrocketed later the same month in early January.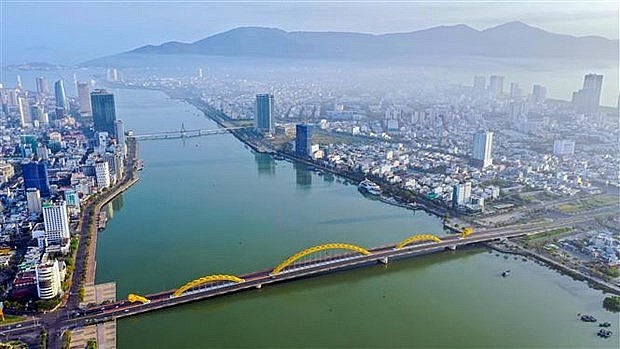 A corner of Da Nang city. Photo: VNA
From the beginning of January, the volume of international searches for Vietnam's aviation has remained very high. Notably, the increase rate hit 425 percent on January 21, and 374 percent on February 3 against the same period of 2021.
This is a motivation for the travel firms to eagerly wait for the reopening day and realize the sector's target of welcoming 5 million foreign tourists in the year, according to VNA.
Minister of Culture, Sports and Tourism Nguyen Van Hung reiterated the five viewpoints for tourism recovery and development in the new context, including stronger renovation compared to the pre-pandemic period.
VNAT General Director Nguyen Trung Khanh underlined that improving tourism product quality and infrastructure system is key to enhancing the competitiveness for Vietnamese tourism.
This year, the domestic market is still considered the major market for the tourism sector. It also expects tourists from Northeast Asia, Europe, Australia, and India.
At a recent seminar, President of the Vietnam Travel Association Vu The Binh underlined that the best support to travel firms currently can come from favorable policies. He suggested resuming the pre-pandemic visa policy for foreign arrivals.
Hanoi to open new pedestrian zone
On National Reunification Day (April 30), visitors can explore many cultural events at Son Tay's old fortress citadel, the new pedestrian zone in Hanoi.
The zone also aims to promote the image of the Son Tay fortress, a military base built by King Minh Mạng in 1822 to protect Thang Long Imperial Citadel.
It also promises to become a space for entertainment, culture, and tourism.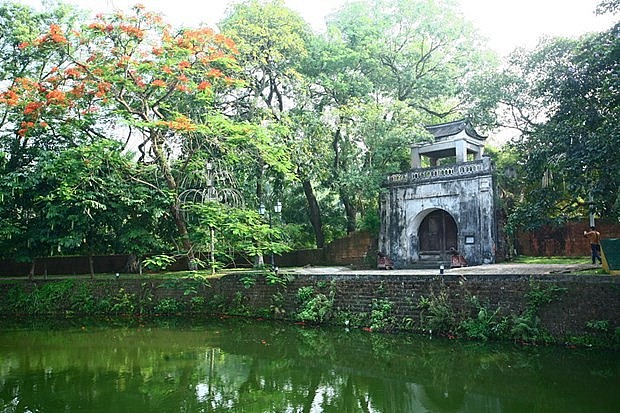 A corner of Son Tay old fortress citadel. Photo: VOV
The 820-meter-long walking area spreads over Pho Duc Chinh and Phan Chu Trinh Street, Son Tay Town; outer road of Son Tay old fortress citadel; flower garden in the town centre; central flower garden area square; the front yard of the town's cultural centre and town stadium square.
It is scheduled to open from 7pm Saturday until noon on Sunday, with contemporary art performances, street music, folk dance, portrait painting, calligraphy, boat racing, fishing, and water puppetry, reported VNS.
Many art and photo exhibitions, book events as well as activities for children will also be held.
Visitors will also have the chance to experience unique culinary services, buy souvenirs and typical products of Son Tay at the pedestrian zone.
Son Tay town is one of the five satellite towns of Hanoi with the main functions of cultural, historical, ecological tourism, commercial services on the basis of preserving traditional cultural heritage.
Son Tay old fortress citadel is the fourth pedestrian zone of Hanoi to be launched, after the three walking spaces of Hoan Kiem Lake, Hanoi's Old Quarter and Trinh Cong Son Street.
In the near future, Hanoi is expected to have a number of other walking spaces to boost tourism.
Vietnamese in Laos commemorate fallen soldiers in Gac Ma battle
Vietnamese in Laos paid tribute to 64 soldiers who sacrificed their lives to defend Gac Ma (Johnson South) Reef in Vietnam's Truong Sa (Spratly) archipelago 34 years ago, at a requiem at Phat Tich Pagoda in Vientiane capital on March 14.
Venerable Thich Minh Quang, head of the coordinating board of Buddhism in Laos and head monk of the pagoda, recalled the Gac Ma battle that took place on March 14, 1988.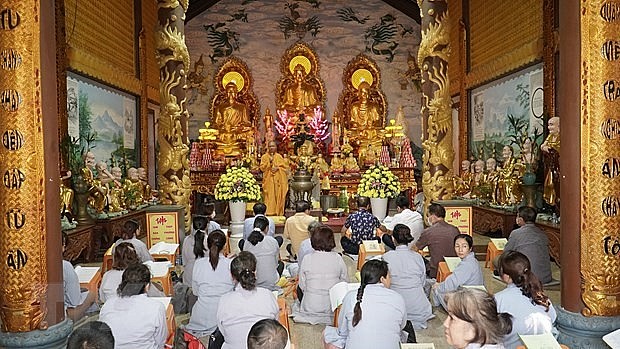 At the event. Photo: VNA
He called on young generations to carry forward the tradition of safeguarding the country's sovereignty over its land, seas, islands and continental shelf, and make contributions to the nation, cited VNA.
Nguyen Thi Dieu Binh, a Vietnamese in Laos, said the requiem reminds youths about Vietnam's indisputable sovereignty over Hoang Sa (Paracel) and Truong Sa (Spratly) archipelagos.
Truong Sa district to be developed into national socio-economic centre at sea
Prime Minister Pham Minh Chinh has requested Khanh Hoa to turn its Truong Sa island district into an economic, culture and social centre at sea, and a firm wall to protect the national sovereignty over sea and islands.
Initially, Khanh Hoa should focus on developing logistics services for fisheries sector and help residents in the district to have a stable life, while reinforcing national defense and security at sea, he said at a working session with the standing board of the Party Committee of the south central province on March 13.
According to provincial leaders, last year, Khanh Hoa completed 13 out of 22 socio-economic targets for the year, with State budget collection exceeded the goal by 2% to over VND14 trillion.
In 2022, the province aims to speed up its socio-economic recovery and development towards the goal of 8.5% in economic growth.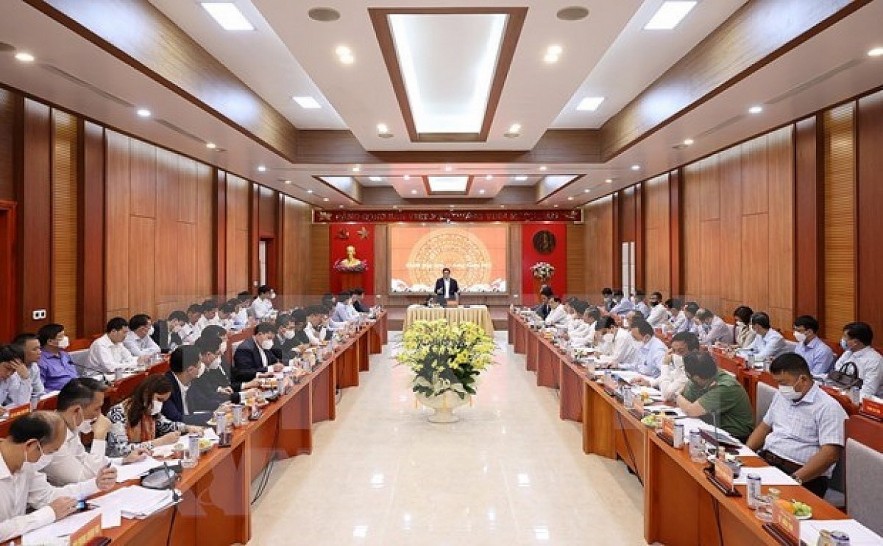 Prime Minister Pham Minh Chinh addresses the working session with the leadership of Khanh Hoa province. Photo: VNA
As part of efforts to implement the Politburo's Resolution 09-NQ/TW on the development of Khanh Hoa until 2030 with a vision to 2045, Khanh Hoa will focus on completing its planning, improving its investment environment, expanding infrastructure system, protecting the environment and ensuring security, defense.
Leaders of the province proposed the addition of development plans of some sectors of the province to the national planning, and asked for permission to implement some major investment projects, especially in transport sector.
PM Chinh agreed with the proposals and asked Khanh Hoa to engage in deeper discussions with relevant ministries and agencies, reported VOV.
He said that Khanh Hoa has a strategic and important location in defense and security, along with great potential and advantages for fast, comprehensive and sustainable socio-economic development with harmony with defence and security protection, which can make it the centre of the whole south central and Central Highlands.
The province also has many favorable conditions for development, including diverse terrain with three bays, a long coastline and nearly 200 islands in different sizes, including Truong Sa (Spratly) archipelago, and various beautiful landscapes, historical relic sites and traditional festivals.
However, Khanh Hoa has yet to optimize its potential and advantages and form a close link with regional localities, he said, adding that the province still has many shortcomings in transport system, human resources and business and investment environment. The PM asked the locality to identify reasons behind the problems and seek solutions, especially in policy.
Khanh Hoa should try to make full use of its prominent potential and competitive advantages, while creating more new opportunities to lure more outside resources, especially in finance, brainpower and governing science for its development, while promoting startup and innovation, he stressed.
Alongside, the province should pay greater attention to personnel training, decentralization and delegation of power, as well as administrative reform, while improving its investment environment and settle prolonged problems in the management of land and officials.
Khanh Hoa should move towards becoming a service, tourism, health care, science and technology centre of the south central and central highlands region, he said, advising the locality to consider the application of the "State management, private governance," "public investment, private management", and "private investment, public use" models.
The PM also urged Khanh Hoa to promptly complete and implement planning for Van Phong Economic Zone and Cam Lam urban area.