Vietnam News Today (Mar. 20): Fewer Tropical Storms Expected to Hit Vietnam This Year
Vietnam News Today (Mar. 20): Covid-19: Daily infections falls by 12,500 to 150,000 in Vietnam; Another 259 Vietnamese from Ukraine arrive home on flight from Poland; Fewer tropical storms expected to hit Vietnam this year; Vietnam's forces save Panamanian ship in distress near Truong Sa archipelago.
Vietnam News Today (Mar. 20) notable headlines
Covid-19: Daily infections falls by 12,500 to 150,000 in Vietnam
Another 259 Vietnamese from Ukraine arrive home on flight from Poland
Fewer tropical storms expected to hit Vietnam this year
Vietnam's forces save Panamanian ship in distress near Truong Sa archipelago
Vietnam launches its pavilion on Alibaba
Seven days off in total for national holidays in April
Vietnam, Malaysia boost post-pandemic economic cooperation
Pedestrian spaces in Hanoi resume operation
PM witnesses work starts on third Vietnam - Singapore Industrial Park in Binh Duong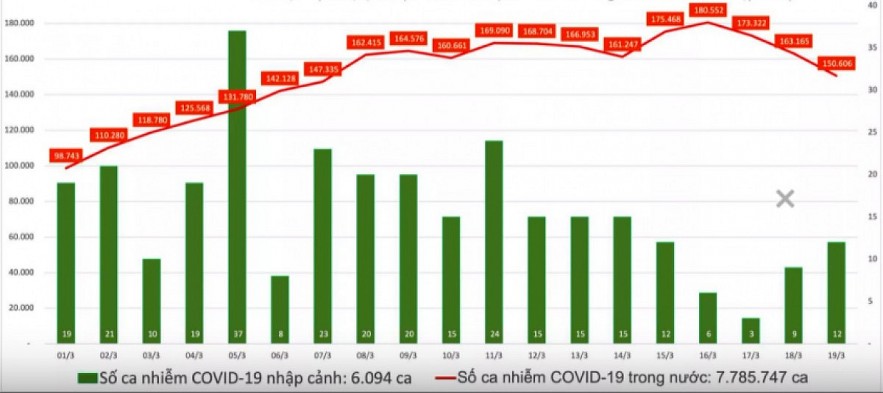 The column chart shows the number of imported cases, and the line chart shows the number of locally acquired infections. Photo: MoH
Covid-19: Daily infections falls by 12,500 to 150,000 in Vietnam
Daily coronavirus infections fell to 150,618 in Vietnam on March 19, down by 12,559 cases compared to the previous day, the Ministry of Health (MoH) said in its coronavirus update at 06pm.
Of the total, 150,606 cases were locally acquired, with 99,644 cases documented in the community. Twelve cases tested positive upon returning from overseas, and the remainder were diagnosed in quarantine and lockdown areas.
Most of the cases were recorded in northern Vietnam. Hanoi capital topped localities nationwide registering 21,071 new cases, down 2,507 cases from a day ago.
The capital was followed by Nghe An, Phu Tho, Hai Duong, Lang Son and Tuyen Quang that reported 11,099, 6,681, 4,938, 4,713, and 4,598 fresh cases respectively.
It's noteworthy that Hanoi capital and Bac Ninh correspondingly registered to add 190,000 and 35,250 cases to the national Covid-19 database.
Official data from the MoH show the daily average number of new infections recorded in Vietnam in the past seven days was 168,014, cited VOV.
As of 06pm on March 19, Vietnam has detected 7,791,841 Covid-19 cases since the start of the outbreak, ranking 14th out of 225 countries and territories worldwide.
Of the infected patients, 3,991,393 have been discharged from hospital after making a full recovery from the disease, and 41,817 patients have died of the virus.
More than 201 million vaccine doses have been administered nationwide.
Another 259 Vietnamese from Ukraine arrive home on flight from Poland
A Vietnam Airlines flight from Warsaw arrived at Noi Bai International Airport in Hanoi on March 19, bringing home an additional 259 Vietnamese citizens evacuating from Ukraine.
The passengers included five children under 2 years old.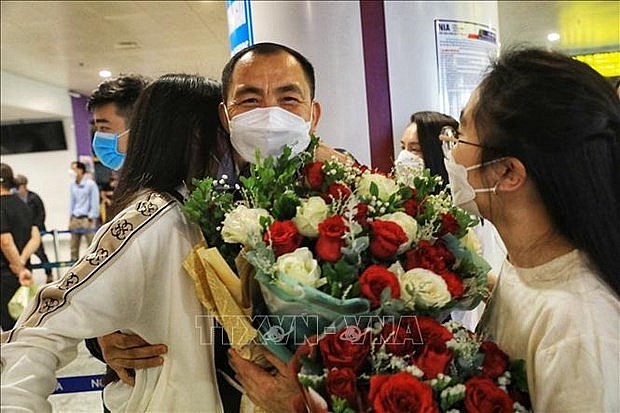 A repatriated Vietnamese man is welcomed by his relatives at Noi Bai International Airport in Hanoi on March 19. Photo: VNA
This is the third free-of-charge flight from Poland to repatriate Vietnamese citizens leaving Ukraine. The first two, on March 9 and 12, carried nearly 600 people, many of whom were children, women, and elderly people.
The Vietnamese Embassy and the Vietnamese People Association in Poland have always paid special attention to preparing for the flights. Their staff members directly came to the airport in Warsaw to assist the evacuees to move and handle boarding procedures. Many Vietnamese also volunteered to transport the evacuees from accommodations in Warsaw to the airport, according to VNA.
Vietnamese Ambassador to Poland Nguyen Hung described the repatriation flights as the clearest demonstration of the Party and State's attention to overseas Vietnamese, adding that the acts also reflected the sentiment of the Vietnamese community in Europe, including those in Poland, towards the evacuees from Ukraine.
Statistics from the Polish Border Guard show that more than 2,800 Vietnamese people from Ukraine have entered Poland so far.
As many of the Vietnamese evacuees wish to return to the homeland, the Vietnamese State's efforts to conduct free repatriation flights show the Party and State's top priority to the citizen protection with the ultimate goal of ensuring safety for the citizens' lives and assets.
Fewer tropical storms expected to hit Vietnam this year
It is likely that there will be fewer tropical storms to strike Vietnam this year, the National Centre for Hydro-Meteorological Forecasting (NCHMF) announced recently.
NCHMF experts said that this year will probably see storms, tropical depressions and dangerous weather phenomena form later than every year.
Storms and tropical depressions are likely to operate in the northern part of the East Sea in July & August and increase in frequency in the following months, reported VOV.
They are forecast to affect the north and north central regions of Vietnam in this August & September.
According to the NCHMF forecast, between 10 and 12 storms would form in the East Sea and between four and six of them would hit Vietnam's mainland.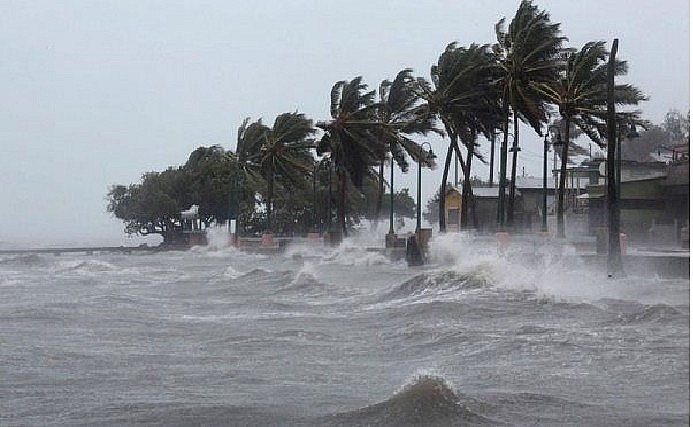 Photo: baotainguyenmoitruong
Weather forecasters warned some of the storms would be powerful with complicated track in the rainy and stormy months of this year.
They also warned about dangerous weather phenomena such as thunderstorms, lightning, whirlwinds, and hail storms nationwide due to seasonal change in April & May.
Vietnam's forces save Panamanian ship in distress near Truong Sa archipelago
The fisheries resources surveillance and naval forces of Vietnam are working to rescue Panama-flagged Vessel Pacific 07 which encountered a breakdown while passing the waters of Vietnam's Truong Sa (Spratly) archipelago, according to the Naval Region 4 Command.
All the three generators of the ship broke down while the main engine was unable to be activated when it came to an area about 30 nautical miles east of Song Tu Tay Island, part of Khanh Hoa province's Truong Sa island district.
On its way from Hong Hong (China) to Indonesia, the ship with 19 of its crew members being Vietnamese sent a distress signal after efforts to fix the problem failed and it faced the risk of being stranded, cited VNA.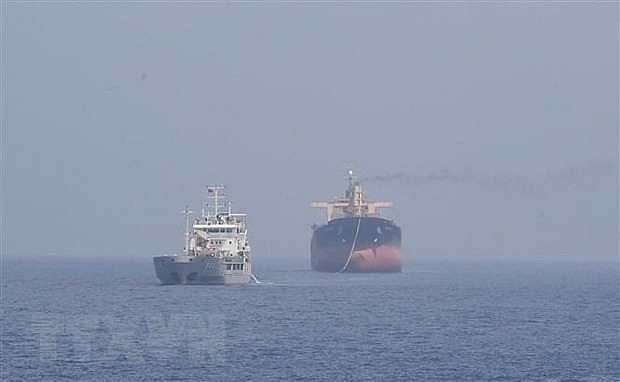 Panamanian vessel Pacific 07 (right) is being tugged to a location near Song Tu Tay Island for repair. Photo: VNA
At 5:30pm on March 17, Vessel KN 464 of Fisheries Resources Surveillance Team No. 4 was ordered to go to save Pacific 07. It found and approached this ship at around 1:30am on March 18.
After that, the Naval Region 4 Command deployed Vessel 905 which was performing duties in the waters of Song Tu Tay Island to move to the scene and join Vessel KN 464 in the rescue operation.
On March 18, the two rescue vessels managed to tow Pacific 07 out of the site it might be stranded at. Vessel 905 is tugging the Panamanian ship to a location near Song Tu Tay for repair.
Vietnam launches its pavilion on Alibaba
The Vietnam Trade Promotion Agency on March 18 announced cooperation with Alibaba to open the Vietnam Pavilion on the e-commerce platform within one year since this March.
Do Thang Hai, Deputy Minister of Industry and Trade, said once operational, the national pavilion would focus on supporting Vietnamese businesses to promote their products and help foreign customers understand more about Vietnamese brands.
He added that e-commerce is a potential market for Vietnamese enterprises to develop their business worldwide. The ministry supports Vietnamese businesses in enhancing their e-commerce trading capacity for sustainable development.
"The Vietnam Pavilion will further promote Vietnamese businesses currently trading on Alibaba.com by inviting e-commerce experts to give effective advice. At the same time, Alibaba.com will continue its commitment to dedicate unique services to the Vietnamese market to help businesses boost their trade. The international e-commerce platform will also launch new membership products for Vietnamese businesses, helping them grasp opportunities to introduce their goods to global buyers," said Vu Ba Phu, Director of Vietrade.
Previously, in March 2021, Vietrade and Alibaba.com signed a Memorandum of Understanding on cooperation in order to support enterprises to improve their capacity in applying information technology and digital transformation in trade promotion, VNN reported.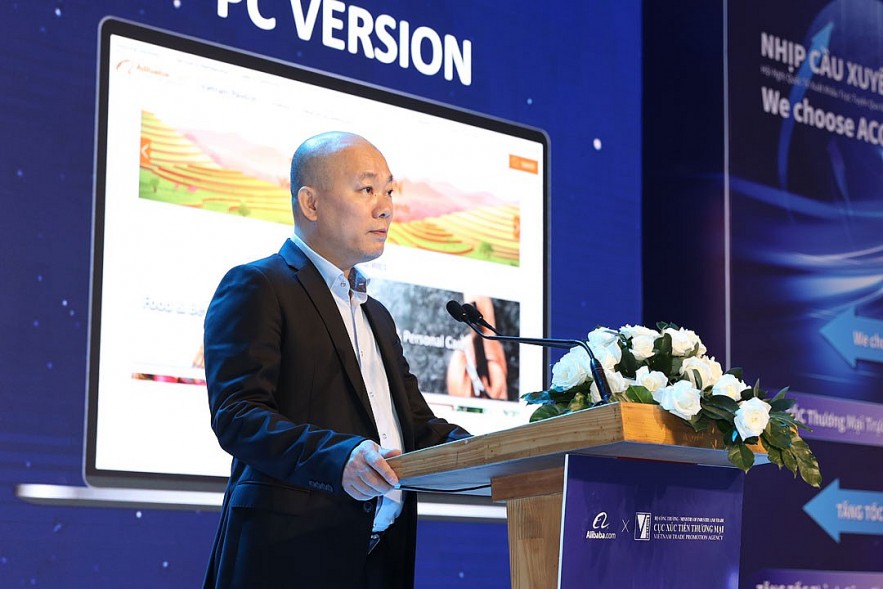 A representative of the Vietnam Trade Promotion Agency under the Ministry of Industry and Trade gives a speech at an Alibaba.com international e-commerce conference. Photo: VNN
Phu added that the cooperation last year saw great success, realizing the goals by organizing training courses and promoting e-trade and e-export. Accordingly, more than 20 seminars were held across the country, while most of the 2,500 small and medium enterprises earned good revenue.
Roger Lou, country director of Alibaba.com in Vietnam, said that Vietnam's export activities through digital platforms had increased strongly.
"Several Vietnamese industries have achieved remarkable export records such as agricultural products and food and beverages. I believe that global e-commerce can do more to help Vietnamese small and medium enterprises increase their production capacity, access international markets, increase export and create more jobs, while more and more people become knowledgeable about e-commerce, positively affecting the country's economy," said Lou.
Alibaba.com is renowned as a B2B platform with a large number of wholesale buyers (more than 34 million) from more than 190 countries and territories. According to Alibaba's report, Vietnamese products favored by the international market include food, beverages, home, garden, beauty, personal care, agriculture, etc.
Many Vietnamese products have competitive advantages in terms of costs, such as agricultural products, processed and packaged foods, consumer goods, handicrafts, garments, mechanical engineering, and plastic products among others.