Vietnam News Today (Mar. 18): Vietnam, Cuba Enhance Defense Links
Vietnam News Today (Mar. 18): Vietnam, Cuba enhance defense links; Experts highlight Vietnam's positive economic outlook; Vietnam, New Zealand hold consultation on issues within IPEF framework; Hanoi inspects projects to upgrade infrastructure serving SEA Games 31.
Vietnam News Today (Mar. 18) notable headlines
Vietnam, Cuba enhance defense links
Experts highlight Vietnam's positive economic outlook
Vietnam, New Zealand hold consultation on issues within IPEF framework
Hanoi inspects projects to upgrade infrastructure serving SEA Games 31
Fintech awaits official policies
Vietnam attends 19th ASEAN Chiefs of Defence Forces' Meeting
Vietnam always protects and promotes fundamental rights of citizens: spokesperson
UN Under-Secretary-General expects Vietnam's stronger engagement in peacekeeping operations
Vietnam Airlines offers low-cost tickets for domestic, int'l return flights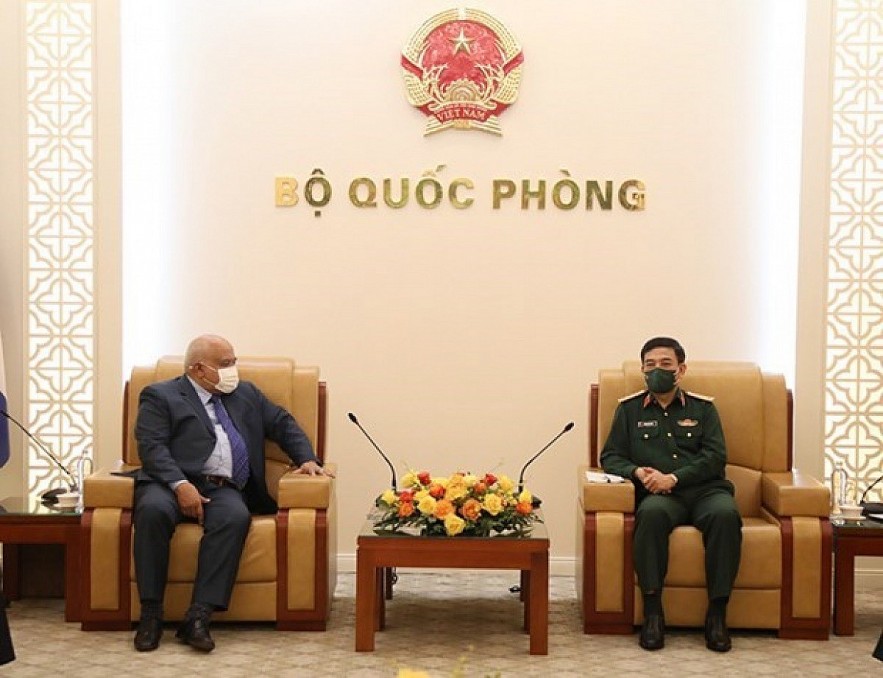 Defence Minister Gen. Phan Van Giang (R) hosts Cuban Ambassador to Vietnam Orlando Nicolás Hernández Guillén. Photo: VNA
Vietnam, Cuba enhance defense links
Defense Minister Gen. Phan Van Giang hosted a reception on March 17 in Hanoi for new Cuban Ambassador to Vietnam Orlando Nicolás Hernández Guillén, during which he wished the latter a successful working tenure to contribute to reinforcing bilateral ties.
He used the occasion to thank Cuba for helping the nation combat the Covid-19 pandemic by providing treatment drugs, sending experienced medical experts, and offering 150,000 vaccine doses to the Ministry.
Despite the negative impact of the pandemic, bilateral defense co-operation has been strengthened and developed into a pillar and model example that helps step up collaboration in other areas, cited VOV.
The two sides signed numerous important defense co-operative documents, including the 2020 to 2022 co-operation plan.
The Vietnamese Defense Ministry and the Ministry of the Revolutionary Armed Forces of Cuba have consented to continue launching a range of activities based on reached agreements, with a particular focus on strengthening delegation exchanges. This is along with creating a dossier on the 60-year history of defense relations between both sides.
The Cuban diplomat affirmed that no matter what position he takes up, he will make greater efforts to boost the special friendship between the two countries, including defense ties.
Experts highlight Vietnam's positive economic outlook
Vietnam is poised to emerge strongly from the Covid-19 pandemic and place itself firmly on the radar of foreign investors, buoyed by rapid industrialization and a fast-growing middle-class, experts told AsianInvestor which focuses on the region's investment industry.
According to an article posted recently, the optimism is based on the strong economic foundation built over a decade of steady GDP growth averaging 6 percent annually until 2019. Despite the pandemic setbacks in the last two years, new threats and inflation, the outlook is positive, experts said.
The World Bank predicts Vietnam's economy to grow at 5.5 percent in 2022 while the IMF projects a higher 6.6 percent, up from 2.6 percent in 2021.
Speaking to AsianInvestor, VCG Partners chief executive Jason Ng projected that Vietnam's GDP may grow by more than 7 percent this year with the rebound in consumption, the expectation for a full reopening of the country to foreign tourists and the recently approved stimulus aid package.
VCG is the Singapore subsidiary of VinaCapital, one of Vietnam's leading investment management firms.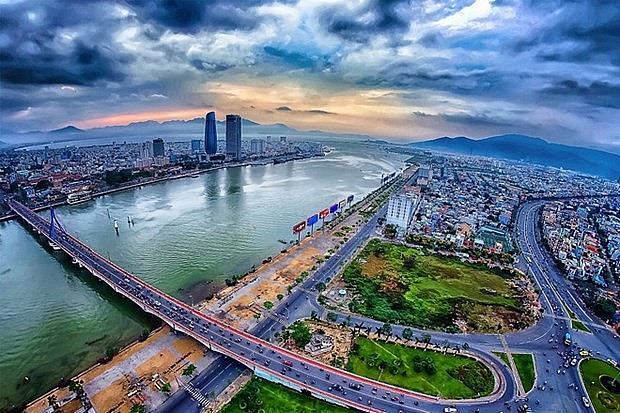 A corner of the central city of Da Nang. Photo: VNA
The Vietnamese Government approved a stimulus package of US$15.3 billion to help pandemic-hit local businesses and workers, according to VNA.
The article continued that one of the key economic drivers is industrialization, powered by foreign direct investments (FDI) which have not slowed down significantly despite the pandemic disruptions.
About 15.8 billion USD of foreign capital flowed into the country in 2020, down slightly from 16.1 billion USD in the previous year, according to the World Bank. The official figure for 2021 is expected to be in the same ballpark, given that investors are attracted to Vietnam's low-cost labour, young and educated workforce, stable currency, and generous corporate tax incentives.
Vietnam has signed a plethora of free trade agreements with the US, the European Union, China, Japan, the Republic of Korea, and ASEAN, which has enhanced its position as a manufacturing and export hub, the article underlined.
Another key driver is the rise in domestic consumption. The surge of foreign investments in recent years has created jobs and a vibrant middle class, as well as nurtured many local small and medium business owners who have become suppliers to the big manufacturers.
The emergence of the middle class – those earning 700 USD a month – will boost domestic consumption.
Vietnam, New Zealand hold consultation on issues within IPEF framework
Minister of Industry and Trade Nguyen Hong Dien had a phone conversation with New Zealand's Minister of Trade and Export Growth Damien O'Connor on March 17 to discuss the United States' initiative to develop the Indo-Pacific Economic Framework (IPEF).
The IPEF framework has been designed to serve the US' Indo-Pacific Strategy. This strategy was announced by the US on February 11 towards meeting five main goals, including freedom and openness, connection, prosperity, security, and stamina.
Regarding the US initiative on building an IPEF co-operation framework, during phone talks Minister Dien said that the US initiative covers many new and non-traditional issues that the nation is currently interested in, such as strengthening supply chains, investing in infrastructure, and the environment.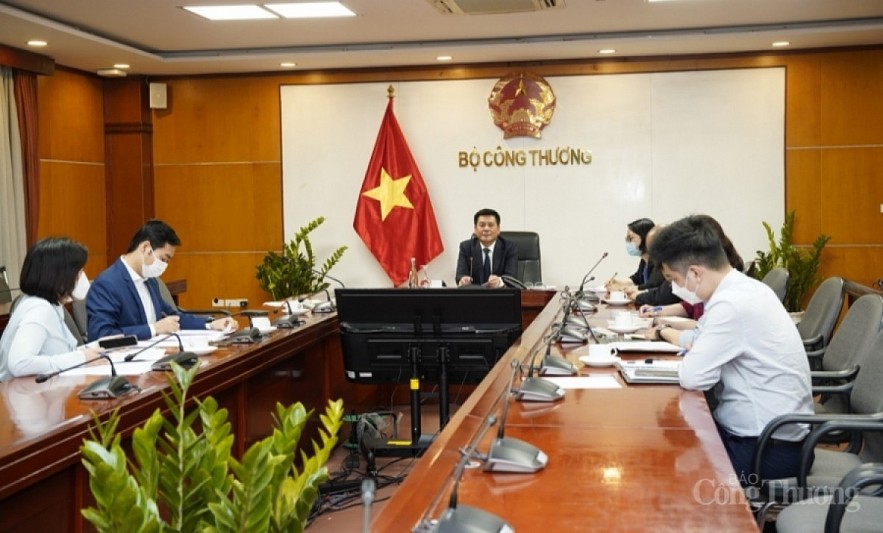 Minister of Industry and Trade Nguyen Hong Dien holds a phone conversation with New Zealand's Minister of Trade and Export Growth Damien O'Connor to discuss the US' initiative to develop the Indo-Pacific Economic Framework. Photo: congthuong.vn
Amid the Vietnamese economy and those of many other ASEAN member states being greatly impacted by the pandemic, the Ministry of Foreign Affairs is actively consulting internally on issues within the IPEF framework proposed by the US. In which, economic-related components are set to be in charge of the Ministry of Industry and Trade.
"As the content of this framework is quite diverse, covering many new issues. Therefore, from Vietnam's point of view, the framework needs to be flexible in terms of the way of participation, the level of participation, as well as the specific content of the framework, which needs to be adjusted in line with institutions, concerns and interests of each participating country," emphasized Minister Dien.
According to the US plan, this framework is anticipated to be announced at an event slated for late March which will be chaired by President Biden and will feature the participation of high-ranking officials from other countries.
Minister Dien said that from the Vietnamese point of view, it is necessary to have enough time to clarify the contents of the framework, thereby deciding whether to join or not.
The Minister went on to propose that New Zealand and other countries provide technical assistance to Vietnamese ministries and sectors, especially in new fields, adding his hope that the two sides work closely to build opinions and build a stellar reputation, VOV reported.
In response, New Zealand Trade and Export Growth Minister Damien O'Connor also looked forward to collaborating to have views and a voice with the US on this issue.
However, within this framework, there remains several issues that need to be clarified in terms of content. Therefore, both sides believe that developing the co-operation framework requires consultation at a higher level.
Hanoi inspects projects to upgrade infrastructure serving SEA Games 31
A supervision team of the Hanoi People's Council on March 17 inspected the upgrade of infrastructure serving the upcoming 31st Southeast Asian Games (SEA Games 31) in the capital city.As scheduled, the capital city will host 18 sport events of the region's largest sport tournament.
The delegation checked the progress of the projects to upgrade the pétanque training and competition hall, the Indoor Games Gymnasium and the Culture House, cited VNA.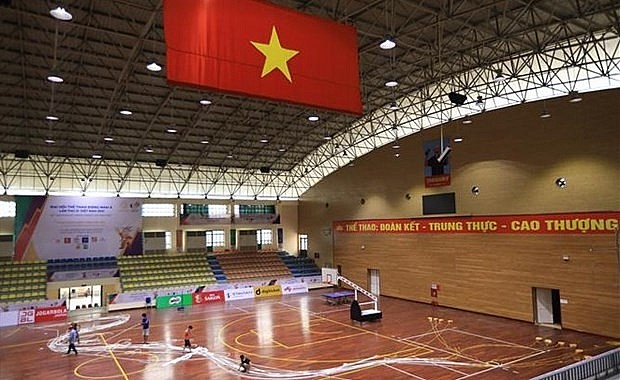 The level of ceiling lights at the Thanh Tri Gymnasium are raised to 1,200 lux as required by the SEA Games 31's basketball matches. Photo: VNA
The projects have been completed with high quality and handed over to the Hanoi Sports Training and Competition Centre.
Vice Director of the city's Department of Culture and Sports Tran Thi Van Anh said that the projects to upgrade the works will serve not only SEA Games 31 but sport activities in the future. Therefore, the city should make stronger investment in the work, she said.
Nguyen Thanh Binh, head of the supervision team, underlined the significance of good preparations in infrastructure serving SEA Games 31, while lauding the management board of the projects for completing the works with high standards, helping to promote the image of Hanoi.
SEA Games 31 is scheduled to take place from May 12-23. It will feature over 40 sports, and 526 events with the attendance of around 10,000 athletes and officials from 11 Southeast Asian countries.
Fintech awaits official policies
2022 is predicted to be the year for the financial technology (fintech) industry in Vietnam. There is also an expectation that a legal mechanism will be built in an open direction to enable stable development of this industry.
The cross-border e-commerce market in Asia – Pacific, the region with nearly 4.7 billion people or 60% of the world's total population, is entering its golden age. According to data from Google, Temasek and Bain, the digital economy in Southeast Asia will reach US$1 trillion by 2030. A new report published by Deloitte said that e-commerce in Asia - Pacific is accelerating faster than ever.
Deloitte has classified Vietnam as a developing market besides Thailand, Malaysia, Indonesia and the Philippines. In particular, Vietnam is doing very well in digitization in most aspects of e-commerce, and at the same time leading the trend of digitization in production.
The appearance of the fourth unicorn in Vietnam in late 2021 (Momo) is also a sign of the development of the e-commerce market in general. The common feature of most Vietnamese unicorns is that they all provide payment services, such as VNLife with VNPay wallet, VNG with ZaloPay or Momo with M-Service.
M-service raised funding of US$200 million from a group of investors led by Mizuho Bank of Japan in December 2021. ZaloPay is in the top three wallets in terms of monthly users and total payment volume. VNPay is a pioneer in the field of payment by QR code in the domestic market.
Waiting for policy
Vietnam is poised to become one of the most competitive fintech markets in Southeast Asia, with more than 80% of the population using mobile phones and a low percentage of people accessing banking services. The policies to promote non-cash payments, e-Government and the target of 80% of adults having a bank account by 2025 have greatly contributed to the development of fintech in Vietnam.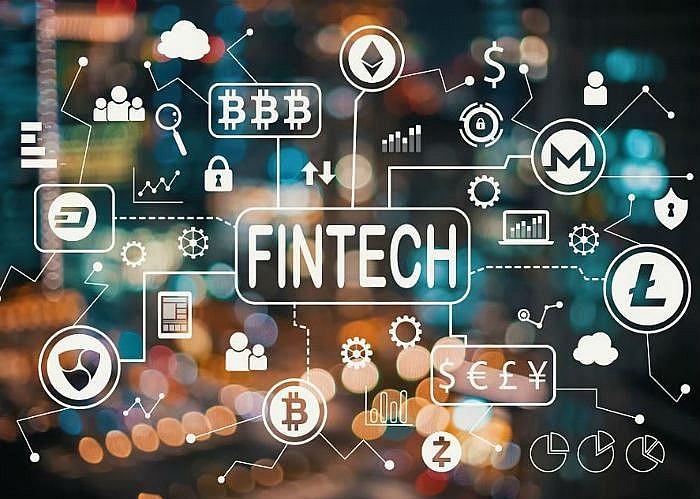 Photo: VNN
Driven by an influx of venture capital, locally-based startups like Momo or VNG are competing with regional giants like Grab and Sea to become regular choices on consumer phones.
Trang Bui and Mai Bui, investment analysts at Insignia Ventures Partners, said that if 2022 opens the door for the boom of fintech in Vietnam, the regulations and legal framework will be the "key" to take the development of this sector in Vietnam beyond small payments.
According to data from investors at Insignia Ventures Partners, as of January 2022, 46 intermediary payment service licenses were issued.
Fintech can be applied in many fields, not only in finance, banking or insurance. About 200 fintech companies in Vietnam are operating in many fields, ranging from payment intermediaries to peer-to-peer lending, blockchain technology, investment, credit scoring and more, VNN reported.
However, this is a new area, so Vietnamese law does not have a complete legal framework, as well as a focal point responsible for synchronous management. Up to now, there have been only initial regulations for payment intermediaries and electronic identification (eKYC).
In 2020, the authorities built a sandbox for fintech, which allows businesses to develop and test new fintech products, services and business models.
It is expected that the draft sandbox for fintech will be released this year, including seven areas such as payment, credit, P2P lending, KYC support, open API, innovative technology application solutions (such as blockchain) and other services supporting banking operations (credit scoring, savings).