Vietnam News Today (Mar. 27): 52nd Anniversary of Vietnam – Chile Diplomatic Ties Celebrated in Hanoi
Vietnam News Today (Mar. 27): 52nd anniversary of Vietnam – Chile diplomatic ties celebrated in Hanoi; Vietnam sees surge in Cambodian tourists; Vietnam saves 298,000 kWh during Earth Hour 2023; Guyana wishes to foster cooperation with Vietnam.
Vietnam News Today (Mar. 27) notable headlines
52nd anniversary of Vietnam – Chile diplomatic ties celebrated in Hanoi
Vietnam sees surge in Cambodian tourists
Vietnam saves 298,000 kWh during Earth Hour 2023
Guyana wishes to foster cooperation with Vietnam
Rock band bridges Vietnamese and Japanese cultures
Vietnamese internet speed ranks 39th globally
Mekong Delta develops trademarks for specialties
Timely adjusting anti-COVID-19 measures to ensure public health
Coffee exports to Netherlands enjoy three-digit growth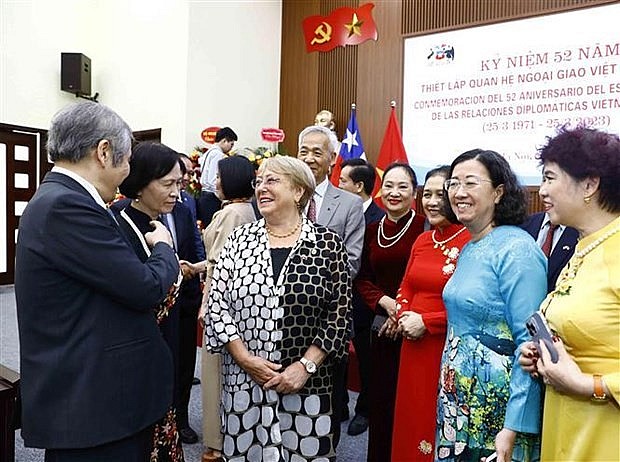 Former Chilean President Michelle Bachelet with delegates at the ceremony (Photo: VNA)
52nd anniversary of Vietnam – Chile diplomatic ties celebrated in Hanoi
The Vietnam Union of Friendship Organisations (VUFO) organized a ceremony in Hanoi on March 25 to mark 52 years of the diplomatic relationship between Vietnam and Chile.
In her opening speech, VUFO President, Ambassador Nguyen Phuong Nga, highlighted major milestones in the Vietnam – Chile relations, and expressed her belief in the bright prospects of bilateral ties in the future.
The VUFO and the Vietnam-Chile Friendship and Cooperation Association will coordinate closely with the embassies of the two countries and their Chilean partners to organize exchange and cooperation activities to enhance mutual understanding and promote cooperation in all fields between the two countries, she said.
Deputy Foreign Minister Ha Kim Ngoc told the event that the establishment of diplomatic relations between the two countries on March 25, 1972, opened up a new chapter for the bilateral relations.
He stressed that over the past 52 years, the two sides have recorded many important cooperation achievements, including establishing the Comprehensive Partnership in 2007, signing the Bilateral Free Trade Agreement in 2011, initiating cooperation mechanisms, and together joining the Comprehensive and Progressive Agreement for Trans-Pacific Partnership (CPTPP) in 2018. The two countries have regularly conducted many visits to build up trust and deepen bilateral relationship.
Two-way trade between Vietnam and Chile has grown considerably, reaching 2.15 billion USD in 2022 alone, up 9% year on year. Cooperation agreements in various fields have been effectively implemented, bringing about practical benefits for the two countries, cited VNA.
In addition, the two sides have closely coordinated and supported each other at international organisations and multilateral forums.
Vietnam is looking forward to welcoming Chilean President Gabriel Boric in his upcoming visit to Hanoi which is expected to further deepen the Vietnam-Chile relations, Ngoc said.
Former Chilean President Michelle Bachelet stated that bilateral cooperation has been promoted in many fields and there is still room for further development. She expressed her hope that the relationship between Vietnam and Chile would develop not only between the two countries' governments and legislatures, but also between their localities and people.
Vietnam sees surge in Cambodian tourists
Since the beginning of this year, Vietnam has been drawing a large number of Cambodian tourists apart from those who only come for medical check-ups.
Moc Bai border gate of Tay Ninh Province has welcomed nearly 200,000 tourists among the total of 390,000 Cambodians entering Vietnam, according to VNS.
"Cambodians used to come here solely for medical purposes, but recently there is a rise in those who come to travel. They enjoy going to beaches, such as Vung Tau and Nha Trang," said Truong Duc Hai, director of Orient Pearl Travel Co., Ltd.
He also said that it is essential for Vietnam's medical tourism to have professional tours by connecting with prestigious hospitals.
Pham Ngoc Ha, deputy general director of Saco Travel, said that the majority of Cambodian tourists have a fairly short stay-in time, so travel agencies are focusing on improving service quality.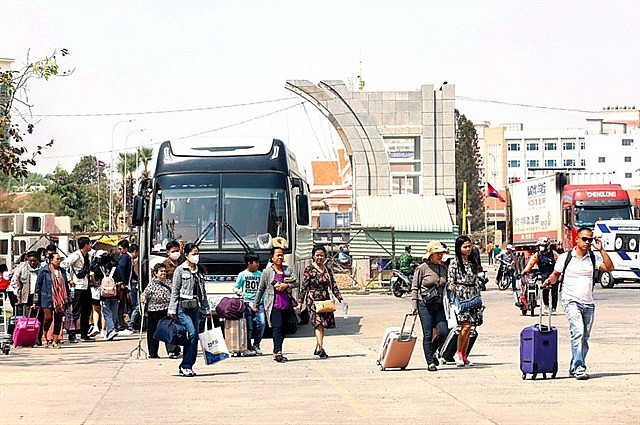 Moc Bai border gate of Tay Ninh Province has seen an increase in the number of Cambodian tourists. Photo: tuoitre.vn
They also have been requesting provinces bordering Cambodia to simplify entry procedures, as they are still time-consuming.
Director of Tay Ninh Tourism Promotion Center Tran Quoc Thinh said that the province has the potential to attract visitors due to having three main border gates and ten sub-gates contiguous with three Cambodian provinces.
Visitors from Cambodia flock to the province every year, especially on weekends and holiday seasons to mainly visit pagodas and Nui Ba mountain. Nui Ba mountain has also been receiving investment to open more tours and travel programs, boosting local tourism.
This is an incentive for local accommodations and restaurants to upgrade their service and enhance customer experience, Thinh said.
Since last year, the province has been organising a number of programs promoting tourism between them and Cambodia, according to the provincial Department of Culture, Sports and Tourism.
Enterprises from both countries will also join hands to boost tourism and develop tourism products.
Vietnam saves 298,000 kWh during Earth Hour 2023
With lights turned off for one hour starting 8:30 pm on March 25 in response to the 2023 Earth Hour campaign, Vietnam saved 298,000 kWh of electricity equivalent to about 555.6 million VND (23,617 USD), according to the Vietnam Electricity (EVN)'s National Load Dispatch Center.
Since the nation first joined the campaign in 2009, the average annual power output saved in the one hour was estimated at about 400,000 kWh. Last year, the figure was 309,000 kWh.
Responding to this year's edition themed "Save electricity - Become a habit", myriad activities took place nationwide on the day with the participation of people from all walks of life, VNA reported.
In Hanoi, the response event was organised by the municipal Department of Industry and Trade at the August Revolution Square. The capital turned off public decorations, billboards, and unnecessary electrical equipment, notably at renowned downtown destinations such as areas around the Hoan Kiem Lake, and the Hanoi Opera House.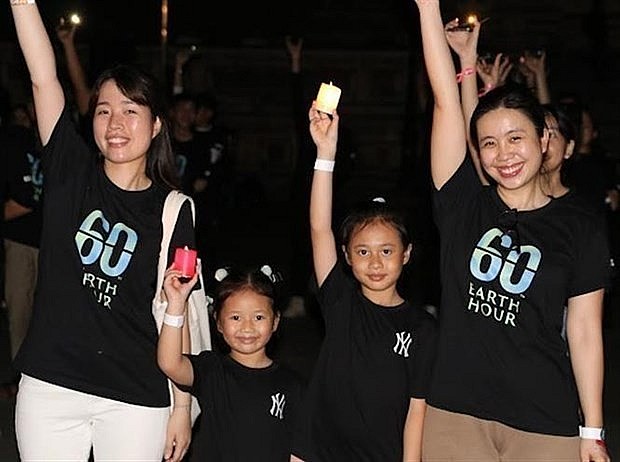 Young people and children in Hue city, Thua Thien-Hue province, respond to Earth Hour 2023. (Photo: VNA)
Meanwhile, the Ho Chi Minh Communist Youth Union (HCYU)'s chapter in Ho Chi Minh City joined the EVN's HCM City Power Corporation to run a turning-off-the-light event, which was broadcast live and gathered close to 500 young volunteers.
In the Mekong Delta city of Can Tho, an event, co-organised by the municipal chapters of the HCYU and EVN power corporation, called for people's response to the campaign and protection of the environment. On the occasion, 1,300 trees were planted in addition to other energy saving activities. The municipal chapters of the two agencies in the Mekong Delta province of Ben Tre also mounted a programme to spread the message of "Save electricity - Become a habit".
In the central province of Thua Thien-Hue, hundreds of locals joined the local response activity that aimed to save power and promoted efforts for a future without plastic waste.
Guyana wishes to foster cooperation with Vietnam
Guyana wishes to strengthen cooperation in various fields with Vietnam, President Mohamed Irfaan Ali has said.
President Mohamed Irfaan Ali was speaking at a reception for Vietnamese Ambassador to Brazil cum Guyana Pham Thi Kim Hoa following her credentials presentation on March 20.
At the reception, the President requested that Vietnam support Guyana in increasing cooperation in agriculture, animal husbandry and cultivation.
The ambassador for her part lauded notable economic gains Guyana has recorded under the leadership of President Mohamed Irfaan Ali, and vowed to do her best during the working term to make a positive contribution to the fine relationship between the two countries.
On March 21, Ambassador Pham Thi Kim Hoa paid a courtesy visit to Guyana's Minister of Tourism, Industry and Commerce Oneidge Walrond who affirmed that she supports Vietnamese products and businesses to access the Guyana market. She also expressed her desire to learn from Vietnam's valuable experience in ecological tourism development.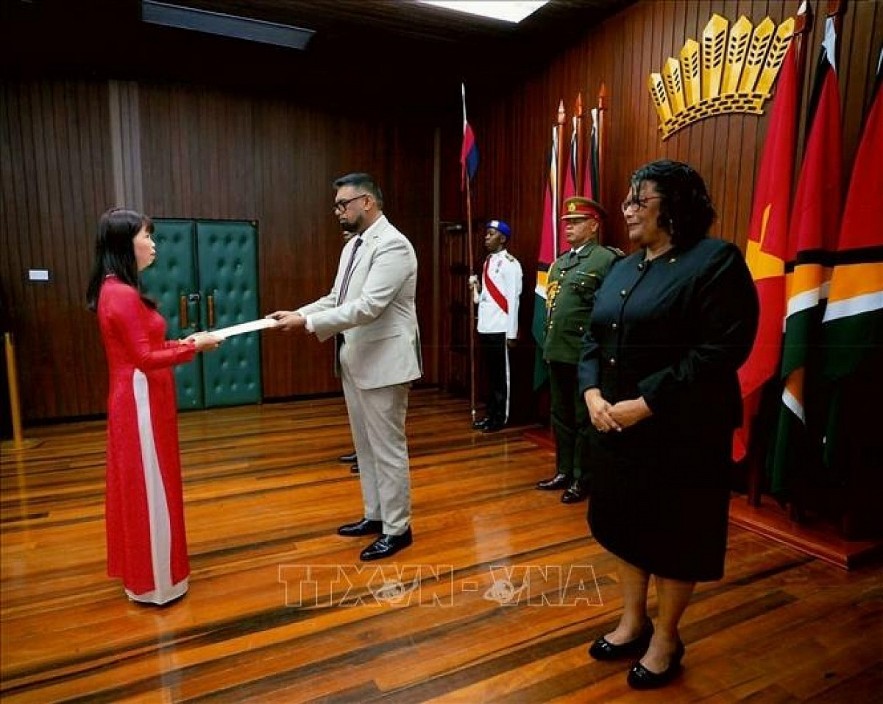 Vietnamese Ambasador Pham Kim Hoa presents the credentials to Guyana President Mohamed Irfaan Ali in capital Georgetown, on March 20. (Photo: VNA)
On the following day, Ambassador Pham Thi Kim Hoa had a meeting with Minister of Foreign Affairs and International Cooperation Hilton Todd, who affirmed Guyana supports Vietnam in multilateral forums and wants to promote the exchange of delegations in future.
Also at the working session, Deputy Foreign Minister Elizabeth Harper announced that the two countries would soon offer visa exemption to their diplomatic and official passport holders in order to promote bilateral visit exchanges, cited VOV.
On the same day, Ambassador Pham Thi Kim Hoa also met with Madanlall Ramraj, director general of the Ministry of Agriculture, who expressed Guyana's desire to boost cooperation in the fields of agriculture, mining and garment making with Vietnam in the near future.
Ramraj also talked about food security in Guyana, and requested that Vietnam share its valuable experience in the field of agricultural production through expertise exchanges.
On March 23, Ambassador Pham Thi Kim Hoa met and discussed the possibility of investment cooperation with Peter Ramsaroop, president of the Investment Office of Guyana. Ramsaroop briefed his guest on Guyana's strengths and said his country creates the most favourable conditions for Vietnamese businesses to invest in such fields as eco-tourism, mineral and oil exploitation.
Rock band bridges Vietnamese and Japanese cultures
Kurrock, the first Vietnamese rock band in Japan, are winning both Vietnamese and Japanese rock enthusiasts' hearts through their songs.
The music video opens with stimulating electric guitar, and the rock band appears on the roof of an iconic Japanese iconic skyscraper at dawn, a new day about to come.
Viewers might easily assume it is a music video of a Japanese rock band until they hear two vocalists singing in Vietnamese and Japanese, ciited VNS.
It is a scene from Vượt (Overcome), the debut track of Kurrock, the first Vietnamese rock band in Japan, who are winning both Vietnamese and Japanese rock enthusiasts' hearts through their songs.
Kurrock has six members, five Vietnamese (KJO, Heather, TroK, Sang, and Danna) and one Japanese (Daisuke). From different backgrounds, they share the same passion for music and established the band at the end of 2020.
At their beginning, the band mainly covered popular songs such as Pretender, Neko or Little Thing, and have performed at many stages and live houses in Tokyo and Yokohama.
Their first music video Vượt was released in August last year, two years after they debuted. As their first and "manifesto" song of the group, Vượt took the band about half a year to complete.
Their elaborate efforts paid off when the song immediately received attention and positive feedback from the media and rock fans of both countries.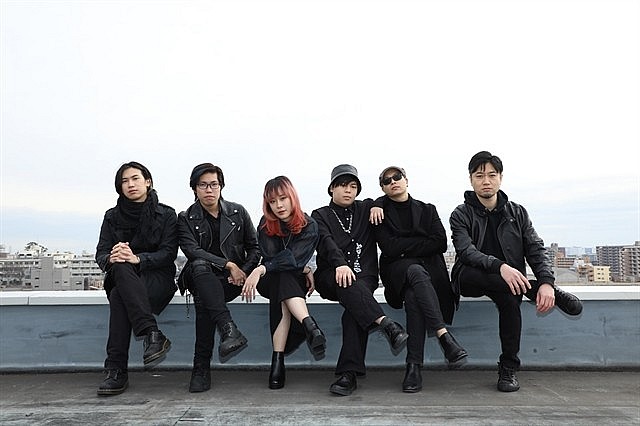 ROCKS STARS: Kurrock consists of five Vietnamese members (from left to right): Danna, KJO, Heather, Sang, TroK and one Japanese member, Daisuke. Photo courtesy of Kurrock
Following the success of their first music video, the band released three further singles: Lạnh (Cold), Redemption, Thoát (Escape) and most recently, another music video, Mộng (Dreams).
Thoát was voted as the most popular rock ballad in 2022, while Vượt was voted in the Top 2 most popular Vietnamese rock songs by VN Rock magazine.
"I already loved Japanese rock, but now that I know Kurrock, it's like listening to Japanese music and understanding the lyrics," Nguyen Huu Phuc, a Vietnamese rock fan, said.
Kurrock's ability to self-compose in multiple languages, self-produce all the audio-visual stages, and connect and understand Japanese and Vietnamese culture are all huge advantages for the young rockers.
"The combination of the two languages in the band's music video is distinctive and exciting. I was impressed with the backing sound, particularly the guitar solos, the strong and emotional voice of the two vocals, the elaborately created visuals and the meaning they wanted to convey. I look forward to their next videos," YouTuber Roselia said.
The band's music features typical elements of both Vietnamese and Japanese music, distilled and interwoven to create their distinctive sound. With lyrics written in Vietnamese and Japanese to speak out to Vietnamese expatriates in Japan, Kurrock wishes to touch the hearts of audiences in both countries.
Discussing the production process of their first music video, Vượt, band leader KJO said it was filmed while Japan was still applying many restrictive measures to prevent the pandemic spreading.
Director Watanabe Tomonori therefore decided to have the whole band perform on a green screen, then remotely direct the post-production in Vietnam.
The video is set on the rooftop of the Nagoya Mode Gakuen skyscraper at dawn, with a view of the bustling Shinjuku district. The backdrop expresses the idea of "a new day coming".
"Not just the debut music video, we consider it a landmark of the band, confirming that our ability does not only stop at audio production. Through the music video, we want to send the audience a message: Vietnamese expats in Japan as well as in other countries can create quality art," KJO said.
"Kurrock hopes that the music video can encourage the spirit of daring, passion and being consistent with what we believe in, no matter how different the circumstances."
The band's songs are inspired by their personal experiences as Vietnamese living in Japan, conveying their stories, moods, memories, philosophy, feelings, and determination to see life positively despite many difficulties.
Their most recent song, Mộng, is a reminder for everyone who feels like they're not good enough for their dreams.
"Stop making excuses, stop questioning yourself. Get up and do the thing. You might not have all the answers now, but it's okay, as long as you keep doing what feels right to you, the answers will come along," said Kurrock vocalist Heather.
One of the big stages that the rock band has performed on is Club Citta with a capacity of 1,300 guests, where many famous bands have appeared such as Nirvana, Green Day, Radiohead, Black Sabbath, and Red Hot Chili Peppers.
Since September 2022, the band has been selected to regularly perform at Guilty Live Stage, a famous live house in Tokyo, in the heart of Shibuya, and become key artists at community stages such as the Vietnam Festival in Tokyo or OneAsia Festival 2022.
Despite their initial successes in Japan, the band have always aspired to contribute to their homeland.
At the end of 2022 and the beginning of 2023, they conducted their first Việt Nam tour at five venues as a greeting and gratitude to the domestic audience. They were featured at the countdown programme held in Ecopark urban area in the northern province of Hung Yen in January that was attended by 20,000 people.
The band plan on releasing their first album featuring Vietnamese-Japanese songs this year and will perform in events celebrating the 50th anniversary of diplomatic relations between Vietnam and Japan.
"Kurrock will deepen the beauty of Japanese-Vietnamese music, and at the same time perfect the compositions in a way that is easier to receive and share," the band leader said.
"We are exerting more efforts in conquering the Japanese market and nurturing the ambition of winning international markets as well by composing English songs. We hope to receive a positive response from the audience."