Vietnam News Today (Mar. 25): Welcoming Tourists Through Open Visa Policy
Vietnam News Today (Mar. 25): Vietnam in sustainable management phase of COVID-19 pandemic: WHO representative; Vietnam aims to eradicate tuberculosis by 2035; Welcoming tourists through open visa policy; Vietnam showing better-than-average growth: Indian expert.
Vietnam News Today (Mar. 25) notable headlines
Vietnam in sustainable management phase of COVID-19 pandemic: WHO representative
Vietnam aims to eradicate tuberculosis by 2035
Welcoming tourists through open visa policy
Vietnam showing better-than-average growth: Indian expert
Vietnam tourism promoted in Japan
Ha Long schedules myriad activities for upcoming holidays
Vietnam promotes negotiations of FTA with Mercosur
Vietnam provides rice seeds to Lao province
Over 103,000 TB cases detected in Vietnam last year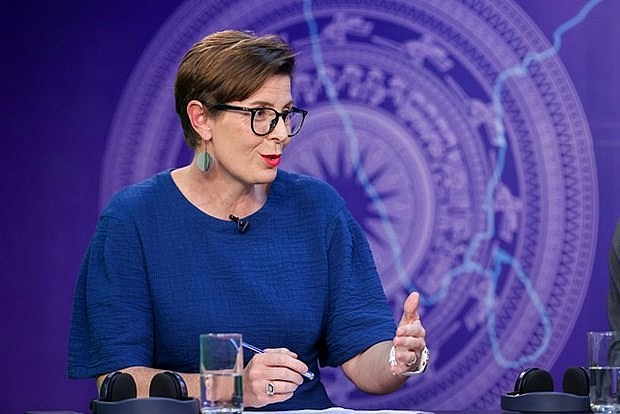 WHO representative in Vietnam Dr Angela Pratt. (Photo: Ministry of Health)
Vietnam in sustainable management phase of COVID-19 pandemic: WHO representative
World Health Organisation (WHO) representative in Vietnam Dr Angela Pratt has said that Vietnam is in the sustainable management phase of the COVID-19 pandemic as the situation continues to stabilise with a very low number of reported daily cases, and importantly no reported deaths in over two months.
In an interview granted to the Vietnam News Agency, the official said that now in the fourth year of the pandemic, Vietnam and the world are in a much better place than they were even 12 months ago.
"The tools and vaccines we have are proven to protect lives and significantly reduce risk of severe illness and death and also, in most places, to enable health systems to function more normally again," she said.
She added it is hoped that 2023 will be the year in which COVID-19 can be said to be over as a public health emergency of international concern.
Assessing Vietnam's response to the COVID-19 pandemic for each stage of the pandemic, Angela said that from the start, Vietnam had well-calibrated and strong public health and social measures in place.
These included a strong capacity for early detection and response, robust surveillance measures, strong border measures, and social restrictions, community adherence to personal protective behaviours; and healthcare capacity.
"All of these measures kept cases and deaths low until vaccines were available, with Vietnam having one of the lowest death rates in the region, especially early on in the pandemic," she said.
"This was made possible through strong and effective government leadership, great community efforts, and a tireless contribution from the health sector, in particular, health workers."
Vietnam did an incredible job rolling out the primary series of COVID-19 vaccines in 2021 and 2022, she said, adding that the speed and scale of the rollout, including efforts to ensure vaccines reach every corner of the country, is one of the great success stories of the country's COVID-19 response, and the region more broadly.
She said the Government of Vietnam, particularly the Ministry of Health, health workers, businesses, communities, and partners are all to be commended for their efforts.
"As a result of these efforts, in 2022, Vietnam did an excellent job of transitioning to what we call the 'sustained management' phase of COVID-19 - balancing social and economic development with public health measures to protect the vulnerable and the health system," she emphasised.
However, she said with the pandemic unfortunately not over yet – the world must remain vigilant, keeping up strong surveillance, ensuring everyone eligible, especially those most vulnerable, are vaccinated and boosted, and also continuing to encourage people to be mindful of their risk.
"With the government remaining vigilant and communities remaining mindful, we can continue to protect the health system and build on Vietnam's impressive economic and social recovery," she said.
The WHO official said that if Vietnam maintains preparedness for worsened pandemic development, with its experience of the past three years and the National Pandemic Preparedness and Response Plan continuing to be reviewed, the country is well placed to respond to future outbreaks.
She noted that it's really important to continue to strengthen the health system to ensure it can cope with a surge in cases; sustain and build up healthcare workforce capacity; keep up-to-date with vaccinations for eligible populations and prepare for mass vaccination if needed; and enhance multi-source surveillance, testing, and sequencing, to detect possible genomic changes and mutations.
According to the WHO, three years after WHO Director-General Dr. Tedros Adhanom Ghebreyesus declared COVID-19 as a global health emergency of international concern, there have been over 760 million confirmed cases and almost 7 million deaths reported globally.
From the beginning of the pandemic to March 24, 2023, Vietnam reported nearly 11.53 million COVID-19 infections, of that more than 10.61 million cases have recovered from the disease. COVID-19 killed 43,186 people in Vietnam, accounting for 0.4% of total infections. Nearly 266 million COVID-19 vaccine doses have been administered in the country.
Vietnam aims to eradicate tuberculosis by 2035
Due to COVID-19 challenges, Vietnam will seek to end tuberculosis (TB) by 2035 instead of 2030 as planned, said Deputy Minister of Health Tran Van Thuan at a ceremony held in Hanoi on March 24 to mark World Tuberculosis Day.
The adjustment to the National Action Plan to end TB by 2030, he said, is also in line with the Global Ending Tuberculosis Strategy which was adopted at the 67th World Health Assembly in 2014 with a vision of making the world free of TB.
According to the health professional, Vietnam currently ranks 11th among the world's top 30 countries with high TB incidence rate, whilst the country as a whole is also facing risks relating to TB outbreaks in the community.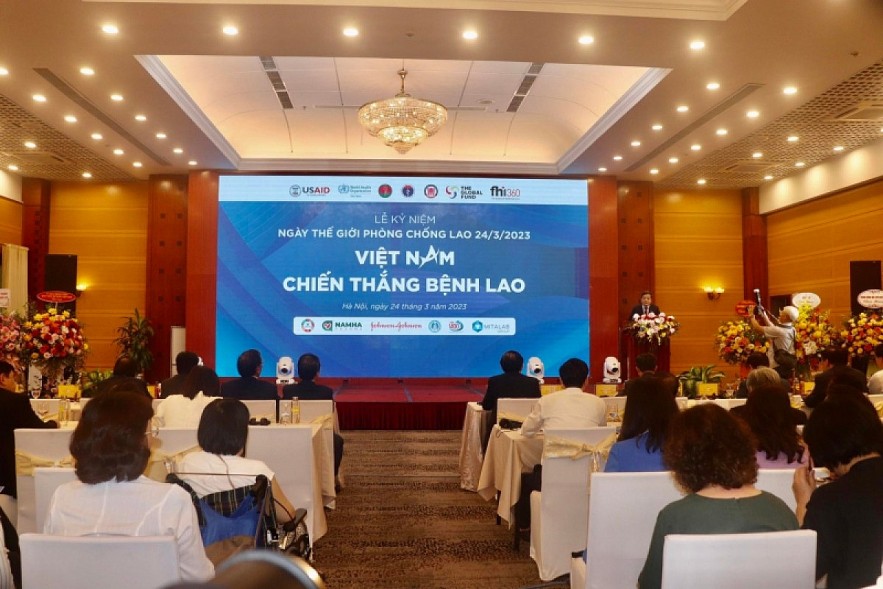 Delegates participate at a ceremony in Hanoi on March 24 to mark World Tuberculosis Day. (Photo: Cand.com.vn)
Despite TB prevention efforts Vietnam has made over the years, up to 169,000 people are newly infected with TB and 12,000 people die from the disease each year. Most notably, around 70% of people suffering from TB are of working age, meaning the disease is a financial burden for families and the economy in general.
Therefore, ending TB will help Vietnam to meet one of the UN's Sustainable Development Goals (SDG) that is to eradicate TB as a global public health threat by 2030, according to VOV.
To end TB in Vietnam, the Deputy Prime Minister emphasised the responsibility of the health sector and the community as a whole to make people fully aware of the disease.
Competent authorities therefore need to conduct better communication work to raise public awareness of TB which takes many lives each year. Although TB is an infectious disease, it is both treatable and curable thanks to advances made in medical technology, he stressed.
Welcoming tourists through open visa policy
March 15 marked one year since Vietnam's official reopening to tourism after the COVID-19 pandemic. However, international tourism to Vietnam has recovered quite slowly, requiring quick solutions, especially regarding visa policy, a bottleneck that has existed for many years.
As one of the first countries in the region to reopen after the pandemic, it seems that Vietnam has not been able to take advantage of this, as the number of international visitors to Vietnam has been more modest than some other countries in the region.
Vietnam only received 3.5 million international visitors in 2022, far from the set target of 5 million visitors. Vietnam welcomed more than 1.8 million international visitors in the first two months of 2023, 60% less than the same period in 2019, before the pandemic.
Slowness leads to a loss of opportunity
The absence of international visitors has caused many destinations and tourism businesses to fall into difficulty, especially as resources have been exhausted after the pandemic. Many businesses had to dissolve while many hotels and restaurants were sold or converted their use purpose.
The above situation can be attributed to many objective and subjective reasons, but according to experts, one of the main reasons is the limitations of Vietnam's visa policy.
Assoc. Prof. Dr. Pham Hong Long, Dean of the Faculty of Tourism Studies, University of Social Sciences and Humanities (Vietnam National University, Hanoi) said that the visa policy is an extremely important factor regarding tourism destinations. The openness of the visa is also a criterion to compare the tourism development capacity of destinations, thereby attracting international visitors.
"However, Vietnam's visa policy is still limited compared to other countries in the region. Vietnam has only exempted visas for 24 countries unilaterally and bilaterally. The country provides electronic visas for 80 countries, but only more than 30 border gates allow foreigners to enter with electronic visas. The typical period of stay is about 15 days with single entry. This is really a 'barrier' to the green economy", Long added.
Meanwhile, Thailand has exempted visas for visitors from 64 countries and territories. The number of Singapore and Malaysia even reaches more than 160 countries while the Philippines exempts visas for 157 countries and territories. Most countries have regulations on stay of 30 days or more, creating favourable opportunities to welcome international visitors.
After the COVID-19 pandemic, a number of countries have actively improved visa policies to create a competitive advantage. Thailand extended the length of stay from 30 days to 45 days for tourists from visa-exempt countries and from 15 days to 30 days for other tourists.
Taiwan (China) resumed the Kuan Hung visas, or e-visa policy for tour guests traveling in groups through travel agencies with simple and quick procedures.
Meanwhile, the Republic of Korea quickly resumed the type of visa that allows visitors to enter and exit the country for multiple times, with a stay period of 30 days and unlimited numbers of entry and exit in five years. The agility in applying flexible and open visa policies has contributed to creating a strong bounce in tourism in the above countries over a short time.
In the context of fierce competition among destinations, Vietnam's visa policy is still "stagnant", so the country has lost a number of international visitors who are always hesitant to apply due to a complicated and cumbersome visa policy. There are also visitors from distant markets who want to stay in Vietnam for a long time but have to cut their schedule or change their destinations because of Vietnam's visa exemption period of only 15 days.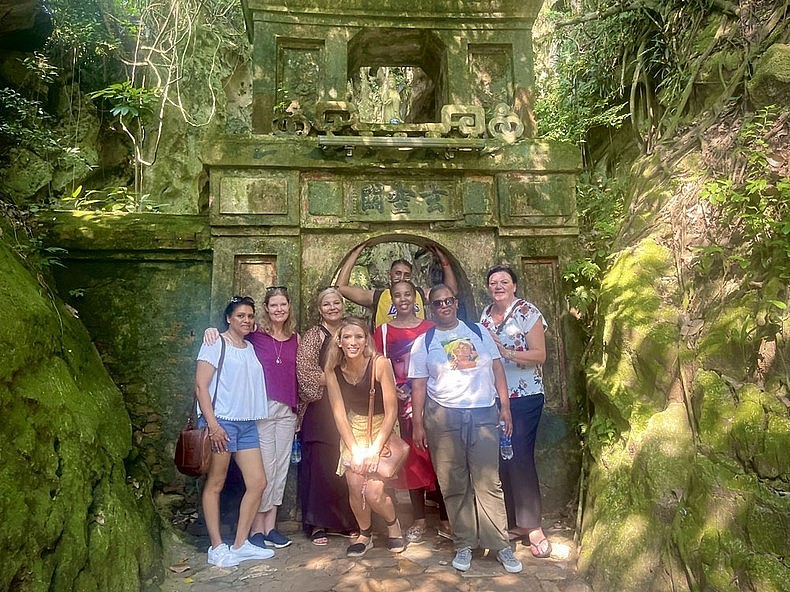 Foreign tourists visit Ngu Hanh Son, Da Nang (Photo: Dinh Nguyen)
Many experts believe that, if the delay in adjusting the visa policy remains, Vietnam will lose the opportunity to attract international visitors and unintentionally create competitive advantages for other countries in the region.
Visa policy, a "key" to attracting tourists
Analysis from the World Tourism Organisation (UNWTO) and the World Travel and Tourism Council (WTTC) has shown that the convenience of visa entry is likely to increase the number of international visitors by between 5% and 25% per year.
A study on the impact of visa exemptions on five Western European countries by the Tourism Advisory Board (TAB) also shows that the average number of visitors from these countries to Vietnam has increased by nearly 20%. This proves that changes in visa policy towards more flexibility and openness are always the "key" to attracting international visitors, creating a spectacular breakthrough for tourism.
Assoc. Prof. Dr. Pham Hong Long said that Vietnam needs to expand the list of countries exempted from visas, especially countries in Europe and Australia, New Zealand, and Canada while extending the visa period to 30-45 days and allowing visitors to enter multiple times. This will be a great motivation for foreigners who are looking to travel to Vietnam.
He noted that high spending markets such as Germany, Italy, Switzerland, Norway, Denmark, and Sweden, Vietnam can increase their stay period to three months, because the longer visitors stay, the more they will spend. The issuance of e-visas should be extended to all countries with a simpler, faster, and more user-friendly system. In addition, on-site visa procedures also need to be improved to create convenience for visitors.
In the recently published 2023 Whitebook, the European Chamber of Commerce in Vietnam (EuroCham) also stated that Vietnam's current policy of requiring a visa before departure/visa on entry/e-visa is strict, along with the time and costs incurred from this procedure, and this is hindering travelers from Europe, a high-spending clientele.
Therefore, EuroCham made four recommendations for Vietnam, including the expansion of the list of countries exempted from visas for all European Union countries and extension of the visa exemption period from 15 days to 30 days. Vietnam should also extend its visa waiver programme duration to 5 years, issue a 3-month tourist visa to European visitors who want to make long stays to attract the high-end and high-spending markets, and exempt short-stay visas in certain situations, especially to support forums, exhibitions and sporting events.
According to the National Administration of Tourism, China allowed travel companies to organise group visitors to Vietnam from March 15, contributing to raising the number of international visitors to Vietnam as Chinese tourists account for a third of international tourists to Vietnam, cited NDO.
According to experts, in order to avoid risks from being too dependent on the tourism market and developing quality tourism, Vietnam still needs to have solutions to attract more groups of tourists. And the solution that cannot be ignored is to remove barriers to visa policy with more drastic changes, thereby increasing the number of international visitors and their stay and spending, bringing 'double' benefits to Vietnam's tourism as well as its related industries.
Vietnam showing better-than-average growth: Indian expert
An Indian expert has highly valued Vietnam's post-pandemic recovery in an article recently published on Moderndiplomacy.eu.
In the writing, titled "Vietnam's macroeconomic policy and post COVID recovery", Prof. Pankaj Jha, Director of the Centre for Security studies at India's Jindal School of International Affairs, cited the latest IMF reports as saying that Vietnam's real gross domestic product (GDP) in 2023 is estimated at 6.2%, and this clearly indicates Vietnam has been avoiding the usual recessionary trends across the Asian markets and is showing better-than-average growth.
He noted with an inflation rate of less than 4%, it clearly shows that Vietnam is likely to emerge as a promising economy in Asia.
If one looks into the core fundamentals of Vietnam following the COVID-19 pandemic, it has been clearly stated that Vietnam's annual economic growth rate hovered between 6.3% and 6.5% for the decade preceding the current one.
One of the major aspects of this better-than-average economic growth was high foreign direct investment, increased domestic consumption, sizeable increase in the middle class, and Vietnam's focus on promoting its manufacturing to be export-oriented.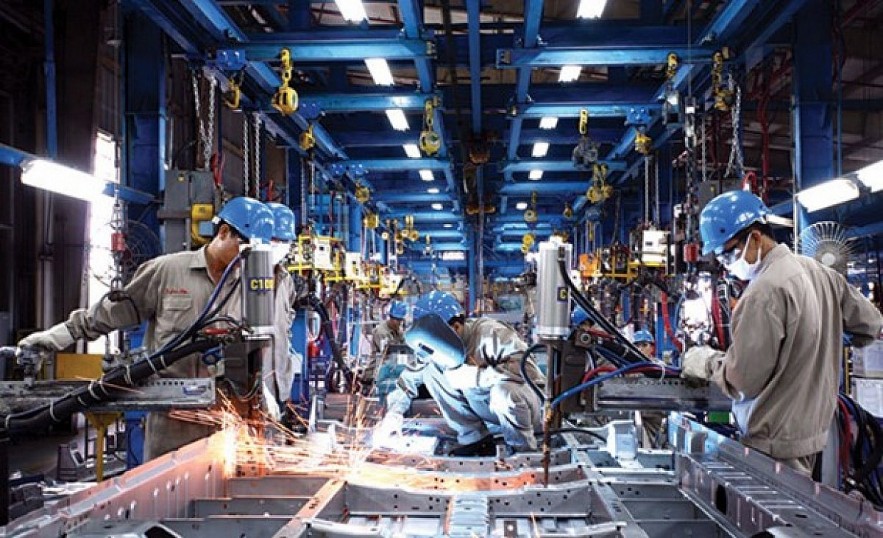 Photo: VOV
In terms of other critical aspects, the country has been securing loans from many other international agencies over the past few years. With funding and grants from different international economic agencies, it has been able to upgrade its road, rail transport and border connectivity infrastructure along with promoting socio-economic growth across provinces, according to the article.
It added over a period of time, Vietnam has been making serious efforts in emerging as a knowledge network society. This includes improving policy applications, enhancing capacities of stakeholders, and providing information to the communities on a regular basis. Vietnam has also received more than US$2 million grant for climate resilient inclusive infrastructure through high technology fund from the Asian Development Bank (ADB). In terms of meeting UN sustainable development goals, it has successfully provided electricity to its population.
Two different aspects have gained international attention are Vietnam's ranking of 70th out of 190 countries in terms of ease of doing business, and its major strength being a young population with nearly 70% aged 15 - 64.
The tourism sector is going to increase further given the fact that the country has signed a comprehensive agreement in boosting sustainable tourism and post-COVID recovery at the national level. During 2022 - 2025, the cumulative average tourism growth rate is expected at 13.5% on average each year, the Indian expert went on.
The transformation is also happening in terms of fiscal and monetary prudence as well as undertaking reforms within the banking system and financial governance. The anti-corruption drive that the Vietnam has undertaken in the last few years has built the investor confidence, and it is expected that Vietnam will reap the dividends of a better business environment, market connectivity, and relatively comparative advantages among other competitors in Southeast Asia.
As expected, the fundamentals are getting stronger, and therefore Vietnam can witness stronger economic growth and better macroeconomic stability in 2023, he added.
Vietnam tourism promoted in Japan
A workshop on Vietnamese tourism and carriers, co-hosted by Vietnam Airlines and travel operator Thien Minh Group (TMG), took place in Tokyo on March 24, gathering 80 travel companies and airlines from both nations.
In his remarks, Ngo Sy Anh, General Manager of Vietnam Airlines branch in Japan, affirmed the importance of the Japanese market to the company.
Before the pandemic, the airline ran 68 flights every week to connect four major cities of Japan to Vietnam's Hanoi, Ho Chi Minh City, and Da Nang. In 2019, it carried 1.6 million passengers on these routes. With the Vietnamese Government deciding to resume regular international flights from January 1 last year, Vietnam Airlines is now operating 42 flights linking the countries.
At the workshop (Photo: VNA)
At the event, participating Vietnamese travel, accommodation companies and carriers introduced Vietnam's potential and attractive sites to their Japanese peers. The sides exchanged views on cooperation orientations to capitalise on opportunities stemming from the nations' post-pandemic recovery.
In an interview on the sidelines of the event to the Vietnam News Agency, Sayuri Hiroi, Business Development Manager at the TMG, said Vietnam is a safe nation of charming destinations and fantastic food.
Meanwhile, Masahiko Inada, head of the outbound tourism promotion division at the Japan Association of Travel Agents (JATA), said that Vietnam Airlines' increase of flight frequency will contribute to boosting the number of tourists from Vietnam to Japan and vice versa.