Vietnam News Today (Mar. 6): Vietnam bolsters AI application in all fields
Vietnam News Today (Mar. 6): Vietnam records 131,817 Covid-19 cases on March 5; Vietnam, France navies perform join exercise at sea; Vietnam bolsters AI application in all fields; Driving force for Vietnam's economic recovery in 2022.
Vietnam News Today (Mar. 6) notable headlines
Vietnam records 131,817 Covid-19 cases on March 5
Vietnam, France navies perform join exercise at sea
Vietnam bolsters AI application in all fields
Driving force for Vietnam's economic recovery in 2022
Vietnam U23s to play Iraq and Croatia in friendly tournament
Bamboo Airways announces Hanoi-Melbourne direct flights
Hurdles remain for tourism sector as new Covid-19 rules fuel controversy
Vietnam, Cambodia complete demarcating 84% of inland border in 20 years
Vietnam to export two million tonnes of coal this year
Vaccination against Covid-19. Photo: VNA
Vietnam records 131,817 Covid-19 cases on March 5
Vietnam registered 131,817 new Covid-19 infections, including 37 imported cases, in the past 24 hours to 4pm on March 5, according to the Ministry of Health.
The capital Hanoi continued to report the highest number of infections on the day with 25,013 cases, followed by Bac Ninh with 7,161, and Nghe An with 6,460.
Besides, northern Phu Tho province supplemented 33,144 cases and northern Thai Nguyen province added 8,297 cases after verifying information.
The national tally reached 4,232,520.
The ministry also announced a further 82 Covid-related deaths, raising the nation's death toll since the pandemic started to 40,726.
A total of 4,249 Covid-19 patients are in serious or critical condition, including eight on life support, cited VNA.
As many as 26,566 recoveries were registered on the day, bringing the total given the all-clear to 2,616,002.
To date, more than 197.27 million Covid-19 vaccine doses have been administered in Vietnam, including over 180.26 million doses for adults, and some 17 million for children aged 12-17.
Vietnam, France navies perform join exercise at sea
Vietnamese frigate 015 – Tran Hung Dao belonging to Brigade 162 of Naval Region 4 on March 5 participated in a joint exercise at sea off Khanh Hoa province with frigate Vendémiaire of the French Navy.
The French vessel was commanded by Lieutenant Colonel Alain Gaborit, while the Vietnamese vessel was led by Major Ma Nguyen Thanh.
The captain of Vietnamese frigate 015 – Tran Hung Dao gives a command in the joint exercise with the French frigate Vendémiaire. Photo: VOV
The exercise tests the operational and coordinating capability of the two navies at sea, including such activities as refueling and communications, according to the Code for Unplanned Encounters at Sea (CUES).
The maneuver is expected to strengthen the friendly relationship between Vietnam and France in general and the two countries' armies and navies in particular, according to VOV.
French frigate Vendémiaire docked at Cam Ranh port in Khanh Hoa province on March 1, beginning a five-day goodwill visit to Vietnam.
During their stay, the captain and officers of the vessel paid courtesy visits to the leadership of Khanh Hoa province, the Border Guard and the Cam Ranh port.
They also had an online meeting with leaders of the Naval Command of Region 4.
Vietnam bolsters AI application in all fields
Artificial intelligence (AI) products have been used in all sectors in Vietnam, such as public administration, transport, healthcare, banking and industries, in tandem with digital transformation.
The application of AI contributes to raising the efficiency of State management and the operation of businesses, helping them quickly adapt to developments of the ongoing pandemic.
In Vietnam, many applications, such as face and voice recognition and security systems, using AI technology are researched and developed by many research agencies.
The development of AI technology and supply of tools serving digital transformation aim to save costs, ensure security and safety in the fields of transport, agriculture, science and healthcare, among others.
Founder and CEO of TopCV Tran Trung Hieu said AI technology helps detect Covid-19 infections, thereby assisting contact tracing as well as predicting the pandemic's peak and areas housing large numbers of cases.
Investors are keeping a close watch to seize opportunities in the post-pandemic period in a bid to maintain their competitive edge and sustainable development.
Artificial intelligence (AI) products have been used in all sectors in Vietnam. Photo: Barrons.com
Park Dong-jin, Co-Director of the AI International Research Centre and Director of Naver Vietnam, said Naver is working with the Vietnamese Government in seeking talents in artificial intelligence in the country and building an environment for new technologies via partnering with tertiary educational establishments.
Of note, with the implementation of the 'global AI research and development belt' in France, Germany, Japan, China, the Republic of Korea and Vietnam, AI products will be used not only in the Southeast Asian nation but also go global.
Deputy Minister of Science and Technology Bui The Duy said AI is being among key technologies contributing to the socio-economic development of countries, including Vietnam, and it has affirmed its role and importance amid the complex developments of Covid-19, reported VNA.
The application of AI will be bolstered for economic recovery post-pandemic, together with potential fields and solutions to connect research and application, and domestic and international AI organizations.
He added that Vietnam is building an AI startup ecosystem to attract venture funds, whose support will help turn AI into among key technologies driving Vietnam's development, making the country become an AI research and application hub in the region and the world.
Head of Frontier Tech Village TECHFEST 2021 Doan Kieu My said the Vietnam National Innovation Centre supports start-ups to access resources for development, connect the startup ecosystem and cultivate the country's high quality human resources for the coming years.
Driving force for Vietnam's economic recovery in 2022
The rebound in domestic consumption demand and strong export growth will be the driving force for Vietnam's economic growth in 2022. Another important driver is the recovery of the service and tourism sectors.
There are many forecasts and actual developments showing that the Vietnamese economy is on the way to recovery, but perhaps Fitch Ratings is an organization with the most optimistic view of the Vietnamese economy. In a recent report, it said that Vietnam's economy will grow by 7.9% in 2022 and 6.5% in 2023.
The forecast is much higher than the growth target set by the Vietnamese Government, as well as the forecasts of the World Bank (WB) and the Asian Development Bank (ADB). The basis for Fitch Ratings forecast is the recovery of domestic demand and strong increase in export activities.
"Vietnam's export will continue to outperform the region, benefiting from cost competitiveness and a number of major trade agreements," said Fitch Ratings.
In fact, for many years now, exports have been a major driver of growth. In 2021, Vietnam's export turnover reached over US$336.3 billion, up 19% over the previous year, despite the impact of the Covid-19 pandemic. Exports grew faster than imports, so last year, the trade balance had a surplus of US$4.08 billion.
Photo: VNN
"The free trade agreements that Vietnam has signed have opened up a lot of opportunities for access to Vietnam's export markets. Those market access opportunities will facilitate the development of domestic production from industry, agriculture to services," said Nguyen Minh Cuong, ADB Chief Economist in Vietnam.
According to a report by market research firm IHS Markit, Vietnam's Purchasing Managers' Index (PMI) in January 2022 reached 53.7 points, higher than the previous month and this is the highest level within the past 9 months. This figure represents a strong economic recovery since the 4th outbreak of pandemic in Vietnam, cited VNN.
"Vietnamese manufacturers have had a positive start to 2022 when there are no longer wide-ranging restrictions. This is the factor from which the manufacturing sector can grow, despite the relatively high number of Covid-19 cases," said Andrew Harker, chief economist at IHS Markit.
Expectations in service, tourism
Services and tourism are considered as new growth engines in 2022. What makes foreign investors excited is that the Vietnamese Government has announced a roadmap to reopen the tourism industry and remove restrictions on entry.
Vietnam will completely reopen tourism activities under new normal conditions from March 15. International flights have also resumed and these are important factors for tourism and investment to recover, creating a foundation for economic recovery.
"We encourage the Government to go further and faster in reopening so that Vietnam can realize its full potential as a leader in the tourism sector," EuroCham said.
Meanwhile, the British Business Association said that one of the key factors for the recovery of the economy is the reopening of borders along with a set of national entry rules and regulations to allow businessmen and tourists to return to Vietnam safely.
However, Deputy Minister of Planning and Investment Tran Quoc Phuong said that not only one driving force can revive the economy. "We must rely on all fields of industrial production, agriculture, services, tourism, public investment, and the demand of the economy," he said.
Appreciating the implementation of a support package of VND 350,000 billion by the Government of Vietnam to restore and develop the economy in 2022-2023, foreign investors said that the business community is very much looking forward to this sound monetary policy, as well as support from the Government, so that companies and the economy can quickly return to pre-pandemic growth and development.
Vietnam U23s to play Iraq and Croatia in friendly tournament
The Vietnam U23 national team are set to take on Iraq and Croatia in the United Arab Emirates (UAE) in late March as part of the U23 Dubai Cup 2022, an international friendly tournament.
Vietnam are scheduled to play Iraq in their opening match on March 23 before clashing with Croatia three days later. The next round will then take place on March 29 after the qualifying teams are identified from the initial two rounds.
Photo: VOV
These are the latest fixtures announced by the organizing board. Earlier on March 1, organizers announced the Vietnam vs Iraq match on March 23 and the Vietnam vs China game on March 26.
This highly-professional tournament will see the participation of 10 U23 teams, namely Thailand, Saudi Arabia, Uzbekistan, Croatia, Japan, Qatar, Vietnam, China, Iraq, and hosts the UAE.
They will play in a round robin format, and all matches will be held at the Sevens, Dubai Police, and Al Awir stadiums in the UAE, VOV reported.
Chief coach Park Hang-seo will not be able to fly to the UAE with the U23 team as he was recently infected with the SARS-CoV-2 virus. In addition, he will also be preparing for the last two World Cup qualifiers of the national team against Oman and Japan on March 24 and March 29.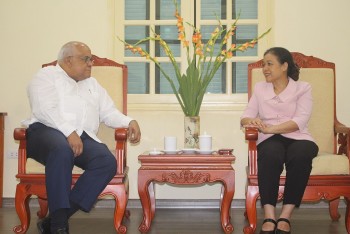 Friendship
Ambassador Nguyen Phuong Nga - President of the Vietnam Union of Friendship Organizations had a meeting and worked with Cuban Ambassador Extraordinary and Plenipotentiary to Vietnam Orlando Nicolas Hernandez Guillen. The two Ambassadors agreed to work closely in organizing solidarity and friendship activities.