Vietnam News Today (Mar. 5): Covid-19 to be Considered an Endemic Disease in Vietnam
Vietnam News Today (Mar. 5): Covid-19 to be considered an endemic disease in Vietnam; First flight repatriating Vietnamese in Ukraine to be conducted on March 5; Over 196 million doses of Covid-19 vaccines administered in Vietnam; Vietnam to compete at Dubai Cup for U23s.
Vietnam News Today (Mar. 5) notable headlines
Covid-19 to be considered an endemic disease in Vietnam
First flight repatriating Vietnamese in Ukraine to be conducted on March 5
Over 196 million doses of Covid-19 vaccines administered in Vietnam
Vietnam to compete at Dubai Cup for U23s
National economy expected to pick up pace this year
Vietnam hopes for UN's continued support for national construction, development
Ministries basically agree on tourism resumption plan in new normal
Level-2 Field Hospital No. 4 starts practical training
Singapore launches vaccinated travel lane with Vietnam
WHO experts agree COVID-19 is no longer a global health emergency. Photo: Internet
Covid-19 to be considered an endemic disease in Vietnam
Given the emergence of various Covid-19 variants globally, including Omicron, many experts believe that achieving the goal of herd immunity to eradicate the disease is difficult, and Covid-19 may be approaching the endemic disease stage.
Herd immunity is widely viewed as a lifeline to end the pandemic in the long run. Humankind has at least once achieved herd immunity, with smallpox being eradicated thanks to vaccine development. However, in the case of Covid-19, experts are of the opinion that herd immunity is unlikely as the pandemic is entering its third year.
Dr. Anna Blakney of the University of British Columbia in Canada admitted that despite certain gains, it was still hard to even consider achieving the herd immunity target due to the constant emergence of mutation of the virus.
Theoretically, the pandemic can be considered over when experts from the World Health Organization (WHO) declared that Covid-19 is no longer classified as a global health emergency. Despite this, the criteria for making this decision has yet to be precisely defined, cited VOV.
While waiting for the WHO to come to a conclusion, politicians and public health experts in countries which boast high vaccination coverage are promoting a new approach to Covid-19, with many regarding the disease as part of life.
For example, Thai health authorities hold the view that the Covid-19 outbreak has basically been brought control and the disease is now not too serious, especially when people have received full vaccine doses. They are therefore working toward declaring Covid-19 as an endemic disease according to their own set of criteria, as opposed to waiting for the disease to naturally become endemic as it may take longer.
Covid-19 an endemic disease in Vietnam?
Locally, many health experts share the same view, considering Covid-19 to be an endemic disease.
Dr Tran Van Phuc of St. Paul Hospital in Hanoi agrees that the country should change its viewpoint on Covid-19 in a bid to avoid a health crisis in the future.
"If we keep getting stuck in the so-called Covid-19 pandemic trap, we will face a health crisis due to a serious shortage of test kits and human resources, given the context that the Omicron variant is spreading rapidly," said Dr Phuc.
He therefore suggested that Vietnam view Covid-19 as a respiratory disease, similar to respiratory diseases caused by other viruses. He also put forward the idea that hospitals set up specific Covid-19 departments, or at least a unit in charge of Covid-19 diagnosis and treatment.
Dr. Nguyen Lan Hieu, director of Hanoi Medical University Hospital, supported this proposal, saying it is time to treat Covid-19 like other endemic diseases. "By doing so, we can calmly live with Covid-19 and actively open the door for socio-economic activities as seen in the pre-pandemic period," the health professional noted.
Nevertheless, several other experts have made a more conservative assessment with regard to this new approach.
Assoc. Prof. Dr. Tran Dac Phu, senior advisor to the Ministry of Health, pointed out that in order to regard Covid-19 as an endemic disease, the number of cases must remain stable. Indeed, new infections continue to rise every day and the outbreak remains unpredictable.
Furthermore, Assoc. Prof. Dr. Nguyen Van Dung, Dean of the Public Health Faculty of Ho Chi Minh City - based University of Medicine and Pharmacy, warned that considering Covid-19 as a common disease at this time will have negative impacts. The health professional believes that one of those consequences could potentially be local people showing apathy toward the disease, and it is increasingly difficult to stamp out if the disease breaks out again.
First flight repatriating Vietnamese in Ukraine to be conducted on March 5
National flag carrier Vietnam Airlines will conduct the first flight bringing Vietnamese citizens in Ukraine home on March 5 morning.
The flight will arrive in Poland in the afternoon of the same day and return to Vietnam shortly later.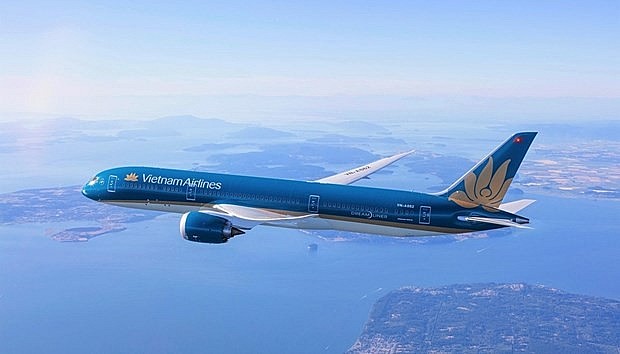 A Vietnam Airlines plane. Photo: Vietnam Airlines
Trinh Hong Quang, Deputy General Director of Vietnam Airlines, said that all necessary preparations and procedures have been completed for the plane to take off.
Earlier, Vietnam Airlines chose six localities around Ukraine with one-way trip from 9-14 hours, including Warsaw, Budapest, Bratislava, Moscow, Minsk, and Bucharest.
As the national flag carrier, Vietnam Airlines has pioneered and participated in many major government campaigns such as carrying home hundreds of thousands of Vietnamese citizens from more than 30 countries and territories amidst the Covid-19 outbreak, evacuating workers in Libya in 2011 and 2014, supporting Vietnamese people to return home during the 2011 earthquake and tsunami in Japan, and taking passengers out of Europe due to a volcanic eruption in 2010.
Over 196 million doses of Covid-19 vaccines administered in Vietnam
As many as 196.3 million doses of the Covid-19 vaccine have now been administered nationwide, according to the National Covid-19 Vaccine Portal.
Of the total, nearly 179 million doses have been injected to people aged 18 years old and above. A further 14 million people aged 18 and above have also been inoculated with booster doses, while 25 million have been given additional doses.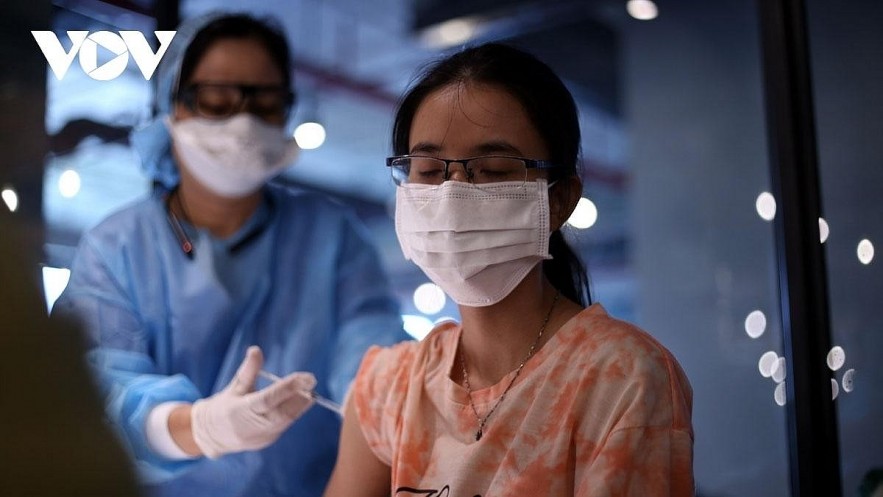 Over 196 million doses of Covid-19 vaccines have been administered in Vietnam. Photo: VOV
At present, 62 out of 63 provinces and cities have now had over 90% of the population aged 18 years and older receive two doses of vaccines.
Meanwhile, approximately 17 million doses have been given to children aged 12 to 17. About 54 out of 63 provinces and cities nationwide have had over 90% of the population in this age group receive two doses of vaccines.
The Ministry of Health (MoH) has requested that local authorities effectively ramp up the campaign to increase the vaccination coverage nationwide, reported VOV.
The MoH is now speeding up procedures for a contract with Pfizer to purchase 21.9 million vaccine doses for children aged five to 11 in March. According to schedule, first seven million vaccine doses for these children will arrive in the first quarter, and the remaining 14.9 million doses are set to be delivered in the second quarter.
Vietnam to compete at Dubai Cup for U23s
Vietnam will take part in the U23 Dubai Cup 2022 in the United Arab Emirates later this month.
They are one of nine teams invited to play along with the hosts in the friendly ten-day tournament which begins on March 20.
Vietnam will face Iraq in the first game on March 23, and then China three days later.
Other teams taking part are Saudi Arabia, Uzbekistan, Croatia, Japan, Qatar and Thailand.
Matches will be held at the Sevens, Dubai Police and Dubai stadiums.
The Dubai Cup was first held in 2017 but has been postponed for the past two years due to Covid-19
The Vietnam Football Federation said some players from the U21 squad that won the AFF U23 Championship last week will be called to the U23 team to take part in the Dubai event.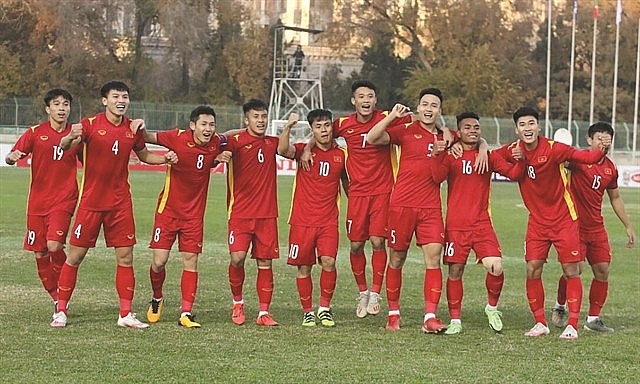 Illustrative image. Photo: VNA
It is planned that players will gather for training on March 14 in Hanoi, cited VNS.
They will most likely be led by new coach Gong Oh-kyun as coach Park Hang-seo is preparing for the last two 2022 World Cup qualifiers against Oman on March 24 and Japan on March 29.
After the tournament, Vietnam players will return for training in preparations for defending their title at the 31st Southeast Asian (SEA) Games in Hanoi in May and the AFC U23 Championship finals in Uzbekistan in June.
World Cup hope
VFF Acting President Tran Quoc Tuan said the 2022 AFF U23 Championship winners will make up the core of the Vietnam team who will vie for a place at the 2026 World Cup.
Those players overcame Covid-19 pandemic issues and tough rivals to win the tournament.
"Our players at this tournament were from 18 to 21 years old," Tuan said.
"They are our future hope for the 2026 World Cup when ASEAN countries will have a better chance to take part as FIFA has decided to increase World Cup participants from 32 to 48.
"They will take part in many training camps and tournaments between now and then to improve their quality.
"However in the past two years, most of the plans were cancelled because of the pandemic, leading to the lack of opportunities to sharpen their skills.
"We decided to send them to the Phnom Penh event as it would be a good opportunity for them to gain experience and strengthen their competitive mind."
The VFF also plans to send these players to compete at the 19th Asian Games in China this September and next year they will vie for medal at the 32nd SEA Games in Cambodia.
National economy expected to pick up pace this year
Many silver linings were seen in Vietnam's economy last month like high industrial production index, export revenue up more than 10 percent and curbed inflation.
The General Statistics Office (GSO) revealed that industrial production expanded 8.5 percent month-on-month and 5.4 percent year-on-year, with processing and manufacturing up 6.1 percent.
Trade and services maintained their growth rates, with rosy signs seen in lodging, catering and tourism services.
Total retail sales and service revenue last month increased 3.1 percent from the corresponding time last year.
Export-import value in the first two months reached US$108.52 billion, a rise of 13 percent, of which export revenue was US$53.79 billion up 10.2 percent, the office said.
Notably, the number of newly-established firms and those resuming their operation in January and February stood at 42,600, a year-on-year increase of 46.2 percent.
During the reviewed period, the consumer price index (CPI) climbed by 1.68 percent, and core inflation rose 0.67 percent.
The disbursement of investment sourced from the State budget fulfilled 8.8 percent of the target, up 10.4 percent as compared with the same period last year. Meanwhile, foreign direct investment (FDI) surged 123.8 percent, reflecting foreign investors' confidence in the domestic market.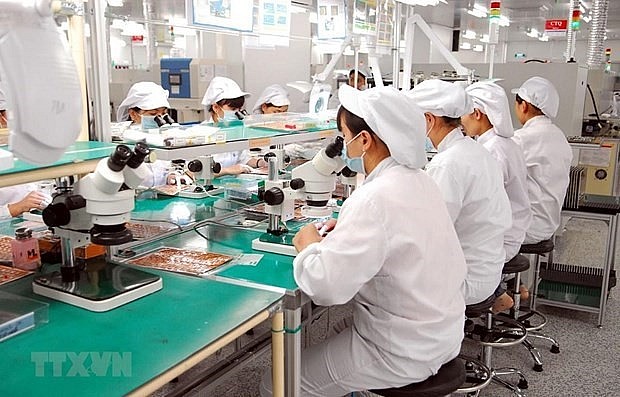 Illustrative image. Photo: VNA
At a recent Government meeting, Prime Minister Pham Minh Chinh asked ministries, agencies and localities to take drastic measures to spur socio-economic development this year, and effectively implement tasks and solutions of the program on socio-economic recovery.
The GSO also proposed authorities to prioritize the Covid-19 prevention and control program in a concerted and effective fashion to safely and flexibly adapt to and effectively control the pandemic, taking this as a foundation for economic recovery, cited VNA.
To diversify the export market and ensure the smooth circulation of goods, Minister of Industry and Trade Nguyen Hong Dien suggested the Ministry of Agriculture and Rural Development closely coordinate with his ministry in market forecasting and seeking solutions to ensure production stability.
Agencies and sectors should devise plans and solutions to maintain the supply of essentials goods as traditional supply sources would decrease, he added.
The minister also stressed solutions to restore and stabilize the labour market, saying localities with major industrial parks should have enough workforce.
Over the past time, the Government has also taken appropriate solutions to maintain the stability of the monetary and foreign exchange markets.
Dr. Nguyen Bich Lam, former director general of the GSO, said policies in support of economic recovery, especially the program on socio-economic recovery and development, give a hope that the national economy will further recover and grow in the time ahead.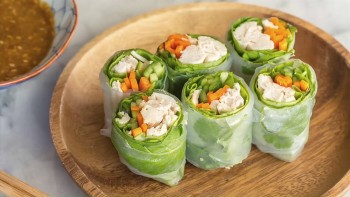 Travel
Rolls are a easy-to-make dish that is loved by many Vietnamese diners as well as Korean stars.