Vietnam News Today (May 1): SEA Games 31: Hanoi to Host Various Tourism Promotion Activities
Vietnam News Today (May 1): Australia – Vietnam's long-term partner in Mekong Delta; Indian media hails Vietnam's tourism development potential; SEA Games 31: Hanoi to host various tourism promotion activities; April 30, 1975 victory – an undeniable truth in history.
Vietnam News Today (May 1) notable headlines
Australia – Vietnam's long-term partner in Mekong Delta
Indian media hails Vietnam's tourism development potential
SEA Games 31: Hanoi to host various tourism promotion activities
April 30, 1975 victory – an undeniable truth in history
Series of tourism festivals launched nationwide
Flag-raising ceremony marks National Reunification Day
Vietnam recognizes largest honey bee hive in Ca Mau
Planning for Central Highlands in 2021-2030 to be set out
SEA Games 31: Hanoi police ready to ensure safety and security for the tournament
Australia – Vietnam's long-term partner in Mekong Delta
Australia has been a long-term partner of Vietnam in the Mekong Delta, affirmed Australian Ambassador Robyn Mudie.
The ambassador expressed her delight to be back to the Mekong Delta, following her visit in December 2020, saying it's a wonderful opportunity for her to reconnect with the people and the environment in the region, and to see some of the chances that have been taking place in the past year.
She noted that Australia has invested 650 million AUD in projects in the region since 2000 like Cao Lanh and My Thuan bridges, along with others in agriculture and climate change adaptation.
"At the moment, we are focusing on projects which look at maintaining productivity and environmental resilience because we know that this is vital to the Mekong Delta's ability to adapt to a changing climate, and to preserve food security, sustainability and development in the future," the diplomat said.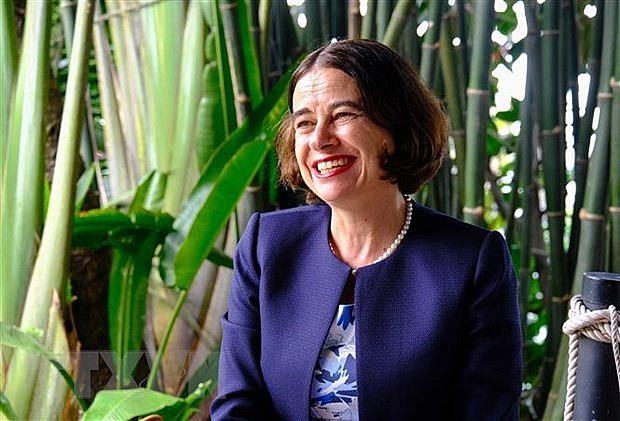 Australian Ambassador Robyn Mudie. Photo: VNA
She added that Australia has a number of interesting projects underway, including one connecting aquaculture farmers to enhance productivity and profitability, helping them maximise productivity.
Another is in the Tram Chim National Park in Dong Thap province, she said, further explaining that it is informed by the AI and high technology solutions, which are geared to supporting sustainable environmental management in the park.
The ambassador also highlighted the Mekong-Australia Partnership, worth 232 million AUD over four years across all Mekong countries, and support through the Australian Centre for International Agricultural Research (ACIAR), which has been focusing on the Mekong Delta for almost 30 years, and collectively invested 23 million AUD in 20 collaboration projects, cited VNA.
Asked about Vietnam's efforts in climate change response, Mudie said Mekong Delta provinces have been working together on shared solutions, and commended the Vietnamese government's decision to introduce an integrated response plan for the Mekong Delta's development.
"This will be really important to connect government, business and community so that all can work together to identify where the challenges are and to work out sustainable and shared long-term mitigation strategies," she said.
The ambassador expressed a hope that the government will take forward its plan for an integrated response, stressing that Australia will look for opportunities that match its existing support once the plan is adopted.
Indian media hails Vietnam's tourism development potential
The Times of India has published an article titled 'From a quiet nation to one of the world's best tourist destinations', which hails the significant tourism development in Vietnam.
The Indian media outlet gives major credit to celebrity chef and author Anthony Bourdain. The world was inspired by the travelling chef and became curious about the various tastes and sights on offer in the country.
According to the Times of India, Bourdain always felt a special connection with Vietnam and first showcased the country in his 2002's show A Cook's Tour.
Little did the world know that the door opened by Bourdain would come as a blessing in disguise for Vietnam. Over the past two decades since the famous chef made his first trip, the tranquil seaside country would undergo vast amounts of development, bringing with it a stream of interested travelers curious to learn what Vietnam has to offer.
The website revealed that Bourdain's love for Pho (noodles) contributed to making a positive impression of Vietnamese cuisine on foreign tourists.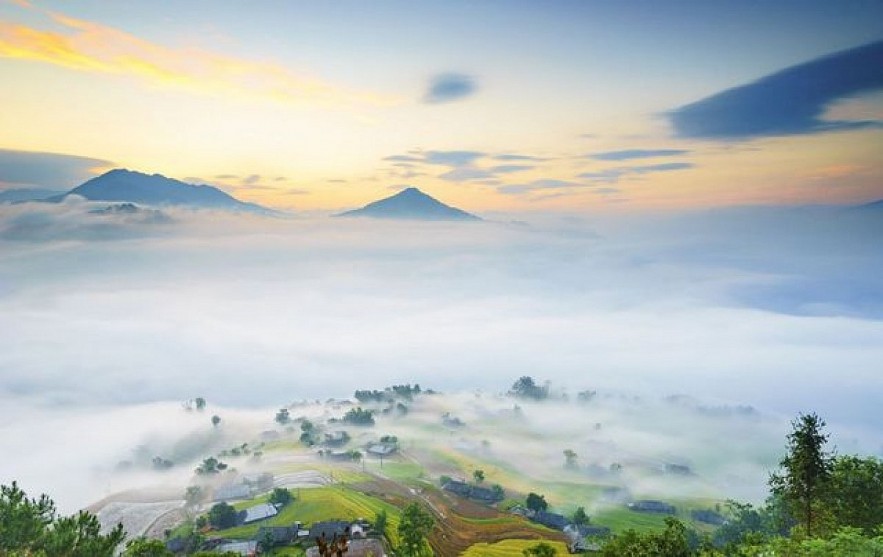 Vietnam's unspoiled destinations attract Western tourists. Photo: Roughguides/ Shutterstock
Thanks to various food showcased on television, YouTube, and other social media platforms, Goi cuon (rice paper rolls), Pho, and Banh mi (Vietnamese sandwich) have become popular choices of food while eating out.
"One of Vietnam's greatest attractions is the street food scene. Affordable, easily available, no dearth of variety, street food in Vietnam has a charm of its own. Experiencing a destination's unique culture through its food must be a terrific thing to do," says the article.
The paper notes that in early 2000s, local businesses got the idea that travelers from the West would come and explore the country. To make it more accessible and welcoming, places like Ho Chi Minh City and Hanoi started to open up backpacker-friendly options for this small group of international travelers.
Other small towns and cities began to follow suit and started to make their locations traveler-friendly. As a result, air access was made easier with the opening of airports in places like Da Nang and Nha Trang. These scenic sites were now made accessible to the world, and had beautiful locations and interesting food on offer to visitors.
The Time of India stressed that while western travelers sought adventure off-the-beaten track, Asian travelers noticed the changing trends, cited VOV.
"The curiosity to check out what attracted western travelers in the first place, gave birth to travelers from the Asian middle-class society with disposable income. With that came mass tourism," the website notes.
It adds that places like Hue, famous for its history, Quang Binh province, famous for spelunking, Sa Pa with its iconic paddy fields, Nha Trang with an array of picturesque beaches, the Mekong Delta with its iconic waterways, and Phu Quoc with its underwater adventure, started to rise as popular destinations everybody wanted to experience.
"In a span of less than two decades, from an underdog destination to a tourism hotspot, Vietnam has come a long way in a relatively short period of time, and with a bang," the Times of India concludes.
SEA Games 31: Hanoi to host various tourism promotion activities
The Hanoi Department of Tourism has coordinated with agencies and localities in tourism promotion on the occasion of 31st Southeast Asian Games (SEA Games).
The department said on April 29 that apart from the Tourism Gift Festival around Hoan Kiem Lake from April 29 to May 1, there will be a range of other activities, including the opening ceremony of the Son Tay-Xu Doai Tourism Year and the launch of the Son Tay ancient fortress pedestrian zone on April 30.
The move aims to tap on potential and uphold cultural heritage in the area, thereby contributing to socio-economic development, especially tourism.
The Son Tay-Xu Doai Tourism Year will look to capitalize on cultural tourism potential in combination with resort and adventure tourism sites in the area and neighbouring localities such as Duong Lam ancient village, Va shrine, Mia pagoda and Dong Mo lake.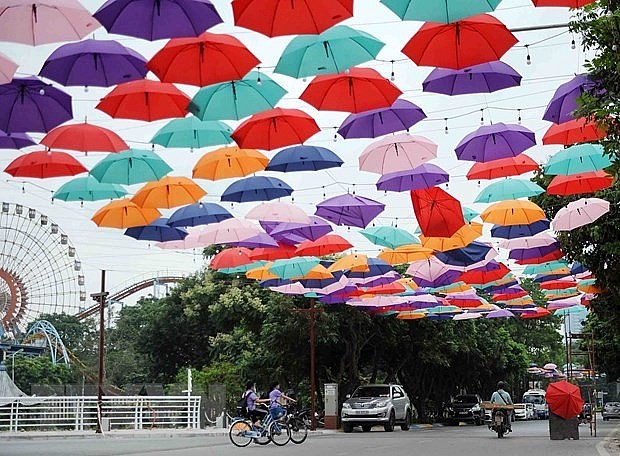 The Hanoi Department of Tourism has coordinated with agencies and localities in tourism promotion on the occasion of 31st Southeast Asian Games. Photo: VNA
The Son Tay fortress was a military base built in 1822 in the reign of King Minh Mang to protect Thang Long Imperial Citadel.
The 820-metre-long walking line stretches over Son Tay town's Pho Duc Chinh and Phan Chu Trinh streets, the outer road of Son Tay ancient fortress, the flower garden in the town's centre, the central flower garden area square, the front yard of the town's cultural centre and town's stadium square, according to VNA.
Visitors to President Ho Chi Minh's Mausoleum will receive gifts on April 30 and May 1, with up to 30,000 gifts to be given by the municipal Tourism Department.
A tourism week takes place in Bat Trang ancient pottery village from April 28 to May 3, with attractive activities and products. Meanwhile, an art and street food space will be kicked off in Tay Ho district on May 6.
Notably, the Hanoi Tourism Festival is slated for May 13-15 on Dinh Tien Hoang street and adjacent streets, and the Hanoi Cuisine and Craft Village Tourism Festival is scheduled for May 19-23 on Le Quang Dao street, Nam Tu Liem district.
To welcome SEA Games 31 guests, the municipal tourism authority has held three training courses targeting staff of lodging facilities and those involving community-based tourism.
To date, the Department of Culture and Sports has made eight short films featuring the city's culture, cuisine and craft villages, which will be screened at tourist accommodations.
Hanoi sets a target of welcoming around 3.2 million tourists in the second quarter of this year, including 150,000-200,000 foreigners.
April 30, 1975 victory – an undeniable truth in history
Forty-seven years ago on April 30, 1975, the Political Bureau and the Party Central Committee realised that the time was ripe to launch a general attack named after President Ho Chi Minh on the final stronghold of the Saigon puppet government.
After four days of the campaign, Vietnamese troops took control of Saigon – Gia Dinh, now Ho Chi Minh City, at noon on April 30. They arrested and forced the President of the Saigon Government to declare an unconditional surrender.
The Ho Chi Minh campaign concluded in a total victory for northern forces, putting an end to the neocolonialism that the United States had taken great lengths to impose on the nation. This represents an important event in the Vietnamese history of fighting foreign aggression in the second half of the 20th century and can be viewed as having both profound historical and epochal significance.
The resounding victory recorded on April 30, 1975, was ultimately a key victory for Marxism-Leninism and Ho Chi Minh's Thought, the ideology put forward by the Vietnam Workers' Party, now known as the Communist Party of Vietnam, that combines the cause of national independence with socialism.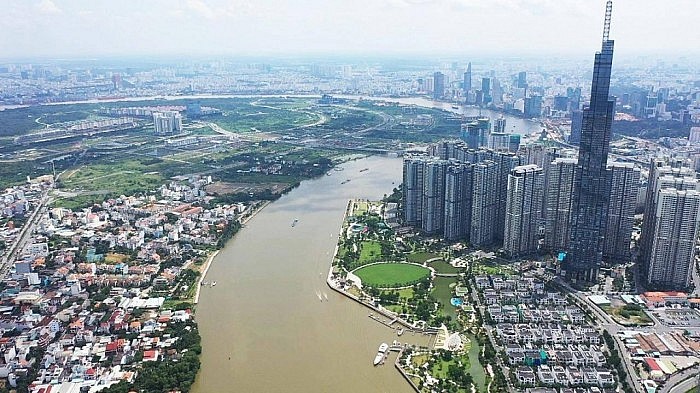 Photo: baogiaothong
The Vietnam Workers' Party and President Ho Chi Minh set out the revolutionary idea to lead the people's war to a great success. They competently dealt with relations between various ethnicities and class, between national independence, democracy, and socialism, as well as between national and international interests.
They mobilised all people and the entire army to unite and participate in the resistance war and national construction, creating an aggregate strength for the nation and bringing the cause of the Vietnamese people's resistance war against US imperialists to a complete victory, reported VOV.
General Van Tien Dung, former Chief of the General Staff of the Vietnam People's Army during the war against the US imperialists, told Western journalists and scholars that, "Once again I would like to make it clear that all of our victories are sourced from the strength of an entire nation rising up to own the country and master its own destiny in the present-day era."
Recently, several stories published by some media outlets, as well as posted on some websites and different social media platforms, allegedly distort the historical truth by denying the stature and significance of the victory. They insist that it is not a glorious victory, but only a natural result of the US changing its foreign policy to withdraw troops, reduce aid, and abandon the Saigon Government.
However, historical truth rejects those false claims, because the Vietnamese people's resistance war against the US aggressors for the cause of national salvation is a just and noble fight which aims to repel the invading US imperialists, protect socialism in the North, liberate the South, and reunify the nation.
The great victory of April 30, 1975, is the result of the heroic, resilient, and indomitable struggle of the Vietnamese people. It therefore belongs to all Vietnamese people, the Party, and President Ho Chi Minh, along with support and assistance from international friends, as well as progressive and peace-loving forces across the globe.
The fourth National Party Congress held on December, 1976, affirmed that, "Time will fly, but the victory of our people in the cause of resistance war against US aggressors for national salvation will forever go down in our nation's history as one of the most brilliant pages, a shining symbol of the victory of revolutionary heroism and human intelligence. It will also pass into the world's history as a great feat of the 20th century, an event of great international importance and profound epochal sentiment."
Vietnam has been undertaking the policy of Doi Moi (Renewal), national industrialisation, modernisation, and international integration with numerous challenges and difficulties to be addressed. Despite complicated and unpredictable developments regionally and internationally, the stature, significance and value of the April 30, 1975, victory will last forever. That presents both pride and motivation for the country, whilst leaving a valuable experience for the present cause of national construction and defence.
Series of tourism festivals launched nationwide
The Carnaval Ha Long 2022 with the theme "Ha Long – A wonder that lights up with SEA Games 31" was launched at Ocean Park beach, Bai Chay ward, Ha Long city, Quang Ninh province at 20:00 on April 29 with the participation of more than 2,000 artists.
This event marks the return and strong tourism recovery of Ha Long city after two years of hiatus due to the Covid-19 pandemic.
Carnaval Ha Long is one of the most impressive and unique tourism products of the summer tourist season that has been maintained by Quang Ninh for many years before the Covid-19 pandemic.
*Nho Quan district in Ninh Binh province also launched the tourism week entitled "Cuc Phuong Jungle and Ethnic Culture and Sports Festival" on April 29.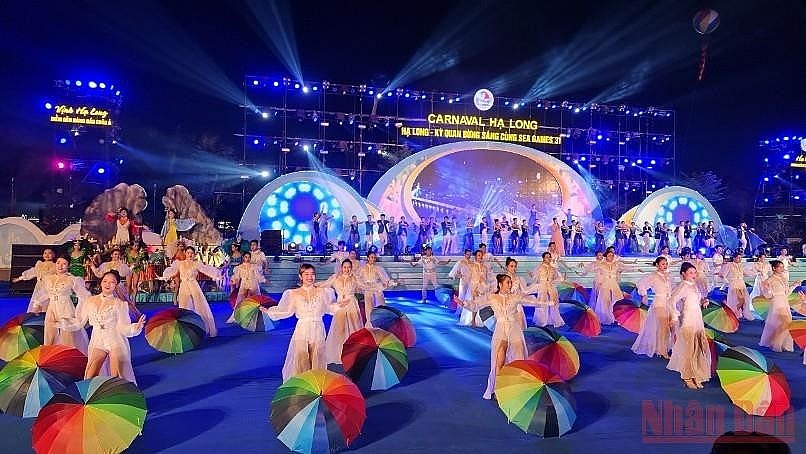 An art performance at the Carnaval Ha Long 2022. Photo: NDO
This is an important cultural event for ethnic minorities in Ninh Binh province, attracting the participation of many arts and sports clubs. The event also promotes OCOP products and introduces tourist tours exploring local culture and the Cuc Phuong Forest, cited NDO.
* The People's Committee of Binh Dinh province launched the Binh Dinh Tourism Festival 2022 themed "Quy Nhon – Sea Paradise" on April 29.
The festival marks the return of the Binh Dinh tourism industry after the pandemic, contributing to attracting tourists to Quy Nhon - the beach tourism paradise of Vietnam and the region.
* The Hanoi Tourism Gift Festival 2022 was also kicked off in the pedestrian zone surrounding Hoan Kiem Lake on April 29.
The festival aims to recover Hanoi tourism activities after the pandemic, in conjunction with the 31st SEA Games and the Visit Vietnam Year – Quang Nam 2022.
Various products from craft villages and many new and attractive tourist products and services were showcased at 100 booths around the Hoan Kiem Lake.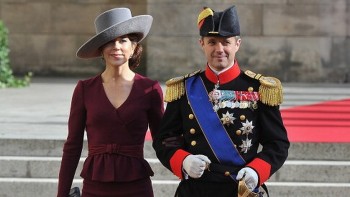 Friendship
Denmark's Crown Prince and Crown Princess will visit Vietnam to celebrate 50 years of diplomatic relations and promote green solutions.