Vietnam News Today (May 10): Vietnam to Affirm Priority Areas of Co-operation at 42nd ASEAN Summit
Vietnam News Today (May 10): Vietnam highlights promotion of ASEAN's solidarity, unity, strategic autonomy; Vietnam to affirm priority areas of co-operation at 42nd ASEAN Summit; SEA Games 32: Gold medals for Vietnam in ouk chaktrang, gymnastics; More foreign coffee chains compete for market share in Vietnam.
Vietnam News Today (May 10) notable headlines
Vietnam highlights promotion of ASEAN's solidarity, unity, strategic autonomy
Vietnam to affirm priority areas of co-operation at 42nd ASEAN Summit
SEA Games 32: Gold medals for Vietnam in ouk chaktrang, gymnastics
More foreign coffee chains compete for market share in Vietnam
Sa Pa among top 50 most beautiful small towns in the world
400 domestic and foreign enterprises to join Vietnam Medi-pharm Expo
US accompanies Vietnam in HIV/AIDS prevention and control efforts
Italian Navy ship visits Ho Chi Minh City
Vietnamese agricultural exports rebound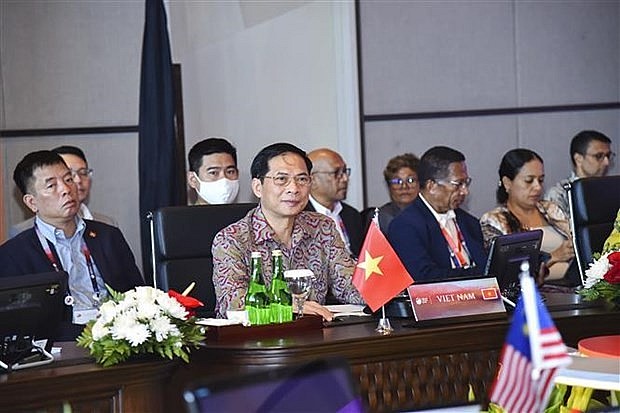 Minister of Foreign Affairs Bui Thanh Son (second from left) at the ASEAN Foreign Ministers' Meeting in Indonesia (Photo: VNA)
Vietnam highlights the promotion of ASEAN's solidarity, unity, strategic autonomy
To affirm itself as an epicentrum of growth amid the rapid movements in the regional and global strategic environment, ASEAN needs to strongly promote its solidarity, unity, strategic autonomy, and centrality, affirming the mission of maintaining peace, stability, and development in the region, stated Minister of Foreign Affairs Bui Thanh Son.
Son made the statement in his remarks at various meetings in Labuan Bajo, Indonesia, on May 9 – namely the ASEAN Foreign Ministers' Meeting, the 33rd ASEAN Coordinating Council (ACC) Meeting, and the 26th ASEAN Political-Security Community (APSC) Council Meeting.
In the face of increasing non-traditional security challenges, the Vietnamese minister proposed stronger and more effective cooperation in the areas of marine collaboration, response to environmental pollution, marine debris, transnational crime, and epidemics, among others. He also expressed his support for Indonesia's initiative of publishing an ASEAN annual document on maritime cooperation.
Appreciating Indonesia's efforts towards realizing a people-centered ASEAN Community, Son emphasized a need to strengthen sub-regional cooperation, in which ASEAN should play the central role in sub-regional development with the bloc's common cooperation programs, and promote infrastructure, institutional and human connectivity to create growth engines for the sub-regions, effectively supporting the goal of narrowing the development gap, cited VNA.
Discussing the international and regional situations, the official reaffirmed ASEAN's principled stance on the East Sea and highlighted the sense of responsibility of each country in building the East Sea into a region of peace, safety and stability. He called on countries to maintain dialogue, strengthen trust, and peacefully resolve disputes based on international law, including the United Nations Convention on the Law of the Sea (UNCLOS) 1982.
The diplomat held that Vietnam, ASEAN, and China commit to complying with the full and effective implementation of the Declaration on the Conduct of Parties in the East Sea (DOC), working towards the early adoption of an effective and legally-binding Code of Conduct (COC) in accordance with international law, including UNCLOS 1982.
He supported and highly appreciated efforts by the ASEAN Chair's Special Envoy on Myanmar in promoting the implementation of the Five-Point Consensus to support Myanmar. Son underscored a need for constructive and substantive dialogue between relevant parties in the region to build trust and ensure that all solutions are Myanmar-led.
At the ASEAN Foreign Ministers' Meeting, participants discussed the progress in building the ASEAN Community as well as new developments in the region. They agreed to strengthen the bloc's values, principles, and standards of conduct, thereby ensuring its independence, self-reliance, proactive and flexible adaptation to changes, and centrality in the regional architecture.
Meanwhile, the 26th APSC Council Meeting focused on the progress recorded in the implementation of the APSC Blueprint. Accordingly, ASEAN's principles and standards of conduct have been respected; its substantive cooperation promoted across defense, energy-food-maritime security, and response to emerging challenges; and the bloc's principled stance on the East Sea further consolidated.
At the 33rd ACC Meeting, participating officials assessed the overall progress of the implementation of the ASEAN Community Vision 2025 and the drafting of the post-2025 vision. They also discussed and completed the roadmap for Timor Leste to become an ASEAN member state.
Vietnam to affirm priority areas of co-operation at 42nd ASEAN Summit
Prime Minister Pham Minh Chinh's attendance at the 42nd ASEAN Summit aims to affirm the nation's priority areas of co-operation which cover strategic infrastructure connectivity, digital transformation, green transformation, food security, energy, sub-regional development, and climate change response.
PM Chinh and a high-ranking delegation from the country departed Hanoi for Indonesia on the morning of May 9 to attend the 42nd ASEAN Summit in Labuan Bajo which will run from May 9 to May 11 at the invitation of Indonesian President Joko Widodo, who is also serving as chairman of the 42nd ASEAN Summit.
The 42nd ASEAN Summit takes place amid complicated developments in the world and in the region which have potential risks, according to VOV.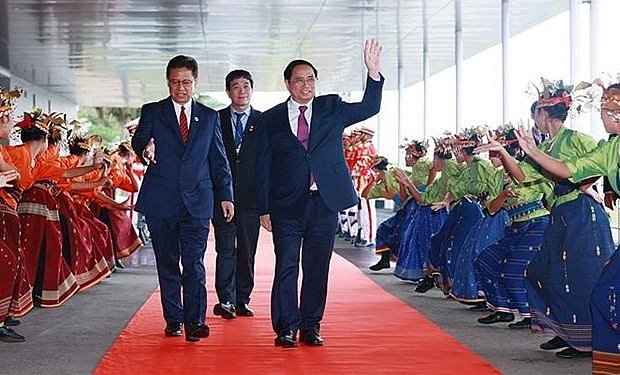 Prime Minister Pham Minh Chinh is welcomed at Labuan Bajo airport on May 9. (Photo: VNA)
The global economy is showing signs of recovery following the pandemic, although the growth rate of production, trade, and investment remains low; the financial and monetary sectors have many potential insecurity; the process of restructuring production, trade, investment, and consumption has continued to get underway strongly; whilst the digital economy, green economy, and circular economy are being prioritised by many countries.
Some major economies have demonstrated their resilience to fluctuations. Most notably, the economies of China, India, and Southeast Asian countries are expected to return to play the role of growth engines of the global economy in the year ahead.
ASEAN is working to complete the Blueprint 2025 on all three pillars and prepare for the next stage of development with the formulation of the ASEAN Community Vision after 2025, which specifically focuses on improving institutional capacity, promoting co-operation based on current major trends such as inclusive recovery, digital transformation, the circular economy, and sustainable development.
The relationship between the bloc and its partners has been strengthened over recent years. Some partners have put forward specific initiatives and proposals such as upgrading the partnership, implementing priority contents in the relationship, and organising the Commemorative Summit or the first Summit with ASEAN.
At the 42nd ASEAN Summit themed "ASEAN Matters: Epicentrum of Growth", Indonesia in the role of ASEAN Chair 2023, will offer many specific priorities and initiatives on all three Community pillars in order to improve the regional bloc's response capacity and turn ASEAN into a global growth engine, with a particular focus on energy security, food security, health resilience, along with economic and financial stability.
Sessions within the summit will focus on the process of building the ASEAN Community and discuss international and regional issues of shared concern.
Dialogue sessions between leaders of ASEAN countries and representatives of the ASEAN Inter-Parliamentary Assembly (AIPA), the ASEAN Business Advisory Council (ABAC), and the High-Level Task Force on ASEAN Community's Post-2025 Vision are also planned.
The summit is expected to consider and approve many important documents relating to c-ooperation in all three pillars: the ASEAN political-security community, economics, and socio-culture.
PM Chinh's attendance at the summit strongly indicates the message of a country that actively participates and contributes responsibly alongside member states in a bid to maintain and enhance ASEAN's central role and promote responsibility for the bloc's voice for peace, stability, and development in the region and in the world. This is along with helping to reinforce ASEAN's solidarity and effectively responding to challenges ahead.
SEA Games 32: Gold medals for Vietnam in ouk chaktrang, gymnastics
Female chess player Doan Thi Hong Nhung on May 9 brought a gold medal to Vietnam in Ouk Chaktrang women's single 60-minute after defeating Fillipo player Shania Mae Garcia Mendoza.
With this, the Vietnamese chess team has reached its target of two gold medals at the 32nd SEA Games.
Two players Nguyen Quang Trung and Phan Trong Binh also brought home another bronze medal in ouk chaktrang, in the men's doubles standard 60 minutes.
On May 9 afternoon, athlete Dang Ngoc Xuan Thien won a gold medal in gymnastics in the individual men's hand-cranked event, with 13.45 points.
Previously, Thien was also in the Vietnamese team to win the men's all-round team event.
This is the 33rd gold medal for Vietnam Sports at the 32nd SEA Games, VNA reported.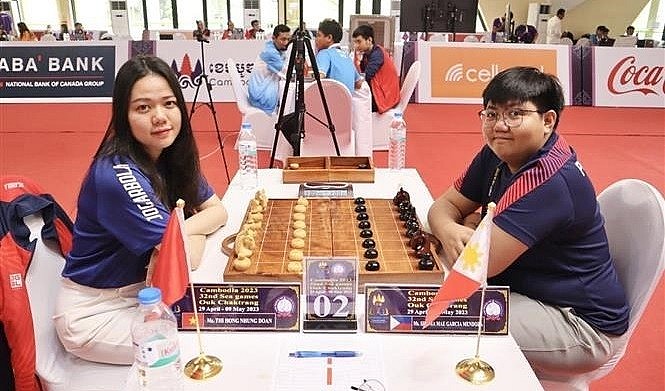 Vietnamse female chess player Doan Thi Hong Nhung (left) and Fillipo player Shania Mae Garcia Mendoza. (Photo: VNA)
Earlier the same day, Vietnam's Pencak Silat team bagged three bronze medals including Pham Tuan Anh (65-70kg category), Vu Van Kien (55-60kg category) and Nguyen The Vu (50-55kg category).
Quang Thi Thu Nghia also won a place in the women's finals of Pencak Silat in the 65-70kg weight category, after winning Singaporean Nurul Shuhaila in the semi-finals.
On the men's 400m run, Tran Nhat Hoang finished second, clocking 47:68 seconds. So, he will be present in the final on May 9 afternoon.
Tennis players Hoang Nam and Van Phuong defeated the duo from Indonesia, with a score of 2-1, to enter the final of the men's team event where they play against Thai players.
Meanwhile, Nguyen Huy Hoang came 3rd in the men's 200m freestyle swimming qualifier after two athletes from Thailand and Malaysia. He will compete in the final round on May 9 night. Also in this discipline, another Vietnamese swimmer Ngo Dinh Chuan also book a berth in the final.
More foreign coffee chains compete for market share in Vietnam
The arrival of more international coffee chains shows that the Vietnamese market still has a lot of potential.
After the opening of its first store, %Arabica is preparing to open a second store in Ho Chi Minh City. %Arabica is a famous coffee chain in Kyoto (Japan) founded by Mr. Kenneth Shoji in 2014. There are 140 %Arabica stores worldwide.
In Vietnam, the chain aims to expand in Hanoi, Hoi An, and Phu Quoc Island.
Earlier, Thailand's largest coffee chain Café Amazon entered Vietnam, with 19 stores in the southern region, 15 of which are located in Ho Chi Minh City.
Founded in 2002, Café Amazon has 3,900 stores in Thailand. It plans to open 1,000 stores outside Thailand from now until 2025.
Moving towards the goal of opening the 100th store this year, Starbucks is a coffee chain from the US with 10 years of business in Vietnam. By the end of 2022, Starbucks had 87 stores, mainly in Ho Chi Minh City with 50 shops, followed by Hanoi with 25, and Hai Phong, Hung Yen, Da Nang, and Nha Trang.
The market leader in terms of size and revenue is Highlands Coffee. Initially a Vietnamese coffee chain, Highlands Coffee was acquired by Jollibee Group of the Philippines in 2011.
Highlands Coffee has 609 stores in Vietnam and more than 50 shops in the Philippines, cited VNN.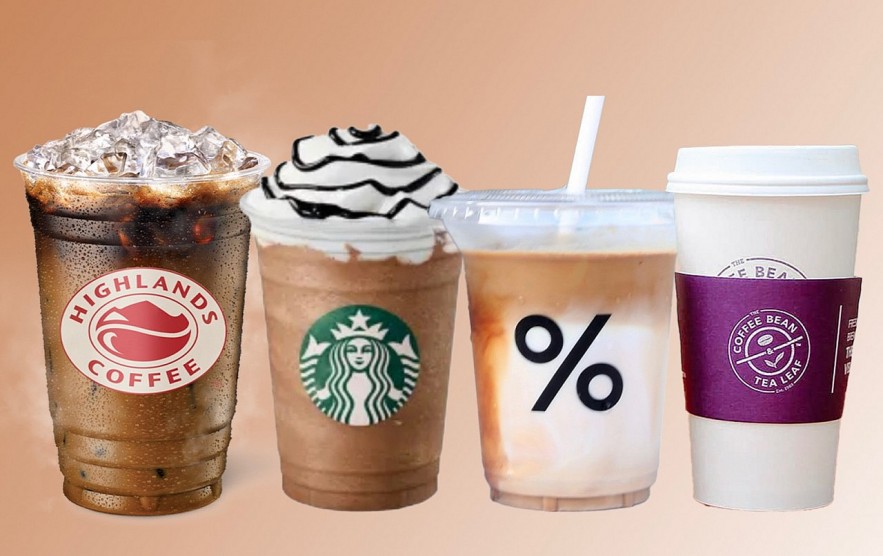 Photo: VNN
In 2022, the market was buzzing with the rumor that Jollibee was looking for a partner to sell 10-15% of Highlands Coffee shares. The coffee chain is valued at about 800 million USD.
Having the same owner as Highlands Coffee is The Coffee Bean & Tea Leaf. The coffee chain has been in Vietnam since 2006. However, the number of The Coffee Bean & Tea Leaf stores is modest, with 15.
The Coffee Bean & Tea Leaf was established in 1963 in Los Angeles (USA). In 2019, Jollibee Food Group completed the acquisition of this coffee chain.
According to experts, only Highlands Coffee and Starbucks do business effectively when developing their chains to a large scale. Café Amazon might face difficulties in the early stages in Vietnam.
Amid declining consumption, the strategy of coffee chains is to temporarily focus on sustainable development in the long run.
At the end of 2022, Highlands Coffee changed its brand logo for the 4th time. The chain once used cars to sell its drinks on the street. It faced scandals owing to retail premise debt and the closure of several business locations.
Like Highlands Coffee, Starbucks closed some stores, including at Rex Hotel (Nguyen Hue Street, District 1, HCMC), Starbucks Press Club (Hanoi) and Starbucks Lan Vien (the first store in Hanoi). Instead of opening stores in prime locations, Starbucks has moved its shops to new urban areas and office buildings.
Some coffee chains are also promoting online sales on online delivery platforms such as ShopeeFood or Grab. Starbucks has opened a booth on e-commerce platforms to sell cups, water bottles and cloth bags.
Café Amazon and %Arabica may hesitate to open more stores although their financial potential is promising. For example, 60% of Café Amazon is owned by PTT Oil and Retail Business (OR) and 40% by retail giant Central Group, both of Thailand.
Despite advantages, not all foreign coffee chains are successful in Vietnam. NYDC - New York Dessert Café, Gloria Jean's Coffees, and Espressamente Illy all had to leave Vietnam because of inefficient business.
Research by the World Coffee Portal predicts that coffee chains in Vietnam will reach more than 5,200 stores by 2025.
Sa Pa among top 50 most beautiful small towns in the world
Sa Pa in the northern province of Lao Cai has been named among the top 50 most beautiful small towns in the world by international travel magazine Condé Nast Traveler.
According to details given by the magazine, Sa Pa is a relatively quiet mountain town located in Lao Cai province in the nation's northwestern region, situated far from the country's popular beach resorts, massive metropolises, and teeming World Heritage Sites.
In addition, the resort town is renowned for its mountain vistas, green rice terraces, as well as its proximity to waterfalls and hiking trails.
Sapa is renowned for breathtaking green rice terraces.
The newswire also suggested that Topas Ecolodge represents the best lodge to stay at whilst visiting Sa Pa as the resort boasts a beautiful hilltop location and villas with private pools. The site is also located about 45 minutes outside of the town.
Tourists can also explore a series of popular destinations around the town, including Ham Rong mountain, Fansipan peak, Muong Hoa valley, Seo My Ty lake, O Quy Ho pass, Silver waterfall, and love waterfall, as well as gaining greater insights into the local life and the unique cuisine on offer in traditional villages in the area.
According to a recent report, the number of international visitors to Vietnam in April grew strongly compared to the previous month. During the past four months, the country welcomed nearly 3.7 million international visitors.