Vietnam News Today (May 7): Vietnamese Real Estate Market to Rebound Thanks to New Policies
Vietnam News Today (May 7): State President meets Singaporean counterpart in UK; Tropical depression enters South China Sea; Luxembourg media positive of Vietnam-Luxembourg cooperation potential; Hoi An named among top 10 trending destinations in the world.
Vietnam News Today (May 7) notable headlines
State President meets Singaporean counterpart in UK
Tropical depression enters South China Sea
Luxembourg media positive of Vietnam-Luxembourg cooperation potential
Hoi An named among top 10 trending destinations in the world
Vietnamese real estate market to rebound thanks to new policies
State President meets British, Cuban leaders in London
Vietnam, Cambodia agree to promote tourism, sports cooperation
Swimmer, marathoner bag gold medals at SEA Games 32
Luxembourg Prime Minister concludes official visit to Vietnam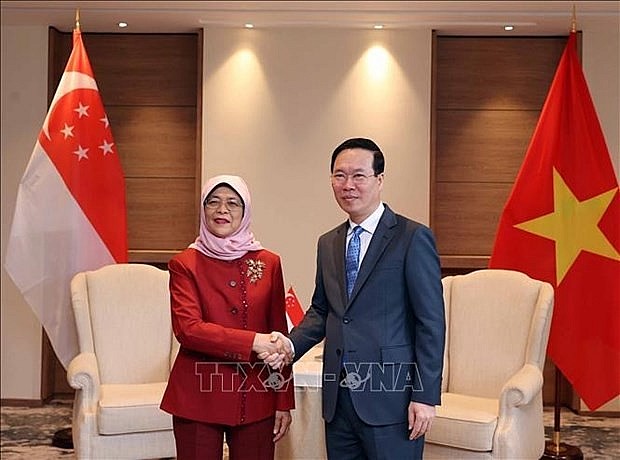 State President Vo Van Thuong (R) and Singaporean President Halimah Yacob (Photo: VNA)
State President meets Singaporean counterpart in UK
State President Vo Van Thuong said he highly appreciates the establishment of the digital and green economic partnership between Vietnam and Singapore, which aims to bring the cooperative relationship to a new and sustainable stage.
He was speaking on May 5 at a meeting with Singaporean President Halimah Yacob in London on his trip to attend the coronation of King Charles III at the invitation of the Royal Family of the UK.
Thuong expressed his pleasure at the recent developments in the Vietnam-Singapore relations in all fields.
He said this year marks the 50th anniversary of the establishment of the diplomatic relations and the 10th anniversary of the establishment of the Vietnam-Singapore strategic partnership, so both countries needed to continue to take effective measures to elevate the relationship to new heights.
The two sides need to maintain exchanges at all levels, especially at high levels, and strengthen cooperation in investment, trade, education and training, tourism, and people-to-people exchanges, cited VNA.
He expressed his hope that both countries will continue to enhance their exchanges and closely coordinate in international and multilateral forums, particularly at the United Nations and ASEAN.
The Singaporean President expressed her desire for the two countries to cooperate even more closely through successful platforms such as the Vietnam - Singapore industrial parks and in new areas of cooperation such as renewable energy, digital transformation, and carbon credit markets.
She agreed with Thuong's proposal to strengthen cooperation in training personnel as well as in innovative fields.
The two leaders exchanged views and agreed on the importance of promoting the strategic partnership between the two countries, with a focus on enhancing political trust and expanding cooperation in the areas of economy, trade, security, cultural exchange, education, and people-to-people exchange.
Both sides emphasised the importance of building a united, self-reliant ASEAN community which plays a central role in the shaping of the regional structure, maintaining a peaceful and stable environment, resolving disputes peacefully, and fully implementing the Declaration on the Conduct of Parties in the East Sea (DOC) and concluding effective and substantive negotiations on the Code of Conduct (COC) that are in line with international law.
Tropical depression enters South China Sea
A tropical depression has just entered the South China Sea, although it is less likely to develop into a storm and impact the mainland, according to information given by the National Center for Hydro-Meteorological Forecasting (NCHMF).
Forecasters said that at 7 a.m. on May 6 the tropical depression was located at approximately 400 km southeast of Song Tu Tay Island, with the strongest winds near its eye reaching between 39 km and 49 km per hour.
At 7:00 a.m. on May 7, the weather event is expected to track in a northwest direction at a speed of between five km and 10 km per hour, with it set to be located 220 km from Song Tu Tay island to the southeast.
Over the course of two to three days, the tropical depression is likely to weaken into a low-pressure area, VOV reported.
Strong winds and rough seas are forecast to take place in the middle and south of the South China Sea, with the tropical expression triggering high waves of up to three metres in the area.
Meteorologists therefore recommend that fishermen strictly monitor the development of the tropical depression in order to timely anchor ashore or seek safe shelter in a bid to avoid the weather event.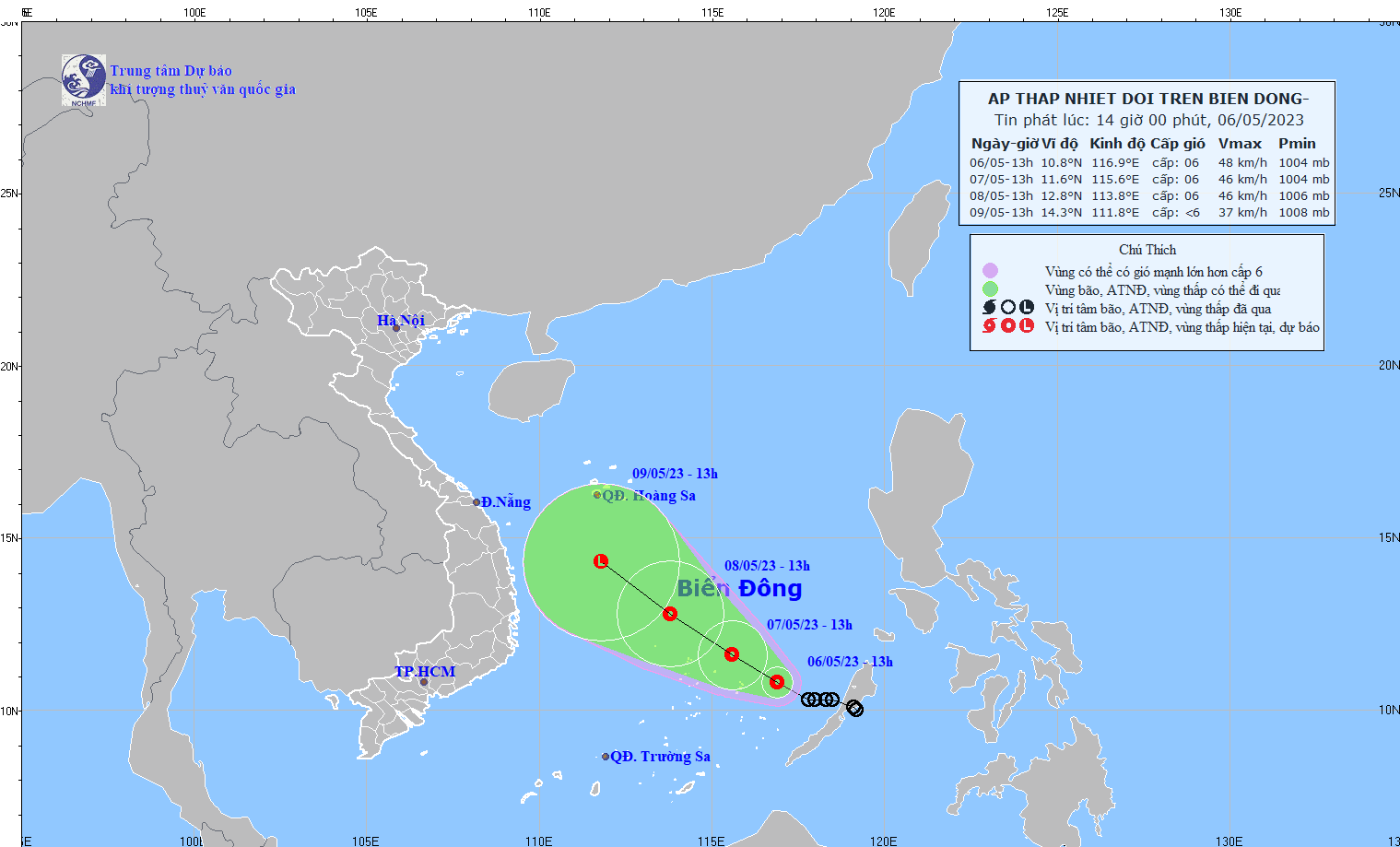 Photo: VOV
The National Steering Committee for Natural Disaster Prevention and Control has recently sent a telegram to coastal localities and cities from Quang Binh to Kien Giang urging them to take drastic measures to respond to the tropical depression.
Luxembourg media positive of Vietnam-Luxembourg cooperation potential
Over the past few days, many Luxembourg news channels have reported on the official visit to Vietnam by Luxembourg Prime Minister Xavier Bettel from May 3-5, assessing that it will contribute to further strengthening the bilateral relationship in the coming time.
The website of the Luxembourg Government - gouvernement.lu - announced that Prime Minister Bettel's official visit is conducted at the invitation of Vietnamese Prime Minister Pham Minh Chinh on the occasion of the 50th anniversary of bilateral diplomatic relations and in response to PM Chinh's visit to Luxembourg in December 2022.
Tageblatt.lu - a daily newspaper in Luxembourg - ran an article saying that Vietnam has become an attractive trade partner globally. Under the leadership of the Communist Party of Vietnam, the Southeast Asian nation has opened up to the world under reform orientation since late 1980s and has become an important economy not only in the region but also in the world.
According to the article, in terms of foreign policy, Vietnam wants to have friendly relations with all countries, while in terms of foreign relations, Vietnam relies on independence, and supports bilateral partnerships and multilateralism. Due to geopolitical uncertainties in the world, Vietnam is increasingly sought by Western companies as a new partner, including Luxembourg. The European Union-Vietnam Free Trade Agreement (EVFTA) has brought many new opportunities for Luxembourgish businesses that operate in the service and financial sectors. Currently, many Luxembourg enterprises are operating in Vietnam.
The article also highlights positive trade relations between Luxembourg and Vietnam in recent years including bilateral trade reaching more than 160 million euros (about 179 million USD) in 2022, up from 120 million euros in 2020.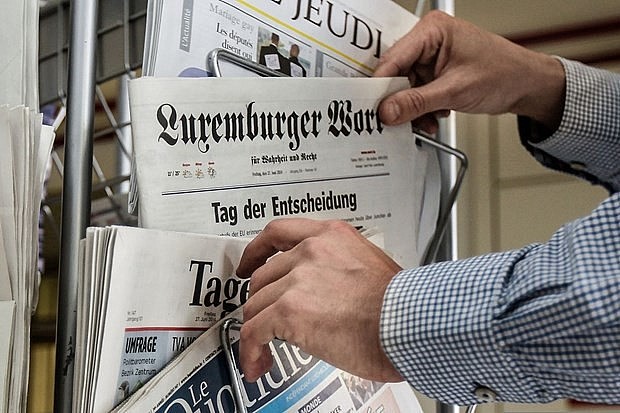 Illustrative photo.
In another article published by the newspaper, it is said that during Prime Minister Bettel's visit to Vietnam, the two sides signed many bilateral cooperation agreements, including those on aviation cooperation, the extension of an agreement to avoid double taxation, and cooperation against climate change through green funds. Luxembourg Agency for Development Cooperation (LuxDev) will launch two projects worth 2 million euros in Vietnam. Luxembourg-based airline Cargolux will soon receive a license to fly to Ho Chi Minh City besides Hanoi.
The article quotes Prime Minister Bettel as expressing optimism about the possibility that Luxembourg tourists in the future can enter Vietnam without a visa when the National Assembly of Vietnam considers extending the visa-free policy at its meeting late this month.
Luxembourg's online newspaper virgule.lu has just published an article about the prospect of Vietnamese electric vehicles entering the country's market. The article said Prime Minister Bettel and Minister for Small and Medium-Sized Enterprises and Minister for Tourism Lex Delles visited Vinfast's facility and experienced test driving its electric vehicles.
Other Luxembourg newspapers such as Today.RTL.lu, diegrenzgaenger.lu also reported on Bettel's visit to Vietnam.
Hoi An named among top 10 trending destinations in the world
The ancient city of Hoi An ranked ninth on the list of the top 10 trending destinations in the world, as recently announced by The Travel, a renowned travel site in Canada.
As a UNESCO World Heritage Site, Hoi An boasts a rich history, a bustling arts scene, delicious local cuisine, great beach life, and a nightlife not to be missed. The central city is always worth visiting, the site wrote.
The travel site recommended top places to explore in Hoi An such as Chua Cau (Bridge Pagoda), the old streets, the Quan Cong Pagoda Temple, and Hoi An Market.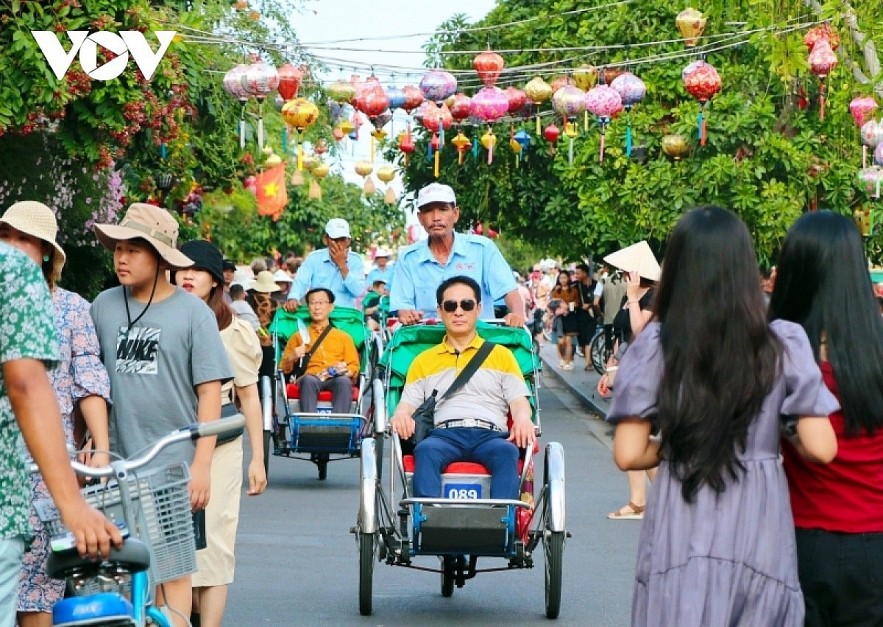 Photo: VOV
This comes after Hoi An was listed among the 25 most beautiful cities in the world by Travel + Leisure.
It represents an exceptionally well-preserved example of a small-scale trading port that was active in the 15th to 19th centuries which traded widely, both with the countries of Southeast and East Asia and with the rest of the world, according to The Travel.
Along with Hoi An, other Asian destinations on the list include Siem Reap of Cambodia, Chiang Mai of Thailand, and the Kathmandu Valley of Nepal.
Vietnamese real estate market to rebound thanks to new policies
According to the Vietnam Association of Realtors (VARS), the segment of social and affordable housing will grow because urban development is still attracting the attention of investors.
Statistics from the Ministry of Construction showed that the country's urbanisation rate, which now stands at 40%, will expand to 45% by 2030.
With the current population growth rate and housing demand, around 70 million sq.m of urban housing is needed each year.
As the global real estate market is forecast to slow down in 2023, it's hard for the Vietnamese market to avoid the impact. However, according to the Vietnam Association of Realtors (VARS), the segment of social and affordable housing will grow because urban development is still attracting the attention of investors.
Some investors like Vinhomes plan to build 500,000 social houses in the next five years. Him Lam and Hung Thinh also have plans to participate in the construction of social housing in the near future.
Given the fact that the supply of affordable apartments accounts for less than 2% of the total supply of new apartments in Hanoi and Ho Chi Minh City, the social housing segment can recover thanks to this supply and the support from the Government's new policies, said expert Nguyen Thi Cam Tu from Vndirect Securities Company.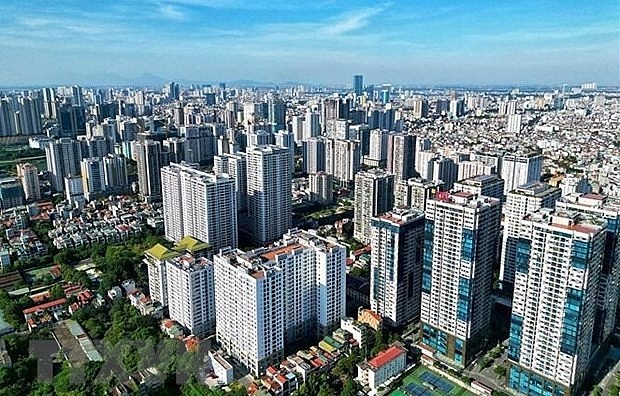 Rising demand for housing in urban areas in the 2021-2030, along with the Vietnamese government's new policies on land, market transparency and bond issuances, is expected to spur the development of real estate market. (Photo: VNA)
She cited Government's Resolution No 33/NQ-CP on solutions removing and promoting the development of a healthy and sustainable real estate market and Decree No.8/2023/ND-CP on amendment of a number of articles in decrees stipulating the private offering and trading of corporate in the domestic market as examples. They can help ease liquidity pressure in the short term, she noted.
In fact, real estate businesses are facing liquidity pressure when entering the peak period of bond maturity, cited VNA.
According to Ho Chi Minh City Real Estate Association (HoREA), the volume of such bonds maturing in 2023-2024 will reach about 230 trillion VND (9.8 billion USD), including 119 trillion VND in 2023 and 111 trillion VND in 2024.
Le Hoang Chau, President of HoREA, said Decree No. 08 will have a very positive impact on the handling of 119,000 billion VND worth of bonds due in 2023.
Experts said that the issuance of recent legal documents has creates a legal corridor for businesses to access capital, thereby resuming their operation. Enterprises have a chance to restructure debt, extend loan principal and interest, gradually removing bottlenecks of the real estate market.
The Government has committed to build more than 1 million social housing and houses for workers by 2030 to meet the needs of middle and low income households. This move creates a driving force for businesses, especially those with land available suitable for building social housing projects.