Vietnam News Today (May 16): SEA Games: Vietnam Advance to Semi-finals as Group A Winners
Vietnam News Today (May 16): Vietnam advocates building independent, self-reliant economy linked to global integration; Vietnam documents 1,594 Covid-19 cases on May 15; SEA Games: Vietnam advance to semi-finals as Group A winners; Vietnam to ban plastic bags from markets by 2030.
Vietnam News Today (May 16) notable headlines
Vietnam advocates building independent, self-reliant economy linked to global integration
Vietnam documents 1,594 Covid-19 cases on May 15
SEA Games: Vietnam advance to semi-finals as Group A winners
Vietnam to ban plastic bags from markets by 2030
Vietnam stops Covid-19 testing for international arrivals from May 15
Vietnamese businesses in Laos told to seize post-pandemic opportunities
Chinese dealers flock to purchase Vietnamese lychees
SEA Games 31 update: Vietnam leads medal count with 39 golds
Seventh Argentine Week in Hanoi "Celebrating our friendship"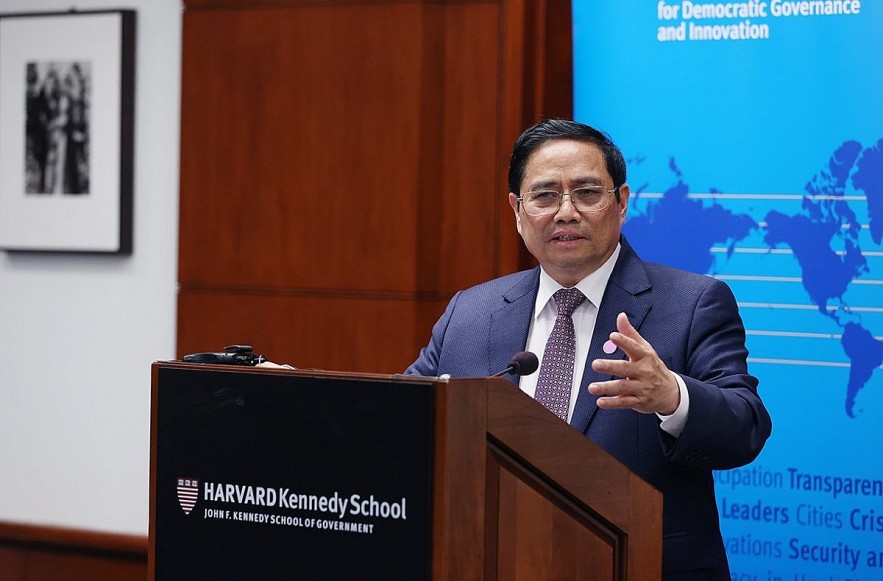 PM Pham Minh Chinh makes a keynote presentation at Harvard University. Photo: VGP
Vietnam advocates building independent, self-reliant economy linked to global integration
Prime Minister Pham Minh Chinh placed emphasis on Vietnam's policy of developing an independent and self-reliant economy closely linked to proactive international integration, in his remarks at Harvard Kennedy School on May 14 afternoon (local time).
He made an in-depth analysis of the unpredictable and complicated developments in the world, including strategic competition, conflicts, financial risks and supply chain disruptions and negative effects of globalization, along with traditional and non-traditional security challenges.
That context requires countries to pay more attention to building an independent and self-reliant economy in order to minimize the impact of external shocks and at the same time to take advantage of international integration opportunities, said Chinh,
According to the Vietnamese PM, most countries, especially developing ones, desire to develop a strong independent and self-reliant economy and accelerate industrialization in association with international integration in order to escape the 'middle income trap' and become a developed country.
He pointed to the Vietnam case, saying it was President Ho Chi Minh who put forward this idea in his appeals to the United Nations in December 1946 and in a letter to US President Harry Truman dated January 18, 1946.
Vietnam has consistently pursued this policy since it won national independence in 1945, and it has since recorded important gains especially during 35 years of implementing the Doi Moi (Renewal) process.
Notably, it has flexibly and effectively responded to external shocks such as the 1997-1998 Asian financial crisis, the 2007-2008 global financial crisis, and the current Covid-19 pandemic from 2020, cited VOV.
The scale of the economy has constantly expanded, reaching over US$362 billion in 2021 compared to US$4.2 billion in 1986. Its GDP per capita last year reached nearly US$3,700, an increase of about 26 times compared to 1990.
Vietnam is the fourth largest economy in ASEAN, one of the 20 largest trading economies in the world, and the leading exporter of rice and many agricultural products in the world. It has signed many free trade agreements (FTAs) bilaterally and multilaterally, with 15 of them now in force.
The PM emphasized that Vietnam needs to promote this policy in the coming time to address major issues, to ensure independence, sovereignty and national interests, to help improve capacity and potential for deep and effective integration in the global economic system and well implement international commitments.
To realize the goal, he said Vietnam advocates developing an economy with a rational, efficient and sustainable structure; enhancing its resilience and competitiveness; and adapting flexibly and effectively to changes locally, regionally and globally.
At the same time, he said Vietnam will make good use of opportunities from international integration, creating a driving force for quick recovery in the short term and sustainable development in the medium and long terms.
It will especially pay attention to social progress, social justice, social security and people's lives, said Chinh, recalling the country's top leader Nguyen Phu Trong's statement that Vietnam does not 'sacrifice' social progress and justice to pursue economic growth alone.
The PM also pointed to three strategic breakthroughs namely institutions, human resources and infrastructure systems that need to be made to achieve the goal. Of these factors, priority will be given to creating a breakthrough in developing a socialist-oriented market economy.
After the Prime Minister's presentation, ministers and members of the Vietnamese delegation exchanged views with Harvard Kennedy School professors on Vietnam's development orientations.
PM Pham Minh Chinh is in the United States for a week-long working trip that lasts through to May 17. He attended a special summit between ASEAN and the US in Washington D.C. on May 12-13 to mark 45 years of their relations at the invitation of President Joe Biden.
Vietnam documents 1,594 Covid-19 cases on May 15
A total 1,594 new cases of Covid-19 were recorded in the past 24 hours from 4pm May 13 to 4pm May 15, a reduction of 301 infections against the previous day, according to the Ministry of Health.
Hanoi reported the highest number of infections on the day with 461 cases, followed by Quang Ninh with 88, Nghe An 80 and Yen Bai 80.
The national tally reached 10,696,630, according to VNA.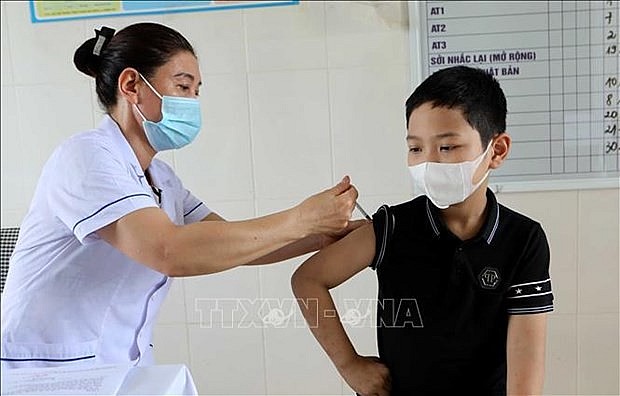 Illustrative photo. Photo: VNA
A total 5,448 Covid-19 patients were given the all clear on May 15, bringing the number of recoveries so far to 9,355,040. There was no death reported on the day.
By May 14, the country had injected 216,959,400 doses of Covid-19 vaccines, including 2,501,303 shots for children from 5 to 11 years old.
SEA Games: Vietnam advance to semi-finals as Group A winners
Vietnam comfortably beat Timor Leste 2-0 at Viet Tri Stadium in Phu Tho Province on the evening of May 15 to progress into the semi-finals of the 31st SEA Games men's football event as the Group A winners.
Nguyen Van Tung and Ho Thanh Minh were on target after the break as Park Hang-seo's troops concluded their group-stage campaign at the top with 10 points, one clear of Indonesia.
Indonesia's 3-1 victory over Myanmar earlier on Sunday not only sent coach Shin Tae-yong's side through to the last four, but also helped Vietnam book a semi-final place regardless of the result of their match against bottom-placed Timor Leste.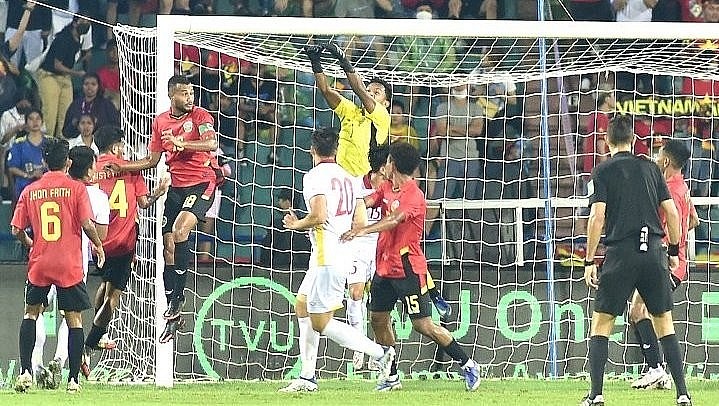 Vietnam pour constant pressure on the Timor Leste side during their last Group A match on Sunday. Photo: NDO
Given that fact, coach Park Hang-seo decided to rest some key players, including Nguyen Hoang Duc, Nguyen Tien Linh and Do Hung Dung, on the bench and gave the opportunity to the irregular ones.
With Timor Leste being the minnows, it came as little surprise when Vietnam promptly took control of the match right after the first whistle. The hosts threatened to score after 17 minutes with Van Tung's attempt being parried by goalkeeper Junildo Pereira.
Vietnam created several more opportunities and almost opened the scoring a few minutes before halftime as Van Tung was thwarted by the post, reported NDO.
After being denied twice in the first half, Van Tung eventually etched his name on the scoresheet in the 53rd minute with an unstoppable header from close range.
Vietnam doubled their advantage 12 minutes later thanks to a powerful header by Ho Thanh Minh from a left-wing cornerkick.
In the 82nd minute, Vietnam found the back of the net for the third time, but Ho Thanh Minh's goal was disallowed due to offside.
As the Group A winners, Park Hang-seo's troops will meet the runners-up of Group B in the semi-finals on May 19, while Indonesia will play the Group B winners for a place in the title match.
Tomorrow (May 16), the last matches of Group B will be underway at Thien Truong Stadium in Nam Dinh Province, with Malaysia taking on Cambodia and Thailand playing Laos.
Vietnam to ban plastic bags from markets by 2030
Vietnam will ban the use of all plastic bags, even in wet markets, from 2030, according to an official of the Ministry of Natural Resources and Environment.
Deputy head of the ministry's Institute of Strategy and Policy on National Resources and Environment (ISPONRE) Nguyen Trung Thang said that currently, manufacturers are considering changes to technology to meet market demand and comply with State regulations.
Thang said over the past time, Vietnam has seen many positive signals in promoting the restriction of plastic bags.
He took the establishment of the Plastic Alliance's pilot project as an example.
The Plastic Alliance gathers 16 retailers that pledge to reduce the use of disposable plastic bags. It is part of the "Rethinking Plastics - Circular Economy Solutions to Marine Litter in Vietnam" project funded by the European Union (EU) and the German Government, and carried out by Expertise France, cited VOV.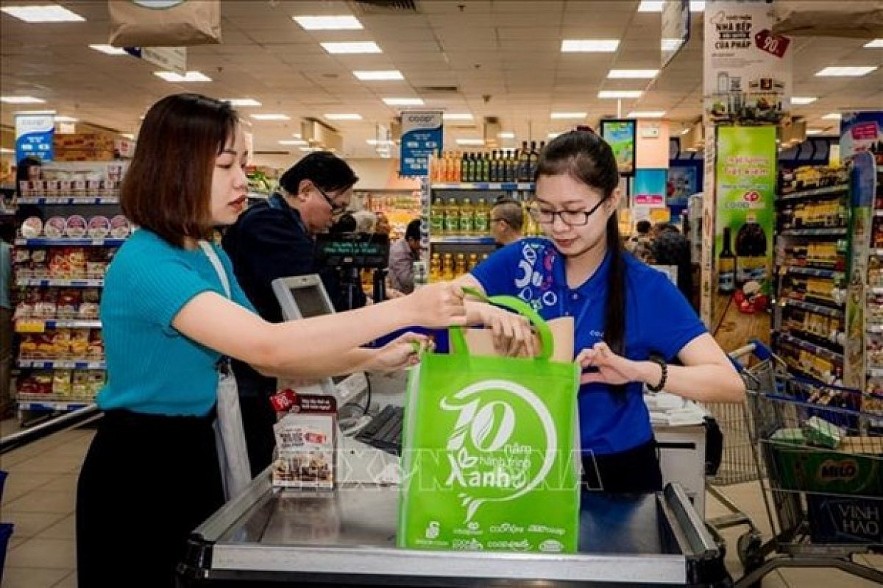 Supermarkets begin using environmentally-friendly bags. Photo: VNA
The alliance has stepped up communication programs directed at retailers and on social media platforms to change consumer behavior and reduce single-use plastic bags and plastic products.
According to an ISPONRE survey, up to 104,000 single-use plastic bags are used at supermarkets each day, equivalent to 38 million bags a year. Among the 48 supermarkets surveyed, 46 are providing plastic bags free of charge.
Therefore, Vietnam has set a target of using 100% environmentally-friendly bags at commercial centers and supermarkets by 2025.
To that end, many policies have been approved by the Vietnamese Government to limit plastic bags and single-use plastic products, including the National Strategy on Integrated Management of Solid Waste to 2025, with a vision to 2050.
The 2020 Law on Environmental Protection also stipulates the responsibility of manufacturers for waste recycling and treatment, and includes regulations on the reduction, recycling and treatment of plastic waste as well as prevention and control of ocean plastic waste.
Vietnam stops Covid-19 testing for international arrivals from May 15
Deputy Prime Minister Vu Duc Dam has signed a document on the suspension of Covid-19 testing for international travelers before entering Vietnam.
The document stated that the Covid-19 pandemic has begun to see reductions in both the number of cases and deaths on a global scale while Covid-19 vaccines are still effective against current variants of the SARS-CoV-2 virus. In addition, many other countries and territories have been gradually easing anti-pandemic measures, including the requirement for Covid-19 testing for entry.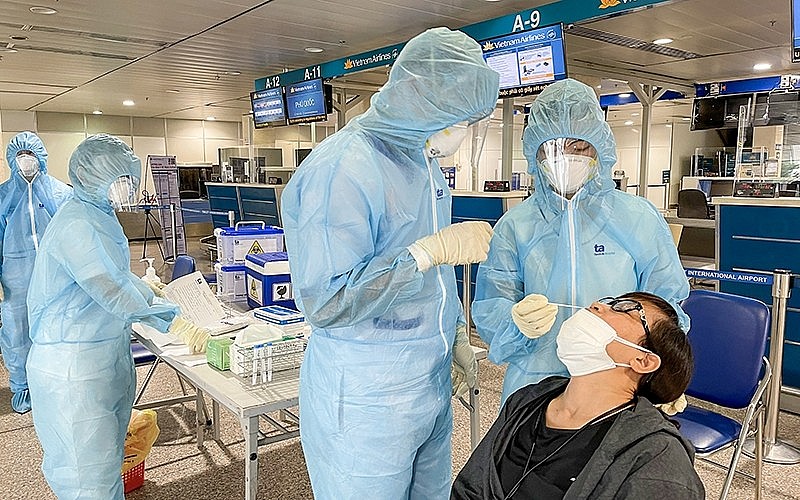 Photo: NDO
In Vietnam, the pandemic prevention and control has seen positive results while the number of new cases in the country has decreased continuously since March 15. The number of serious cases and deaths related to Covid-19 has also declined while the coverage of Covid-19 vaccines is high.
Previously, the Ministry of Health decided to stop the requirement for medical declaration for people entering Vietnam from April 27 and for domestic travel from April 30, NDO reported.
Vietnam has so far injected more than 216.5 million doses of Covid-19 vaccines, with nearly 68.7 million people administered with at least two doses.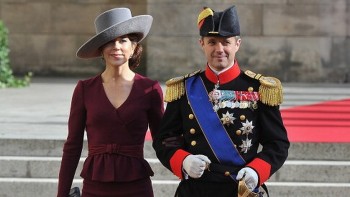 Friendship
Denmark's Crown Prince and Crown Princess will visit Vietnam to celebrate 50 years of diplomatic relations and promote green solutions.