Vietnam News Today (May 14): SEA Games 31: Vietnam Leaves Strong Impressions on International Media
Vietnam News Today (May 14): Covid-19: Daily infections fall to 2,200, no deaths recorded; SEA Games 31: Vietnam leaves strong impressions on international media; President calls for stronger Vietnam-Indonesia defense cooperation; UNDP pledges additional 1,450 flood-resistant houses for Vietnam.
Vietnam News Today (May 14) notable headlines
Covid-19: Daily infections fall to 2,200, no deaths recorded
SEA Games 31: Vietnam leaves strong impressions on international media
President calls for stronger Vietnam-Indonesia defense cooperation
UNDP pledges additional 1,450 flood-resistant houses for Vietnam
Vietnam hosts international conference on ocean economy
Prime Minister hopes for breakthroughs in ASEAN-US relations
PM Pham Minh Chinh meets with US President Joe Biden
VN conservationist wins Int'l Princess of Girona Foundation Awards
SEA Games 31: Vietnam expects more golds in Kurash, Rowing, Kickboxing, Wushu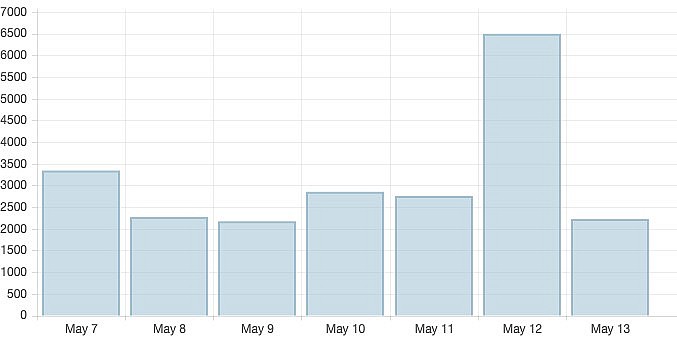 Daily coronavirus infections in Vietnam in the past week. Photo: VOV
Covid-19: Daily infections fall to 2,200, no deaths recorded
Vietnam recorded no coronavirus deaths on May 13, while its daily caseload fell by nearly 1,800 to more than 2,200, the Ministry of Heath said in its coronavirus update released at 6pm.
As many as 2,227 fresh cases were detected in 53 cities and provinces during the day, including an imported case and 1,517 cases in the community.
Hanoi capital topped localities nationwide, registering 495 new cases, followed by Nghe An (123), Phu Tho (120), and Dak Lak (114). Forty-nine other localities recorded fewer than 100 cases each.
In the South, Ho Chi Minh City detected 36 new cases, followed by Binh Duong (28), Binh Phuoc (21), and Ba Ria – Vung Tau (11), and Ben Tre (6).
Bac Giang province, which was a coronavirus hotspot last summer, registered to add 443 cases to the national Covid-19 database after reviewing the statistics in its districts and towns.
Localities that saw the number of infections decrease most compared to the previous day were Dak Lak (-1.137), Bac Ninh (-276), and Nghe An (-45).
Meanwhile, localities that saw the number of infections rise most compared to the previous day were Son La (+20), Nam Dinh (+19), and Lang Son (+8).
On average 2,796 cases were recorded in Vietnam daily in the past seven days.
The same day, the Ministry of Health announced an additional 9,065 patients recovering from the disease, but no more deaths, cited VOV.
At present, 331 patients are relying on mechanical ventilation and two patients are receiving extracorporeal membrane oxygenation (ECMO), a sophisticated form of therapy that is used to save the lives of patients in critical condition.
As of 6pm on May 13, Vietnam has confirmed nearly 10.7 million infections, ranking 12th out of 227 countries and territories worldwide.
Of the total, more than 9.3 million patients have recovered, and 43,063 patients have died of the virus and underlying illnesses.
Over 216 million Covid-19 vaccine doses have been administered nationwide.
SEA Games 31: Vietnam leaves strong impressions on international media
The homepage of the International Olympic Committee (IOC) and the international media have run articles reflecting their impressions with the brilliant and magnificent opening ceremony of the 31st Southeast Asian Games (SEA Games 31) at My Dinh National Stadium in Hanoi in the evening of May 12.
"The Games came to life in a flourish of color, dance and performance, all under the banner of the Games slogan 'For A Stronger Southeast Asia'," read the article entitled "Opening ceremony lights up Hanoi in a spectacular celebration of Southeast Asia as SEA Games officially begin" on IOC website.
"Highlights included a beautiful lotus dance representing inspiration, aspiration, and strength, and the unveiling of 11 woodcut folk paintings accompanied by a dance," it said.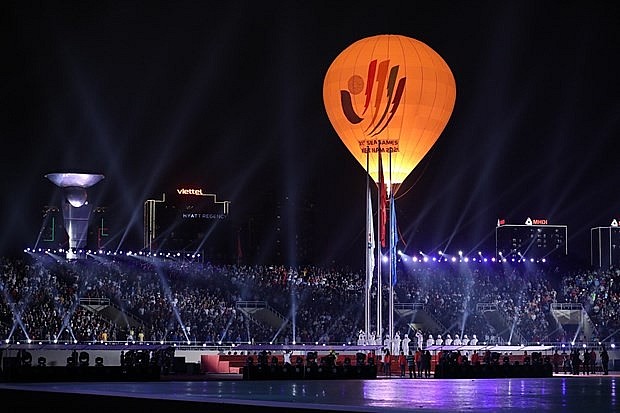 The Southeast Asian Games Federation and SEA Games 31 flag hoisting ceremony at the opening. Photo: VNA
Singapore's The Straits Times newspaper wrote: "The SEA Games returned to Vietnam for the first time in almost 20 years on Thursday night (May 12) with a dazzling light show and spectacular pyrotechnics witnessed by more than 20,000 spectators in a packed My Dinh Stadium, reported VNA.
Sazali Abdul Aziz, the author of the article, appreciated the efforts of the host country, saying this will be the first SEA Games to be staged since the emergence of Covid-19. Vietnam, like many other ASEAN nations, is taking confident strides towards returning to normalcy, he wrote.
Singapore's CNA television channel commented that the opening ceremony of the SEA Games 31 had blown up the spirit of the Games, even though it was raining heavily in Hanoi just a few hours before the start of the event.
According to the Bernama news agency of Malaysia, host Vietnam staged an eye-catching opening ceremony in a blaze of color, light and fireworks.
The Star newspaper of Malaysia wrote that SEA Games 31, the regional biggest sports event, started with a glitzy affair that showcased the cultural fabric and solidarity of the republic. The host nation also showed the solidarity of all countries in Southeast Asia, which has grown stronger over the year, it said.
The ASEAN Post of Malaysia cited some locals' opinions that the organization of the Games is a sign that life is returning to normal.
Indonesia's The Jakarta Post newspaper also runs an article with the title "The opening ceremony of the SEA Games 31 shows Vietnamese identity".
President calls for stronger Vietnam-Indonesia defense cooperation
President Nguyen Xuan Phuc on May 13 called on the defense ministries of Vietnam and Indonesia to bolster consultations and support each other at multilateral forums, and maintain the common stance of ASEAN on regional issues, including the Bien Dong Sea.
He made the call while hosting a reception for Indonesian Minister of Defense Prabowo Subianto, during which he underlined the countries' mechanisms such as the defense policy dialogue play a major role in exchanging viewpoints, and handling bottlenecks and promptly guiding bilateral defense ties.
He hailed the official Vietnam visit by Subianto and a high-ranking delegation of the Indonesian Defense Ministry to attend the ongoing SEA Games 31, saying it will promote bilateral defense cooperation in a practical and effective manner, contributing to the Vietnam-Indonesia strategic partnership for peace, prosperity and development of each country, the region and the world, as well as to strengthening mutual trust.
The Vietnamese leader highly valued the results of talks between the two countries' defense ministers and voiced his delight at their thriving defense relations.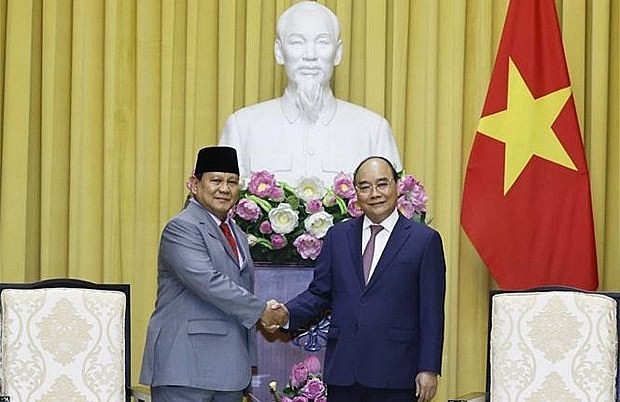 President Nguyen Xuan Phuc (R) shakes hands with visiting Indonesian Minister of Defense Prabowo Subianto. Photo: VNA
The countries have launched measures to consolidate political trust; fully implement signed cooperation agreements in an efficient and practical way, and bolster collaboration between the armies, especially regular exchanges between the countries' navies and coast guards for timely resolution of maritime incidents; and exchange intelligence and defense industry information, as well as participate in United Nations peacekeeping operations.
He affirmed that Vietnam treasures relations with Indonesia, which is the country's leading strategic partner in the region, and strives to foster ties in a stable, sustainable and comprehensive fashion across all fields, particularly economy, security, defense, culture, education, tourism and people-to-people exchange.
Vietnam appreciated Indonesia's contributions to upholding ASEAN's central role and solidarity, especially the country's active role in promoting the implementation of the Five-Point Consensus on the situation in Myanmar adopted by ASEAN leaders in April 2021, cited VNA.
Vietnam will support Indonesia as Chair of ASEAN next year and hopes the country will further contribute to building an ASEAN Community of solidarity, development, peace and stability that ensures security and freedom of navigation in the region adhering to international law and the 1982 UN Convention on the Law of the Sea (UNCLOS).
President Phuc said that with high consensus between him and his Indonesian counterpart Joko Widodo, the two nations need to raise cooperation in addressing maritime issues and build a regular mechanism in this regard.
For his part, the visiting Indonesian Minister conveyed President Widodo's regards to President Phuc and congratulated Vietnam on the successful opening ceremony of SEA Games 31.
He pledged that after his visit, Indonesia will bolster cooperation with Vietnam's navy and coast guard forces in dealing with maritime issues.
Furthermore, Indonesia wishes to learn from Vietnam's experience in defense, fisheries and agricultural development, adding that the defense ministry stands ready to partner with its Vietnamese counterpart in technology and military medical training.
UNDP pledges additional 1,450 flood-resistant houses for Vietnam
The UN Development Program (UNDP) will help build an additional 1,450 flood-resistant houses for poor households in coastal provinces of Vietnam in the future, said Caitlin Wiesen, resident representative of the UNDP in Vietnam.
Wiesen made the statement during a workshop running with the theme "Storm and flood resilient housing: Successful model in Vietnam and ways forward" which was held in Hanoi on May 13.
Since 2018, a total of 4,100 flood-proof houses have been built through the support of the UNDP and the Vietnamese Government, to increase the resilience of coastal communities who are vulnerable to the impact of climate change, particularly rising sea levels and flooding, VOV reported.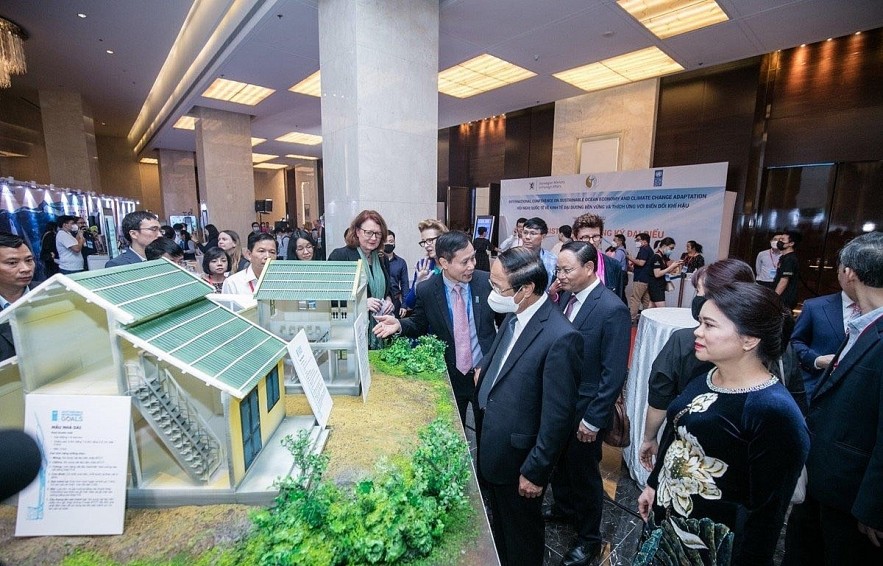 Delegates visit models of flood-resistant houses at the event. Photo: VNA
The UNDP representative emphasized that these safe houses contribute to securing the livelihoods of residents in coastal provinces by helping them to withstand subsequent storms which have made landfall in Vietnam over recent years, as well as the dangers of severe flooding.
She went on to underscore the importance of ensuring that society's most vulnerable people are not left behind, noting that the UNDP will continue to accompany the Government to build an additional 1,450 flood resistant houses in coastal provinces from Binh Dinh to Ca Mau in the near future.
Phan Quy Phuong, vice chairman of Thua Thien-Hue People's Committee, highlighted the efficiency of flood-resistant houses during the historic flooding in 2020. Indeed, these structures helped poor and disadvantaged households living in flood prone areas overcome challenges and quickly stabilize their lives.
At the workshop, representatives of management agencies from 28 coastal provinces, Vietnamese and international experts and scientists shared their practical experiences in building flood-resistant houses in the central coastal provinces, as well as the necessary skills which can help local people to overcome future natural disasters.
Vietnam hosts international conference on ocean economy
All countries need to make stronger commitments and take more drastic and effective measures to demonstrate their responsibility for the sustainable development of the ocean economy, Deputy Prime Minister Le Van Thanh addressed the International Conference on Sustainable Ocean Economy and Climate Change Adaptation.
The conference is being held on May 12 and 13 in both online and offline formats by the Vietnamese Ministry of Natural Resources and Environment and the Norwegian Ministry of Foreign Affairs, with the support of the United Nations Development Program (UNDP).
Deputy PM Thanh emphasized that as marine pollution and ocean plastic waste are urgent global issues, countries should establish a global system to monitor, share data, provide a scientific basis for ocean plastic waste from the national, regional and world scales.
Deputy Prime Minister Le Van Thanh speaking at the conference. Photo: VGP
In the coming period, nations need to overcome challenges in their efforts to tackle ocean plastic pollution on a global scale, and sustainably manage resources and activities at sea such as aquaculture, fishing, shipping, marine and coastal tourism, and energy development in oceans, he stated.
Developed countries should be responsible for providing financial support, sharing management experience and transferring technologies, while developing nations need strive to soon master science and technology of the blue economy so as to solve global sea and ocean issues together, he added.
Deputy Minister of Natural Resources and Environment Le Minh Ngan stressed that protecting the health of oceans is a sustainable guarantee for economic growth and social prosperity, food security, livelihoods and employment in many countries, especially for vulnerable ones such as small developing island nations, and low coastal states, cited NDO.
Vietnam has always shown its responsibility as an active member in the international community, and is ready to cooperate with other countries and partners to share scientific knowledge, experience, resources and overall management initiatives for a sustainable ocean economy and climate change adaptation, Ngan added.
Norwegian Minister of Foreign Affairs Anniken Huitfeldt said: "This conference is addressing some of the most important issues of our time. Norway and Vietnam's objective is to push the climate and ocean agenda forward. We live in a time of global turbulence. Global cooperation is more important than ever. We need consequential and immediate action. And it is our responsibility to keep building the momentum."
"The Covid-19 recovery provides the opportunity for countries and communities to 're-boot' their approach to the blue economy. UNDP and the UN family stand ready to help countries shape a sustainable blue economy using innovative, science-based solutions. Working with local communities, and with broad alliances, we will 'co-create' new blue economy solutions -- recognizing that our greatest hope to build a sustainable future for people and planet lies in human ingenuity and collective commitment to this cause," stated Achim Steiner, UNDP Administrator.
Themed "Solutions for a climate resilient Blue Economy", the two-day conference attracted the participation of over 400 delegates from 70 countries, including leaders, experts, scientists and representatives from non-governmental organizations and research centers.