Vietnam News Today (May 24): Vietnam Wishes to Contribute More to Future of Asia
Vietnam News Today (May 24): Vietnam emerges as a rising market for Apple; Vietnam wishes to contribute more to the future of Asia: Ambassador; Vietnam vows to forge strategic partnership with Russia; HCM City seeks stronger cooperation with RoK's Incheon.
Vietnam News Today (May 24) notable headlines
Vietnam emerges as a rising market for Apple
Vietnam wishes to contribute more to the future of Asia: Ambassador
Vietnam vows to forge strategic partnership with Russia
HCM City seeks stronger cooperation with RoK's Incheon
New resolution on tourism calls for services to attract wealthy travelers
President hails athletes for performances at SEA Games 32
First Vietnam-ASEAN furniture, home accessories fair scheduled for August
Vietnam, Laos foster collaboration in home affairs
HCM City further promotes cooperation with New South Wales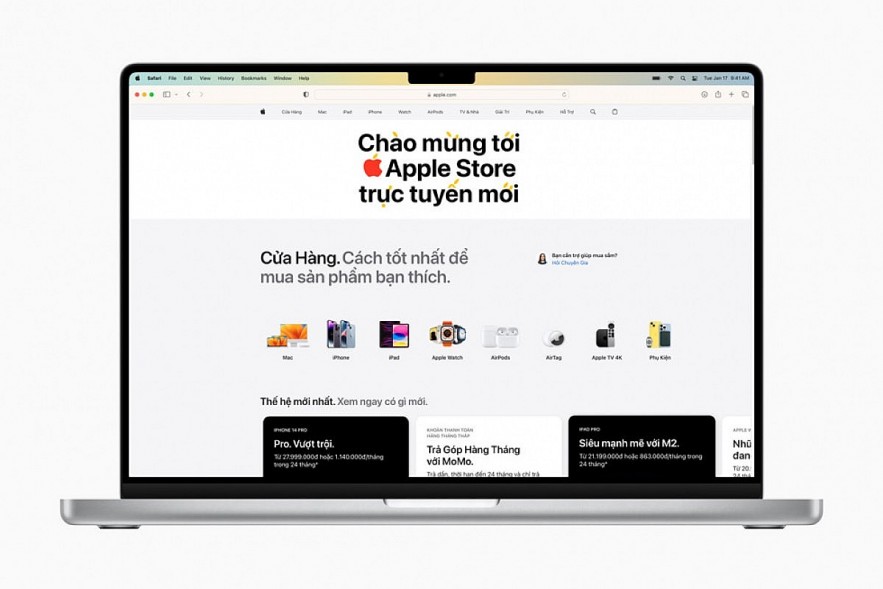 Apple launches an online store in Vietnam on May 18.
Vietnam emerges as a rising market for Apple
The emergence of several Asian markets such as Vietnam, India and Indonesia offer a 'golden opportunity' for Apple, according to the US cable news network CNN.
The US technology giant launched an online store in Vietnam on May 18, giving local consumers the chance to buy any Apple product directly for the first time.
The recent opening came following the high-profile launch of its first physical shops in India, recognizing the growing importance of emerging markets for the iPhone maker, said CNN.
Markets such as Vietnam, India, and Indonesia are rapidly becoming more important for Apple, as its growth in developed markets, including China, slows down, prompting the company to focus on places where it's traditionally been less active, according to the media outlet.
Tim Cook, CEO of Apple, pointed to the company's prospects in emerging economies, calling them bright spots in the company's financial results. On an earnings call made this month, Cook said he was "particularly pleased" with the performance in these markets during the first three months of the year.
Daniel Ives, managing director of Wedbush Securities, predicts that "over the coming years, Indonesia, Malaysia, and India will comprise a bigger piece of the pie for Apple, given its efforts in these countries."
Meanwhile, Chiew Le Xuan, a research analyst who covers smartphones in Southeast Asia for Canalys, said May 18's launch of an online store in Vietnam showed how Apple was "further cementing" its presence in emerging markets.
He said the tech giant had been "actively increasing" its presence in the region over recent months, ramping up its distribution and network of authorised resellers, especially in Malaysia, adding that Apple has ample room to run in these markets.
Apple joins a growing list of global businesses that have become bullish on Southeast Asia, where increasing investment is being poured into manufacturing.
The region's consumer base also holds promise, with the number of middle-income and affluent households in economies such as Vietnam, Indonesia, and the Philippines projected to grow by around 5% annually through to 2030, according to the Boston Consulting Group. These figures have led the consultancy to dub this group of consumers "the next mega-market."
The allure of Southeast Asia's rising middle class "has changed the dynamic in these countries, which previously Apple stayed away from," according to Ives.
However, challenges remain as premium brands like Apple have struggled for years to compete in emerging markets because of the price of their products, choosing instead to rely on local resellers.
iPhones, which cost between US$470 and US$1,100, are expensive for consumers in less developed Southeast Asian economies, where the bulk of smartphone shipments are priced under US$200, according to Chiew.
He outlined that Apple's absence from places such as Cambodia or Vietnam was typically more apparent around the launch of a new iPhone, particularly as buyers from those countries often flew to Singapore or Malaysia in order to purchase devices and take them back for resale.
This could change over the coming years, particularly as Apple continues to increase its firepower in the region, he noted.
Vietnam wishes to contribute more to the future of Asia: Ambassador
Deputy Prime Minister Tran Luu Quang's upcoming trip to Japan for the 28th International Conference on Future of Asia and a working visit not only shows the importance of the event to Vietnam's foreign policy but also extends the message that Vietnam wishes to contribute more to the future of Asia, affirmed Vietnamese Ambassador to Japan Pham Quang Hieu.
Hieu said that the Deputy PM's speech at the conference will extend a message that Vietnam is a reliable partner, and an active and responsible member of the international community. The country is willing to join other countries to discuss and find ways to solve global and urgent challenges today, contributing to peace, stability and development in the region and the world. This is also a manifestation of the Party's foreign policy, continuing to push up and improve the efficiency of the work of external relation and international integration, as well as multilateral diplomacy, he said.
The annual conference is an international gathering where political, economic, and academic leaders from the Asia-Pacific region offer their opinions on regional issues and the role of Asia in the world. Held by the Nikkei group since 1995, it is considered one of the most important global conferences in Asia, according to VNA.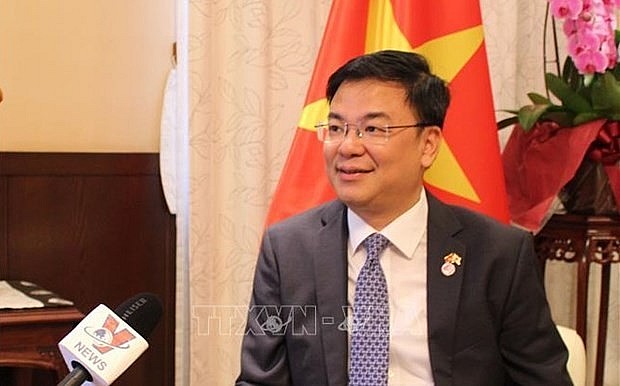 Vietnamese Ambassador to Japan Pham Quang Hieu. (Photo: VNA)
According to Hieu, under the theme of "Leveraging Asia's power to confront global challenges", this year's event will serve as a forum for government leaders, corporate executives and academics to exchange views on opportunities and challenges that the world is facing, new development trends as well as commitments on efforts to contribute to peace and common prosperity of countries in the region, making proposals to solve common issues.
Participants will discuss regional issues, Asia's role and potentials, and solutions to raise the region's position.
This year's conference will see six speeches by high-ranking leaders of countries and six panel sessions. The Deputy PM is expected to deliver a remark on Vietnam's viewpoint on major issues in Asia, experiences and solutions to the common challenges of the region, and efforts to control the COVID-19 pandemic and to recover the economy.
Vietnam started attending the annual event at its 15th edition in 2009 and has since continuously sent high-level delegations to it. The active participation of the Vietnamese delegation at the conferences in recent years has been highly valued by the organising committee, other participants, as well as the Japanese side.
Coming to the conference, Vietnam will join not only the assessment of the situation in the world and the region but also find solutions to the common difficulties and challenges, consolidating trust so as to create a firm foundation for the future.
A developing countries deeply integrating into the global economy, Vietnam especially upholds international cooperation and multilateralism, Hieu said.
Vietnam vows to forge strategic partnership with Russia
Vietnam attaches great importance to the comprehensive strategic partnership with Russia, affirmed Party General Secretary Nguyen Phu Trong during his talks with Dmitry Medvedev, chairman of the United Russia Party and deputy chairman of the Security Council of the Russian Federation, in Hanoi on May 22.
Trong also said the Communist Party of Vietnam is keen to develop relations with political parties in Russia, including the ruling United Russia Party, as a political foundation for long-term and sustainable relations between the two countries.
He briefed his guest on the major socio-economic development and international integration gains Vietnam has obtained in recent times under the leadership of the Communist Party, noting the country's Party building and rectification drive has been accelerated and resulted in remarkable progress, especially in the fight against corruption and negativity.
The Party leader also highly appreciated the achievements Russia has obtained under the reign of President Vladimir Putin and the ruling United Russia Party, VOV reported.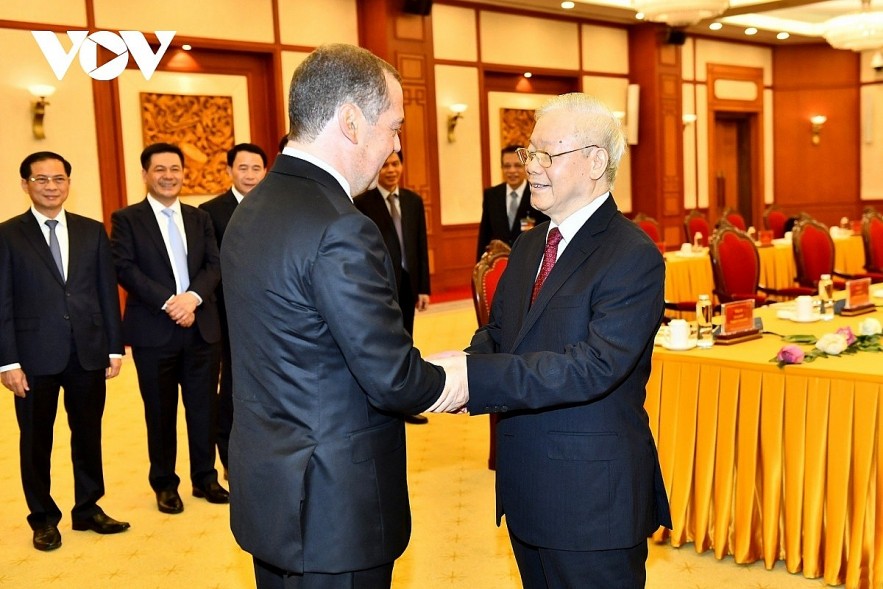 Party General Secretary Nguyen Phu Trong (R) welcomes Dmitry Medvedev, chairman of the United Russia Party and deputy chairman of the Security Council of the Russian Federation, in Hanoi on May 22.
Medvedev for his part congratulated Vietnam on its dynamic development, and briefed his host on the situation in Russia, as well as relations between the two countries and between the United Russia Party and the Communist Party of Vietnam, saying cooperation between the two parties has played an increasing role in bilateral relations.
He agreed with Trong's assessments, especially on major directions and measures to promote relations between the two parties and countries in the coming time.
The two leaders expressed their delight at the positive development of the good traditional friendship and the comprehensive strategic partnership between the two countries, as well as the close cooperation between the two parties based on high political trust and through high-level exchanges. Leaders and representatives of the Communist Party of Vietnam have attended important international conferences of political parties chaired by Medvedev.
The two sides have made efforts to overcome difficulties and promote cooperation in various fields such as economy, science - technology and education.
Both host and guest agreed that the two sides should increase high-level visit exchanges, improve efficiency and expand cooperation in economy, science-technology, culture, and education among others, and strengthen exchanges between their mass and youth organisations.
They also vowed to promote bilateral and multilateral trade and investment cooperation mechanisms and frameworks, and enhance the exchange of information on the international situation, cooperation between the foreign agencies of the two countries, and coordination at international forums.
On this occasion, the two sides issued a joint statement on the results of the official visit to Vietnam by Dmitry Medvedev, chairman of the United Russia Party.
The visit was said to help enhance bilateral cooperation on regional and international issues in order to consolidate peace and security, for the benefit of the two peoples, protect and strengthen the principles of international law and the Charter of the United Nations, and continue to promote bilateral relations based on cooperation documents signed by senior leaders of the two parties and two countries.
HCM City seeks stronger cooperation with RoK's Incheon
Ho Chi Minh City wants to further strengthen cooperation with the Republic of Korea (RoK)'s Incheon Metropolitan Council, especially in sports, culture and people-to-people exchange, said Nguyen Van Dung, Vice Chairman of the municipal People's Council on May 23.
At a reception for visiting Chairman of the Incheon Metropolitan Council Heo Shick, he said HCM City has established friendly and cooperative relations with seven RoK cities, adding that the municipal People's Council signed cooperation agreements with the RoK's Incheon and Busan Metropolitan Councils.
He went on to say that the relationship between the city and its Korean partners has developed very well, achieving many positive results.
HCM City is home to about 80,000 people and some 2,000 firms from the RoK, which make positive contributions to the local development and serve as a bridge to enhance the friendship and cooperation between the two countries, cited VNA.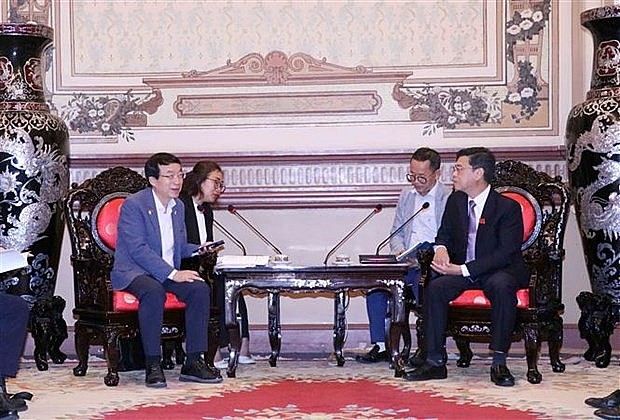 At the event. (Photo: VNA)
The official said that HCM is ready to create the most favourable conditions for the Korean businesses and community here.
For his part, Heo Shick said the strong developments in RoK-Vietnam relations, especially in the fields of trade, investment, tourism, sports, and people-to-people exchange, show that the two countries are working together to foster RoK-Vietnam friendship and cooperation, contributing to building the common prosperity of Asia.
He suggested that the Incheon Metropolitan Council and the People's Council of HCM City continue to promote delegation exchange, share experience in organising activities of people-elected agencies, and bolster cooperation between the two localities.
New resolution on tourism calls for services to attract wealthy travelers
Restructuring the market with importance attached to markets with high spending levels is one of the key points of Resolution 82 released by the government on May 18 on solutions to speed up tourism recovery and development.
The resolution noted that though Vietnam began fully reopening its tourism market on March 15, 2022, the number of foreign travelers remains modest, and many problems still need to be fixed.
There has been no breakthrough in the legal framework for attracting investment in tourism; strategies on market development and tourism promotion have not been adjusted amid changes in domestic and international markets; tourism products are still not diversified; accommodation, trading and transport services do not link to create an ecosystem; there is no cooperation in developing tourism products; and infrastructure for resorts, shopping and events is lacking.
The visa policy for international travelers is unreasonable, and tourism promotion and advertisement activities remain monotonous.
Meanwhile, Vietnam wants to develop a tourism industry which has "unique products - professional services - convenient and simple procedures - competitive prices - clean and beautiful environment - safe, civilized, friendly destination".
It aims to be among the top 30 countries with the highest competitiveness in the world, and in order to reach that end, it will have to deploy a series of solutions, reported VNN.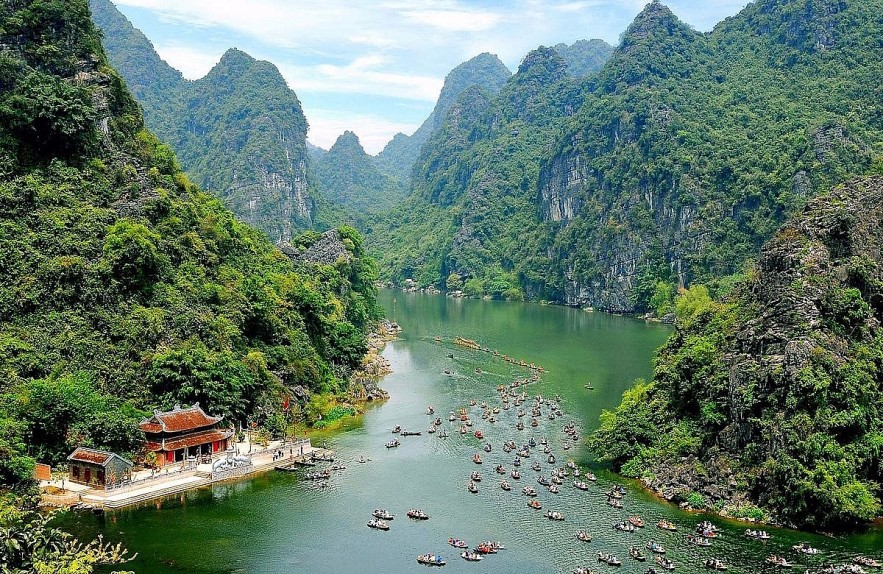 Photo: VNN
With an aim of restructuring the tourism industry towards professionalism, quality and sustainability, the government has requested the Ministry of Culture, Sports and Tourism (MCST) to continue the tourism sector restructuring project, with special attention to guest markets.
The development of the domestic tourism market should be emphasized, creating a foundation for growth in the short term; and large international guest sources, with focus on markets with high spending capability and long stays, should be exploited; thematic products in which Vietnam has advantages should be developed; and new tourism trends should be studied to set up timely, suitable policies.
To attract foreign visitors, the government requested the Ministry of Public Security to improve policies to facilitate the entry/exit of travelers; assess and give advice to the government about the expansion of countries subjected to the e-visa policy.
Meanwhile, the Ministry of Transport needs to implement the solutions to promote the opening of new international air routes to Vietnam; upgrade management capability at airports, especially the Noi Bai and Tan Son Nhat International Airports; and develop chartered flights.