Vietnam News Today (May 23): Vietnam, Slovenia Seek to Deepen Trade, Investment Partnership
Vietnam News Today (May 23): Vietnam, Slovenia seek to deepen trade, investment partnership; Vietnamese population hits 100 million this year – a bittersweet story; Vietnam, Japan ink ODA deals worth US$442 million; Free COVID-19 vaccination continues this year.
Vietnam News Today (May 23) notable headlines
Vietnam, Slovenia seek to deepen trade, investment partnership
Vietnamese population hits 100 million this year – a bittersweet story
Vietnam, Japan ink ODA deals worth US$442 million
Free COVID-19 vaccination continues this year: ministry
Australian tourists hunt for cheap airfares to Vietnam
Vietnam among six largest Thai tourism markets
Heavy rain breaks scorching heat in Vietnam
Petrol prices rise under latest adjustment
Hanoi hosts Asia Pacific Telecommunity Wireless Group's 31st meeting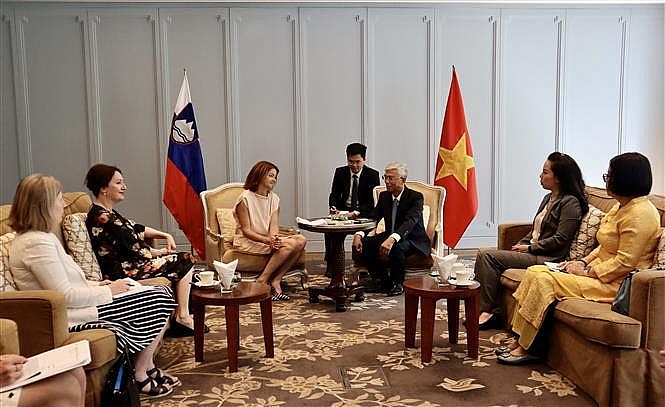 At the reception (Photo: VNA)
Vietnam, Slovenia seek to deepen trade, investment partnership
Vietnam and Slovenia are eyeing major changes to the way they do business, to make a breakthrough in multi-faceted trade and investment cooperation, heard a Vietnam-Slovenia business forum in Ho Chi Minh City on May 22.
Vo Van Hoan, Vice Chairman of the HCM City People's Committee said that Vietnam and Slovenia have enjoyed expanded ties since they set up their diplomatic relations in 1994.
He highlighted similarities between the two sides in history and economic development, with a large number of small and medium-sized enterprises. The two countries are gateways to the EU and ASEAN, said Hoan, holding that this is a good time for the two sides to deepen their partnership.
The EU-Vietnam Free Trade Agreement (EVFTA), along with finalising EU-Vietnam Investment Protection Agreement (EVIPA), has opened new opportunities for the two sides to foster trade and investment ties, he said.
Hoan affirmed that HCM City always considers Slovenia a promising and important partner, and hopes to bolster trade ties with the European country in the time to come.
HCM City, a major economic, cultural, education-training, science-technology, and international integration hub of Vietnam is aiming for a smart city and a centre of the Southeast Asian region in finance, trade, science and technology, and culture, he said, adding that the city hopes to learn from Slovenia in building and operating a smart city, and called for Slovenian investors in the field of digital transformation.
HCM City pledges to continue improving its investment environment and provide the best conditions for foreign investors, including those from Slovenia to invest in the city, stated Hoan.
For her part, Tanja Fajon, Slovenian Deputy Prime Minister and Minister of Foreign and European Affairs, said that Vietnam is a dynamically developing economy and an important economic hub of Asia.
With the advantages of open economies, Slovenia and Vietnam boast high potential to promote cooperation in investment, trade, and many other areas such as transport, information technology, agriculture, energy, and the environment, cited VNA.
At the same time, Slovenia, with a large number of experienced experts in smart cities, digital transformation, and AI, can share experience with Vietnam in these fields. Slovenia will be a trustworthy partner of Vietnam and always welcomes Vietnamese investors, she affirmed.
The Slovenian official said that her country keeps its door open for investors pursuing a green, creative, and smart growth strategy, she said, adding that Slovenia is strong in producing and exporting medicine, automobiles, and aircraft spare parts.
She said that the country has a demand to import leather and footwear, rubber, and plastics from Vietnam. The cooperation between Slovenia and Vietnam not only benefits both sides but also contributes to promoting trade between the EU and ASEAN regions, she added.
Vietnamese population hits 100 million this year – a bittersweet story
Vietnam's population is scheduled to reach 100 million this year, making it the 15th most populous country worldwide.
By hitting the 100-million mark, Vietnam is ranked eighth in Asia and third in Southeast Asia in terms of population. This is a particularly important milestone that brings about mixed emotions.
It can be seen as positive news for the country as it is entering into a period of golden population with 68 million people of working age. The percentage of the young population is also at an all-time high, with 21.1% being between the ages of 10 to 24.
This is therefore considered a golden chance for development, and Vietnam is advised to make the most of its abundant labour force to create economic breakthroughs moving forward.
However, the chance will be missed if Vietnam does not turn the golden population structure into a golden population quality, according to VOV.
Large population is to bring to bear pressure on the road system, among others.
Currently, the productivity of Vietnamese workers is only slightly higher than that of Cambodia, Myanmar, and Laos, and much lower compared to Singapore, the Republic of Korea, and Japan.
According to details set out in the 2019 Census of the General Statistics Office, 80.8% of the population aged 15 and over in Vietnam lacks professional technical qualifications. In other words, although the labour force is abundant, most workers are unskilled, with the quality of work being the low value chain. Meanwhile, labour productivity and a high-quality labour force are the key to the prosperity of a country.
The Vietnamese golden population structure is thought to last through to 2039, and the question is if the nation is able to take advantage of this golden chance to create breakthroughs in its development. The answer lies in the national training and human resource development strategy that must be changed in order to catch up with the needs and turn the situation around.
Furthermore, the large population also brings added pressure on resources, the environment, infrastructure, social security, and employment. It seems as if Vietnam has not done much work in order to cope with this additional pressure.
The pressure on caring for the elderly is a case in point. The average life expectancy of Vietnamese people has now reached 73.6 which stands at much higher than previously, although the average number of years people enjoy healthy living only stands at 64. The burden of diseases the elderly impose on the medical system can certainly be viewed as a huge problem, and it is expected that 20 years from now a quarter of the population will be over 60 years old. Yet, the whole country currently has only one centrally-run geriatric hospital specialising in the treatment and care of the elderly. The number of doctors and nurses with specialised training in gerontology has so far failed to meet the actual demand.
Along with the mounting pressure placed on health care locally, ensuring social security is also a significant challenge, especially given the fact that young workers have few jobs and low incomes, meaning they will find it hard to make ends meet when they get older. This fact will place a greater burden on the social security and tax systems in the future.
Moreover, by 2034 it is forecast that Vietnam will have an excess of 1.5 million men aged 15 to 49, and this figure is set to increase to 2.5 million by 2059. A series of social problems will likely arise from the current imbalance in the sex ratio at birth.
Humans reproduce infinitely but resources remain limited, that is the law of inevitability. Natural resources such as land, water, and energy will one day be exhausted if they are not managed and used more efficiently and sustainably.
After all, there are intertwined opportunities and challenges in society which also serve as the driving force for development. It's important to seize opportunities and turn challenges into actions, in order to ensure that the 100-million people mark is not just a story of having an abundant labour force.
Vietnam, Japan ink ODA deals worth US$442 million
Vietnam and Japan on May 21 signed three agreements worth 61 billion yen (US$442 million) to finance official development assistance (ODA) projects in Vietnam.
The ODA projects aimed at socio-economic development and recovery in the post-pandemic stage, worth 50 billion yen (US$362.4 million), development of public transport in the southern province of Binh Duong, and development of agricultural facilities in Tay Nguyen (Central Highlands) province of Lam Dong.
At the signing ceremony, Vietnamese and Japanese prime ministers agreed to discuss the potential of new-generation Japan-funded ODA projects.
Accordingly, Vietnam will receive flexible concessional loans with more incentives to serve the nation's mass infrastructure development projects in urban railroad construction, green transition, digital transformation, healthcare, and the development of the North-South high-speed railroad.
The two governments will hasten the progress of ongoing key projects such as the Cho Ray 2 Hospital and the metro line No.1 in HCM City.
Prime Minister Pham Minh Chinh suggested that Japanese businesses invest in Vietnam's green energy and technology sectors to improve the competitiveness of local enterprises and facilitate them to join Japanese and global supply chains.
He also recommended that the Japanese Government simplify the visa certification process for Vietnamese citizens, thus fostering travel, student exchange, and labor recruitment between the two nations.
The two government leaders also consented to promote further cooperation in national defense and security, human resources development, and technological transfers.
Japan will assist Vietnam in growing a self-reliant, resilient economy to foster bilateral trade relations.
They agreed it is important to maintain security and peace in the East Sea (known internationally as the South China Sea), stressing that all conflicts must be resolved regarding international laws.
In his part, Japanese PM Kishida invited PM Chinh to visit Japan and attend the ASEAN-Japan Summit held in December 2023.
Vietnam-Japan business forum
Japanese companies on May 21 proposed that the Vietnamese Government resolve issues in land price management, power supplies, and ease of administrative policies.
According to a representative of automobile manufacturer Mazda Corporation, since it cooperated with local manufacturer Thaco in 2011, the company has seen a strong increase in local market consumption. In 2022, the Thaco Mazda automobile manufacturing plant sold 40,000 cars in Vietnam.
The company suggested that Vietnam soon complete the legal framework for electric vehicles, facilitate a circular economy, and fight climate change.
An officer of semiconductor firm Rorze said that the company had invested a total of US$134 million into a Vietnam-based plant, which is the key to the company's global robot production.
He said the Vietnamese Government should promote green energy and ensure sufficient, stable power supplies for production to meet the net zero emission in 2030, cited VGP.
Rorze officer said that power supplies are unstable in summer while land rentals keep rising, thus, their local operations are severely affected.
However, he said the company plans to expand its Vietnamese operations because the nation is among its key manufacturing hubs.
In his response, Prime Minister Pham Minh Chinh promised the Vietnamese Government would side with Japanese investors and facilitate their long-term development.
The Government will make tax reforms to support businesses, assist them in restructuring their debts, and seek to diversify the markets and supply chains to boost exports.
PM Chinh also pledged that local authorities would work to resolve problems related to employment and labor and guarantee social security for foreign investors to operate.
To Vietnam, Japan is now the largest ODA partner, the second largest partner in labor cooperation, the third largest partner in foreign investment and travel collaboration, and the fourth largest trade partner.
Japanese companies have poured a total investment of US$70 billion into more than 5,000 Vietnam-based projects. In return, Vietnam has had some 106 projects set up in Japan, worth a total of US$19.5 million.
In 2022, the Vietnam-Japan trade value was nearly US$50 billion.
Free COVID-19 vaccination continues this year: ministry
People will continue benefiting from free COVID-19 vaccinations in 2023, and funding will come from the state budget, the COVID-19 Vaccine Fund, with sponsorship from domestic and foreign organisations and individuals, along with other legal sources.
This is part of the Ministry of Health (MoH)'s recently issued plan on COVID-19 vaccine use for 2023, which aims to help localities identify their vaccine demand and build and carry out their own vaccination plans.
The MoH said Vietnam has completed the administration of primary doses to people aged 12 and over, and that in 2023, it is necessary to continue giving primary doses to those reaching the ages eligible for COVID-19 vaccination, along with booster shots.
Existing COVID-19 vaccines will be maximised, especially the ones recommended or included in the list of vaccines for emergency use by the World Health Organisation (WHO) and those licensed by the MoH, according to VNA.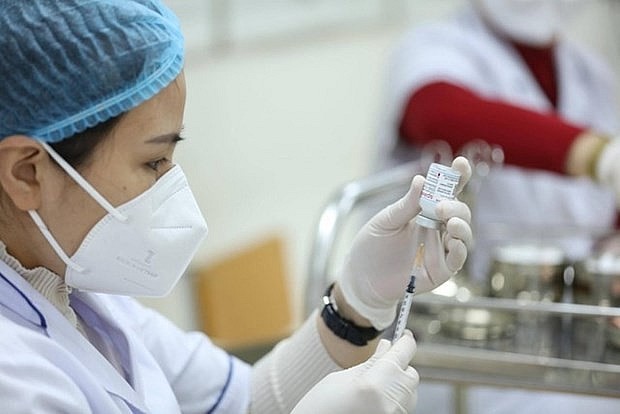 Illustrative image (Photo: VNA)
The health sector will apply the mixed use of vaccines based on research findings and the experience of Vietnam and other countries to enhance the immune response and guarantee safety, according to the plan.
The MoH will conduct vaccination for groups of people in line with WHO recommendations. Meanwhile, the administration of primary doses to children under five and other doses to those aged five and above will be guided by the MoH when there are sufficient scientific grounds and the disease situation requires.
The ministry also said in the plan that COVID-19 vaccination campaigns could also be combined with regular vaccination activities in localities.
Assoc. Prof. and Dr. Tran Dac Phu, former Director of the MoH's Department of Preventive Medicine and senior advisor to the Vietnam Public Health Emergency Operation Centre, said the COVID-19 situation in the country remains under control. Most new infections have shown light or no symptoms, and have not caused overload for the healthcare system.
The majority of severe cases and deaths are people with underlying health conditions, the elderly, unvaccinated persons, or those with immunodeficiency. Given this, he recommended those patients suffering from immunodeficiency, underlying health conditions, and chronic diseases get vaccinated sufficiently and on schedule as instructed by the MoH.
Australian tourists hunt for cheap airfares to Vietnam
The emergence of additional low-cost airlines has encouraged more Australians to travel to Vietnam, with nearly 82,000 Australians making trips to the country during the first quarter of the year, an increase of 14.4% from 2019, according to the Australian Bureau of Statistics.
Kelly Szymanowicz, an Australian tourist from Sydney, said that she would extend her summer vacation with her family in Vietnam for three weeks as she loves Vietnamese culture, beaches, and the reasonable travel costs on offer.
Round trip flights from Sydney to Vietnam for six people during the summer vacation cost US$6,000, while it can cost eight times that for flights to Florida in the United States, she revealed.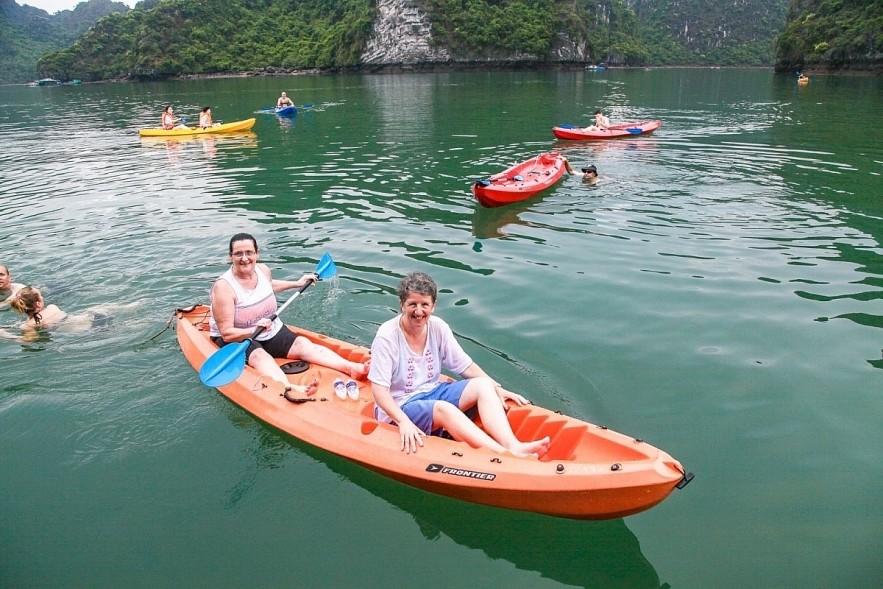 Australian tourists are keen to travel to Vietnam. Photo: VOV
Nicole Reddan from Melbourne said she also found cheap flights to Vietnam via budget airline Vietjet Air when booking round-trip tickets to the country for November.
This represents a great opportunity for Australian travelers as costs for food, accommodation, and tours are all reasonable in Vietnam, she added.
While airfares to Europe this summer have increased by 63% compared to the pre-COVID levels, air tickets on the routes to Vietnam have slightly rose by 21%, cited VOV.
Nicola Carmichael, director of travel platform Kayak, said there is an increasing trend of travelling to Vietnam among Australians, and searches for Ho Chi Minh City in the second half of the year edged up by about 140% compared to 2019.
According to Professor Rico Merkert, an aviation expert at the University of Sydney, with Bamboo Airways and VietJet launching air routes between Australia and Vietnam, the flight capacity of flights to Ho Chi Minh City has exceeded that of the pre-pandemic period and is expected to increase from 21,606 seats per week from June 19 and to 22,444 seats per week to September 18.
The emergence of Vietnam of a tourist hub will create fierce competition with Bali, a popular destination for Australians travelers due to cheaper costs than those found in Europe or the US, as well as other Asian destinations.
Lauren McRae, head of Hello It's Loz travel agency in Australia, also said trips to Vietnam account for 30% of the company's bookings, noting that Vietet Air and Bamboo Airways' airfares coupled with the rising frequency of flights have created tough competition in the market.