Vietnam News Today (Nov. 16): EVFTA Gives a Stronger Boost to Vietnamese Exports to Germany
Vietnam News Today (Nov. 16): Vietnam logs 580 new Covid-19 cases on November 15; US, Vietnam launch new project to reduce environmental pollution; Can Tho, US step up health, education cooperation; EVFTA gives a stronger boost to Vietnamese exports to Germany.
Vietnam News Today (Nov. 16) notable headlines
Vietnam logs 580 new Covid-19 cases on November 15
US, Vietnam launches new project to reduce environmental pollution
Can Tho, US step up health, and education cooperation
EVFTA gives a stronger boost to Vietnamese exports to Germany
Quang Ninh finalizing preparations for the 9th National Sports Games
Vietnamese firms join 41st India International Trade Fair
Hung Yen striving to become bright spot in Red River Delta
Vietnam calls for end to conflict in Ukraine at UNGA's emergency session
Vietnamese-Korean woman honoured for charity efforts in RoK
A health worker prepares to administer the Abdala COVID-19 vaccine to people. Photo: VNA
Vietnam logs 580 new Covid-19 cases on November 15
The national Covid-19 caseload rose to 11,509,473 with 580 new cases recorded on November 15, according to the Ministry of Health.
With 153 patients given the all-clear during the day, the number of recoveries rose to 10,606,156.
Meanwhile, there are 67 patients needing breathing support, cited VNA.
No death from Covid-19 was recorded in the past 24 hours. The total fatalities stood at 43,166.
With 52,366 doses administered on November 14, the total number of doses of Covid-19 vaccines injected rose to 262,719,806.
US, Vietnam launch new project to reduce environmental pollution
The United States Mission to Vietnam, through the US Agency for International Development (USAID), and the Ministry of Natural Resources and Environment (MONRE), launched a new USAID project on November 15 to reduce environmental pollution through Vietnamese-led collective action.
The new project, Reducing Pollution, is a five-year, US$11.3 million effort implemented by USAID partner Winrock International, in close cooperation with MONRE. Joining the launch ceremony were MONRE Minister Tran Hong Ha, Deputy Chief of Mission Melissa Bishop, USAID/Vietnam Mission Director Aler Grubbs, and Winrock International President and CEO Rodney Ferguson.
"The launch of USAID's Reducing Pollution project is an important part of the collaboration between USAID and MONRE. We signed an MOU in January 2022 to improve environmental outcomes, and this Reducing Pollution project is a great first milestone. Our joint efforts will raise awareness and promote actions led by Vietnamese to reduce environmental pollution and support Vietnam in achieving its climate change goals," said Aler Grubbs, USAID/Vietnam Mission Director.
Vietnam faces a series of environmental pollution challenges largely spurred by agriculture, transportation, and industrial production. Public interest in environmental quality has steadily increased, along with calls for action to improve the environment. The Government of Vietnam released National Action Plans related to air quality, water conservation, and plastic waste pollution, demonstrating the country's commitment to ensuring broad cooperation to address environmental pollution challenges.
USAID and the Ministry of Natural Resources and Environment launched the project 'Reducing Pollution' in a ceremony held on Tuesday in Hanoi. Photo: US Embassy in Vietnam
The Reducing Pollution project will address multiple sources of environmental pollution. The project will bring together different people to collaborate, identify ways to solve a shared problem, and take action. The project will work closely with MONRE's Vietnam Environment Administration, and the project will demonstrate clear connections between environmental benefits and other social benefits, including public health, employment, and sustainable economic growth.
To foster Vietnamese leadership in addressing environmental pollution, the project will provide grants to a series of local entities to serve as the "backbone" for each collective impact initiative. These backbone organizations will serve as the local leaders for each initiative, including by gaining public support, advancing policy, and leveraging additional funding.
Through a broad consultative process with authorized government agencies, local communities, and environmental experts, the Reducing Pollution project has identified six priority collective impact initiatives that reflect strong political will, community leadership, and engagement from private sector partners to address environmental pollution challenges, according to VOV.
These initiatives include Pioneering Company, Community and Consumer Responsibility in Plastic Waste Reduction in Vietnam (P3CR); Developing Circular Economy Model in Medical Plastic Waste Management; Reducing Air Pollution from Road Transportation; Reducing Air Pollution from Open Burning; Reducing Pollution in Craft Villages; and Developing a Transparent Environmental Data Disclosure Platform.
The United States and Vietnam are preparing to celebrate the 10-year anniversary of their Comprehensive Partnership. The USAID Reducing Pollution project is yet another example of how the United States and Vietnam work strategically together to address the world's most pressing issues, like climate.
Can Tho, US step up health, education cooperation
Authorities of Can Tho and representatives of the US Consulate General in HCM City agreed to boost their comprehensive cooperation in health, education and renewable energy at their November 15 meeting in the Mekong Delta city.
Lauding the US's capacity in these fields, Vice Chairman of the municipal People's Committee Nguyen Van Hong stated Can Tho encourages the implementation of US programs and projects in the city and the enhancement of regular cooperation between the two sides.
He asked the US to grant more scholarships and provide related information for eligible students, teachers and civil servants from Can Tho to further their study and research in the North American nation.
In response, US Consul General Susan Burns said in addition to promoting trade and people-to-people diplomacy, she will make efforts to help Vietnam realise its climate change and clean energy targets, reported VNA.
She added that she will continue to introduce US businesses to invest in Can Tho in the fields of processing, infrastructure and healthcare.
The diplomat unveiled that the US will also launch many undergraduate and graduate programs in the city and expand related programs and the exchange of students between Can Tho and leading US universities.
In the first ten months of 2022, Can Tho earned 147.67 million USD from exports to the US. The city currently houses three US-funded projects.
EVFTA gives a stronger boost to Vietnamese exports to Germany
Following the enforcement of the EU-Vietnam Free Trade Agreement (EVFTA), there remains ample room to accelerate Vietnamese exports to the German market moving forward, according to industry insiders.
At present, two-way trade turnover between Vietnam and Germany has witnessed constant growth over the years, with exports to the demanding market surpassing US$7.29 billion for the first time.
Most notably, there are 29 major export products to Germany, with 12 items reaching a turnover of over US$100 million and five items with turnover exceeding US$500 million.
Currently, exports to the Central European nation rank seventh among export markets, behind only the United States, China, the Republic of Korea, Japan, Hong Kong (China), and the Netherlands.
With impressive export growth being recorded during the past 10 months of the year, the country is anticipated to rake in US$9.3 billion from exports to the fastidious market this year.
Photo: VNS
In line with this, a huge trade surplus of US$4.644 billion with Germany has contributed to raising the country's trade surplus to US$9.59 billion during the reviewed period.
Despite recording robust export growth and a high trade surplus with Germany, Vietnamese export turnover to this market only accounts for less than 0.5% of total German import turnover, cited VOV.
Experts have assessed that local businesses must strive to take full advantage of the EVFTA in a bid to further promote exports to Germany, especially with regard to small-scale products such as wood and rubber products, tea, fruit and vegetables, cashew nuts, and coffee.
Furthermore, there are bright prospects ahead for the export of hi-tech products, such as computers, electronic products, components, phones and components as well as other items such as garments and textiles, footwear, iron, and steel products.
Quang Ninh finalizing preparations for 9th National Sports Games
The northern province of Quang Ninh is speeding preparations for the 9th National Sports Games which is scheduled to take place in the province and some nearby localities from December 1 to 21, 2022.
About 4,000 coaches, athletes and officials of 65 sports delegations from the country's 63 provinces and cities and 800 referees as well as 200,000 guests will join the event, besides spectators and tourists.
Quang Ninh will host the opening and closing ceremonies for the Games and provide 13 venues for 21 sports.
The inspection team checks the floor and lighting system of Dong Trieu Town Gymnasium to ensure it satisfies the requirements for badminton event. Photo: baoquangninh.com.vn
To prepare for the Games, the provincial People's Committee has set up an organizing board and other sub-committees to serve the tournament as well as devised plans for the ceremonies.
Localities and businesses in the province have sped up the preparation of facilities and equipment, WVR reported.
Communication work, traffic management plans and solutions to ensure security and order, food safety and Covid-19 prevention and control, and the mobilization of volunteers are being finalized.
The province will send 312 athletes and 48 coaches to the Games. It strives to be in the top ten at the event.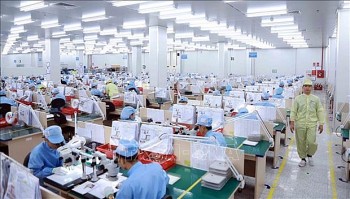 National
Vietnam News Today (Jan. 26): Vietnam - important partner of RoK; HCM City maintains growth momentum, reaps successes in 2022; Vietnam's tourism forecast to strongly rebound in five years; Many localities attract a large number of visitors during Tet.