Vietnam News Today (Nov. 7): International Retailers Expand Foothold in Vietnam
Vietnam News Today (Nov. 7): Vietnam reports 241 new Covid-19 cases on November 6; International retailers expand foothold in Vietnam; Associations holds Vietnam-Cambodia gathering for friendship, cooperation; Health sector requested to enhance surveillance against Covid-19 variants.
Vietnam News Today (Nov. 7) notable headlines
Vietnam reports 241 new Covid-19 cases on November 6
International retailers expand foothold in Vietnam
Associations holds Vietnam-Cambodia gathering for friendship, cooperation
Health sector requested to enhance surveillance against Covid-19 variants
Criteria needed for 'Made-in-Vietnam' products
FDI inflows reach over US$22 billion in 10 months
30th ASEAN Armies Rifle Meet opens in Hanoi
Concert celebrates 30th anniversary of Vietnam-RoK diplomatic ties
Fruit exports to bring home over US$5 bln by 2025
A man gets vaccinated against Covid-19 in Vietnam. Source: VNA
Vietnam reports 241 new Covid-19 cases on November 6
The national Covid-19 caseload rose to 11,505,849 with 241 new cases recorded on November 6, according to the Ministry of Health.
With 72 patients given the all clear during the day, the number of recoveries rose to 10,604,663.
Meanwhile, there are 54 patients needing breathing support, cited VNA.
One death from Covid-19 was recorded in the past 24 hours. The total fatalities rose to 43,166.
As of the end of November 5, the total number of doses of Covid-19 vaccines injected was 262,297,376 with 16,097 doses administered on November 5.
International retailers expand foothold in Vietnam
Vietnam is becoming increasingly more and more attractive in the eyes of foreign retail giants.
Despite global fluctuations some big international retailers are making ambitious plans to expand their foothold in the Vietnamese market, mainly due to a stable growth structure in Vietnam.
When referring to big foreign retailers in Vietnam then three names immediately crop up, namely, Lotte from the Republic of Korea (RoK), Aeon from Japan, and Central Retail from Thailand. Currently all three of these giant retailers are planning to expand in Vietnam as they consider it a key market.
Lotte considers Vietnam as its third most important market after RoK and Japan. Aeon wants to triple the number of its commercial centers in Vietnam by 2025, according to VOV.
Their plan to expand in the Vietnamese retail market was revealed by Nikkei in early October. A senior Aeon manager said that they view Vietnam as its most important market overseas.
Central Retail also wants to expand its market share in Vietnam and has announced plans to spend about Baht 300 billion in increasing its retail network to at least 710 stores by 2026, from current 340 stores.
The general director of Central Retail Vietnam said that the company aims to have revenue of Baht 100 billion by 2026. Last year Central Retail earned Baht 38.6 billion and considers the Vietnamese market as its largest revenue source, outside of Thailand.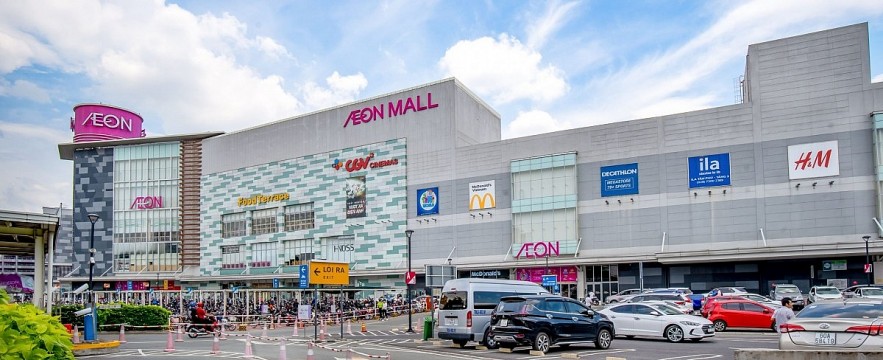 Photo: VOV
The reasons that make Vietnam more and more attractive in the eyes of foreign retailers, is because of a stable economic growth, at a time when the global markets are constantly fluctuating.
Recently, the Financial Times published an article titled "Seven economic wonders in an anxious world", stating Vietnam among seven outstanding countries along with Indonesia, India, Greece, Portugal, Saudi Arabia, and Japan. Previously, the World Bank (WB) had forecast that Vietnam's economy would grow by 7.2% this year.
In fact, Vietnam's GDP growth in the third quarter of 2022 reached 13.67%, with the 9-month GDP increasing by 8.83%, the highest increase in the 2021 to 2022 period. Consumer purchasing power is recovering strongly in Vietnam.
In the first nine months of 2022, the total retail sales of consumer goods and services reached more than VND4.1 trillion, up 21% compared to the same period last year. Many businesses have now achieved outstanding business results as before the COVID-19 pandemic.
Another important reason is that Vietnam has committed to joining the CPTPP, which will officially come into effect by 2024 and will remove the regulations on Economic Needs Test (ENT) for retail businesses from CPTPP member countries.
This regulation requires that foreign retailers must apply for permission every time they open a store with an area of over 500 square meters. This requirement can now be removed which is a huge relief for retail giants.
While foreign retailers are constantly making their growth plans for the Vietnamese market, domestic retailers are also taking great strides.
According to statistics of 2016, 50% of the retail market share in Vietnam belongs to foreign enterprises, but up to now domestic enterprises account for about 70% to 80% of market shares across the country.
Most of the domestic businesses have ambitious plans to expand their market share. For instance, Nova Consumer plans to expand its distribution channel to 450,000 retail centers in the future, and Thaco plans to open 20 Emart supermarkets by 2026 to become the number one hypermarket in Vietnam.
However, not all domestic enterprises can paint a rosy picture in the post-pandemic scenario. Bach Hoa Xanh has had to downsize, and in the last few months more than 400 Bach Hoa Xanh stores have been closed. The enterprise feels this is a step back to prepare for their fast expansion strategy for the whole country in 2023.
The reason is that Bach Hoa Xanh was recently discovered selling Chinese mushrooms disguised under VietGap. The retailer has apologized and stopped importing goods from dishonest suppliers, but that has not been enough to convince consumers who have turned away.
Similar to Bach Hoa Xanh, the Masan retail chain was recently discovered selling vegetables disguised as VietGap vegetables. The retailer also immediately apologized and stopped importing such goods, but some damage has been done to its image. Currently Masan has more than 3,000 outlets nationwide of its Winmart and Winmart plus stores.
Since 2021, Masan has set up many utilities into Winmart plus mini supermarkets. Masan aims to open 30,000 mini-mall stores nationwide by 2025, serving 30 million to 50 million customers per year with revenue of around US$7 billion to US$8 billion each year.
Businesses can plan expansions, but consumer confidence was somewhat shaken by the lame explanations of these retail companies. Along with the challenges of regaining back consumer confidence, and accelerating their expansion plans, these enterprises must also calculate their financial capacity.
While strong financial resources are always strong points of foreign retailers, when Vietnam made more commitments, such as giving up ENT for retailers from the CPTPP countries, the pressure on enterprises becomes even greater.
Associations holds Vietnam-Cambodia gathering for friendship, cooperation
The Vietnam-Cambodia and Cambodia-Vietnam Friendship Associations convened the 5th gathering for friendship and cooperation between the two peoples in the southeastern province of Binh Phuoc on November 6.
Addressing the opening ceremony, Deputy Prime Minister Pham Binh Minh stated the Vietnamese Party, State, and people highly value the sound neighbourliness, traditional friendship, and comprehensive cooperation with Cambodia.
He lauded the organisation of the gathering this year in Binh Phuoc and the Central Highland province of Dak Nong, the two landmarks with historical imprints in the countries' people-to-people friendship.
Lauding the importance of people-to-people diplomacy, Minh suggested the friendship organizations further run activities to deepen mutual understanding of the peoples, particularly youth, on the Vietnam-Cambodia relationship serving its growth in contribution to each nation's prosperity and the region's peace, stability and development.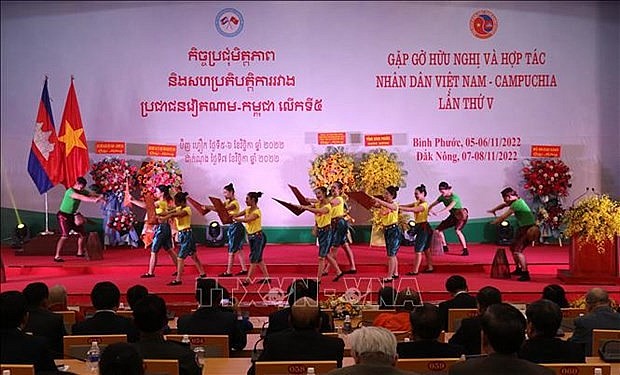 At the event. Photo: VNA
Cambodian Deputy PM Men Sam An stressed that the bilateral diplomatic relations with a history of 55 years have grown rapidly in all fields, especially in the new period.
She requested the two associations work harder in implementing their memorandum of understanding on cooperation for 2022-2027 and thanked the Vietnamese association for its aid toward Cambodia regarding its charity activities and support for Cambodian students in Vietnam, reported VNA.
The gathering featured a conference reviewing a decade of fostering the countries' friendship, and the Vietnamese association's conferment of insignias upon Vietnamese and Cambodian individuals for their contribution to the nations' ties.
Health sector requested to enhance surveillance against Covid-19 variants
Prime Minister Pham Minh Chinh oon November 6 asked the health sector to increase surveillance and be well prepared to respond to possible new pathogenic variants of the Covid-19 virus.
Addressing the 18th meeting of the National Steering Committee for Covid-19 Prevention and Control, Chinh said though the Covid-19 pandemic has been basically brought under control, the situation is still "complicated, unstable and difficult to predict".
"The outbreak is not over yet following the mutation of the virus, therefore we must continue to strengthen our surveillance systems and enhance our treatment capacity," said the PM, stressing vaccination is still a strategic solution.
According to the government leader, top priority must be given to protecting people's life in combating the virus under the motto of 'flexible adaptation' in an effort to nip a new possible outbreak in the bud.
"There is no room for complacency," said Chinh while asking the Ministry of Health to regularly analyze the situation and risk factors, develop scenarios and response plans, and respond to all possible situations.
He asked the Ministry of Health to timely allocate vaccines on local demand and accelerate vaccination to ensure the campaign is carried out in a safe and effective manner.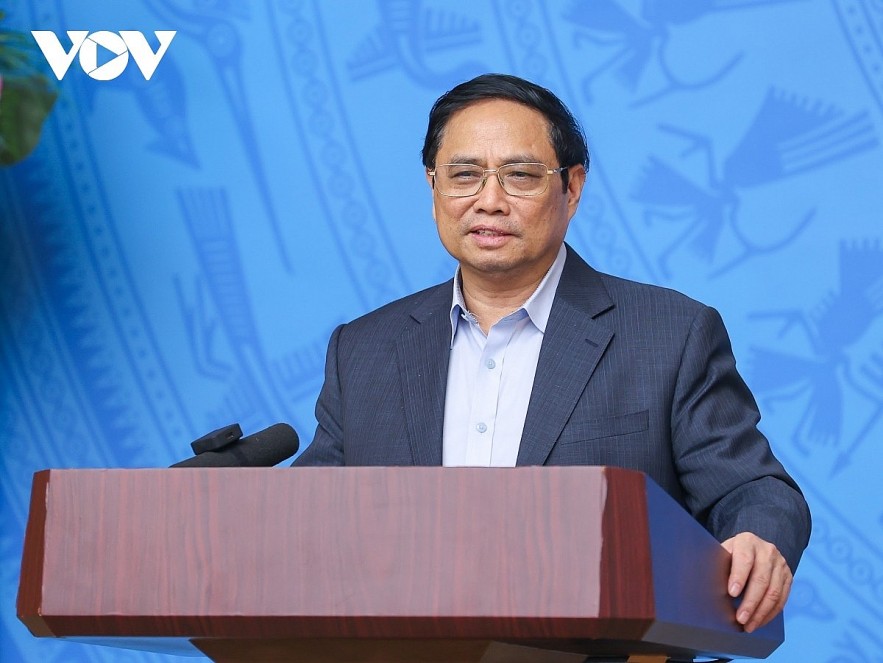 PM Pham Minh Chinh speaks at the meeting. Photo: VOV
In addition, he reminded the health sector to strengthen grassroots-level health capacity to better receive and treat patients; ensure drug supplies, medical equipment and human resources in place for pandemic prevention and control; and step up research and production of vaccines and biological products.
At the same time, the government leader requested the health sector to strengthen the prevention and control of other endemic and emerging diseases such as dengue fever, hand-foot-mouth disease, adenovirus, and monkeypox.
At the meeting, Minister of Health Dao Hong Lan briefed delegates on the development of Covid-19 in the world and in Vietnam in particular. She warned about the emergence of new variants of the SARS-CoV-2 virus that can complicate the situation, and encouraged localities to maintain response measures, especially vaccination.
So far this year, about 260.5 million doses of Covid-19 vaccines have been administered nationwide, VOV reported.
However, the number of monthly injections is decreasing significantly, with 3 million doses given in September, less than a third of the figure recorded in August. The inoculation of the second dose for children aged 5-12 and of the third dose for children aged 12-18 remains at a snail's pace.
Criteria needed for 'Made-in-Vietnam' products
There have been no official criteria for 'made-in-Vietnam' products, so goods with low Vietnamese content are also labeled as Vietnamese products.
According to the Ministry of Industry and Trade (MOIT), the lack of regulations about the products considered as made in Vietnam confuses institutions and individuals when labeling products and defining exact origin of products in accordance with Decree 43/2017.
MOIT is drafting a circular that will guide how to identify 'made-in-Vietnam products'. Accordingly, made-in-Vietnam products must satisfy one of the following criteria: 1/goods with pure origin of Vietnam 2/goods made in Vietnam from materials with Vietnamese origin or 3/goods that undergo final processing and outsourcing process in Vietnam that lead to basic changes of the nature of goods.
The draft circular stipulates specific criteria if goods undergo final basic outsourcing and processing in Vietnam – conversion of goods' codes, and defining of percentage of Vietnam-made value and specific processing stages. If goods only undergo simple processing in Vietnam, they won't be considered as made-in-Vietnam goods.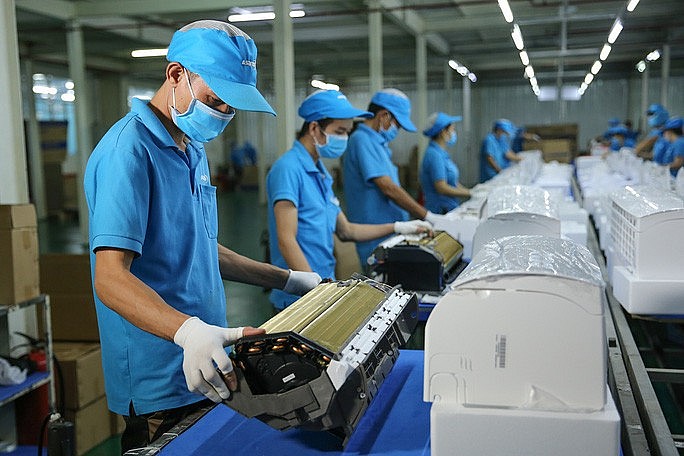 Photo: VNN
MOIT says if enterprises have a production process meeting the criteria, they will see additional expenses because enterprises will continue to run the production process with existing material chains.
If goods are defined as made in Vietnam, this will help increase the value and prestige of enterprises, and create favorable conditions for trade activities in the Vietnamese market, cited VNN.
If enterprises have a production process that cannot satisfy the criteria, they may have to spend additional expenses in the first phase of the implementation process, because they need to adjust the production process (expenses on studying new regulations, on changing the supply chain of raw materials, investment in machinery and equipment).
All of these expenses will be one-time expenses. After their products can satisfy the requirements stipulated by the circular, they won't have other expenses.
The method to determine goods made in Vietnam and calculate Vietnam's value content is as follows:
Vietnam Value Content (VVC) is calculated by one or the two formulas:
Direct calculation formula: VVC = input value made in Vietnam / factory prices x 100%
Indirect calculation formula: VVC = (factory prices – value of input materials which are not made-in-Vietnam goods) / factory prices x 100%.
At first, the criteria on defining made-in-Vietnam products were planned to be set in a government decree. However, the government's Resolution 73 dated May 27, 2022 assigned MOIT to set the criteria in a circular.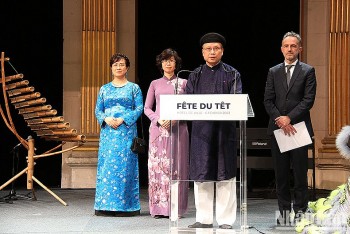 Friendship
Speaking at the celebration on the occasion of Lunar New Year for the overseas Vietnamese in France on February 6, Ambassador Extraordinary and Plenipotentiary of Vietnam in France Dinh Toan Thang emphasized that 2023 is an important milestone to promote the friendship and cooperation between Vietnam and France to the next level.