Vietnam News Today (November 28): Vietnam Plays Active, Proactive Role in ASEM Cooperation Process
Vietnam News Today (November 28): Vietnam records another 16,052 local Covid cases; Vietnam, Switzerland eye stronger educational cooperation; PM states importance of producing Covid-19 vaccines and treatment drugs; Vietnam plays active, proactive role in ASEM cooperation process
Vietnam News Today (November 28) notable headlines
Vietnam records another 16,052 local Covid cases
Vietnam, Switzerland eye stronger educational cooperation
PM states importance of producing Covid-19 vaccines and treatment drugs
Vietnam plays active, proactive role in ASEM cooperation process
UNESCO to honor poets Ho Xuan Huong, Nguyen Dinh Chieu
Hanoi rolls out vaccination for thousands of ninth grade students
ASEAN market boasts opportunities for Vietnamese firms: official
Vietnam Airlines aims to win largest share on direct Vietnam-US route
President receives Honorary Consul of Vietnam in Turin, Italy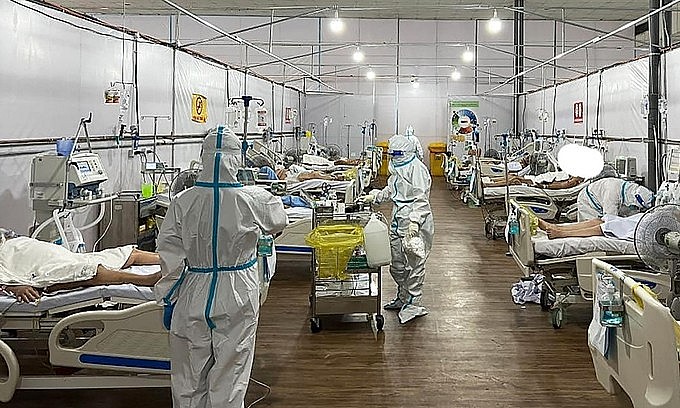 Medical staff take care of Covid patients at a field hospital in Tan Binh District, HCMC, November 25, 2021
Vietnam records another 16,052 local Covid cases
The Health Ministry confirmed 16,052 domestic cases of Covid-19 Saturday, including over 3,000 cases that had been detected earlier but yet to be added to the national database.
The Department of Health in the southern province of Tay Ninh registered 3,004 Covid patients whose samples had been taken for testing in the previous days to the national database, making it the locality with the highest infection tally on Saturday, 3,676 cases.
The province is followed by its neighbor Ho Chi Minh City with 1,773 cases.
The Mekong Delta city of Can Tho had the third highest number of infections of the day with 954, followed by industrial hub Binh Duong with 716.
Vietnam recorded 148 deaths on Saturday, pushing the Covid-19 death toll in the country to 24,692 or 2.1 percent of infections, cited VnExpress.
1,668 Covid patients were declared free of coronavirus the same day, bringing the number of recovered cases so far to 956,924.
As of Saturday, 48.4 million of Vietnam's 96 million population have been fully vaccinated against Covid-19.
In the fourth wave which hit Vietnam almost seven months ago, more than 1.19 million people have been infected.
Vietnam, Switzerland eye stronger educational cooperation
Vietnamese Minister of Education and Training Nguyen Kim Son and Switzerland's State Secretary for Education, Research and Innovation (SERI) Martina Hirayama on November 26 discussed measures to improve the efficiency of educational cooperation between the two countries.
Their working session took place within the framework of President Nguyen Xuan Phuc's official visit to Switzerland.
Son suggested strengthening collaboration between Vietnamese and Swiss universities, covering training programs in such areas as tourism, hotel, insurance, banking and high-tech, along with innovation, according to VNA.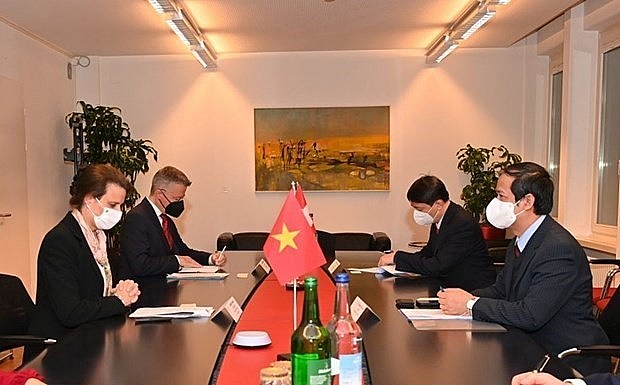 At the working session between Vietnamese Minister of Education and Training Nguyen Kim Son and Switzerland's State Secretary for Education, Research and Innovation (SERI) Martina Hirayama on November 26. Photo: VNA
The two sides should step up the exchange of lecturers and students, and establish research groups that gather professors from Vietnamese and Swiss universities, he said.
The minister said during a meeting with President Nguyen Xuan Phuc, Swiss President Guy Parmelin had suggested the five leading universities of Switzerland beef up cooperation with Vietnamese universities.
For her part, Hirayama showed her support for the Vietnamese side's proposals, saying the two countries' state management agencies play a significant role in this regard.
On this occasion, Son expressed his hope that Switzerland will provide more scholarships for Vietnamese students, helping the Southeast Asian nation improve the quality of human resources.
Son invited the Swiss official to visit Vietnam and and work with the Vietnamese Ministry of Education and Training.
Hirayama accepted the invitation with pleasure, saying she hopes that the two sides will work together to promote the bilateral educational cooperation.
PM states importance of producing Covid-19 vaccines and treatment drugs
Prime Minister Pham Minh Chinh emphasized the necessity of importing Covid-19 vaccines, whilst also focusing on research in relation to producing Covid-19 treatment drugs to ensure the supply of medical equipment and biological products.
This comes after PM Chinh chaired a meeting on November 27 with ministries and agencies to promote research and technology transfer for domestic production of Covid-19 vaccines and treatment drugs, in addition to importing these products to combat the pandemic.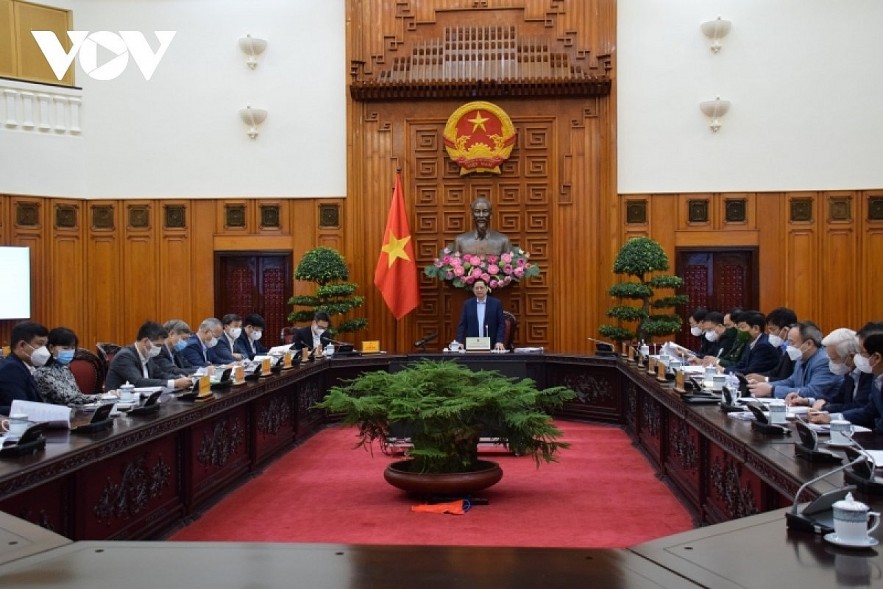 PM Pham Minh Chinh chairs a meeting on November 27 with ministries and agencies to promote research and technology transfer for domestic production of Covid-19 vaccines and treatment drugs. Photo: VOV
The Government chief affirmed that in order to competently fight the pandemic, there must be vaccines and prevention measures put in place, in addition to raising people's awareness of pandemic prevention and control. Ensuing vaccine supplies and raising public awareness about pandemic prevention and control represent decisive and important factors in combating Covid-19, PM Chinh emphasized.
Relevant agencies must strive to redouble efforts in a bid to achieve a common goal, in the interests of both the nation and people, PM Chinh said. He did this while underlining the need to put people's health and lives first and avoid negative occurrences, reported VOV.
The primary goal is to produce vaccines, drugs, biological products, and medical equipment domestically in a rapid and timely manner, although this must be done in a scientific way that is both safe and effective, PM Chinh stressed.
According to the Ministry of Health, the country now has nine vaccines licensed for emergency use by the Ministry of Health.
As of November, the nation has so far administered over 116.3 million vaccine doses, with more than 47 million citizens now fully inoculated.
Vietnam plays active, proactive role in ASEM cooperation process: Deputy FM
As a founding member of the Asia-Europe Meeting (ASEM), Vietnam has played an active and proactive part in the ASEM process and proposed many measures and initiatives to strengthen cooperation within the ASEM in all spheres, Deputy Minister of Foreign Affairs Dang Hoang Giang has said.
The official made the affirmation in an interview granted to the press after Prime Minister Pham Minh Chinh attended the 13th ASEM Summit and relevant activities via videoconference from November 25-26 at the invitation of his Cambodian counterpart Samdech Techo Hun Sen.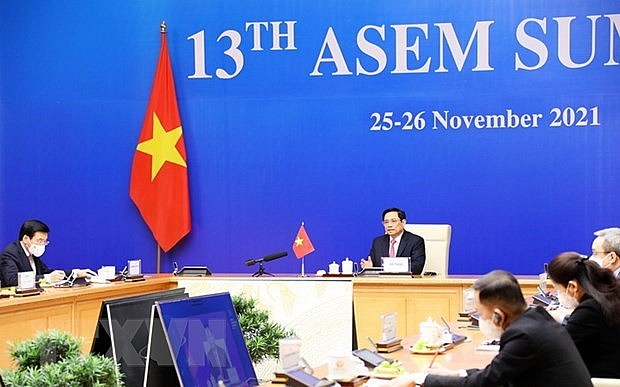 Prime Minister Pham Minh Chinh speaks at the 13th ASEM Summit. Photo: VNA
According to Giang, PM Chinh put forward four proposals to enhance cooperation among Asian and European countries while addressing the 13th ASEM Summit on November 26.
The PM said the countries should stay united and join hands to boost global cooperation since no country can single-handed deal with global issues.
The government leader said they should cooperate to share and ensure equal access to Covid-19 vaccines and treatment drugs and developed nations should assist developing countries to improve the capacity of coping with global issues, cited VNA.
PM Chinh said it was necessary to step up digital transformation and human resource training for developing and poor countries, while enhancing public-private partnership to mobilize resources for development. To contribute to this process, Vietnam will organize an ASEM roundtable meeting on the digital economy in 2022.
Besides, the PM also shared Vietnam's efforts and experience in Covid-19 response and socio-economic recovery and development, especially the country's implementation of measures to safely and flexibly adapt to and effectively control the pandemic.
PM Chinh affirmed that through these measures, Vietnam stands ready to strengthen cooperative ties with ASEM nations for the target of peace, development and prosperity in both Asia and Europe.
UNESCO to honor poets Ho Xuan Huong, Nguyen Dinh Chieu
Two Vietnamese poets are among 58 cultural celebrities and historical events that UNESCO is set to honor next year.
The list was approved at the U.N. agency's General Assembly held from November 9 to 24 in Paris, France, the Ministry of Foreign Affairs said in a press release Friday.
Ho Xuan Huong will be commemorated during her 250th birth and 200th death anniversaries and Nguyen Dinh Chieu during his 200th birth anniversary, VnExpress reported.
Ho Xuan Huong (1772–1822), one of Vietnam's most famous poets and known as 'The Queen of Nom Poetry,' was renowned for her new ideas, unconventional style and simple but evocative use of words.
Besides, her poems exude optimism and promote gender equality and fought for the liberation of women in Vietnam.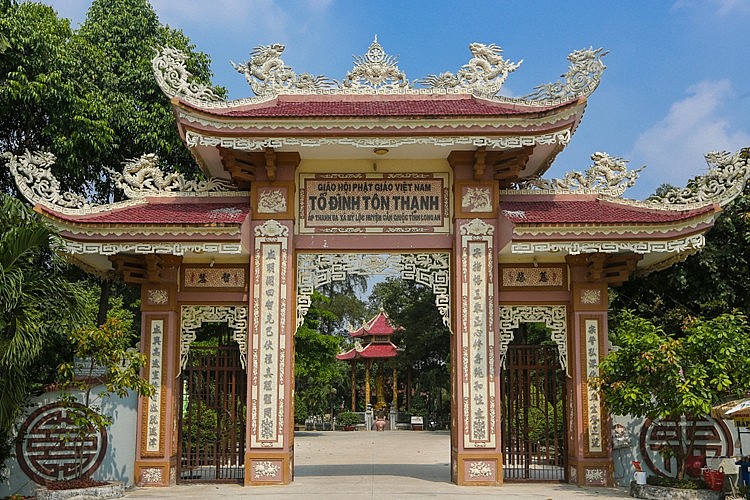 Ton Thanh Temple in Long An Province is at the site where Nguyen Dinh Chieu lived in 1859-61. Photo: VnExpress
Nguyen Dinh Chieu (1822-1888) was not only a great poet but also a cultural celebrity and a researcher in traditional medicine.
His poems convey humanity, encourage patriotism and eulogize people who work for the benefit of the community.
Among his works, the most famous is 'Luc Van Tien,' an ode to moral and traditional values.
"The passing of a resolution to commemorate the birth and death anniversaries of Nguyen Dinh Chieu and Ho Xuan Huong affirms the international appreciation for Vietnam's cultural and educational values," the ministry release said.
UNESCO has also honored President Ho Chi Minh, scholar, politician and strategist Nguyen Trai, poet Nguyen Du, and educator Chu Van An.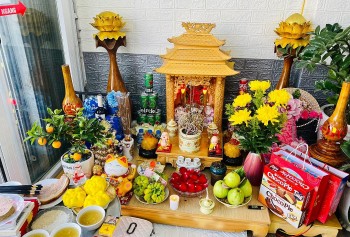 Handbook
Learn more about an ancient Vietnamese tradition that may bring you good fortune!