Vietnam News Today (November 30): Vietnam Airlines Debuts Regular US Direct Flight
Vietnam News Today (November 30): Vietnam, Russia to deepen comprehensive strategic partnership; HCM City leads localities nationwide in economic recovery; Vietnam Airlines debuts regular US direct flight; More than 15,000 foreign tourists visit Vietnam in November.
Vietnam News Today (November 30) notable headlines
Vietnam, Russia to deepen comprehensive strategic partnership
HCM City leads localities nationwide in economic recovery
Vietnam Airlines debuts regular US direct flight
More than 15,000 foreign tourists visit Vietnam in November
Vietnam projected to become region's 2nd biggest e-commerce market
Vietnam must be cautious about mutated Omicron variant, say experts
Exports witness robust growth amid positive signs for FDI attraction
Vietnamese paintings auctioned at high prices in Hong Kong
US businesses optimistic about Vietnamese economic rebound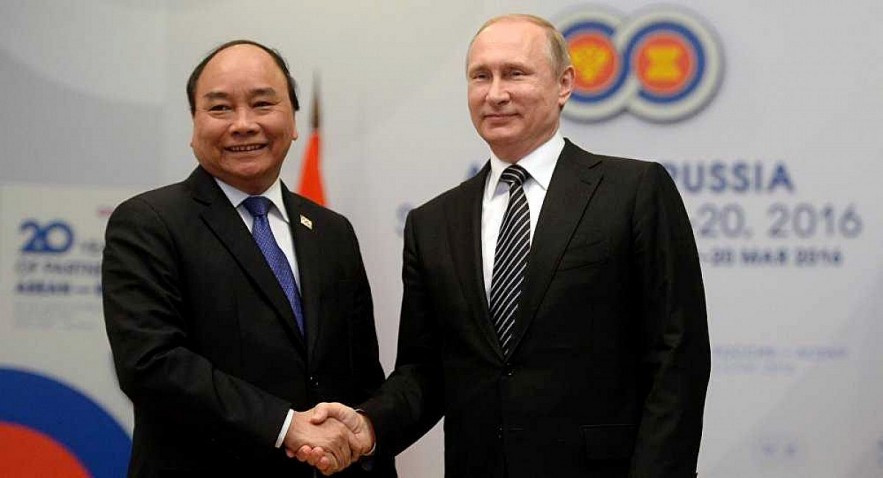 The then Prime Minister Nguyen Xuan Phuc met with President Vladimir Putin on the sidelines of an ASEAN - Russia summit in Sochi, Russia, in 2016. Photo: VOV
Vietnam, Russia to deepen comprehensive strategic partnership
President Nguyen Xuan Phuc is paying an official visit to Russia from November 29 to December 2 at the invitation of Russian President Vladimir Putin, aimed at giving fresh impetus to the Vietnam-Russia comprehensive strategic partnership.
Vietnam and Russia established diplomatic ties 71 years ago. They lifted their relationship to the level of the strategic partnership in 2001 and the comprehensive strategic partnership in 2012.
Bilateral relations have developed considerably over the past time. Despite the impact of the Covid-19 pandemic, both countries have regularly maintained high-level online contact and phone calls to promote bilateral cooperation.
During their phone call in September 2021, President Phuc and President Putin discussed measures to further strengthen the Vietnam - Russia comprehensive strategic partnership, including in Covid-19 prevention and control.
In 2020, two-way trade turnover between Vietnam and Russia reached nearly US$5 billion. Major Vietnamese exports included telephones, electronics, textiles, footwear, and agricultural and aquatic products. Its major imports were coal, wheat, iron and steel, fertilizers, automobiles, machinery and equipment, cited VOV.
The signing of a free trade agreement between Vietnam and the Eurasian Economic Union (EAEU) in 2016 opened up numerous opportunities for trade cooperation between Vietnam and Russia.
The Ministry of Industry and Trade reported that there are about 940 Vietnamese businesses exporting products to the Eurasian Economic Union, but Russia accounts for more than 90% of the total trade turnover between Vietnam and the EAEU.
Besides economic cooperation, Russia is also an important leading partner of Vietnam in the field of military technology. The two sides also promote cooperation in science and technology, education, culture, tourism, local cooperation, and people-to-people exchanges.
In 2019, more than 660,000 Russian tourists visited Vietnam, making Russia the largest European tourist market for Vietnam. In addition, with 40,000 Vietnamese officials and experts trained in the former Soviet Union, 80,000 Vietnamese people living and working in Russia and about 5,000 Vietnamese students studying in Russia, they serve to foster cooperative relations between the two countries.
In the early stages of the Covid-19 pandemic, Vietnam presented Russia with masks and some medical supplies. Russia also provided Vietnam with about 15,000 doses of the Sputnik-V vaccine and a number of treatment drugs and medical supplies.
Russia supports Vietnam's stance on settling disputes in the Bien Dong Sea by peaceful means, without using force or threatening to use force, on the basis of international law and the 1982 United Nations Convention on the Law of the Sea. 1982 (UNCLOS).
During an interview with Russian media ahead of his visit, President Phuc noted the visit demonstrates the importance the Vietnamese Party, State and people attach to bilateral ties as well as President Putin, a close friend of Vietnamese people.
He said he and President Putin will review the Vietnam-Russia relations and seek major strategic orientations to elevate the comprehensive strategic partnership to new heights across all spheres.
The visit is also expected to boost bilateral cooperation in Covid-19 prevention and control, especially in promoting Russia's support for vaccine production and technology transfer.
HCM City leads localities nationwide in economic recovery: AmCham Vietnam
Ho Chi Minh City is the leading locality in the country in economic reopening and recovery, according to the American Chamber of Commerce in Vietnam (AmCham Vietnam).
According to a survey announced by AmCham Vietnam on November 29, businesses in HCM City are on their way to resume production and business activities, and they are optimistic about the future of the Vietnamese market.
The deployment of vaccination campaigns against Covid-19 in the Southeast Asian nation have allowed many sectors to open and recover with a safe roadmap, ensuring regulations on pandemic prevention and control, the survey said.
More than 60 percent of AmCham Vietnam's member enterprises which responded to the survey, have resumed their operations at 80 percent of the normal capacity, and 85 percent of them operated at 60 percent of the normal capacity or more.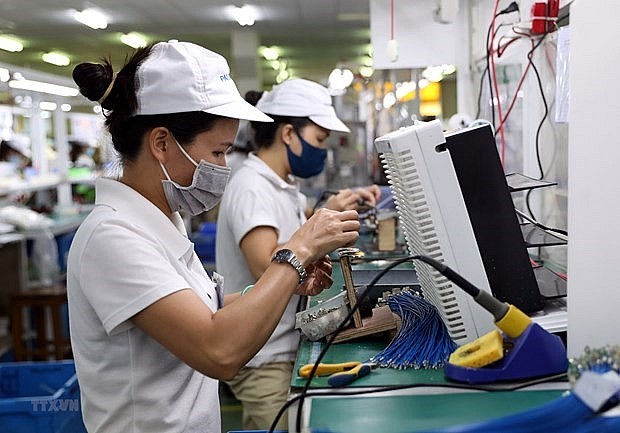 Photo: VNA
For those which have not yet reached their normal capacity, 25 percent are expected to reach 100 percent by the end of 2021, and over 60 percent and more than 90 percent hope to return to normal in the first and second quarters of 2022, respectively, according to VNA.
Notably, nearly 80 percent of AmCham Vietnam member businesses participating in the survey demonstrated their positive evaluations about the medium and long-term prospects in the Vietnamese market, saying that they have planned or are considering expanding investment in the country.
Executive Director of AmCham Vietnam Mary Tarnowka said that more consistent policies on adjustments to safely live with Covid-19 across localities nationwide will be key to Vietnam's economic recovery.
Accordingly, liberalizing the requirements related to international travel of foreign experts will not only facilitate investment expansion of enterprises operating in Vietnam, but also attract new investment inflows, she said.
However, the survey shows that production and business enterprises are also facing many difficulties because the domestic market continues to fluctuate and the international supply chain is still not connected as seamlessly as before.
The survey said the restriction on international travel is the main factor limiting operations of businesses at present, which leads to supply chain disruptions and increasing costs. Up to 56 percent of AmCham Vietnam's member businesses said that they have encountered the shortage of laborers.
Vietnam Airlines debuts regular US direct flight
A regular non-stop flight from Ho Chi Minh City touched down in San Francisco Monday morning, the first operated by a Vietnamese carrier to the U.S.
The flight carrying over 30 passengers, mainly Vietnamese Americans, took off from Tan Son Nhat International Airport in HCMC at 8:57 p.m. Sunday (local time) and landed at San Francisco International Airport at 7:42 p.m. Sunday (local time), after a 13,000-kilometer journey.
"The success of the inaugural commercial direct flight to the U.S. marked a new milestone for Vietnam Airlines in particular and Vietnam's aviation in general," said President and CEO of Vietnam Airlines, Le Hong Ha, in a statement.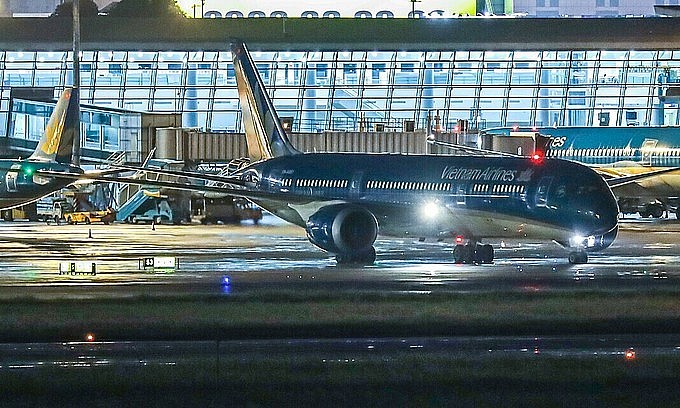 The HCMC-San Francisco flight takes off from Tan Son Nhat Airport on November 28, 2021. Photo: Vietnam Airlines
Ivar C. Satero, Director of San Francisco Airport, said in the statement released by Vietnam Airlines: "We are honored to be the first airport in the U.S. to offer nonstop regular flights to Vietnam. We are proud to offer a world-class experience with seamless access throughout the San Francisco Bay Area and grateful to Vietnam Airlines for making San Francisco their first U.S. destination."
Initially, Vietnam Airlines will conduct two flights per week from HCMC to San Francisco using the Boeing 787 and Airbus A350, the two most modern wide-body aircraft, reported VnExpress.
The airline aims to increase the frequency to seven flights per week after the Covid-19 pandemic is brought under control and the government agrees to resume regular commercial flights. Last week, Prime Minister Pham Minh Chinh said Vietnam plans to reopen regular international flights from next month.
Vietnam Airlines also plans to open a new route connecting Los Angeles to Hanoi and HCMC, Vietnam's two biggest metropolises.
There are nearly 24,000 Vietnamese students and approximately 2.2 million overseas Vietnamese living in the U.S., according to official statistics.
From Nov. 8, Vietnamese tourists are allowed to enter the U.S. but must furnish a certificate proving they had been fully vaccinated and present a negative test result obtained within 72 hours. Although not mandatory, the American government still encourages people to self-isolate for 7-10 days upon arrival.
The U.S. has one of the most stringent aviation standards in the world. There are around 20 airlines operating routes between Vietnam and the U.S.
More than 15,000 foreign tourists visit Vietnam in November
Vietnam welcomed more than 15,000 foreign tourists throughout November, marking an increase of 42.4% compared to the previous month, according to figures released the General Statistics Office (GSO).
The increase was largely attributed to the Government's decision to allow five localities to welcome back international tourists on a trial basis, starting in the middle of November. The visitors were permitted to join package tours to enter the country via charter flights and international commercial flights to designated places.
The five localities are Kien Giang, Khanh Hoa, Quang Nam, Da Nang, and Quang Ninh that are home to internationally recognized tourist destinations such as Hoi An ancient town, Ha Long Bay, Nha Trang Beach, Phu Quoc resort and the Cham Towers Complex.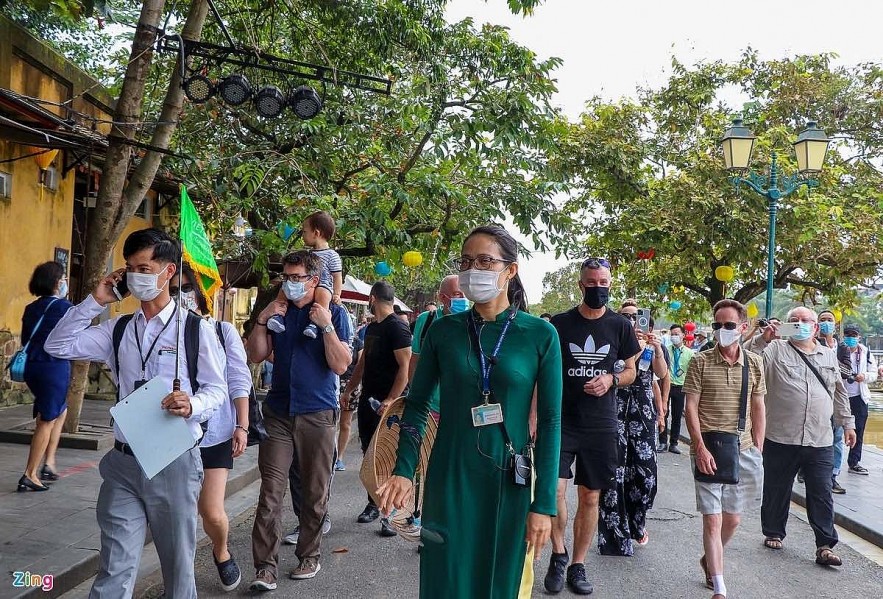 About 50 visitors coming from the United States, the United Kingdom, Canada, the Republic of Korea, Singapore, along with Vietnamese nationals returning from Europe are the first to discover Hoi An. Photo: Zing
Overall, the first 11 months of the year saw just 140,000 foreign travelers enter Vietnam, a year-on-year decrease of 96.3%.
Of the total, visitors arriving by air made up 68.9%, down 96.9%, whilst those entering by road accounted for 30.7%, a drop of 92.9%, and those coming in by sea represented just 0.4%, a fall of 99.7%, cited VOV.
Nguyen Trung Khanh, general director of the Vietnam National Administration of Tourism (VNAT), said that the welcoming of the first group of foreign tourists was an important event ass it helped gradually revive the tourism sector after a long hiatus due to the Covid-19 pandemic.
The VNAT recently launched its "Live fully in Vietnam" tourism promotion campaign in order to strengthen communications and open the country up to visitors from abroad. To enhance the effectiveness of the campaign, the VNAT is actively developing promotional video clips along with publishing images and articles on both international and domestic media channels.
Vietnam projected to become region's 2nd biggest e-commerce market
Vietnam's e-commerce market, currently the fourth largest in Southeast Asia, is likely to surpass Malaysia and Thailand to go second behind Indonesia, foreign companies and analysts say.
In early November, e-commerce platform Tiki said it had raised a further US$258 million from foreign investors, including AIA and Mirae Asset.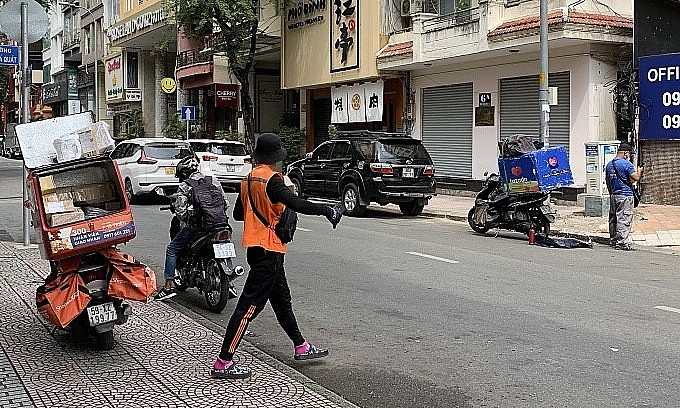 Delivery workers for e-commerce platforms Shopee (orange) and Lazada (blue) wait for customers on Cao Ba Quat Road in HCMC's District 1, Nov. 16, 2021. Photo: VnExpress
The country's e-commerce market is currently worth US$13 billion a year, and would increase to US$39 billion by 2025 when it would be in second place, a recent report by Google, Temasek and Bain & Co report titled 'e-Economy SEA 2021,' said.
Thailand will be third with a market of US$35 billion, reported VnExpress.
Since the onset of Covid-19 early last year, Vietnam added eight million new digital consumers and Thailand, nine million.
But 29.3 percent of the Vietnamese population has yet to participate in the digital economy compared to only 10.1 percent in Thailand.
Google and Temasek predicted Vietnam's e-commerce to grow at 35 percent annually until 2025 period, the highest rate in the region.
Malaysian market research firm iPrice stated Vietnam is becoming one of the "stars" of Southeast Asia's e-commerce market.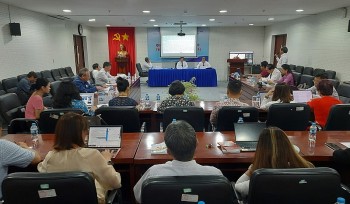 Friendship
The Vietnam - India Friendship Association's Ho Chi Minh City branch, the Ho Chi Minh City Union of Friendship Organizations (HUFO) and the Southern Institute of Social Sciences on March 21 held a scientific seminar themed "Vietnam - India relationship: tradition and present".